From Stilettos to Barefeet: SCGA Member Spotlight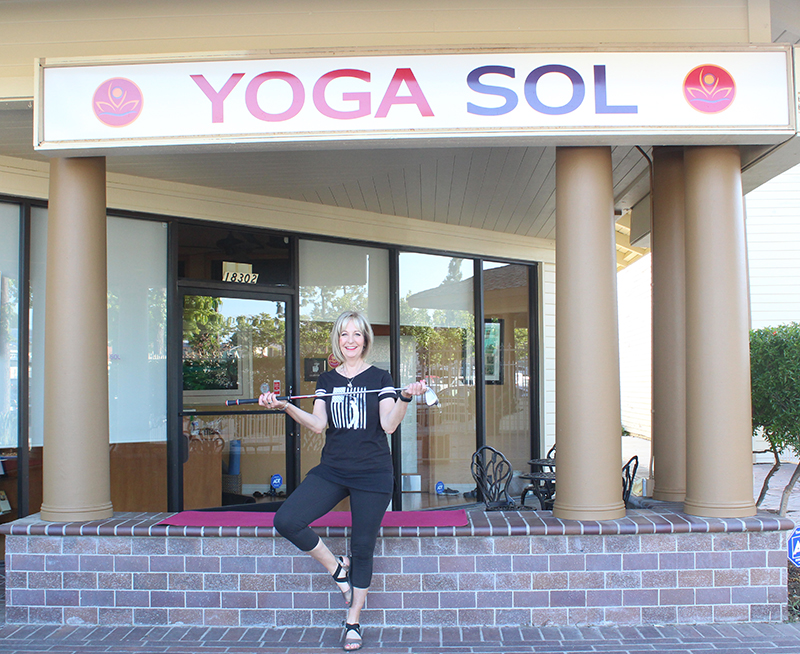 Rozanne Englehart's journey from a career in media to yoga studio owner
We know Rozanne as a long time SCGA member and regular in our SCGA Member Outings. She can also be found playing at her local club at Yorba Linda CC or her old stomping grounds at Porter Valley CC. But when she's not playing golf, you'll find her busy at work at Yoga Sol, a warm and cozy local Orange County yoga studio where pain, stress and shoes are left at the door.
Englehart had a special golf-focused class exclusively for my visit to Yoga Sol, and by the attendance seen that day, it's no secret that the two go hand-in-hand.
How many years did you work in media?
For 32 years I worked in public relations, and the demanding nature of the industry just didn't work for me anymore. I was in need of a change. When I worked at FOX I would drive to 6 a.m. yoga class to relieve stress – and then before I knew it I was teaching classes one night a week after work.
How did you go from a nine to fiver in Los Angeles to a business owner in Orange County?
I couldn't have done it without my [late] husband. He told me one day, "If you ever wanted to change careers, the time to do it is now." He supported me through that change through and through. Before he passed away, he did a golf yoga workshop with me and put golf grips on brooms for an exercise I created… I should do that again as a matter of fact!
But, after meeting with many studios in L.A., the rent was too competitive and that's when we found Yorba Linda. I did a lot of research, and found that people here have a lot of time and money. That demographic requires the personal attention I wanted to present through my yoga studio.
What makes your yoga studio stand out from others?
I've actually taken a lot from my work in PR – I like to call myself buttoned-up, yet warm – I keep the professionalism from the corporate world close by, but we keep it personal as well. We're proud of keeping it old school – we send welcome letters to new members and perform check-in calls to ask about their experience.
While a lot of our members are retired— a lot of golfers, in fact – we also have a lot of young athletes – including a 15-year-old baseball player that comes every week!
Why do you have a passion for yoga?
Yoga is a game-changer for everyone's overall health. Women, men, young or old, we get it all and they all have unique reasons of why they come, and we make sure to have personalized classes for every need. We have people with chronic stress, preexisting conditions, sport-related injuries and yoga has a solution for every issue. Doctors frequently send in new clients as a form of alternative treatment. It's a beautiful feeling when people tell us how they are no longer on medication because of our classes, or that they are no longer in pain thanks to yoga. This community is so interconnected as well – we have cancer survivors who take classes to connect with and mentor other survivors or those who are currently still fighting the battle.
For more information, visit https://www.yogasolstudio.com/