SCGA Quarantine Chronicles: Robert Hertzing
By: - Sep 14, 2020
SCGA Quarantine Chronicles: Mark Dusbabek
By: - Aug 31, 2020
SCGA Swing Tip: Improve Putting with Coin Drills
By: - Apr 06, 2020
SCGA Swing Tip: Two Keys to Get Out of a Greenside Bunker
By: - Mar 30, 2020
SCGA Rules Crew: 18.3c (3) "Old Man Jenkins"
By: - Feb 24, 2020
Bob Thomas Communications Internship
By: - Feb 10, 2020
SCGA Swing Tip: Swing Rotation
By: - May 07, 2018
2019 California Amateur Cup Matches
By: - Dec 01, 2017
Mike Ortega
By: - Nov 16, 2014
Nikki Gatch, PGA
By: - Nov 15, 2014
Bob Livingstone
By: - Nov 13, 2014
Fred MacFarlane
By: - Nov 13, 2014
SCGA Swing Tip - Increasing Club Head Speed
By: - Oct 01, 2013
SCGA TV
By: - Jun 30, 2013
Kevin Heaney
By: - Jun 28, 2013
Holmes
By: - Sep 26, 2020
Paramesh
By: - Sep 26, 2020
SCGA Junior Golf Foundation's Argue Founder's Award
By: - Sep 25, 2020
Zerfass
By: - Sep 22, 2020
Jakeishya Le
By: - Sep 21, 2020
Club Glove Leaderboard
By: - Sep 21, 2020
Farrell
By: - Sep 20, 2020
Farrell
By: - Sep 20, 2020
Kilpatrick
By: - Sep 17, 2020
President's Award
By: - Sep 16, 2020
Tourville
By: - Sep 16, 2020
The Golf Mental Game with Dr. Alison Curdt
By: - Sep 15, 2020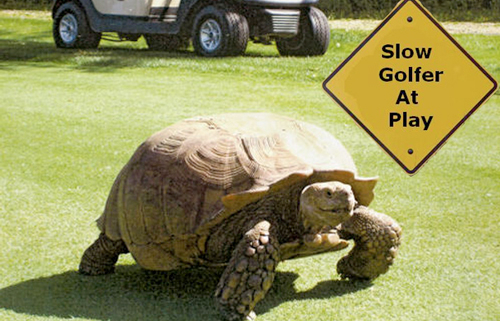 Nobody likes slow play. I know….that's not mind blowing news. But slow play is often mistakenly tied to ability level, or lack thereof. Many players assume that higher handicappers are inevitably slow. Nope. Not the case at all.
Each player has their own idea of what constitutes an ideal pace of play. Somebody's idea of slow play might feel like a rather quick pace to somebody else.
Speaking for myself, my pace of play is actually quite fast and it's not because I'm trying to finish in record time or am super sensitive about keeping things moving. Like most players, my pace of play was developed over time and is unique to my experiences.
Let's take a quick trip down memory lane. When my brother and I were young….and I mean young…..like 7 and 8 years old, our mom would drop us off at a short local public golf course. She would buy us an all-day pass and let us play our little hearts out while she went to work nearby. (you could do that back then) It was a short little course that was just right for our short little games. She would pick us up after work and we would go for dinner at the Mexican restaurant next door. What I remember from that time in our early lives was how much fun the game of golf was, how delicious the cheeseburgers were at that restaurant, and how I couldn't wait to do it all again the next day.
Those days shaped my love for the game but something else entirely shaped my pace of play. Candy. Yep. The golf professional in the shop would let Phil and I pick out one item from the snack bar every time we finished a round of golf. We would run inside, proudly present our completed scorecard, jump up on the counter and reach back to snatch a "well deserved" Snickers Bar. So yeah….we played fast. The candy was our main incentive but we also liked to try to break our record for most holes played in one day. I don't recall what our record stands at, but I can remember clear as day how that Snickers Bar tasted as we sat under the big tree outside the little golf shop and solved all the world's problems. The first problem we tried to tackle was how to make a Snickers Bar package easier to open. At 7 and 8 years old that is a pressing priority. So yeah….typical kid stuff but it shaped the type of players we are today.
This is all well and good, but I am also aware that being the cause of slow play is one of the things new players fear most….have the most anxiety about….and one of the reasons they are reluctant to go play. They don't want to hold anyone up. I cannot stress enough that pace of play has nothing to do with ability level. I have played with excellent players who are extremely slow. They take forever to choose their club, take 47 practice swings, stand over their ball for what seems like hours when all you want to do is yell, "Pull the trigger!", they line up their putts from every angle and instead of putting out that 3-footer they mark their ball instead. I feel myself get fidgety as I write this. Slow play is not my jam.
So if it's not based on ability, what does cause slow play? One word: Awareness. Just be aware of your surroundings, where your ball is in relation to the other players and whose turn it is. There are so many ways to keep the pace of play moving and the good news for new and inexperienced golfers is: you don't have to be an excellent player to understand what it takes to maintain a reasonable pace of play. It's basically common sense so, assuming you have some of that, you don't need to raise your stress level over something that should be relaxing and fun.
If you are having trouble on a particular hole, don't be afraid to simply pick up your ball, regroup and try again on the next hole. Nobody remembers what you shot or how you played, but they do remember if they had a good time with you or not.
So going back to that common sense…..if you are on the tee box about to hit your shot, this would not be the time to chit chat or tell a joke. If you hit your ball in the "stuff", remind yourself that it is just a golf ball and move on instead of compelling your group to search through prickly bushes for 5 minutes. (easier to do if you have a bunch of used or old balls in your bag for holes with trouble) Don't be afraid to hit out of turn. If a player is held up due to a ruling, bad lie, lost ball, etc., go ahead and let them know you will hit your shot since you are ready. Again, common sense.
New players often ask for a step by step guide for how to avoid slow play. Friend, you don't need that. Be aware of what is happening around you and just keep things moving. Identify the fastest player in the group and follow their lead. Have fun, relax, take things as they come and just keep moving. You got this.
Seldin
By: - Sep 13, 2020
Member Advantage (Updated Version)
By: - Sep 11, 2020
ventrell
By: - Sep 09, 2020
Tullio
By: - Sep 08, 2020
Gordon Sisters
By: - Sep 07, 2020
Lynn Smith Award
By: - Sep 06, 2020
Paramesh
By: - Sep 06, 2020
Tanada
By: - Sep 06, 2020
Jim House Award
By: - Sep 05, 2020
Branch
By: - Sep 05, 2020
Don Carlson Handicap Award
By: - Sep 04, 2020
SCGA Swing Tips
By: - Sep 03, 2020
Digital Profile Changes
By: - Sep 03, 2020
The Newell Pinch Award
By: - Sep 03, 2020
September Deal 2020
By: - Sep 03, 2020
Players of the Year
By: - Sep 02, 2020
Award Winners Intro / Sidebar
By: - Sep 01, 2020
Buehler
By: - Sep 01, 2020
Quarantine Chronicles
By: - Aug 31, 2020
matasar
By: - Aug 29, 2020
Nelson
By: - Aug 28, 2020
parsons
By: - Aug 27, 2020
Bowyer
By: - Aug 27, 2020
West Valley Golf Club
By: - Aug 26, 2020
Clubs Without a WHS Certified Handicap Chair
By: - Aug 25, 2020
Best Snacks To Have In Your Bag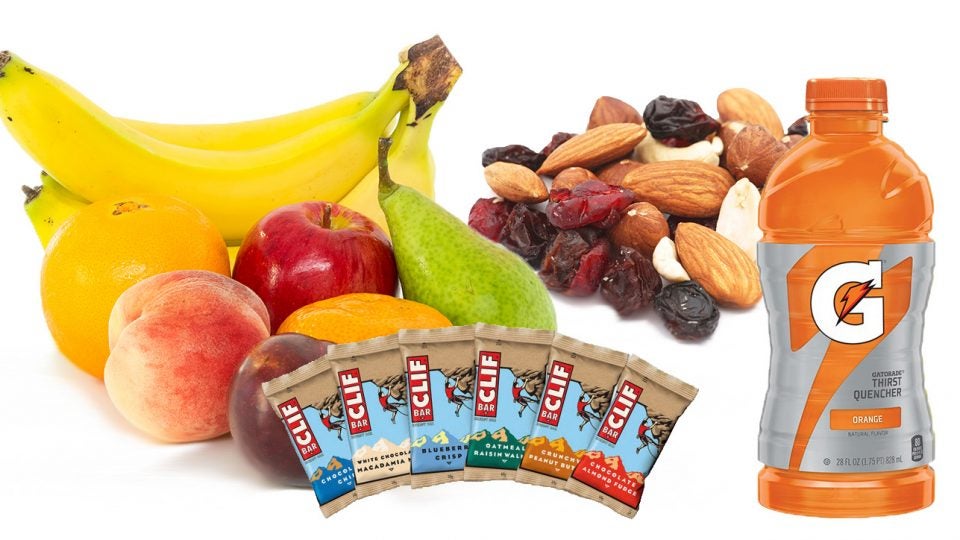 Your game started off strong but is starting to waver. You can feel the energy leaving your body with each swing, but there is no snack bar or snack cart in sight. "How am I going to make it to hole 18?" you ask yourself.
Unfortunately we have all been in this place, and we know it's a dreaded one that feels as if you're stuck in the middle of a desert without even a mirage of an oasis.
Golf requires attention, energy, and movement, and central to achieving all of those is food. It's always a good idea to eat a hearty meal before you head out on the course, but golf games can last long, and chances are good you'll find yourself losing energy and getting hungry long before the 18th tee. The best way to replenish your energy and, thus, your game is via snacks.
It's good practice to keep snacks in your golf bag at all times for when hunger strikes and you can't find any food to get you back on track with your game -- that's no secret. But what you may not know is that the type of snacks you have can make or break the rest of your game.
To keep your game strong and your spirits high (even when there is no snack cart in sight), put these snacks in your bag ahead of time and reach for them when times start to get tough.
Beef Jerky
This easy snack packs protein that can help you gain back some of your strength to drive it down the fairway for the rest of the game. Our favorite brand at FOREHer is Epic. The beef, venison, and lamb Epic uses in their products are all 100% grass-fed, and you can tell the difference in the flavor. The taste of Epic beef jerky is a giant step above the typical jerky you'll find at a truck stop. Flavors such as beef jalapeno, chicken sriracha, bison bacon cranberry and more will have you feeling satisfied in no time.
Epic Provisions Beef Jerky | 12 for $30
Nut Butter
Nut butter, whether it be almond, peanut, cashew, sunflower, or macadamia, is a good, healthy source of fat that will give you long-lasting energy. This snack also boasts protein and fiber, as well as vitamin E, which are all essentials not only when looking to lift you from your golf game slump, but in everyday life. However, when choosing a nut butter, be sure to pick one that is free of added sugars. Many sneak in loads of sugar as well as hydrogenated oils, which translates to trans fats. Our top pick for nut butter is the all- natural ones from House of Macadamias. With two great flavors to offer -- sea salt and dark chocolate -- House of Macadamia has mastered making nut butter full of great flavor sans the sugar, filler nuts, and palm oil.
House of Macademia Nut Butter | 12 for $30
Protein Bar
Protein is key to keeping your body moving and your muscles doing their job, which are two things you can't do without in your golf game. One of the easiest ways to get protein on the go is with a protein bar. All protein bars are not created equally and we have done our fair share of testing. One protein bar brand that we keep coming back to is Perfect Snacks. These protein bars are non-GMO, organic, and are made of protein from whole foods so that your body is better able to use the healthy nutrients inside. They are also packed with superfoods and are gluten-free so everyone can enjoy.
Perfect Bar | 8 for $24
Fruit
You can never go wrong with fresh fruit as a snack, though it does take a bit more preparation than the packaged goodies above. Fruit is packed with carbs and other nutrients guaranteed to give you energy, but if you go overboard on it, you could suffer the consequences of too much sugar. The best fruit to take golfing with you is grapes, berries, pineapples, mangos, and orange. Stay away from dried fruit, as that is where it is easy to consume massive amounts of sugar without even realizing it.
Any other snacks you may want to throw in your bag should be ones that don't need to be refrigerated. Meats and cheeses sound like a good idea, but when they've been sitting in the sun inside your bag for a few hours, they won't look or taste so good. If you have the space, you could grab a cooler and throw some items in that work better on ice.
With eats like this in your bag, you may find your favorite part of your golf game is snack time!
Corning
By: - Aug 24, 2020
Buckley
By: - Aug 23, 2020
Hollingsworth
By: - Aug 23, 2020
Benavides
By: - Aug 21, 2020
Levitt
By: - Aug 20, 2020
Dickson
By: - Aug 20, 2020
Olivares
By: - Aug 20, 2020
Tropicana Golf Club and Barbershop
By: - Aug 19, 2020
Pinto McLain
By: - Aug 19, 2020
Mulvaney
By: - Aug 18, 2020
Callaway Sponsor
By: - Aug 17, 2020
UnderPar Sponsor
By: - Aug 17, 2020
Amy Sport Sponsor
By: - Aug 17, 2020
TaylorMade Sponsor
By: - Aug 17, 2020
SanSoleil Sponsor
By: - Aug 17, 2020
GolfTec Sponsor
By: - Aug 17, 2020
Wearable Imaging
By: - Aug 17, 2020
Kinona Sponsor
By: - Aug 17, 2020
Adamczak
By: - Aug 12, 2020
SoCal Women's Golf Summit
By: - Aug 12, 2020
SCGA Junior Golf Coach - Riverside
By: - Aug 12, 2020
Thistle
By: - Aug 12, 2020