SCGA Swing Tip: Slice No More
By: - Jun 02, 2022
Opposition to Assembly Bill 1910
By: - Apr 20, 2022
SCGA Swing Tip: One-Piece Takeaway to Start the Swing
By: - Apr 18, 2022
CGCOA Golf is Good Ambassador Program
By: - Mar 17, 2021
FORE - Public Affairs
By: - Mar 16, 2021
Zack Moran
By: - Oct 15, 2020
Huy Dang
By: - Oct 15, 2020
Mike Ortega
By: - Oct 13, 2020
Nikki Gatch, PGA
By: - Oct 12, 2020
SCGA Swing Tip: Leapfrog Chipping Drill
By: - Apr 06, 2020
SCGA Rules Crew: Rule 13.1c "Messy Green"
By: - Feb 24, 2020
Bob Thomas Communications Internship
By: - Feb 10, 2020
SCGA Swing Tip: Swing Rotation
By: - May 07, 2018
2021 California Amateur Cup Matches
By: - Dec 01, 2017
SCGA Swing Tip: Hitting Downhill Shots
By: - Aug 29, 2017
Hollywood Swings and Misses - Happy Gilmore
By: - Apr 17, 2017
California Senior Amateur Championship
By: - Nov 01, 2016
SCGA Swing Tip - Increasing Club Head Speed
By: - Oct 01, 2013
Live Scoring
By: - Jun 30, 2013
Kevin Heaney
By: - Jun 28, 2013
Lockwood
By: - Jul 03, 2022
NOAH WOOLSEY ADDS NAME TO LONG LIST OF CALIFORNIA LEGENDS
By: - Jul 02, 2022
Michael
By: - Jul 01, 2022
Michael
By: - Jul 01, 2022
Drought: It's Worse Than 2016, But What Does That Mean?
By: - Jun 29, 2022
Cal Am
By: - Jun 27, 2022
Women's Team Play
By: - Jun 27, 2022
Cherneck
By: - Jun 26, 2022
Stephens
By: - Jun 26, 2022
SCGA Junior Featured in Title IX Documentary
By: - Jun 23, 2022
Sophia Martinez
By: - Jun 23, 2022
how do i ask my doctor for cialis Tournament Withdrawl
By: - Jun 20, 2022
Alex Hitchens
By: - Jun 20, 2022
Gornick
By: - Jun 20, 2022
Gibbons
By: - Jun 17, 2022
Silveria
By: - Jun 16, 2022
Leitgeb
By: - Jun 16, 2022
DROUGHT
By: - Jun 13, 2022
Anna Davis Prepares for Busy Summer After ANWA Win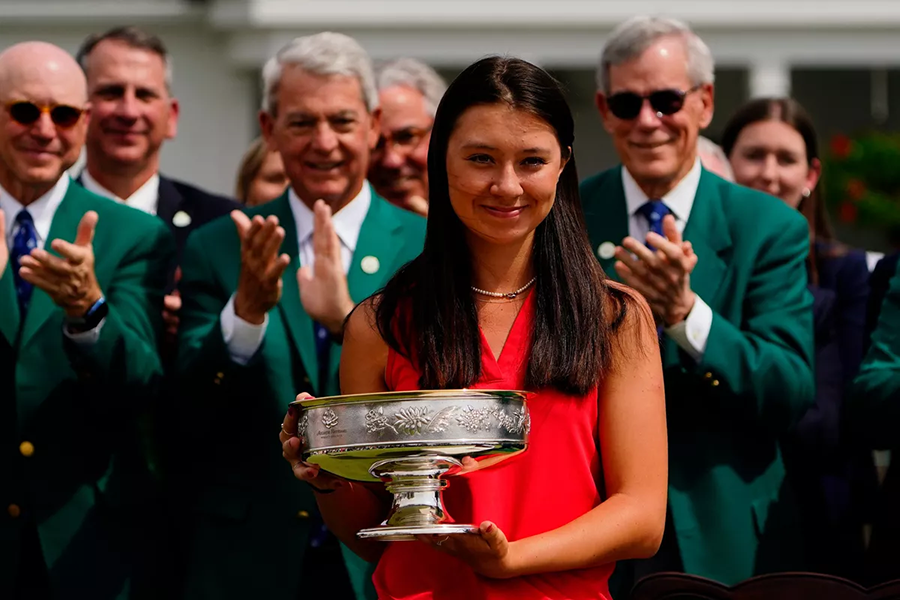 When Anna Davis won the Augusta National Women's Amateur recently, she put her name on the golf map. Even Tiger Woods tweeted about her win.
Now the 16-year-old Davis loves all the attention that's come with it. She'll be on big stages with a summer schedule that includes three LPGA majors.
"It's so cool. I walk around in public and usually someone will recognize me - ''oh my God, you won the women's amateur at Augusta,'" and I"m like yeah," Davis said. "It's fun."
So is golf.
Davis went to Augusta for the first time, played a practice round and won the event with a final-round 72.
"I've always been like that. It's kind of an advantage where you don't see the course and then you're not overthinking it, and just going out there and playing," Davis said. "That was my thought process."
Davis, who doesn't even have her driver's license yet, is embracing the pressure and expectation that comes with teeing it up at events now.
"Even going into ANWA, I knew I was an underdog," Davis said. "My main goal was to go have fun and make the cut. Going into the last day I wasn't as nervous because I knew I was the underdog. I knew the attention wasn't on me and I could go play. That's changed now. There's more expectation. It doesn't really bother me. It's kind of cool. It's fun getting all the attention."
She's been so busy playing golf tournaments around the country that she didn't even have time for a Sweet 16 bash or birthday dinner in March. But the Chairman's Dinner at Augusta sufficed. She had a crab appetizer, steak, fish and potatoes along with Crème Brûlée for dessert.
"I ate every last bite of food," Davis said. "It was so good."
Everything is better at Augusta.
"I have the feeling we'll look back and go 'Wow, that was really important,'" Bill Davis, Anna's dad, said. "Just being associated with Augusta. For a long time, she'll be associated with Augusta National. As the event goes on, they're going to say Anna Davis won this event. As time goes on, we'll go 'Damn, that was pretty good.' She doesn't make too big of a deal about it and she's like, 'Where's the next tournament?' And I think in a way that's good."
Davis, who lives in Spring Valley outside San Diego, and plays out of Steele Canyon GC and Singing Hills Resort, has flourished as a junior golfer. Much of her competitive vibe was honed playing golf with her twin brother, Billy, and her dad. The siblings had some intense matches on the course and Bill always had to run interference.
Since COVID, she's been homeschooled, making golf travel easier. Either her dad, Bill, or mom Beatriz - both educators - usually travel with her to events.
Her career is on the fast track. But Bill Davis' goal is the same, to make sure both kids are always smiling.
"You watch them and you want them to do well and to be happy. If they play well, they're happy. If they don't go well, your kids aren't happy. So far, it's not a heck of a lot different than when they were 7 or 8 to tell you the truth," Bill Davis said. "It's really very similar whether Augusta or an LPGA Tour event."
Anna Davis has come a long way from junior events and participating in SCPGA programming, where she's grateful for learning the Rules of Golf, to now playing on exemptions in LPGA events. A look into her summer schedule makes you think she's already turned pro.
"It's been cool. It's been a good experience and one of my goals to play in an LPGA event," Davis said. "To have qualified for a bunch is super cool. I'm glad to have gotten the opportunity and experiences."
She finished 70th at the Palos Verdes Championship - making her first cut at her debut in an LPGA event - and missed the cut at the U.S. Women's Open at Pine Needles. She's never been to Europe but that will change this summer when she plays the Amundi Evian Masters in France and AIG Women's British Open at Muirfield.
"I'm really enjoying it so far and hoping it will be a fun summer," Davis said. "I know I want my future to look like what I'm doing this summer."
Davis hasn't signed NIL deals yet, but that's probably next. She's not yet sure if she'll play in college or turn professional but she has plenty of time.
"I have no idea," Davis said. "I have two years, and I don't want to decide something as big as that right now."
For now, she's loving life playing golf, albeit with a few more eyes on her now.
Griffith Park GC Hosts Women Fore Golf Event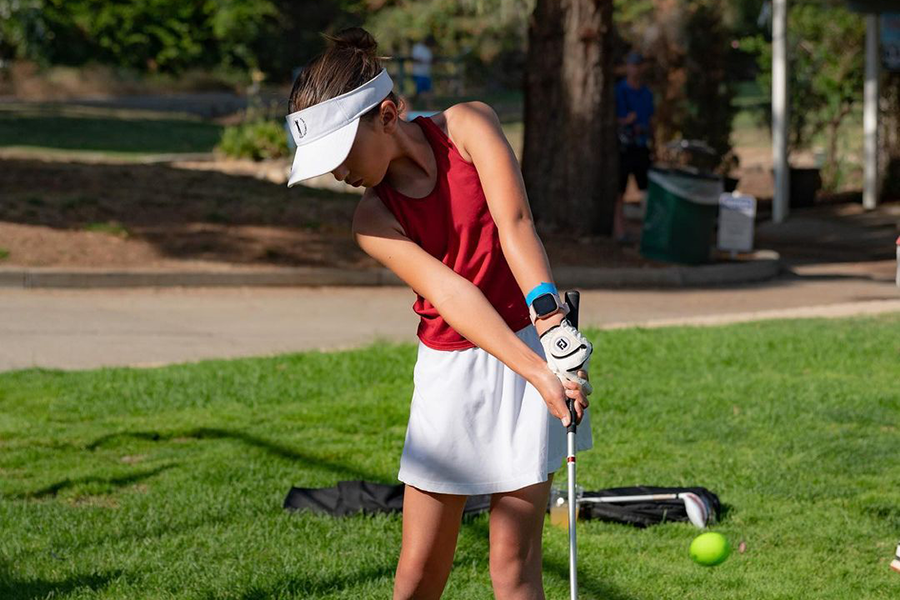 When I pulled up to Griffith Park in central Los Angeles last Tuesday and began looking for posted signs to the golf course, I discovered I didn't need to find a posted sign. There were dozens of women and girls wearing red shirts and carrying golf clubs, leading the way to the course.
June 7 was Women's Golf Day with events being held at 880 locations in 80 countries around the world. I set out to meet some of the women, girls and men who attended and the SCGA Foundation coaches who volunteered their time to help introduce more ladies to the game.
Hosted by SCGA Junior Foundation supporters, the LPGA Amateurs of Los Angeles and Griffith Park Golf Club, the coaches and volunteers had set up stations offering instruction on various aspects of the game. Participants moved through each station with their scorecard to record their points earned in the drive, chip and putt competitions, followed by drinks, snacks and a raffle. All for a $10 entry fee, benefitting LPGA*USGA Girls Golf chapters in the San Fernando Valley and Southeast Los Angeles.
Yuka Okajima started playing golf one year ago and is so excited about the sport she said she wished she could play every day.
"I asked my friend Tina to join me today because I thought it would be fun," Okajima said.
This was her first competitive golf activity and when I spoke with her halfway through the six stations, she was having a blast.
Okajima's friend Tina Young started playing when she was a little girl, but it had been years since she had played. That is until the pandemic hit. Golf is "the perfect COVID sport," she said.
I was curious why there had been such a long gap for her, and if she felt there were barriers to pursuing the sport.
"I was often the only woman, and the only woman of color, but now you see more diversity. We have a long way to go to make more women feel comfortable, but it's getting better," Young responded.
It also helps that she's able to attend events such as this at Griffith Park last week. It helps her hone her skills and gain confidence.
"I am super competitive and play a lot of other sports. Golf is the hardest. I want to get to a single digit handicap and be competitive," Young said.
One of the coaches that day was Lauren Fesler, Assistant Director of SCGA Junior and an LPGA Apprentice. She was bit by the golf bug at the age of 12 when she herself became an SCGA Junior Golfer and grew up in the program.
"A lot of the people that I work with now have been my lifelong mentors and role models for me, so it's really great to be coming back to a program where I grew up in, and serving in a community that I started playing golf in."
She added, "Women's Golf Day means everything to me. It's a place for inclusivity, representing women, making the game more inviting and accessible for everyone to come out to." She feels that most importantly, everyone should feel welcome to be out on the golf course and is grateful to the LPGA Amateurs of LA and Griffith Park Golf Club for creating exactly that atmosphere.
Judging from the laughter and smiling faces of the girls and women who participated that day, there's no question they felt welcome and supported by this special event.
SoCal Golf Guys
By: - Jun 10, 2022
Harrison
By: - Jun 04, 2022
Wright
By: - Jun 03, 2022
Takagi
By: - Jun 02, 2022
SCGA Swing Tip: Create Feel With Your Golf Towel
By: - Jun 01, 2022
SCGA Swing Tip: Create Success From Hardpan Lies
By: - Jun 01, 2022
SCGA Swing Tip: Creating Successful Outcomes
By: - Jun 01, 2022
SCGA Swing Tip: Three Keys For More Driver Distance
By: - Jun 01, 2022
SCGA Swing Tip: Bump & Run With Loft
By: - Jun 01, 2022
SCGA Swing Tip: Hit Down to Make it Go Up
By: - Jun 01, 2022
SCGA Swing Tip: Stop Casting
By: - Jun 01, 2022
SCGA Swing Tip: Tee Off on the Side of Trouble
By: - Jun 01, 2022
SCGA Swing Tip: Use the Hosel to Get Out of a Plugged Lie
By: - Jun 01, 2022
John Rydell
By: - Jun 01, 2022
Tom Reul
By: - Jun 01, 2022
George Mallory
By: - Jun 01, 2022
Azucena Maldonado
By: - Jun 01, 2022
2018 Event Recap
By: - May 31, 2022
Sakata
By: - May 30, 2022
Nelson
By: - May 26, 2022
Kenney
By: - May 23, 2022
Johnson
By: - May 23, 2022
Zamora
By: - May 22, 2022
Gregory
By: - May 21, 2022
Hartman
By: - May 20, 2022
THE PUBLIC GOLF ENDANGERMENT ACT DIED TODAY
By: - May 19, 2022
Inside the Ropes at the Palos Verdes Championship
With over $19,000 raised from parking proceeds for the SCGA Junior Golf Foundation, free admission for over 160 juniors and unique opportunities for junior members to meet LPGA Tour pros, the LPGA Palos Verdes Championship was nothing short of an exciting week.
Kicking off the event, a group of SCGA Junior members participated in an exclusive meet-and-greet with LPGA Pro and recently anointed Youth on Course global ambassador, Lizette Salas.
Later that week, four SCGA Junior girls – Emma Kurata, Sophia Hernandez, Alysa Davis and Momoka Takahashi – were granted access to walk inside the ropes with their favorite LPGA Tour players.
Once the weekend field was set, they were placed with one of their three choices and made unforgettable memories.
Alysa Davis, who walked with fan-favorite Lexi Thompson, took home a new perspective on her own short game.
"Since that day I've really been trying to use Lexi's approach to putting," Davis said. "Finding a spot to aim about a foot away and rolling the ball over that instead of aiming at the hole. It has really changed the way I putt."
Across the fairways, Sophia Hernandez received an important nugget of advice from Ryann O'Toole and Albane Valenzuela.
"[We] talked about the value of continuing to play the game," Hernandez recounts. "They emphasized the importance of playing for the joy of it and keeping things fun."
All four girls expressed their gratitude for SCGA Junior and how their time in the program has prepared them for this experience.
"SCGA Junior has helped me understand golf etiquette and learn the rules of golf," Kurata said. "I was able to utilize the values of sportsmanship and respect that I've learned in my classes."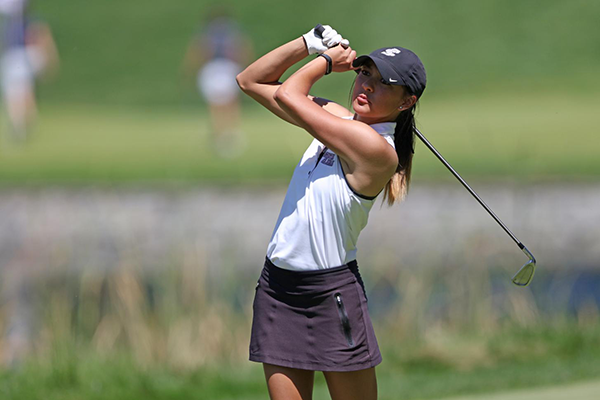 Arnold Palmer once said, "Golf is a game of inches. The most important are the six inches between your ears."
The King wasn't wrong. Those six inches truly can make or break you.
This, along many other Arnold Palmer sayings, applies to most things in life. You've got to be able to keep your mind at ease, but that's much easier said than done.
I was a golf nut growing up. It was really the only sport I ever played, and I loved it. So much so that my entire identity and sense of self-worth were wrapped into the sport. I was a golfer first and foremost. Everything else was secondary.
Naturally, it took a toll on my mental health. Whenever I hit a slump in my game or got injured, my self-esteem took a serious hit. It was a nasty, recurring pattern that was tough to break. At the time, I didn't know that what I was experiencing was depression and anxiety or that I was one in four Americans that struggle with their mental health. I thought it was a normal part of the process and I just needed to push through it – be the "mentally tough" athlete I was supposed to be.
Then came college.
I was fortunate to earn a spot on the Santa Clara women's golf team. Playing Div. I golf will always be one of my fondest and proudest memories. But that's not to say it was easy on my mental health.
Student-athletes, especially collegiate golfers, are known to hold themselves to a near-perfect standard, all while juggling classes, exams, projects, an eligible GPA, practices, workouts, qualifying rounds, tournament travel, community volunteering, team meetings and somehow a little sprinkle of college fun.
It was a grind, to put it nicely. A mental rollercoaster that never seemed to end.
Most people on the outside looking in praise collegiate athletes as ambitious, high-achieving and hard-working. And they are. But a look into the full experience brings light to the underlying issues they face, and it's not talked about enough.
After making the difficult decision to not pursue professional golf post-graduation, I felt incredibly lost. I had no idea who I was, my depression and anxiety had only gotten worse and I was grieving a lifelong relationship with a game I deeply loved.
My younger sister, then only 16-years-old, was my saving grace. She urged me to go to therapy, explore medication options and incorporate holistic practices, like meditation and breathwork, into my daily routine.
Asking for help is something I still struggle with, but it saved my life. And I thank myself every day for putting in the work to become more comfortable with it and making my mental health a priority.
When you're a student-athlete, "student" comes first for a reason. But it's really the person that needs to come before both.
If you or someone you know is in crisis, The National Suicide Prevention Lifeline provides 24/7, free and confidential support for people in distress, prevention and crisis resources for you or your loved ones, and best practices for professionals in the United States. Call 1-800-273-8255 or click here for more information.
More to Explore, More to Learn and More to Advance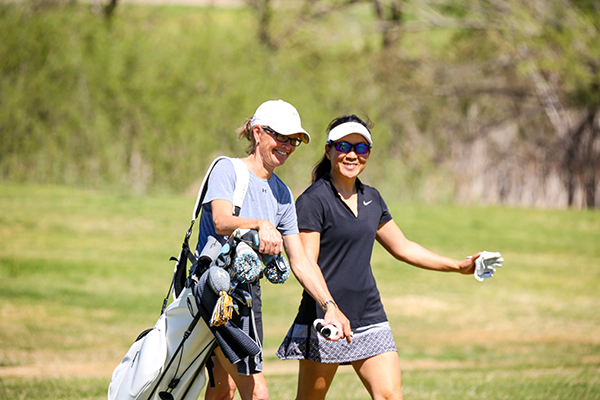 A good friend gifted me with this vintage poster soon after I picked up the sticks. The artist: unknown. The subjects: two ladies from Shanghai in the 1930s doing what appears to be…golf. It's altogether fascinating, elegant and a tad cringe-worthy to imagine what the game must have looked and felt like for Asian women back in the day. If this illustration depicts any ounce of truth, I'd say we've come a very, very long way.
When I started playing, the only Asian women golfers I knew about were Se-Ri Pak and Grace Park. Then, a young phenom named Michelle Wie splashed onto the scene. It was an exciting time to be the inverse of what characterized the typical golfer. Meanwhile, no one in my family played or encouraged me to learn. My friends weren't into it. I didn't belong to a golf club or community. I just wanted to play! Being a young, female minority didn't deter me from getting out on the weekends. Whenever I dared to walk on as "Tran; single; off the waitlist," I was typically grouped with a trio of bemused guys. Most were kind and welcoming. Some took time to defrost their demeanor. Almost all were friendly towards the end. If boredom and curiosity brought me to the game, shamelessness and determination helped me stay. I managed to figure out how to find a sense of belonging in a space that did not seem crafted for me.
Soon after I settled in Southern California, I made golf friends – many of whom I consider lifelong friends. I found a welcoming community – to which I still belong. As a newish staff member with the SCGA, I'm empowered to give back to the game that has endowed me with more experiences than I could have imagined. The environment may not have been ripe for minority women when I began, but I'm encouraged by the current efforts taking place to grow and diversify a game that transcends age, gender, ethnicity, cultures, socioeconomic backgrounds, strength and size.
Today, it's not uncommon to be Asian and female on the golf course. On the LPGA Tour, over 65% percent of the top-200 ranked players are of Asian descent. Despite being overwhelmingly represented on the grandest stage, golf within the local Asian communities is still underserved. Most recently, I was approached by a father of a teenage daughter who plays competitively. He was searching for someone to help mentor her. "Not a lot of Vietnamese we know play high level golf around here." While I felt flattered and humbled by the ask, I couldn't help but wonder: was this serendipity or slim pickings? Is she playing for him or for her? Could I make a difference by sharing the same background? I'm eager to find out by rising to the challenge of this rather interesting skins game.
Golf for Asian women has certainly progressed over the years. As evidenced by this image, we've evolved away from heels and silk dresses. We've gotten a better grip on the game! But there are so many microcosms beneath the surface, making it unreasonable to bundle the needs and desires of Asian female golfers. There's more to explore, more to learn and more to advance. In recognition of Asian American Pacific Islander Heritage Month, let's make it FORE Her and about her!
Amari Avery: USC's Budding Golf Star
Amari Avery was preparing for finals and an upcoming golf tournament when she got a call from one of her friends on the USC men's golf team.
Avery, a freshman star for the USC women's team, was asked if she wanted to join them for a round at Riviera CC. Obviously, she said yes.
The Trojans had a friendly game going, and she teamed up with Shane French to beat Jack Boulger and Gavin Aurilia on the prestigious course. She's known as a great ball-striker and finished tied for fourth at the Augusta National Women's Amateur after missing the cut her previous trip there.
Avery, the 18-year-old from Riverside, isn't used to the perks that come with having teammates since she's been home schooled since kindergarten. She's loving life as a student-athlete. Since being an early enrollee in January, she's already won three tournaments, including medalist honors at the NCAA West Regional on May 11 to lead USC to the team title. Avery and the Trojans are off to the NCAA Championship final next.
"I think it's been super exciting to see it transition so quickly," Avery said. "Obviously, I wanted to win, but I didn't foresee it happening within my second month of being here. With transitioning from home schooling to going to real college and being on my own. I didn't know how I would handle it. Luckily, I have some really good teammates and obviously some great coaches and they made the transition easy."
Avery, the 2019 SCGA Player of the Year and 2019 California Women's Amateur champion, called teammate Brianna Navarrosa crying one day because she didn't know if she should dress up or be casual for class, how she would find her classes on campus and so many other things.
Navarrosa, also a longtime friend, calmed her.
"It's been a lot - exciting, nerve-wracking and stressful but for the most part it's been fun," Avery said. "Especially being at a school like USC, with such a great athletics program and meeting all the athletes here. It made it really nice and easy for me to adapt and find some common ground with people who are working to be the best. That made it nice for my social life because I kind of had built-in friends. Social life has been really fun. Obviously, I don't go out a ton. Even though it's postseason, we're always golfing."
Avery never played on a high school team since she was home schooled by her dad, Andre. Both of them and Avery's sister, 15-year-old golfer Alona, competed in tournaments all around the country and did their schoolwork on the road while mom, Maria, was working.
Avery now loves the team aspect of playing for the Trojans.
"I think it just changed my perspective on golf, and I like it," Avery said. "It's kind of calmed me down a little bit and relaxed me when I play golf because I'm trying to do what's best for the team. If I'm out there and getting upset and wasting energy, then in the end I'm not helping the team, which would make me feel bad.
"It's nice knowing you have other people to help you and knowing it's not as individual and independent as it usually is. It's been relaxing and takes some of the stress out of trying to put up a good score. You're just trying to help the team."
She finished tied for fifth in the recent Pac-12 Championships and now has four top-two finishes and seven in the top eight. As the No. 21 ranked women's golfer on the World Amateur Golf Ranking (WAGR), she was just named a finalist for the 2022 ANNIKA Award, which is given to the top female collegiate golfer in the nation.
Avery shares the same Dec. 30 birthday with Tiger Woods and her dad raised her with many of the same golf career principles that Earl Woods did with Tiger.
Avery had considered skipping college and turning professional, and she might turn pro soon enough, but she told the SCGA she'll be at USC at least two years.
"I think COVID really hit at a weird time when I was deciding to go pro or go to college," Avery said. "It let me and my family take a step back and look to the future what we wanted that to look like. I loved the coaches when they were recruiting me. I wanted to grow as an adult."
And being part of a team has been a wonderful bonus.
Gottlieb
By: - May 18, 2022
Makley
By: - May 17, 2022
Rashid
By: - May 15, 2022
Foushee
By: - May 12, 2022
Ramberg
By: - May 11, 2022
Slomanson
By: - May 09, 2022
Rodriguez
By: - May 07, 2022
Kaiser
By: - May 05, 2022
Bethune
By: - May 04, 2022
Oldakowski
By: - May 04, 2022
AB 1910
By: - May 02, 2022
PERKETT
By: - Apr 30, 2022
Karen Schmaren, Your Local Country Club Snob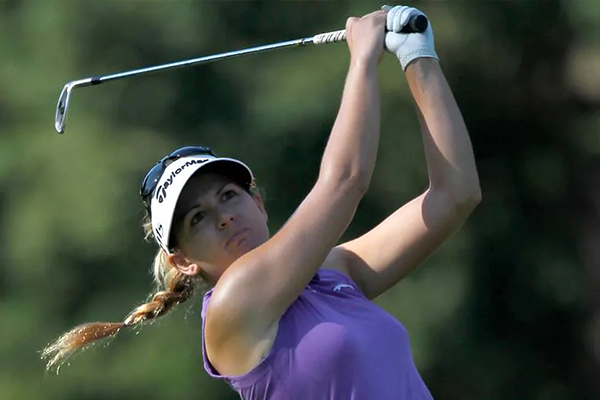 If you're on Facebook or Instagram then you've probably seen fictional country club golf snob, Karen Schmaren. Karen is the type of entitled woman that complains if the valet has not picked up her car in the first 90 seconds, calls the head golf professional when someone's cart is ten inches onto the grass on a cart-path-only hole or storms off when she gets paired with the same woman for ladies' day two weeks in a row.
These tongue-in-cheek videos keep us laughing because we've all seen this character at our own golf courses. Karen Schmaren is the creation of LPGA Tour player Sydnee Michaels, a home-grown, Temecula, Ca. girl with a background in performing arts, figure skating, dance and music.
Michaels makes the videos to represent the old stigma about country club golf, because she has seen the sport become more inclusive and relaxed over the past few years and is excited about this welcoming trend.
Michaels' father suggested she pick up a golf club at the age of 8.
"My dad predicted that women's golf would become popular by the time I became an adult and thought it would be a good sport for women in business," said Michaels. She played on the boy's golf team at Linfield Christian HS in Temecula (because there was no girls team at the time) and went on to play collegiately at UCLA. The youngest of eight children, Michaels learned and perfected her game on a driving range, not a country club.
"You don't have to belong to a country club to pick up the game," said Michaels.
Michaels started bringing her now 4-year-old daughter on Tour with her when she was just 4 months old. Their trailer brings the same toys to each city and the kids develop relationships with the same two care providers, providing consistency and stability.
She suffered a back injury in 2019 that required surgery and ended up taking almost three years off to recover and spend time with her daughter.
"During my time off, I didn't know if I was going to be healthy enough to play on Tour full time," Michaels said.
Though she was busy, she won the title of Miss Hawaii in 2019 in addition to launching The Sydnee Michaels Foundation, advocating for girls in sports and starting a golf and tennis clothing line, ISLA Sport that features sporty, youthful pieces that focus on comfort.
Michaels is now fully recovered from her back surgery and even had a top five finish last summer at the ISPS Handa World Invitational in Ireland. She will be in the field at the upcoming Palos Verdes Championship. Michaels will be wearing her own clothing line, and we're not quite sure if Karen Schmaren will approve of the skort length.
SoCal Women's Golf Summit Returns in June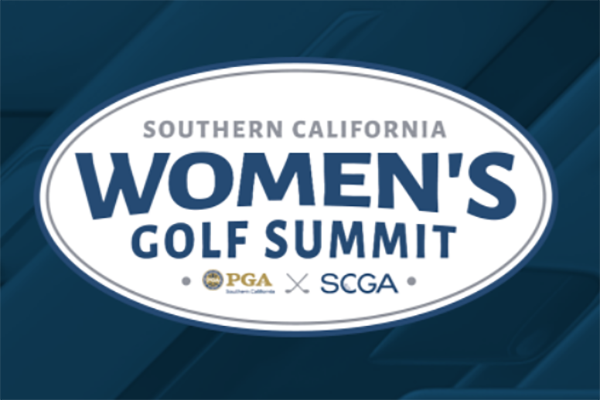 Women's golf has grown exponentially over the past several years and it continues to soar. One important reason for this is the support initiatives that groups and organizations have implemented to help grow the game in a comfortable and non-threatening environment.
I had the opportunity to witness this firsthand when the Southern California Golf Association (SCGA), the Southern California PGA (SCPGA) section and PGA Magazine partnered to present the first Southern California Women's Golf Summit in May of 2018 at Industry Hills GC at Pacific Palms Resort. It was a complementary event focused on ideas and connections that grow the game of golf on the local level for women. The event was open to PGA and LPGA members, businesswomen, amateurs and golf leaders in California. It included special guests, networking opportunities and a comfortable environment in which women could share ideas and their passion for the great game of golf.
Not only was the event a huge success, but it was made abundantly clear that there was a need and a market for more. Other PGA sections started to follow suit and modeled local events after the Southern California Women's Golf Summit as more women flocked to the game.
And then COVID hit. A pivot was made, and a digital version of the Women's Golf Summit was offered. Not only was the response every bit as positive as the in-person event, but the benefits of an online series of these summits became obvious.
I have contained my excitement long enough, and I'm bursting at the seams to announce that the SCGA and SCPGA have agreed to join forces in conducting the 2022-23 Women's Golf Summit Speaker Series in an on-demand format. Yours truly will be the host of this quarterly offering that will include exciting guests, engaging conversations and current topics as we continue our discussions throughout the year.
Participants and viewers will have access to the summit online after it airs so they can watch (and rewatch) whenever they choose. The networking aspect will take place through digital member communications. Viewers/participants are encouraged to submit questions and topic ideas in an effort to ensure interviews and discussions are relevant to current interests.
The first series is slated to kick off on or before Women's Golf Day on June 7. Stay tuned for further details and information. I look forward talking with you throughout the year.
2022 Fashion Trends in Women's Golf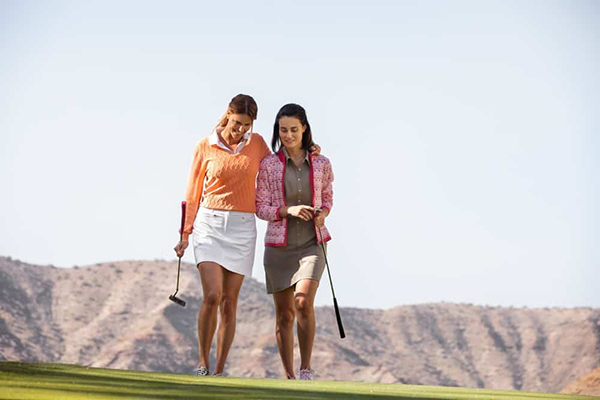 Along with the huge influx of new female golfers in the past two years, we've also seen a lot of changes to what ladies are wearing out on the course. Here's what's trending in women's golf fashion in 2022-23.
Yes, the men are wearing hoodies, but women are opting for fabrics with sun protection, comfort and, most importantly, items they can wear on and off the course to maximize their dollar (and save room in their closets!)
MULTI-TASK AND MULTI-PURPOSE
Clothing brands have never been more in-tune with the fact that women are multi-taskers who want to look and feel great in outfits that take them from the golf course to a teacher conference, a social hike with girlfriends, the mall or an early dinner at their neighborhood restaurant.
"Women no longer want specific apparel for each activity," according to Jamie Handler, president of the women's golf apparel brand, IBKUL. "They want items that cross over to their daily athleisure needs."
Because ladies are going from one activity to the next, IBKUL makes fabrics that have moisture-wicking, anti-microbial features.
"Our customers are looking for fashion, comfort and unrestricted range of motion suitable for both casual and active lifestyles in easy-care fabrication."
DRESSES
Golf dresses are gaining popularity because they're easy to pack in a duffel bag or suitcase. If the length isn't perfect, they are easy to have hemmed up to just the right length for golf. Since most of these "golf dresses" are designed for use at a resort or golf course, they don't typically come with built-in shorts, so women are finding their own pair of biker-style shorts that fit comfortably and can be worn with any of their dresses as needed.
ANIMAL PRINT
I remember asking a girlfriend 15 years ago if she thought animal prints were going to come back in style. It used to be they would be "in", then lose popularity and come back three years later (right after I had given up on leopard pints and donated my leopard skorts and tops to my local First Tee Program). In 2022 and 2023, animal prints and camo are back!
This season, animal and camo prints are offered in almost every golf brand.
Marci Falldorf, co-owner of Alexandrite Active & Golf Wear, spends a lot of time interacting with her customers in her La Quinta, Ca. boutique, and says her customers ask for zebra and leopard prints each fall.
"This year, we're selling a lot of camo in blues, oranges and greens with hot pink," says Falldorf. "And this coming fall, we'll see more color in warmer tones."
HOLY GRAIL FEATURE
And my own personal must-have feature in golf clothing is the holy grail: Lycra. When my pants and skorts stretch, I feel comfortable swinging freely, sitting in a golf cart or on a barstool at the 19th hole. You can't get a muffin top sitting down with at least three percent Lycra or Elastane in your skort or pants. It's just a fact!
How to Handle Your Club's Hard Caps and Soft Caps
By: - Apr 27, 2022
DROUGHT: CONCERN YES; PANIC NO
By: - Apr 27, 2022
AB 1910: IT JUST GETS CURIOUSER AND CURIOUSER
By: - Apr 27, 2022