California Golf Water Facts (Infographic)
By: - Jul 27, 2021
SCGA Swing Tip: Post Swing Evaluation for Better Driving
By: - Jun 24, 2021
CGCOA Golf is Good Ambassador Program
By: - Mar 17, 2021
FORE - Public Affairs
By: - Mar 16, 2021
SCGA Swing Tip: Use Your Golf Bag to Improve Your Swing Path
By: - Mar 08, 2021
Zack Moran
By: - Oct 15, 2020
Huy Dang
By: - Oct 15, 2020
Mike Ortega
By: - Oct 13, 2020
Nikki Gatch, PGA
By: - Oct 12, 2020
SCGA Swing Tip: Leapfrog Chipping Drill
By: - Apr 06, 2020
SCGA Rules Crew: Rule 13.1c "Messy Green"
By: - Feb 24, 2020
Bob Thomas Communications Internship
By: - Feb 10, 2020
SCGA Swing Tip: Swing Rotation
By: - May 07, 2018
2021 California Amateur Cup Matches
By: - Dec 01, 2017
SCGA Swing Tip: Hitting Downhill Shots
By: - Aug 29, 2017
Hollywood Swings and Misses - Happy Gilmore
By: - Apr 17, 2017
California Senior Amateur Championship
By: - Nov 01, 2016
SCGA Swing Tip - Increasing Club Head Speed
By: - Oct 01, 2013
SCGA TV
By: - Jun 30, 2013
Kevin Heaney
By: - Jun 28, 2013
Central Coast Club Hoppers
By: - Jan 25, 2022
Kaiser
By: - Jan 25, 2022
Public Golf Endangerment Act (Infographic)
By: - Jan 24, 2022
PUBLIC GOLF ENDANGERMENT ACT STYMIED BY FAILURE TO PASS APPROPRIATIONS COMMITTEE TODAY
By: - Jan 20, 2022
Cannizzaro
By: - Jan 20, 2022
Murtha
By: - Jan 18, 2022
How to Pick a Tournament Partner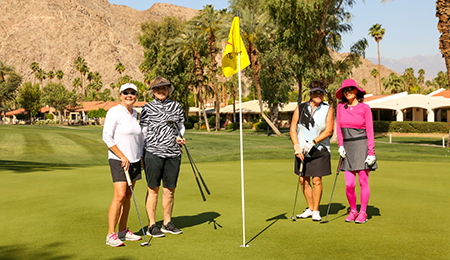 If you've been thinking about competing in a golf tournament and want to start out with an easy format, playing in a partner event is a great way to dip your toes into the competition pool. Whether the format is Better Ball, Scramble, Shamble or Cha Cha Cha, playing in a partner or team format can be a ton of fun if you're playing with the right people. Here are some tips on how to pick a tournament partner that will help ensure you and your friends have the most fun (and maybe even win!)
Personality
You may think a low handicap is the most important quality your partner should possess, but I'm here to tell ya that's way down on my list. To ensure a pleasant tournament experience, you'll need to have the right personalities on your team.
First off, it's best if you''ve played a round with her in the past to understand her temperament. Has she gotten angry at herself if she hit a bad shot? Did a few bad holes at the beginning of the round make her think her round was doomed and she stopped trying? You'll want to avoid inviting a player whom you've witnessed being confrontational about a score, a rule or where to park the cart. Check out my previous article on handling ruling disagreements for tips about conflicts on the course.
Your ideal partner should be someone who has golf etiquette and grace, can complement a fellow competitor on a good shot, watch shots in the air to help the other ladies find their golf balls, while having fun and keeping pace of play a priority.
Handicap
As I wrote in my article about handicapping a scorecard, a player is only expected to shoot their handicap 20% of the time. Since this is a competition, it's helpful to have a partner with some consistency in her game who can handle a little pressure. A lower handicap or more seasoned player will typically know how to shake off a bad shot and stay in the zone for the duration of the round.
Golf Attire
Many member/guest tournaments have a theme, and I continue to be surprised and impressed by the extent to which ladies will dress the part. Queen Of Hearts, Moulin Rouge, Orient Express, are some examples. If you like to follow themes with fun outfits and accessories, be sure your partner is up for it as well. And along those lines, if you are playing at a traditional country club, be sure your guests get a copy of the dress code - nothing can bring the mood down more than being asked by the head pro to wear a longer skort!
I recently played in a four-person team member/guest tournament at The Crosby Club in Rancho Santa Fe with three complete strangers — it was a golf blind-date. We had four very different personalities and skill levels, but we were all supportive and gracious players. We played two fabulous days together on the course, and guess what? We won!
Marcela Smith teaches golf rules and etiquette in her unique On-Course Rules Experience, helping women gain confidence, lower their scores, and have more fun. www.GirlfriendsGuideToGolf.com
USGA Announces Significant Expansion for U.S. Women's Open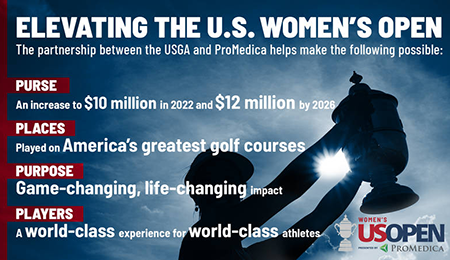 The United States Golf Association (USGA) just gave the U.S. Women's Open an unprecedented boost.
It's a tangible move to elevate both the major and women's golf in general that will be felt across the country, but especially here in Southern California.
By landing a presenting sponsor in ProMedica, the USGA nearly doubled the purse for this year's U.S. Women's Open, from $5.5 million to $10 million. The winner will receive an eye-popping $1.8 million - the highest paycheck given to a champion in women's golf. By comparison, only 10 tournaments on the PGA Tour have a bigger payout to a winner.
By 2026, the purse is planned to reach $12 million. That's a special year as well since the USGA recently announced that Riviera Country Club will host the prestigious championship 2026.
"We talk a lot (about) the three Ps - purpose, place and purse," said Michael Whan, the CEO of the USGA, in an e-mail to the SCGA. "Our partnership with ProMedica allows us to elevate all three of those. Growing the marketability, attractiveness and ultimately revenues of women's golf comes from elevating all those items collectively."
As athletes are pushing for equity in pay and opportunities in women's sports, this is monumental progress by the governing body of amateur golf.
Top-ranked Nelly Korda, In Bee Park, Lydia Ko and the biggest names in golf can have more earning power on the course. Additionally, future players will have a better road to travel. Male and female golfers have traditionally made inordinately more money by landing sponsorship deals, not raising trophies.
But a move like this helps, especially for the women.
The U.S. Women's Open will be at Pine Needles Lodge & Golf Club in Southern Pines, N.C. this year. Not long after, Pacific Palisades will be home to this championship, arguably the best major.
Think about the impact the tournament in Pacific Palisades can have on girls and women in Los Angeles and members of the SCGA. People will be attending the major as spectators and volunteers, bringing along sisters, moms, dads, and brothers. Surely they will be inspired, seeing that they, too, can caddie or coach and dream of being a professional player who makes a living on par with what many of the men make.
They can also witness a female executive, Riviera Country Club president Megan Watanabe, running one of the most storied golf courses in the country.
"The USGA prides itself on conducting championships that not only provide an incredible stage for the athletes, but also give younger players something to dream about," Whan said.
Whan, the former commissioner of the LPGA Tour, knows the players and the landscape. Not only did he guide the USGA in making the commitment, he found a sponsor with the same ideals. This partnership could be a game-changer for women's golf.
"Golf is unique in that it is comprised of fans that love the sport for very different reasons," Whan said. "Some want to tune in to watch the best players in the world compete on the cathedrals of the game, and others want to witness the drama of their favorite player sinking a 15-foot birdie putt on the 18th hole of the U.S. Women's Open to win $1.8 million. Both in my previous job and my current role, I can stand here and definitely tell you that this strategy has worked over the past decade, and we are only going to see the game take larger steps in the coming years."
And we'll see it right here in Southern California.
Babes Golf x Tropicana Golf Toys for Tots Fundrasier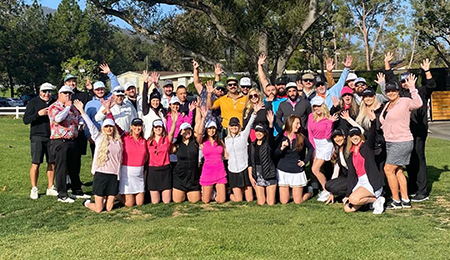 We teamed up with Tropicana Golf Club in December 2021 to bring together the clubs for a good cause - Toys for Tots. This was an epic collaboration between two clubs who love to have fun!
Jimmy, who runs the Tropicana Golf Club, was incredible to work with. Tropicana sold out their spots in one day and our ladies were equally excited to play with the Tropicana men. At first it was like grammar school, girls on one side, boys on the other, but we all became fast friends.
We made sure to team up one Babe with one Tropicana member and Jimmy and I paired up the players based on personalities and maximum fun potential. Two months later the girls are still talking about how much fun they had and that they can't wait for the next collab.
At the end of the day, we were able to fill out an entire truck full of toys for Toys for Tots. We had lots of laughs, drinks, and made a ton of new friends. This is what golf and our collaboration with Tropicana Golf Club is all about!
Hear what Babes Golf Members had to say about their experience.
"Such an amazing event. The guys were fun and supportive. It made our first combined club event a hit" - Megan
"Meeting a group of fun guys and coming together for a great cause"- Brenda
"I loved playing with guys who enjoy having fun on the course and don't take the game too serious"- Bree
"Manolo was my partner, and it was basically the best day of golf ever. And he did actually teach me golf"- Katharine
"It was SO fun! Two extremely cool and fun groups coming together. 10/10 event"- Samantha
"I had a blast! It was a fun and supportive environment and best of all, we made new friends."- Cherly
"It was a great time! Probably the most fun tournament ever!"- Tina
"So many laughs, drinks and fun times with new and old friends"- Sarah
Riviera Sweeps
By: - Jan 18, 2022
Top Five Indoor Golf Facilities in SoCal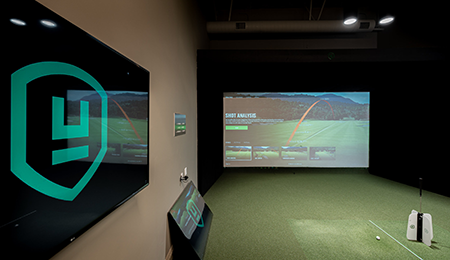 The temperatures here in Southern California are remaining much colder than we'd like them to and the sun is setting before many of us are done with work. This presents quite the challenge when you're looking to get some time in on the course. Sure, weekends are an option, but tee sheets fill up quickly.
We have a solution for you: indoor golf facilities. Though they aren't quite the same as the real deal, they still present a great opportunity to polish your game. If you're ready to take your game indoors until the outdoors become a bit more golf-friendly, here are the best indoor golf facilities to check out in SoCal. Some facilities even provide instruction to improve your game for the next time you hit off an actual tee box.
1. Urban Golf Performance | Santa Monica, West Los Angeles, and Costa Mesa
Since 2013, Urban Golf Performance has focused on its mission to show that golf is more than just a sport. It is a way to improve mental health, inspire communities, enjoy nature, get playful, and provide a greater sense of purpose. Its various locations across Southern California create opportunities for people to experience golf performance in a unique way that helps them improve their skills while also deepening their love for the game.
Though this one is semi-indoor, we are including it on the list because it's the largest semi-indoor range in the city. Here you have 150 yards to practice your best swings at a state-of-the-art golf range. Included in the experience are a computer-aided swing monitoring device and a fully automated tee-up system.
3. GOLFTEC | Various Locations across SoCal
For those looking to get quality lessons to improve their swing for when the course calls, head to GOLFTEC. Some of the best coaches in golf are here to provide top-notch lessons and swing evaluations as well as club fittings. Using the latest technology in golf, GOLFTEC helps you get fit for clubs that will take your game to new heights.
Voted the number one golf simulator by Golf Digest, Olympic Golf Zone is the place to go during those colder winter months to keep your golf swing hot. It features swing plates that automatically adjust to course slopes as well as two high-speed cameras that almost create the atmosphere of a real golf course. You can even choose from a variety of games to put some of the fun back into the game of golf. What we really love about Olympic Golf Zone is that you can replay your swings at home, too, so you can get extra time to note where you need to do some work.
For a unique and luxurious indoor golf facility experience, be sure to check out the Topgolf Swing Suite at the Park Hyatt Aviara Resort. This suite sits inside the Command Post at the resort and provides the ideal place for a group to enjoy the fun parts of golf along with some great food and drinks. You can rent out the simulator bays together or individually to take advantage of the digital screens and get your game on.
These are just a handful of our favorite indoor golf facilities in Southern California – there are many more. Regardless of what is going on outside, you can keep your game strong, and make it even stronger by bringing your swings indoors to keep your game consistent.
Kostelecky
By: - Jan 18, 2022
Harrington
By: - Jan 16, 2022
Duggan
By: - Jan 16, 2022
Cory Ploadpliew
By: - Jan 14, 2022
PUBLIC GOLF ENDANGERMENT ACT MOVES FORWARD
By: - Jan 14, 2022
SCGA Content
By: - Jan 13, 2022
Handicap Index®
By: - Jan 13, 2022
Magnabosco
By: - Jan 12, 2022
Obermoeller
By: - Jan 12, 2022
Schonberger
By: - Jan 10, 2022
Levinson
By: - Jan 09, 2022
Neufeld
By: - Jan 08, 2022
Bialla
By: - Jan 07, 2022
McBurney-Lin
By: - Jan 07, 2022
Wilson
By: - Jan 07, 2022
Andrew Banuelos
By: - Jan 06, 2022
Deaton
By: - Jan 06, 2022
Swing Tip
By: - Jan 06, 2022
"PUBLIC GOLF ENDANGERMENT ACT" IT'S AMENDED, STRONGER THAN EVER, AND DOCKETED FOR HEARING NEXT WED.
By: - Jan 05, 2022
Event Registration
By: - Jan 05, 2022
Ramirez
By: - Jan 05, 2022
LA Golf Boys Alliance
By: - Jan 04, 2022
Rutherford
By: - Jan 04, 2022
Others Golf Club
By: - Jan 04, 2022
Ashley Noda
By: - Jan 04, 2022
Contrucci
By: - Jan 03, 2022
Levitzky
By: - Jan 01, 2022
AMDGolf
By: - Dec 30, 2021
Bump and Run Golf Club
By: - Dec 29, 2021
Mayesh
By: - Dec 23, 2021
Jonathon Curtis
By: - Dec 22, 2021
BOWMAN
By: - Dec 22, 2021
Fernandez
By: - Dec 18, 2021
FINAL 2021 UPDATE
By: - Dec 17, 2021
Pellegrino
By: - Dec 16, 2021
2019 California Amateur Cup Matches
By: - Dec 15, 2021
Rancho San Lucas Golf Club
By: - Dec 15, 2021
How To Handicap A Scorecard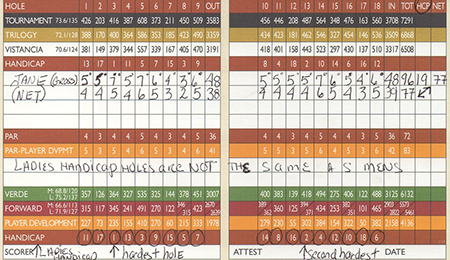 You arrive at a golf competition and are handed a scorecard with a bunch of dots printed across it. Why do some of the ladies in your foursome have more dots than others, and what the heck do all those dots mean? Let's make some sense out of what can be one of the most intimidating things for a new golfer to learn: how to handicap a scorecard.
Handicapping your scorecard (sometimes referred to as stroking or dotting a scorecard) means using your Course Handicap and your Handicap Index to determine which holes you are expected to shoot over par.
Handicap Index®: the measure of a player's demonstrated ability calculated against the slope rating of a golf course of standard playing difficulty.
Course Handicap™: represents the number of strokes needed to play to par of the tees being played.
In order to play in a competition, you will need to have a Handicap Index. If you've had a chance to experience some challenging, longer golf courses and some that are shorter with less bunkers or water, you'll know intuitively that some courses would be rated more difficult than others. To accommodate that, your Handicap Index is a portable number you carry around with you that is converted to a Course Handicap for the tees you are playing that day, based on the difficulty of that particular course.
On a regulation size golf course, each of the 18 holes have been rated in terms of difficulty, from 1 to 18, with the most difficult hole on the course being the #1 handicap hole, and the easiest hole on the course being the #18 handicap hole (although I don't personally find any golf holes "easy".)
When I teach new golfers the basic rules and etiquette of golf, I recommend that they go to GHIN.com or download the USGA GHIN app to look up their Course Handicap before playing a new golf course.
Fine so far, right? But, how do we get to the dots? If you are playing an individual net event, let's say your Course Handicap from the tees you're playing today is a 21. You will receive 21 total dots (or strokes) on your card. Doing the math by subtracting 18 from 21 tells us you will get two strokes on the three most difficult holes, and one stroke each on the other 15 holes.
When playing in a team competition, the committee in charge of the competition will print your name, Course Handicap and your dots on the appropriate holes on your scorecard. Some competition formats should only give you a percentage of your Course Handicap, so you may see a course handicap number that is lower than the Course Handicap you saw on the GHIN app.
You may hear players say, "I can't play to my handicap!" meaning, they don't shoot their exact handicap very often, but its only expected that you play to your handicap about 20 percent of the time.
By utilizing the USGA handicap system and receiving strokes on the more difficult holes, all players are able to compete equally for a serious tournament or a fun round with your girlfriends!
New Year's Resolutions To Improve Your Golf Game in 2022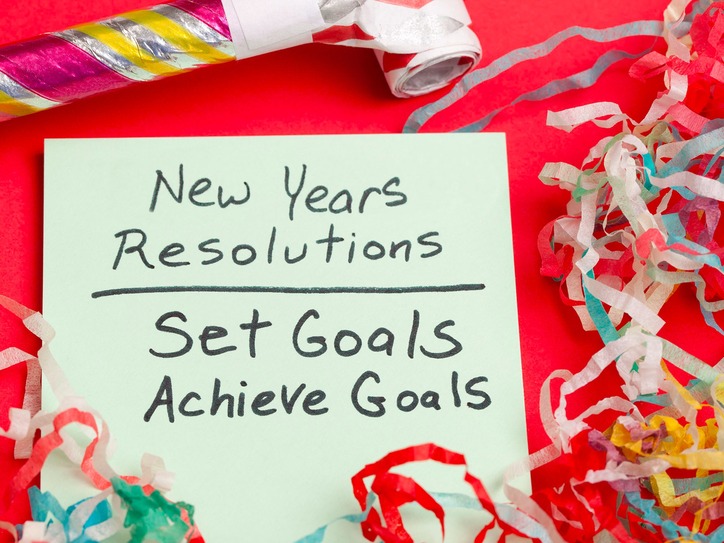 New Year's resolutions can come in all shapes and sizes. Some people look to the new year to become more healthy. Others look to the new year to get a new job or find more success in their current job. And then some look to the new year for better play on the course.
Whether you are a new golfer or a seasoned player, 2022 is the year to improve your golf game. Read below for some of the New Year's resolutions you may want to adopt for this coming year.
2022 New Year's Resolutions For Golfers
1. Have fun
Golf is notorious for being frustrating. All it takes is a few bad shots in a row to feel like your day on the course is doomed.
That's why it's important to remember in 2022 that you are not a professional and that you are out on the course for fun. Sure, you want to do as well as possible, but your career isn't on the line.
Bad shots will inevitably happen, so this year, work on shaking them off quickly and getting back to the fun.
2. Practice
The only way to get better at golf is to practice. As frustrating as that may be, it's the truth. The more time you put into your practice, the better your output on the course will be.
So schedule some regular time into your schedule to get on the driving range or out on the course to perfect your shots.
3. Get in shape
Getting healthy is a New Year's resolution that will benefit all areas of your life, including your golf game. When you're at a healthy weight, your posture and your golf swing will improve, which in turn improves your game.
Get on this healthy track first by improving your eating habits and then by incorporating some form of movement into every day. One day that may mean going to the gym, and the next day it may mean going on a walk.
Whatever it is, get moving and you'll find yourself getting healthier.
4. Take a lesson
If you can't seem to improve your swing enough to get rid of that slice or any other issue you have with your game, treat yourself by getting some lessons in 2022.
A professional can help get you out of your golf slump quickly and on the path to success in the new year.
5. Plan a golf trip
A golf trip is a fun way to get out of your normal play and experience somewhere new.
This helps to improve your golf game, as new courses always present new challenges for you to tackle. On top of that, a golf trip is a fun escape from reality with your friends or family that gives you permission to relax and enjoy life. And I think we could all use more permission to relax in 2022.
Murfin
By: - Dec 14, 2021
Rubich
By: - Dec 14, 2021
Yguico
By: - Dec 11, 2021
Brockermeyer
By: - Dec 10, 2021
Rodwell
By: - Dec 10, 2021
Webster
By: - Dec 08, 2021
Webster
By: - Dec 08, 2021
CAMPAIGN TO STOP THE "PUBLIC GOLF ENDANGERMENT ACT" (AB 672) HAS BEGUN
By: - Dec 07, 2021
Sold Out Tour
By: - Dec 06, 2021
AB-672
By: - Dec 06, 2021
Cahill
By: - Dec 05, 2021
Doug Korb
By: - Dec 04, 2021
Flowers
By: - Dec 04, 2021
Wilcox
By: - Dec 02, 2021
For Individuals
By: - Dec 02, 2021
For Partners
By: - Dec 02, 2021
Gonakez
By: - Dec 01, 2021
Gonakez
By: - Dec 01, 2021
Taylor
By: - Dec 01, 2021