SCGA Quarantine Chronicles: Jeff Ninnemann (2)
By: - Jan 04, 2021
Huy Dang
By: - Oct 15, 2020
Mike Ortega
By: - Oct 13, 2020
Nikki Gatch, PGA
By: - Oct 12, 2020
Bob Livingstone
By: - Oct 11, 2020
SCGA Swing Tip: Improve Putting with Coin Drills
By: - Apr 06, 2020
SCGA Swing Tip: Two Keys to Get Out of a Greenside Bunker
By: - Mar 30, 2020
SCGA Rules Crew: 18.3c (3) "Old Man Jenkins"
By: - Feb 24, 2020
Bob Thomas Communications Internship
By: - Feb 10, 2020
SCGA Swing Tip: Swing Rotation
By: - May 07, 2018
2019 California Amateur Cup Matches
By: - Dec 01, 2017
California Senior Amateur Championship
By: - Nov 01, 2016
SCGA Swing Tip - Increasing Club Head Speed
By: - Oct 01, 2013
SCGA TV
By: - Jun 30, 2013
Kevin Heaney
By: - Jun 28, 2013
DiCicco
By: - Jan 22, 2021
HELP: I can't login to post scores on GHIN.com or the GHIN mobile app. What changed?
By: - Jan 21, 2021
I need to add/change my email address that is on file with the SCGA in order to create a digital pro
By: - Jan 21, 2021
I've forgotten my password for posting scores on GHIN.com and/or the GHIN App.
By: - Jan 21, 2021
thomas
By: - Jan 20, 2021
SEASONAL CHAMPIONSHIPS ASSISTANT
By: - Jan 20, 2021
USGA P.J. Boatwright Jr. Internship
By: - Jan 20, 2021
SCGA Junior - USGA P.J. Boatwright Internship
By: - Jan 20, 2021
Member Spotlight: 100 Years, and Counting!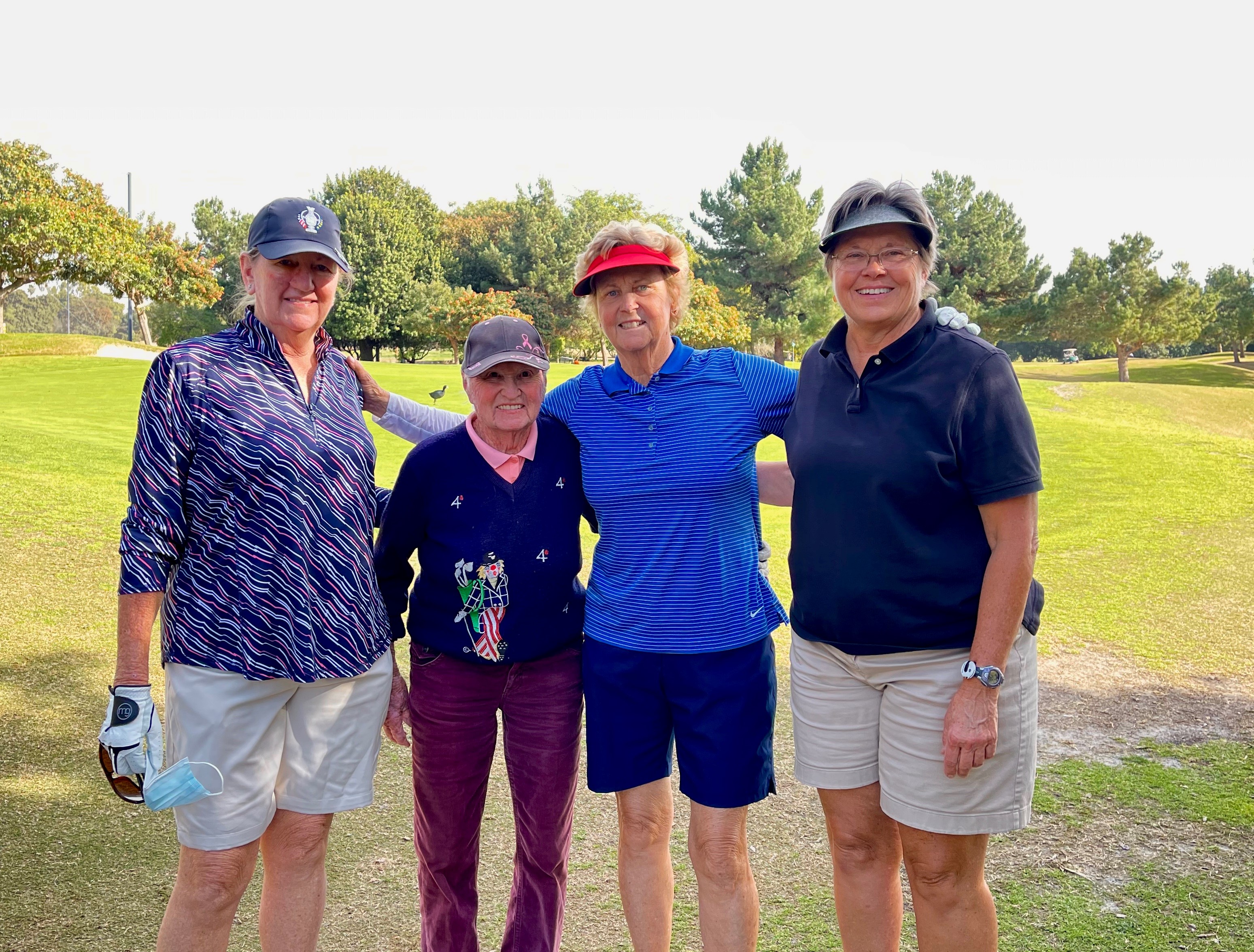 After more than 60 years of golf under her belt, Long Beach's Evelyn Haesloop turns 100 years old this month. She is a member at not one, but three golf clubs: Recreation Park 9, Lakewood GC and South Course GC, and she continues to play multiple times a week. Last year, she played the most rounds within the South Course Women's GC. Needless to say she's a golf junkie just like us, and she's not slowing down any time soon. We (vitrually) sat down with her and asked how it feels, and what her relationship with golf means to her.
When did you start golfing?
I don't remember exactly, but it was in the early 1950"s.
Favorite golf course?
I'm a member at three courses in Long Beach, but I guess it would be Little Rec (Recreation Park 9). I've been a member of the women's club since 1975.
Best golf memory?
I have lots of memories, but the one I think about now is the birdie I got this month at Skylinks on hole 16! It's a par-3 and I put in a 15-foot putt!
Best piece of golf advice you've ever received?
Well... No one has really given me much advice, I've learned on my own over the years, really.
Why do you love golf?
For the people! It's the social part I love. I think the exercise is important too.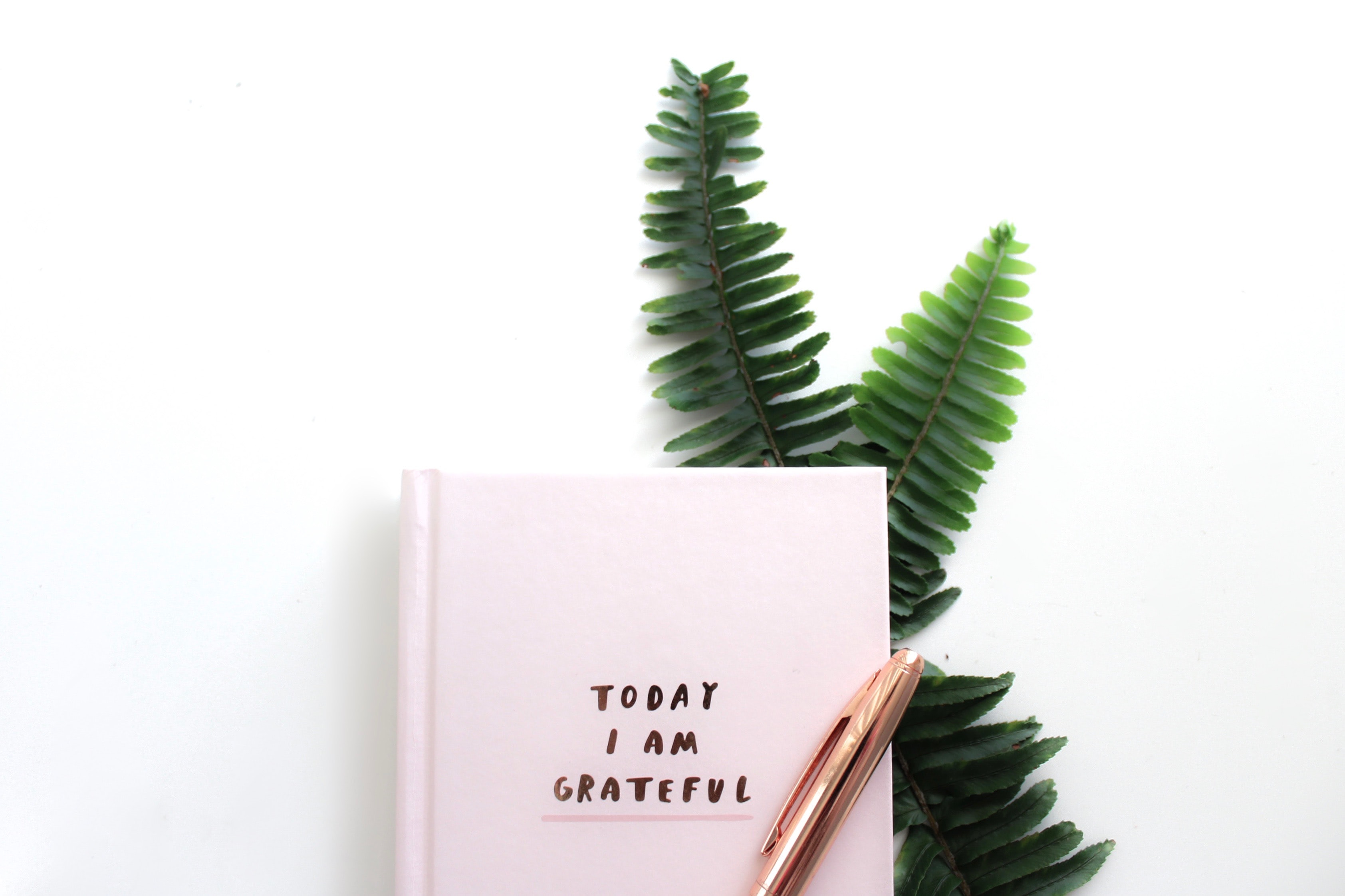 With everyone looking toward 2021 as our reprieve from the dumpster fire we have been witnessing since last March, I must admit that it's a lot of pressure to put on a random date. Did we really think January 1 would come and things would suddenly be better, calmer, more peaceful and overall less sucky? Because if we did, 2021 does not seem to have gotten the memo. One of the most difficult elements of that is the fact that so much is out of our control. And if I hear one more time that "we are in charge of our own happiness... Choose happiness… How you feel is your choice", etc., I think I am going to blow my cheerful top. But all it took for me to "get it" was to sit for a minute and think about what that really means.
And then I realized that the reason we collectively feel so let down is because we have looked so forward to this new year, this new beginning and upward momentum, that the feeling of despair is due to us not feeling like we have anything to look forward to anymore. Only a few weeks in and 2021 has already let us down and people are suddenly counting down the days until 2022.
It has been extra critical this past year that we focus on things that make us happy however, many of the things that make us happy have not been an option.
But if we dig a little deeper, look a little harder we might find that we can still find something… one thing... to look forward to each day. Of course, that varies from person to person and from day to day.
It doesn't have to be big or poignant. Just something good to focus on.
Take, for example, the fact that right now my happiness lies in the box of See's candy that has been stashed under the driver seat of the mini van since Christmas. I just came in from a quick visit to the garage not even caring that my mouth still full and crumbs of dark chocolate rested on my white t-shirt. Our housekeeper happened to be there that day and caught me making my stealth entrance. She looked at me, nodded slowly with a knowing look and said, "I keep MY candy in my closet. There's a lock on the door." We gave each other a warm smile but we didn't laugh. It wasn't a joke. We were merely sharing a page out of our survival guide.
Tomorrow will bring something different that I can look forward to (mainly because the See's Candy has run out). But there is always something. A phone call to a girlfriend, a walk around the neighborhood alone, a quick yoga session, etc. Whatever the case may be, if we have that one thing that we look forward to, that can make all the difference.
If we can take that one step further and (stay with me now) have some way of actually BEING happy instead of just looking forward to DOING something that is supposed to MAKE you happy, then you are one step ahead of the game.
Take, for example, distance learning.
Zoom meetings are tough. Getting my kids ON a Zoom meeting is tougher and to expect it to happen without complaining is just absurd. So after some desperate contemplation I wondered if I could get my kids to feel a sense of ownership, association or affiliation with the subject they were studying, would that make it better?. Instead of saying, "You have to DO math right now", I started to say, "It's time for you to BE a mathematician." Or instead of, "You have your Science Zoom now," It turned into, "You get to BE a scientist for the next 50 minutes." It was on a silly whim and totally unplanned when I threw this at them, but it shockingly made a difference. They felt a CONNECTION to what they were doing. It wasn't just about the action or the task. It (learning) was enhancing who they were in that moment by providing information and resources to make you a better "you", whether it was a scientist, historian, etc., depending on what subject was next on the agenda.
It developed over time and then just became normal. Well, 'normal' to us.
But then I started to think about how I could implement this into my own life and, better yet, how it can pertain to the game of golf. The answer: pretty easily.
There's a reason children invoke the names of their favorite athletes and "become" them. When my brother Phil won his first Masters in 2004 the rest of the world saw a man achieve his first major victory. I, on the other hand, saw a little boy pretending to be Seve Ballesteros in our backyard for hours and hours on end, speaking in the third person as a commentator would, as he/she verbally navigated (as an 8-year-old boy would put it) "the greatest moment in history". To that little boy, this wasn't short game practice that would surpass hundreds and hundreds of hours. It was a boy embodied in his idol's character, frame of mind and winning attitude. He wasn't a little boy practicing his golf swing and short game in hopes of improving to the point of being a champion. He already WAS a champion. And champions practice their golf swings and short games.
So if we can decide that this is going to be a good year (pretend if you must), then we can at least try to approach it in that way. It might not be "good" in the way you want it to be, or it might take a detour, but if you look for the good you will find it. Sure, we might need to look harder and longer than in years past. But it's there. And it's ours if we choose to accept it, even if it looks completely different than what we were originally looking for.
Here's to being on an "upswing" and to salvaging 2021 by turning it around in our heads in hopes of tangible results to follow.
Stay On-Track With These 4 Winter Stretches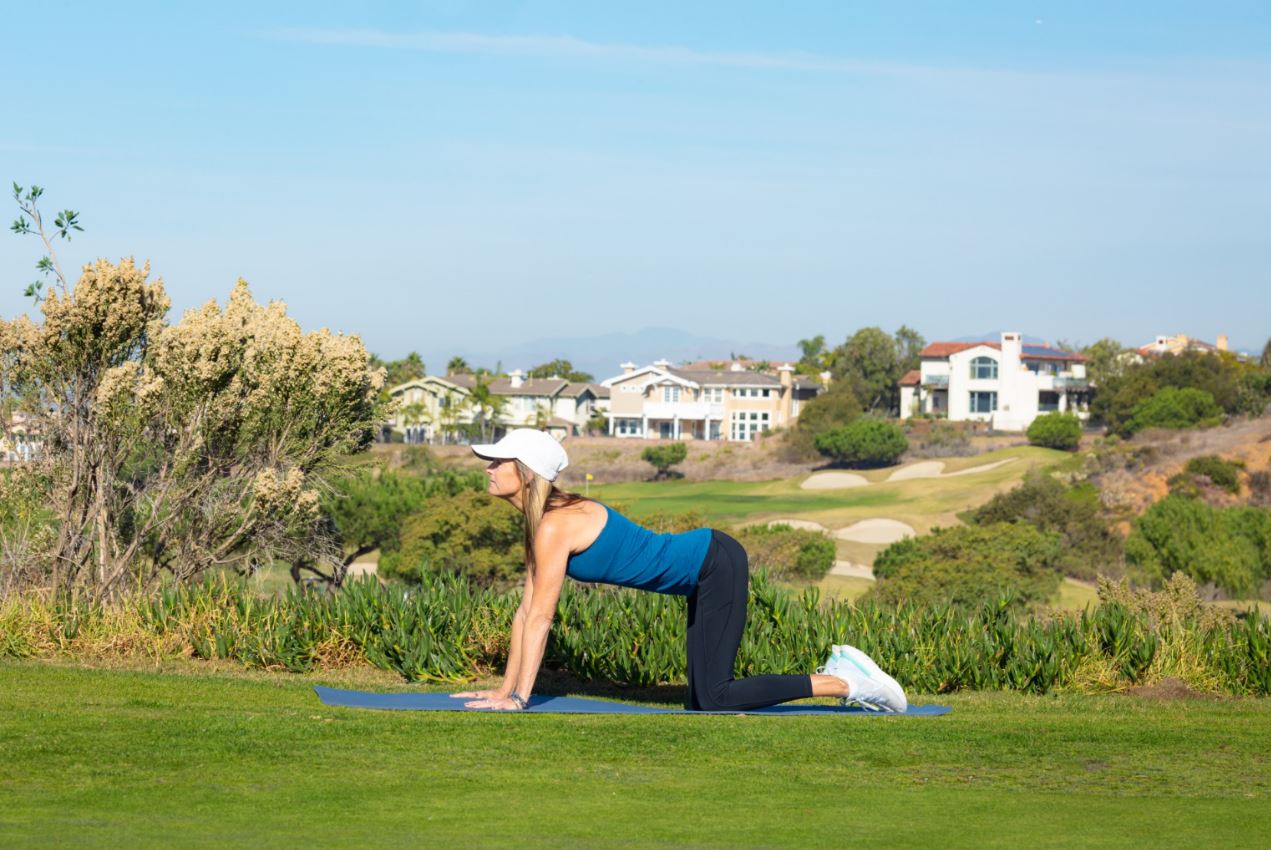 Stretching does not get the attention it deserves. It is something that often gets passed over because either you're ready to jump into the game, or you're too tired afterward. However, stretching is key to your success on and off the course. According to Harvard Health, "Stretching keeps the muscles flexible, strong, and healthy, and we need that flexibility to maintain a range of motion in the joints." If you skip on stretching, you'll find your muscles are tight and shortened, and you won't be able to extend them all the way.
The importance of stretching is even greater during winter. When the weather is cold (and thus your body is too), your muscles tighten to conserve heat, which makes them more prone to injury.
Since we don't want that, let's chat about some stretches you can do in the off-season to keep your body in shape and get you ready for your upcoming swings.
Cat-Cow
This yogi stretch is one that does wonders for your spine, hips, and neck. You get a bonus of some core work with this one, too.
Kneel on all fours, aligning your hands under your shoulders and your knees under your hips
Exhale, rounding your spine up to the ceiling and bringing your chin to your chest
Inhale, arching your back and lifting your head towards the ceiling (like a cat)
Repeat 10 times
Supine Spinal Twist
Prepare to have some serious tension relieved in your back with this stretch, as well as get some good stretching in your glutes, chest, and obliques. This stretch also doubles as a way to aid digestion by wringing out your organs.
Lie on your back
Bring your right knee into your chest
Keeping your back flat, use your left arm to push your right knee across your body, and over your left leg (which should be straight)
Extend your right arm on the floor, and turn your head to look towards your right fingertips
Hold here for 20 seconds, and switch sides
Glute Bridge
Opening up your hips is key to a good golf swing, and this stretch will help you do just that. The glute bridge also helps to strengthen your hamstrings and glutes (hence its name).
Lie on your back, knees bent, and feet hip-width apart
Press through your feet and lift your hips, squeezing your glutes at the top
Take a breath here, and then slowly lower down to the starting position
Repeat 15-20 times
Cobra
Taking another stretch from yoga, this one is great for opening your chest as well as strengthening the muscles that support your spine.
Lie face down, palms flat under your shoulders
Keep your elbows tucked in to your sides and slowly push your torso off the floor, keeping your hips on the ground
Hold for 20-30 seconds, and lower to starting position
Repeat two times
Featured Image: Heidi Richardson, PGA
SCGA Junior Sweeps
By: - Jan 19, 2021
First USC Golfer To Win Major
When Sophia Popov looks back on 2020, it's with great joy as it was one of the most incredible years of her golf career.
Popov, the former USC golfer, came from seemingly nowhere to win the AIG (British) Women's Open in August.
After having lost her LPGA Tour card, she had been playing on the Symetra Tour and in July even caddied for her good friend, Anne van Dam, in the LPGA Tour's the Drive On Championship.The next week, because of the global pandemic, she got into the LPGA Marathon Classic field and finished in tied for ninth. Because of the top 10 finish, she qualified for the major in Scotland. She didn't even realize it until van Dam FaceTimed her to tell her.
Popov made all eight cuts on the LPGA Tour after winning the AIG Women's Open at Royal Troon, including the U.S. Open, and has a newfound confidence and outlook on her career.
"Now, when I come to a tournament, the confidence I have in myself and my game is so much higher," Popov said in a phone interview. "I don't know if I exude it or you can see it from the outside. To me, maybe when I'm playing practice rounds, I play in a different way. I'm not already nervous on a Monday. I'm just looking at the golf course, nine holes here, nine holes there. I'm more relaxed about the tournament. Of course, nerves come on Thursday but it's a different kind of nerves. You're more excited and ready to go instead of being worried about what could happen that day in a bad way more than a good way."
Popov was ranked 304th in the world when she teed it up in the AIG Women's Open. After her win, she rose to 24th in the Rolex Rankings. She's now ranked 26th.
"I've been playing golf a little more freed up since the British," Popov said. "It's kind of been nice because I think it was justifying my game to myself. It's there, you know you have it. The rest is in your head, really. In the end, that's the difference for me between making a cut and maybe missing it by one."
For several years, she battled Lyme disease but didn't know that was what she had.
After she won the major, she figured she could use her platform to help others struggling with the condition. For her, cutting out sugar from her diet has been the trick. Dry fruits are her go-to snack on the golf course. She allows herself a glass of wine and chocolate now and again. She's already received messages from others suffering from it.
"I think down the road I would love to have an event that brings awareness to Lyme disease because it's a very silent killer in a sense," Popov said. "It's not directly related to a high number of deaths but a lot of people have a quality of life that's so reduced that's almost even worse. It's almost like they don't want to live with it anymore. That's why it's really important to make people more aware that's what it could be."
Popov, 28, lives in Naples, Fla. with her grandmother. With her $675,000 winners paycheck, she bought her grandmother's house. And, she splurged for a Trackman golf simulator.
Popov is forever bonded with her USC golf teammates and coaches. USC won the NCAA national championship in 2013 when Popov was a junior and Annie Park was a freshman.
"Always rocking the (Trojans) head covers,'" Popov said. "A lot of pride there, for sure."
When Popov returns to Los Angeles, she'll always head to Palos Verdes, where Jim Gormley is the director of golf. He was her former swing coach and his family was like a second family to her. She plays Hillcrest and Riviera, too. And her brother lives in Marina del Rey.
Popov had her boyfriend, Max Mehles, on her bag for the AIG Women's Open, then he caddied for her the rest of the year. Mehles, who played golf at Kentucky, is about to embark on his professional career. Popov will need to find a caddie for the season.
She won't have a tough time finding tee times to get on just about any course she wants after winning a major.
Popov's focus this year is to qualify for the Solheim Cup and play for Team Europe.
"I'd love to tee it up there. It would be a dream come true for me," Popov said.
Another goal is to play for Germany in the Olympics. She was born in the U.S. but raised in Germany and has dual citizenship.
And now, her first professional victory.
"It's been pretty life-changing in that it's changed my schedule a lot, and a lot of the interactions I have on the golf course and the people I see," Popov said.
"I get stopped more on the golf course now no matter where I am, which is definitely different. It's been a nice change."
Levitt
By: - Jan 19, 2021
Gardner
By: - Jan 17, 2021
Sherer
By: - Jan 17, 2021
Luttrell
By: - Jan 17, 2021
Popper
By: - Jan 16, 2021
Gravell
By: - Jan 13, 2021
Keator
By: - Jan 13, 2021
Penmar Social Club
By: - Jan 12, 2021
Mehran
By: - Jan 11, 2021
Don't Lose Your Ability To Post!
By: - Jan 11, 2021
Brodersen
By: - Jan 10, 2021
Billingsley
By: - Jan 10, 2021
HARGREAVES
By: - Jan 09, 2021
Costanzo
By: - Jan 09, 2021
Nelson
By: - Jan 08, 2021
SCGA Embraces Diversity and Celebrates Inclusiveness
By: - Jan 08, 2021
Update: Where we stand at the beginning of 2021
By: - Jan 07, 2021
Rules Crew Live
By: - Jan 07, 2021
Julie Trace
By: - Jan 06, 2021
Carafiol
By: - Jan 05, 2021
Rocket Tour Golf
By: - Jan 04, 2021
David Puckett
By: - Jan 04, 2021
Rich Boyker
By: - Jan 04, 2021
Jim Griffin
By: - Jan 04, 2021
Richard Heatley
By: - Jan 04, 2021
Victor Vannukul
By: - Jan 04, 2021
William Hall
By: - Jan 04, 2021
Bob Baker
By: - Jan 04, 2021
Mark Smith
By: - Jan 04, 2021
Lyndi Snyder
By: - Jan 04, 2021
Greg Ott
By: - Jan 04, 2021
Ted Lauver
By: - Jan 04, 2021
Steve Small
By: - Jan 04, 2021
2021 SCGA Events Schedule
By: - Jan 04, 2021
Barnblatt
By: - Jan 04, 2021
Fanucchi
By: - Jan 02, 2021
Schmelz
By: - Jan 02, 2021
Taggart
By: - Jan 01, 2021
HIghland Palms Golf Club
By: - Dec 31, 2020
Broc Butterworth
By: - Dec 31, 2020
Josh Santor
By: - Dec 31, 2020
Pancoast
By: - Dec 27, 2020
Walker
By: - Dec 24, 2020
Murguia
By: - Dec 21, 2020
Murguia
By: - Dec 21, 2020
Dossett
By: - Dec 21, 2020
Lanuza
By: - Dec 19, 2020
Herbert
By: - Dec 18, 2020
Grinspan
By: - Dec 18, 2020
Gallivan
By: - Dec 18, 2020
Update: COVID-19 Update
By: - Dec 17, 2020
Findley
By: - Dec 17, 2020
Los Robles Men's Club
By: - Dec 14, 2020
Course Handicap Conversion Tables
By: - Dec 14, 2020
SCGA Member Advantage DO NOT CHANGE
By: - Dec 14, 2020
Ascencio
By: - Dec 13, 2020
Ascencio
By: - Dec 13, 2020
leonard
By: - Dec 12, 2020