SCGA Quarantine Chronicles: Tina Mickelson
By: - Jun 29, 2020
SCGA Quarantine Chronicles:: Jeff Ninnemann
By: - Jun 01, 2020
SCGA Swing Tip: Jerome Andrews - Fix Your Swing Path At Home
By: - Apr 06, 2020
SCGA Rules Crew: 18.3c (3) "Old Man Jenkins"
By: - Feb 24, 2020
Bob Thomas Communications Internship
By: - Feb 10, 2020
SCGA Swing Tip: Swing Rotation
By: - May 07, 2018
2019 California Amateur Cup Matches
By: - Dec 01, 2017
Mike Ortega
By: - Nov 16, 2014
Nikki Gatch, PGA
By: - Nov 15, 2014
Bob Livingstone
By: - Nov 13, 2014
Fred MacFarlane
By: - Nov 13, 2014
SCGA Swing Tip - Increasing Club Head Speed
By: - Oct 01, 2013
SCGA TV
By: - Jun 30, 2013
Kevin Heaney
By: - Jun 28, 2013
GK Golf Club
By: - Jul 01, 2020
SCGA Rules Crew - Nearest Isn't Nicest
By: - Jul 01, 2020
World Handicap Certification
By: - Jun 30, 2020
Quarantine Chronicles
By: - Jun 29, 2020
Thomas
By: - Jun 27, 2020
barnett
By: - Jun 25, 2020
Wright
By: - Jun 25, 2020
Morgan
By: - Jun 18, 2020
SCGA Quarantine Chronicles: Joel Klatt
By: - Jun 18, 2020
Maccarrone
By: - Jun 18, 2020
Some people have adapted to the idea of quarantine better than others, but there is no denying that the last few months have been a varying level of "difficult" for everyone. Even self-proclaimed "home bodies" have found themselves struggling to stay home this much.
As for me, a travel writer, I never thought the highlight of my week would be going to the grocery store for an anxiety and stress-induced opportunity to see people.
I have been fortunate enough to stay healthy throughout this time, and for that I am so thankful. There are thousands of people whose lives have been turned upside-down in the worst of ways due to COVID-19, and I am nowhere near that. Instead, I am here to share with you what I've done throughout the last couple months to stay sane (as well as what I plan to do for a while, as stay-at-home orders have been extended until July here in Los Angeles.)
Since travel writing was my main gig and non-essential travel became non-existent, I found myself with a lot of time on my hands. I knew there was no hope of trying to live my normal life during quarantine, so I instead aimed to create a new idea of normal. And this is a peek at what that looks like.
1. Exercising
B.C. (Before COVID), my workout routine was heading to my local Pilates studio to hop on a Megaformer machine and get the best workout of my life. When all gyms and studios closed at the beginning of quarantine, it was a challenge to find a workout that pushed me as hard as Pilates. However, I pushed myself mentally to find workouts to do at home and stick to them. And the physical push eventually came naturally.
At the risk of sounding dramatic, I could not have made it through the ups and downs of quarantine without exercising. Not only did it kill time in my days that suddenly seemed eternal without work or travel, it also helped curb some of my anxiety, even if it was just for an hour of the day. I rediscovered the beauty of daily walks and this time brought me a great deal of peace.
2. Riding the Waves
One day I felt great and the next day I couldn't bring myself to do anything but park my body on the couch and watch Netflix all day. At first I fought this struggle; I made myself feel bad for "wasting" days. Then I reached an acceptance: I was going to win some days, and lose others. It was better to ride the waves of up and down rather than try to force productivity when it just wasn't in the cards.
3. Finding Hobbies
As a millennial who is self-employed, I have bought into the hustle mindset since I set out on my own. Hobbies seemed like a waste of time because whenever I had free time, I felt I should be using that time to work more on my job, or to find a side hustle.
When work was taken away from me during quarantine, I reconnected with the idea of hobbies - something I had put on the backburner for years. I learned to find simplicity in things such as macrame, puzzles, cooking extravagant meals, and a whole lot of baking.
I appreciate quarantine for forcing me to slow down and find joy in the small things, and for forcing me to realize that hustling 24/7 isn't healthy.

4. Breathing Exercises
I have put a great deal of effort into meditating, but recently came to the conclusion that it is not for me. I envy those people who can do it, and who reap the countless benefits of meditation. But that person will never be me.
When anxiety levels hit an all-time high during quarantine, I knew I needed to find something to calm me, and that's when I discovered the Wim Hof method. The man behind this method is known for crazy feats such as climbing Mt. Everest wearing nothing but shorts and sandals. But what I knew him for was his free 10-minute breathing video on YouTube that started my day off on the right foot rather than the typical panic one feels when looking at their phone first-thing.
His breathing exercises are something that I will incorporate into my day for the rest of my life. (Also, I just discovered that he has a free app, so I look forward to testing that out as well!)
I hope these tips help you to survive what's left of quarantine where you live, and possibly help you find ways to improve life post-quarantine as well.
Preparing for Stanford in a Pandemic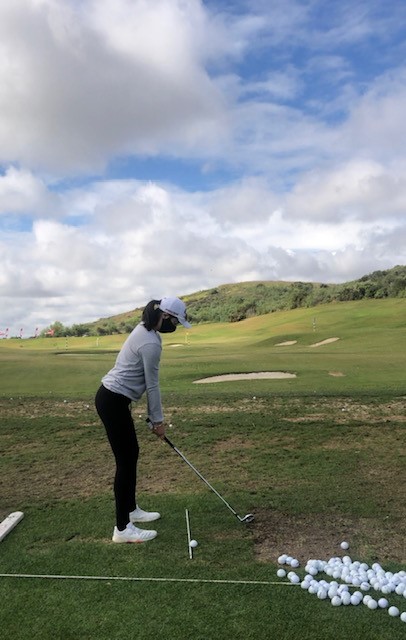 Rose Zhang has found there's plenty to be thankful for during the COVID-19 pandemic, even though it's changed the golfer's routine. Zhang learned she was admitted into Stanford, where she'll play golf starting in 2021. She turned 17 on May 24 and celebrated with family via dinner at home and chocolate raspberry cake. She also played a round of golf at Arrowood GC, and being back on the course was certainly a gift.
She was able to work on her game, albeit differently, spending the first two months of quarantine hitting balls in the garage of her family's Irvine home. It wasn't the driving range, but it was a setup that worked for Zhang, the eighth-best female amateur in the World Amateur Golf Rankings.
"I've created this habit of practicing every single day on the course and being in quarantine was a lot more different," Zhang said. "It's probably the first time hitting in a net regularly. I've really changed my lifestyle for the first two months. When I went on the course (in May), it made realize golf was a lot more fun. And actually being able to see where the ball goes and to adjust my swing, and my feeling toward it, it's just a lot more different."
Golfers are creatures of habit, and Zhang was able to keep her routine of practice and schoolwork - done online - at the same time of day while she finished her junior year at Pacific Academy in Irvine. There were plenty of positives for Zhang to find during a strange off-season that saw so many tournaments postponed or canceled.
"Overall, I just looked at it from a positive aspect where I can rest my body," Zhang said. "I might be able to get some fitness in and be able to do things I always wanted to do, or just relax in general. I also got to spend more time with my family. That really helped because we were all bonding.
Zhang lives with her mom, Li Cai; dad, Haibin; and grandmother, Zhongrong Chen. Her brother and sister-in-law live in the same neighborhood.
"I've gained a lot out of this quarantine in general, not just golf," Zhang said. "Balancing out life in general. Sometimes we're so wrapped up in what we're doing we tend to forget what it was like when we weren't doing anything. It's just a different experience."
Zhang is fluent in Mandarin and has had extra time to watch Chinese variety shows on YouTube and Asian Web sites. She's read "The Catcher in the Rye" and "The Martian Chronicles."
And for the last month or so, she's been able to play golf.
Her home course is Oak Creek Golf Club in Irvine but it's been closed so she's been playing at El Niguel, South Hills and Tustin Ranch among others. She's played with friends in socially distant groups and she wears a mask while she plays. Her grandmother is 78 and in a vulnerable group when it comes to Coronavirus.
"It's been a little different since I wear masks on the course as well," Zhang said. "I know a lot of people don't. I think it's better to be cautious."
Everyone plays with the flagstick in the hole, and some courses have checked her temperature. She's walked for all of her rounds instead of using a golf cart.
"It's been nice because everyone is trying to get some exercise coming out of this quarantine," Zhang said.
Zhang, last year's AJGA Rolex Player of the Year, wasn't able to putt during stay-home orders, so she did practice swings with an alignment stick. She's still trying to get back into her putting rhythm.
She has plenty of time before she steps onto campus in Palo Alto. Zhang received a congratulatory call from Stanford coach Anne Walker during quarantine that she had been admitted to Stanford. She also received an e-mail from the admissions office. It was a relief.
"After I got the phone call I was like, 'Wow, I got in. I didn't get rejected,' " Zhang said with a laugh.
She had already verbally committed to play golf there before the pandemic, and she'll sign her letter-of-intent in the fall.
Before that there's plenty of tournaments on her schedule, but with the COVID-19 pandemic, it's unclear if they'll go on as planned. There's the U.S. Women's Amateur Aug. 2-9 at Woodmont CC in Maryland or the Evian Championship Aug. 6-9 in France as two possible tournaments she could play in after being invited as an amateur by Evian. She's scheduled to play in the ANA Inspiration at Mission Hills CC, which was postponed until Sept. 10-13. It's still unclear if these events, or the Junior Ryder Cup in September in Wisconsin, or any junior tournaments will be played. She's hopeful, but she's also unsure if and how she'll travel, something she used to do all the time.
For now, she has a special round of golf with her dad scheduled on Father's Day.
"It'll be like getting a breath of fresh air and just enjoying the day," Zhang said.
Pandemic or not, that's always a good day.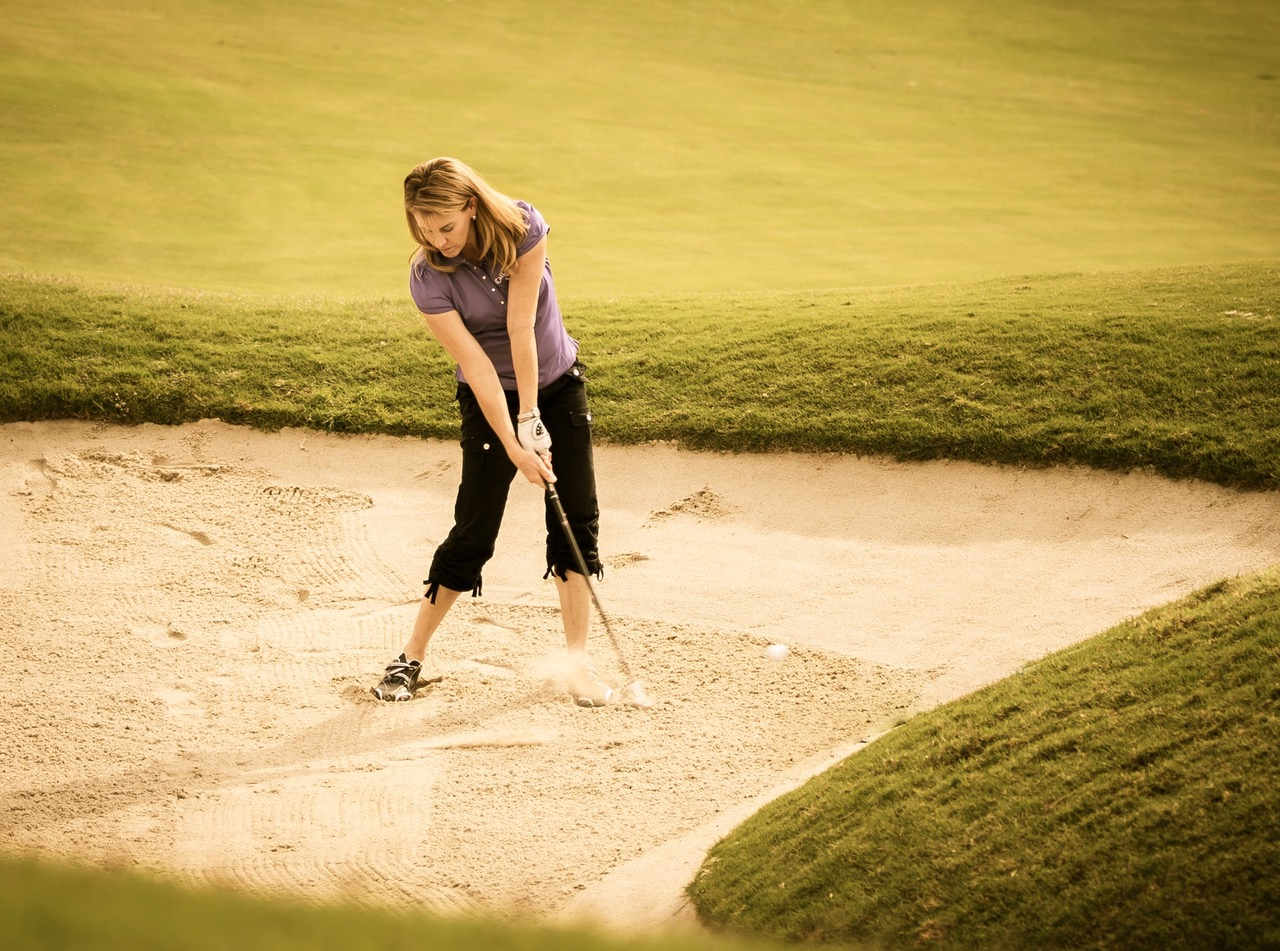 One of the most common questions I get from my students is whether or not they are playing the right clubs. While it is extremely important that the specs of your clubs fit your golf swing, I want to take this one step further and talk about HOW and WHY to use specific clubs. After all, your clubs will do you no good, as perfect a fit as they are, if you do not use them properly.
So let's just get this out of the way: get fitted for your set of clubs before you buy them. Your local golf shop should have the capability of measuring certain aspects of your swing so you can ensure the specs of your clubs fit your golf swing. And while you are assembling your set, don't underestimate the importance of the hybrid. Generally speaking, a hybrid club generally acts as what many refer to as a "rescue" club but each has a specific loft that coincides with your longer irons. For example, a 4-hybrid takes the place of your 4-iron. Why use a hybrid instead of an iron? Because it is easier to make solid contact, you get better trajectory, and it generally goes straighter.
Now that you have your perfect set of clubs, you are ready for the next step: actually using them the way they were meant to be used. The most confusion seems to be with clubs used around the green. "When do I hit my Pitching Wedge, Sand Wedge, etc.?" General rule of thumb: the higher the degree of loft on the wedge, the higher the ball will go and the less it will roll. If you look at your club head you will (or you should) find the degree of loft. A lob wedge has more loft than a sand wedge, which has more loft than an approach wedge, which has more loft than a pitching wedge.
If you need the ball to go higher (picture a shot where you have to hit over a bunker with a tight pin) and want it to stop faster, you take the club with the most loft in your bag. If you have a longer pitch shot where you want the ball to stay low and roll across the green and up to the hole, take the club with less loft, which would be your pitching wedge. Many people will also use a 9, 8, or 7-iron for a shot like this because they prefer as little loft as possible. This is where practice really comes into play. Everyone is different and short games are unique. And since short game is so heavily based on feel, it is important to establish which clubs you are most comfortable with around the green.
When I was very young I had a limited set of clubs. I did not have a pitching wedge or lob wedge...just my sand wedge. So my sand wedge was used in a wide range of shots. When I got older and improved enough for a full set I was so used to using my sand wedge everywhere around the green, it continued to be my go-to club. It still is. My general approach when chipping is to fly the ball as close to the hole as I can and have it stop quickly. That is based off my experience growing up. Other players are more comfortable keeping the ball low to the ground and having it roll as much as possible. There's nothing wrong with that. These players will generally use clubs around the green that have less loft so they can keep it low.
This might seem like common sense to some, but I realized how important it is to understand this concept during a short game lesson a number of years ago. I had a group of students who were all having trouble stopping the ball on the green. They showed me a particular lie where they needed a good amount of loft and because the pin was tight they needed to get the ball to stop quickly. They were frustrated at the fact they could not get the ball high enough in the air and then it would roll too far.
The first thing I did was look at the club they were using. Every single one of these students had a pitching wedge in their hand. And their reasoning is extremely common and reasonable. They thought that sand wedges were strictly for getting out of the sand and only a few of them had lob wedges. I took my 62 degree wedge (lob wedge) out of my bag and had each one of them make the same swing they were using with their pitching wedge. Suddenly, without making a single swing change, they were able to get the ball as high as they wanted, stopped it quickly, and ended up with a very short putt.
At this point I cannot overstate the importance of practice. The more you practice with the different clubs in your bag the more familiar you get with your yardages, trajectory and variety of different shots you can play. You are also able to identify which clubs you feel most comfortable with not only around the green but from different lies and situations.
Watson
By: - Jun 15, 2020
Member Advantage (Updated Version)
By: - Jun 15, 2020
Torres
By: - Jun 14, 2020
Binder
By: - Jun 14, 2020
Barber
By: - Jun 13, 2020
Booker
By: - Jun 12, 2020
Hudson
By: - Jun 12, 2020
Barker
By: - Jun 11, 2020
Matanane
By: - Jun 10, 2020
SCGA Quarantine Chronicles: Joe Skovron
By: - Jun 10, 2020
BUckman
By: - Jun 09, 2020
Saienni
By: - Jun 08, 2020
Anilao
By: - Jun 03, 2020
SCGA Diversity
By: - Jun 03, 2020
SCGA Embraces Diversity and Celebrates Inclusiveness
By: - Jun 03, 2020
Kelleher
By: - Jun 02, 2020
dahmer
By: - May 29, 2020
Reekes
By: - May 28, 2020
Smooke
By: - May 23, 2020
Sullivan
By: - May 22, 2020
Crawford
By: - May 22, 2020
SCGA Quarantine Chronicles: Matt "Money" Smith
By: - May 20, 2020
Eshleman
By: - May 20, 2020
Giacopuzzi
By: - May 18, 2020
Mansfield
By: - May 17, 2020
Vallejos
By: - May 17, 2020
usilton
By: - May 16, 2020
Carroll
By: - May 16, 2020
Barlow
By: - May 13, 2020
Brandt
By: - May 13, 2020
May 2020 Board Meeting
By: - May 12, 2020
SCGA Quarantine Chronicles: Matt Wolff
By: - May 12, 2020
Kerekes
By: - May 11, 2020
Beckhart
By: - May 10, 2020
Ellerbroek
By: - May 07, 2020
Calkins
By: - May 06, 2020
Doctor's Orders! Keep Fit During Quarantine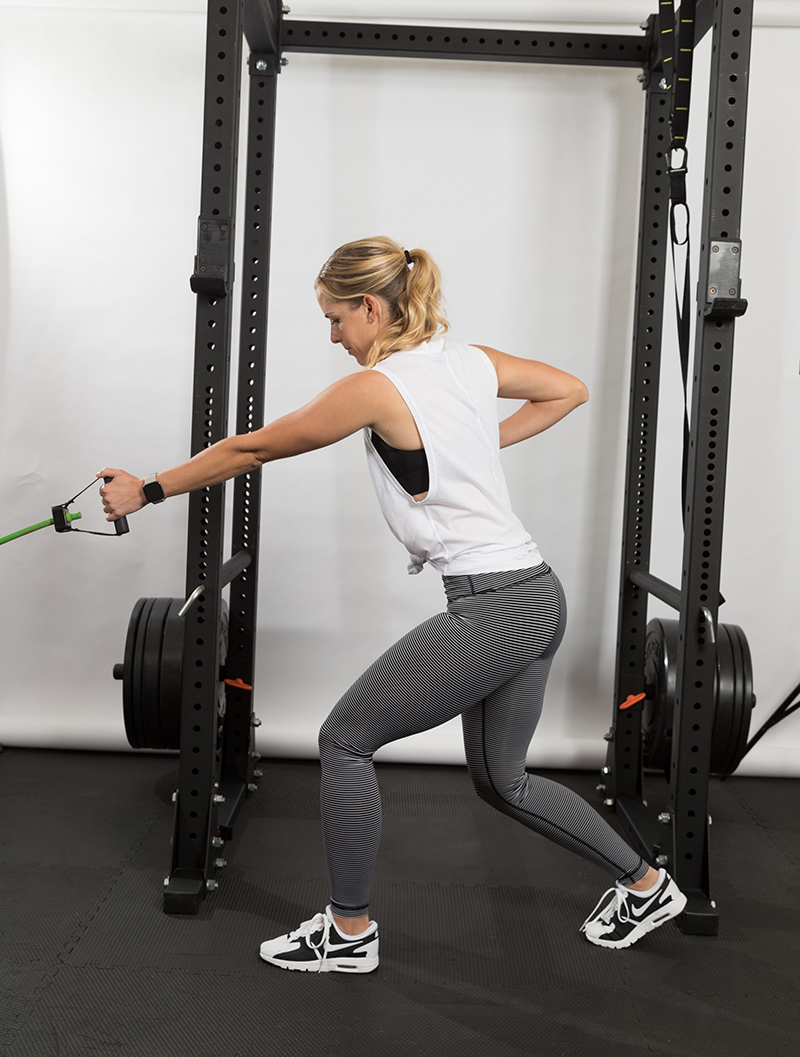 With the order to stay home, and off the golf course, everyone is searching for ways to keep their swing intact, without being on the range or the course. This is the perfect time to work on the number one piece of equipment that you own, and that is your body!
Most everyone has a resistance band laying around, but are not sure what do with it to see benefits in their swing.
Here are three moves that you can do from home with nothing more than a resistance band that will help create more stability in your golf swing, and elevate your game from your home!
For each of these exercises, you can anchor your band to a door, tree, bedpost, or anything that is not going to move.
1. Cable Rotations: Get into golf posture, with your hands overlapping on the handle of your resistance band. While trying to keep your lower body still, and your arms straight, rotate from shoe to shoe for 12-15 reps on each side. Think about what muscles are engaged here in order to keep your lower body from shifting.
2. Lunged Single Arm Row: Get into a lunged position, with the handle in the hand that is on the same side as your front foot. From here, keep your lower body still, as you pull the resistance band in a rotational row away from the anchor. Complete 12-15 on each side, thinking about maintain a solid posture, and lower body stability through each rep. This teaches your body to use the proper muscles to stabilize, and have proper posture in your golf swing!
3. Pallof Press: Get into golf posture, with your hands overlapping on the handle of your resistance band. Scoot away from your anchor so that there is a mild amount of tension on the band. Start with the handle, at your chest, then push it away from you with your arms straight, then bring it back to your chest for 12-15 reps on each side. You should not lose your posture, or have any movement other than in your arms. This exercise is training your body to utilize your core as a stabilizer for movement around our center.
Each of these moves can help to eliminate power leakage, instability, and inconsistency in our golf swings! Utilize this time at home, and head to the course feeling STRONGER! Knocking off the rust when you get back to it, will be easier if you keep your body prepared during this time off.
Mother's Day: Cherish Every Moment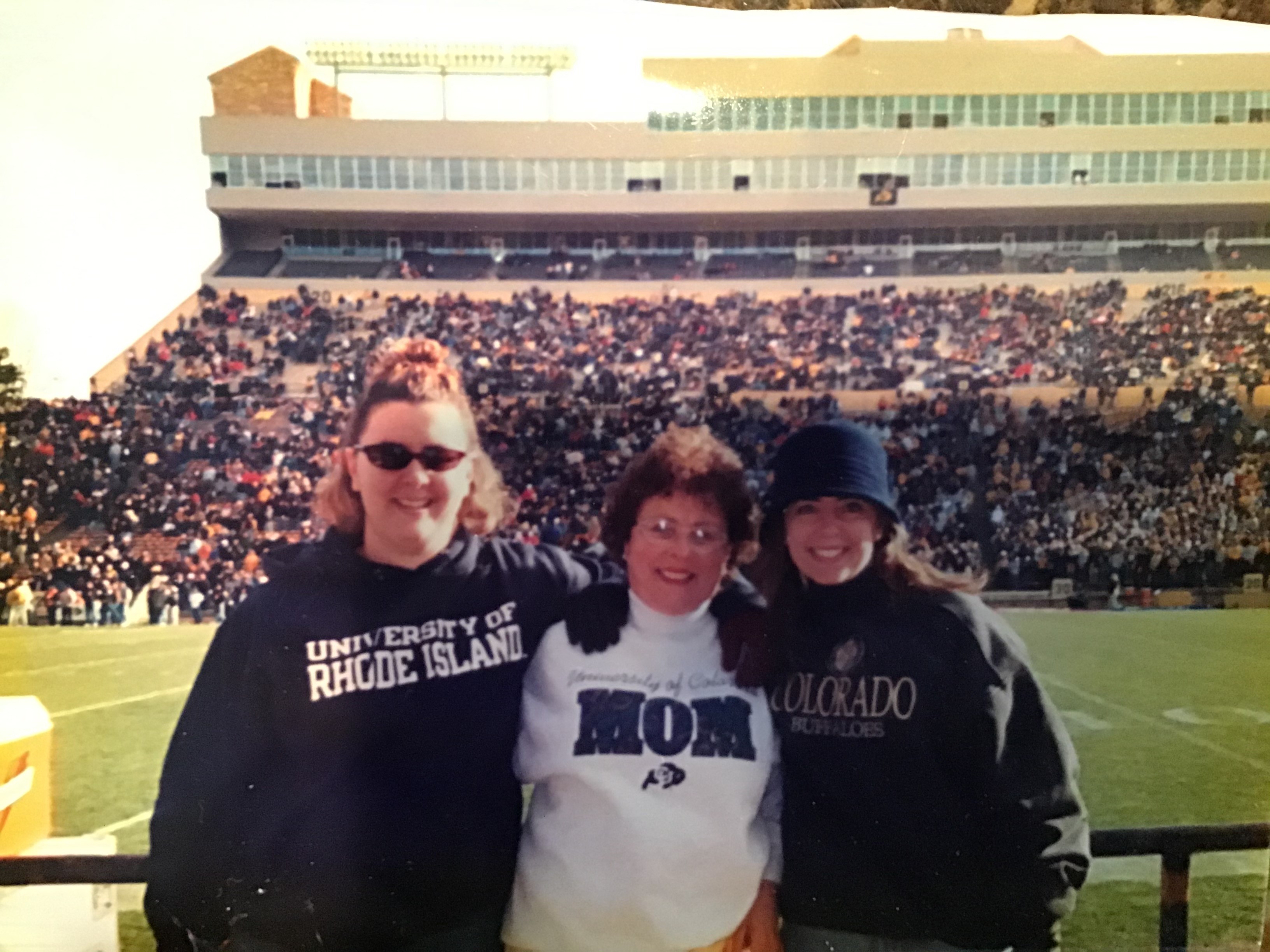 I had the best mom on the planet.
My mom, Loretta, was funny and witty and generous and loving.
She was a fan of whatever I did. We were a huge sports family of football fans and basketball players and runners and such, but golf wasn't one of those sports we played or watched growing up in Colorado.
It wasn't until after I graduated college and was working in my first professional sports reporter job in New Mexico that I took up the game at age 22. There wasn't much else to do in the small city of Hobbs, and I loved it.
Later, when I moved to Los Angeles, I became a golf writer and found another passion, covering golf. I covered four U.S. Opens, the Masters, the PGA Tour stop at Riviera CC, charity tournaments, junior golf and much more. My mom was proud I learned how to play and cover the sport. She became interested in it, too.
My mom passed away in 2008 from breast cancer, which is why Mother's Day is such a difficult day for me.
This year, with the world besieged by COVID-19 and stay-home orders and fear and anxiety about the pandemic, many of us will face different challenges on Mother's Day.
And for this, I have so many of my mom's favorite sayings to get us through this trying time:
1. Overlook a lot correct a little
It's always a good time to be kind and let some things go, especially if you know what the person meant.
2. Fake it til you make it
Put a smile on your face, even if it's hard some days. This works if you're playing poorly on the golf course too.
3. Don't sweat the small stuff
Focus on the big picture and be grateful for all the things you have. Little stressors aren't that important. The things that will stick with you are love, compassion, family and friendship. And having a good time with others on the course, not how good or bad you played.
4. Go Kick Some Asphalt
Get out of the house and get your exercise, whether it's walking or running to clear your mind. And when we're back to playing golf on the course, forgo the golf cart and get those recommended 10,000 steps a day in with a pull cart.
5. You go girl!
Celebrate the small and big victories. A birdie! Making a delicious dinner for your family! Or picking up a new hobby, like learning another language.
6. KISS (keep it simple stupid)
Think about one thing when you're swinging the club (like keeping your head down). Or when you've got a lot on your plate, do one thing at a time.
7. Always help others
Whether it's thanking grocery store workers on the front lines of the COVID-19 pandemic or checking in on your neighbors and friends or making a donation to a worthy cause, be selfless. Give blood. Foster a dog from a shelter. Or tell someone you love them. Giving is better than receiving. Always.
Mother's Day will be a challenge for many people this year because many moms and daughters and moms and sons won't be together due to stay-home orders and travel restrictions.
We can, however, be there for each other through texts and calls and FaceTime videos and cards.
My heart goes out to all of you who struggle on Mother's Day. Those of you who have lost your moms and aren't moms, like me. Those of you who are estranged from your mom or have a difficult relationship with your mom.
I also send hugs to everyone who has a loving mom to celebrate. Cherish every day, but especially Mother's Day. We'll all be so grateful for our mothers. And go kick some asphalt.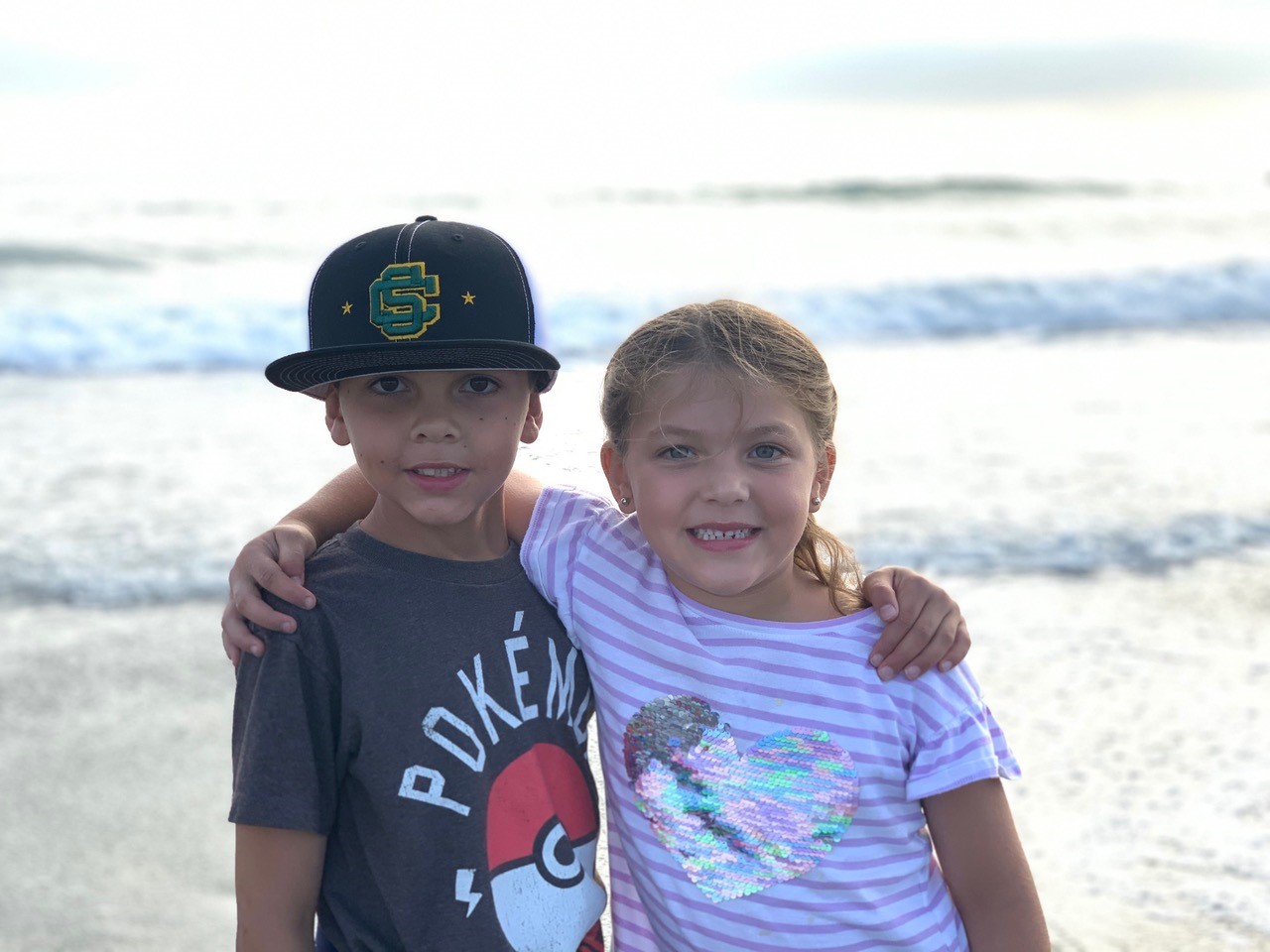 The golf course has always been my sanctuary, just like it has been for many others. But now I'm "supposed" to make our HOME a sanctuary/the only place we want to be right now because it's the only place we CAN be. I'm "supposed" to be learning a new language with all my "free time" and cooking bread from scratch and giving my kids 1,479 snuggles a day while being completely present at all times. Never mind that I'm also serving as their new teacher, lunch lady, custodian, PE teacher and art instructor. There's more. All of this "needs" to be done without letting my guard down for fear of…you know…my FEAR being detected. Make sense? Nope? I know, right?
That's a lot of pressure. I mean, we are all worried about our families and loved ones. But do we really need to freak the heck out and beat ourselves up because we might not be completely present (this time) for that detailed account your child provided you about how the "caterpillar was climbing up the…um…um…tree…I mean bush…I mean flower...and then...um..." Stop it. Your child will be fine even if you don't react like every story contains Pulitzer Prize winning content. If all you have to give that day is a faint smile and a hug, you are killing it. Killing. It.
I swear I heard an inspirational score of sweet orchestra music when I finally made the discovery that my kids think they are living their best lives right now. The way they see it, they don't have to get up too early or comb their hair before "school." They can have a snack whenever they want. The list goes on and trust me when I say, there are things on that list that I never saw coming. What a weight off my shoulders! Sure, they miss their friends, their teachers, recess, Otter Pops slipped to them by the custodian when they help him with lunch clean up, etc. But they are really making the best of it. Kids are funny that way. They don't stress over who is or is not following stay at home orders. They don't care about political views or have opinions as to how this is all being handled. All they know is, their lives just got filled up with more play, more snuggles, more time with Mom and Dad and new ways of doing things. As cliché as the term "new normal" can be, the kids are past "new normal" and now it is just their "normal." And guess what? They are happy. Resilient. On to the next "best day of their entire lives." And it has nothing to do with whether or not I bake them buttermilk biscuits for breakfast. Another frozen waffle? They wonder how they got so lucky. Mind. Blown.
And then it hit me. What if I lowered the expectations I set for MYSELF? I mean, can you even DO that? Apparently, yes. Once you take out all the dangerous words like, "I should" and "everyone else is doing blah blah blah…" from your day, you suddenly feel a hundred pounds lighter. Yes, even in this shelter in place and after all that comfort food.
So I started to give myself a pat on the back for things I would not normally view as "accomplishments." Clothes on the laundry room floor? There's not as many as yesterday. I'm going to ride that victory wave. My daughter's nightgowns, however, were not part of the lucky bunch that made it to the washing machine (this time) so tonight she will be sleeping in underwear and one of my old t-shirts. But that still counts as being "clothed." I'm crushing it.
It's a funny time right now. Not "haha" funny, although some memes out there are pretty hysterical. And laughter is always a good thing. But it's funny what we think we "need" to be doing in order to consider ourselves "good enough." It's funny what unnecessary pressures we put on ourselves that we would never dream of putting on someone else. It's funny that we judge ourselves just as harshly now as we did BC (Before Corona.)
As I felt my shoulders relax and a sense of sweet relief envelope my body I realized I had learned this valuable lesson from none other than my kids. You know, the ones I have to wrestle with like wet baby seals just to sit down and do their math. It dawned on me that I've been so busy worrying about whether or not I'm a good enough teacher to them right now that I have been completely missing what THEY are teaching ME. I immediately searched for my two little savants (which did not take long because the first place I looked was the video game console) and hugged them tighter than my wine glass at 5 p.m. I kissed the tops of their heads and looked them in their little faces before giving them another big squeeze. And in that moment I was reminded that all is well. It will be OK. Maybe not the "same" or the way I WANT. But OK. There may or may not have been questions like, "Why are you squeezing so tight?" and "Yuck, why are you making this weird?" but it's fine. I had my moment and was suddenly ready for whatever else would be coming at me that day. I was … yep ... I was OK.
Sure, this is a challenging time, but it's also a time to realize that we have blessings and things to appreciate that we never paid attention to before. And at some point we will be blessed to let those back in. And even better, we will also be more aware of what we won't let back in: unnecessary fear, pressure, negativity, people who don't lift our spirits and any other factors that make us feel anything less than great (or at the very least, good.)
And right now my only job is to make sure my kids are happy, feel safe and know they are loved. And thankfully, they hold the bar low on that, even if I don't.
But as we run around trying to make sure everyone else is OK, let's not forget about US. How do we achieve some resemblance of happiness, safety and love for ourselves? Well, don't worry about me. I'm eating jelly beans by the fist full as I write this. Self love is easy to come by in life when your love language is "sugar." We have heard of the different love languages, but what is your SELF love language? Maybe THAT is the new language we should all be focusing on learning right now.
Play it Safe - Letter
By: - May 05, 2020
Play it Safe - Marketing Materials
By: - May 05, 2020
Killian
By: - May 01, 2020
Armstrong
By: - May 01, 2020
McClosky
By: - Apr 30, 2020
SCGA Junior: Chip the Box
By: - Apr 30, 2020
SCGA Junior: Step Swing
By: - Apr 30, 2020
SCGA Junior: Improve Your Putting Posture
By: - Apr 30, 2020
SCGA Junior: Hone Your Preshot Routine
By: - Apr 30, 2020
SCGA Junior: Windmill Swings
By: - Apr 30, 2020
SCGA Junior: Balancing Exercises
By: - Apr 30, 2020
loans hj zv Tournament Withdrawl
By: - Apr 29, 2020
SCGA Junior: Putting Math
By: - Apr 29, 2020
SCGA Junior: DIY Putting & Chipping Targets
By: - Apr 29, 2020
SCGA Quarantine Chronicles: Channing Benjamin
By: - Apr 27, 2020
SCGA Quarantine Chronicles: Craig Kessler
By: - Apr 26, 2020