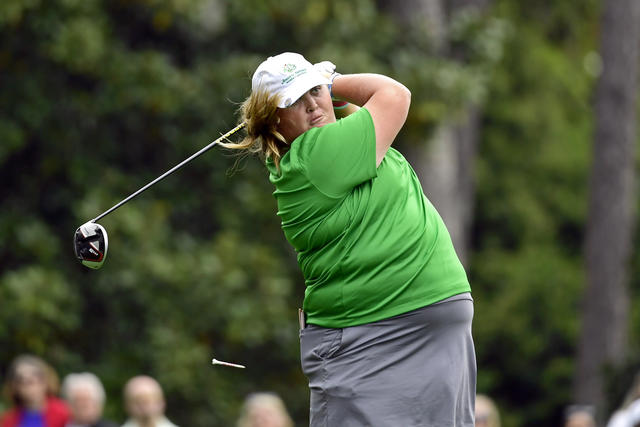 April is a wonderful month for golf, and it's never been better than it has been this year with the inaugural Augusta National Women's Amateur being played Apr. 3-6 at the hallowed grounds of Augusta National. This is a big deal! The event marks the first time that women have played a tournament at the course…ever. At FORE Her, we're beyond excited about what this event means for women's golf. Even though the ANWA is in the rear-view mirror (for this year,) we're still so excited that we got together with some of our SoCal gals to talk about the experience.
We had a chance to speak with Haley Moore and Andrea Lee. Moore is from Escondido and helped the University of Arizona take home a national championship last year. She finished tied for seventh at Augusta. Lee, of Hermosa Beach, is a Stanford Cardinal and was a member of the U.S. Curtis Cup team in 2018. She finished in twenty-sixth and made the final round after participating in a sudden-death playoff to make the cut.
FORE Her: Before you even got to Augusta, what did it feel like when you received your invitation?
Haley Moore: I was so honored just knowing that I was going to be making history as one of the first women to play in the ANWA. The invitation is just like what the PGA pros receive and it's something I'll keep forever.
Andrea Lee: I wasn't even home when they mailed it out, so my mom sent me a picture and I just kept staring at it! It was such a special moment for me.
What was each of your favorite moments on and off the course?
HM: After carding pars on my first 15 holes, I'll never forget thinking I was going to finish even for my final round. Thankfully, I was able to hit my tee shot on 16 to about 1.5 feet and tap in for my first birdie. My shot received huge roars from the patrons and made the TV coverage! All the messages I received from family and friends is something that I will never forget. My favorite memory off the course was experiencing my first drive down Magnolia Lane as we drove into Augusta for our Champions dinner Tuesday night. We also were allowed to go shopping on Tuesday and I don't think I have ever seen a store as big as the merchandise store at AN.
AL: On the course, my favorite experience was walking up the fairway on 11 and seeing all the people in the galleries. I almost started tearing up, but all I could think was, "Wow, I made it." Before we went to Augusta I got to go to a Warriors game for tournament promotion and I had a putting contest with Steph Curry. Even though he made his putt and I didn't it was pretty incredible.
Did you get any advice leading up to the event?
AL: Before I left school, I spoke with Prof. Condolezza Rice, who has always been a big supporter of our golf team, and she just wanted to make sure that I was going to make the best of the week and enjoy every moment no matter what I was playing like out on the course.
HM: On Friday night there was a Q & A session with Annika Sorenstam, Se Ri Pak, Nancy Lopez and Lorena Ochoa. They spoke about how we were not only making history, but also helping to grow the game of women's golf. However, more importantly they wanted us to enjoy the experience, not put pressure on ourselves and to keep smiling and have fun. Watching them hit the ceremonial tee shots was so cool.
AL: That was my second favorite memory from the week, too!
How did it feel to see so many women and girls in the galleries watching?
Both: It was so inspiring!
HM: I don't think I ever imagined having 20,000 people watching us. It was amazing to see all the young girls out there. I definitely think women's golf is in a great place after seeing all of the support and I hope that we all were able to inspire these young girls to want to keep working hard so that one day they could be walking and playing the beautiful grounds of AN.
AL: Seeing all the girls out there was the whole reason this event was created. It just shows the power of Augusta National to grow the game and in just one week.
Did the experience live up to your expectations?
Both: It totally surpassed expectations!
AL: Even though my performance on the course wasn't what I would've hoped, it was still fun. It was the most memorable week of my golfing career and I'm still reliving all my favorite moments. Being able to play Augusta National was just so special.
HM: We were treated like royalty from our tee gifts to a champions dinner and a trip in the merchandise shop which looks like a mini mall. What impressed me the most was how everyone knew us by our first names without our name badges and no question went unanswered or no task was too large for them.
If you had to sum up the week in just a couple words (even though we know it's worth much more than that), which words would you choose?
HM: Amazing, mind-blowing, historic, magical and a once-in-a-lifetime unforgettable experience.
AL: Surreal. And I wish I could go back and do it all again.
What's next? Anything else on your golf bucket list to be crossed off?
HM: It's back to the college grind. I graduate on May 10th and then hopefully we will have a chance to defend our National title. Once Nationals is over, I will play some Cactus Tour events as I prepare for Q-school. I would love to one day play Pebble Beach and Bandon Dunes.
AL: Honestly, I feel like I've peaked (laughs.) But, I'm preparing for the end of the college season as well. I'm hoping to qualify for the U.S. Open and then we'll see where we go from there. My top courses to play that I still haven't are Pebble Beach, too and Torrey Pines.