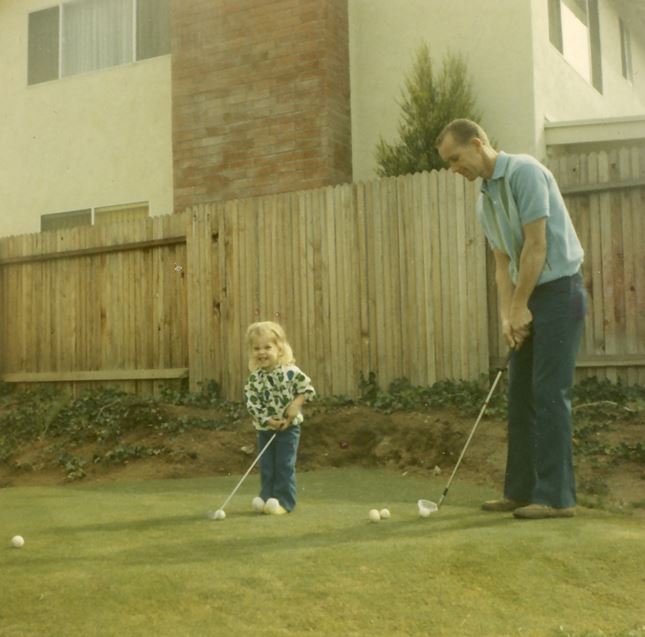 I don't know about you, but our household isn't super awesome right now. We are still navigating through the seven stages of grief as we come to terms with the fact that the holidays are over. After a month of celebrating, spending time with family and friends and having an excuse to eat everything, we are left with cold days, some extra holiday weight and getting back to the grind. So I'm not hating the fact that we come upon a month where the focus is on the heart: Valentine's Day, Heart Health month and all things love.
At the risk of sounding like I've been dipping into the "birdie juice," many of the reasons we love the game of golf so much is directly related to the many emotions we experience while out on the golf course. Those emotions invoke memories from our past which helps to keep us grounded. I started to wonder who else out there might take golf's impact on them to a level beyond "simply fun." So I took to the Internet to hear what people who are on social media in the middle of the day had to say. I simply asked, "What do you love about the game of golf?" The variety of the responses was impressive. In the spirit of full disclosure, many of the responses included some sort of alcoholic beverage, which I don't hate. But there were many who took a deep dive down the rabbit hole with me and reading response after response left me feeling very enlightened.
One aspect of the game that my "social media control group" enthusiastically pointed out was the opportunity to spend time with family and friends. The ability to play the game well into your later years with different generations and skill levels is unmatched in almost any other sport. Every response could basically be traced back to the feeling of love. Love of family. Love of spending time with friends. Love for competition, nature, bettering one's self, etc. The list was endless and I was endlessly impressed. I could also relate.
The first thing I can remember about loving the game of golf is my dad teaching it to me. I was young. I mean, really young. I barely remember anything from that age but I do remember my dad teaching me how to swing the golf club. He would stand behind me, help me grip the club, and then we would gently swing the club back and through together. I remember the slippers in this picture. I remember the dew on the ground. I remember my dad's white t-shirt and the smell of his deodorant as he reached around me and taught me the game that he loved so much, because he loved ME so much. I loved all of it. It was the feeling of LOVE that I loved.
At that age, the excitement in his voice when I hit a good shot was better than ice cream. The sound of a single hand clap when my mechanics were just right was the best praise. I remember the split second between the sweet sensation of hitting it pure just before my dad would excitedly shout, "Yes!" I loved everything about these practice sessions.
The love extended well beyond just learning the game with my dad. I loved watching Phil pretend that he had an 18-foot-putt to win the Masters while I stood on the edge of our little green in the backyard and "practiced being a spectator." I recalled this exact memory back in 2004 as Phil was standing over that 18-foot-putt and it just felt like everything that was ever supposed to make sense in life finally came together. On that particular Sunday, the 18th green at Augusta National was my church and worship was conducted in the form of memories, gratitude and most of all, love.
Because that's what it basically all boils down to, right? Love. In the game of golf, in life and everything in between. I won't remember what my dad shot two years ago that one late afternoon, just the two of us, but I will remember how I felt spending time with him that day.
I won't remember what my brothers shot the last time we got together for a quick round but I will never forget the way I felt while I was with them.
When you share something that you love WITH the people you love, there are few things more powerful.