Fall 2019 Women's College Golf Preview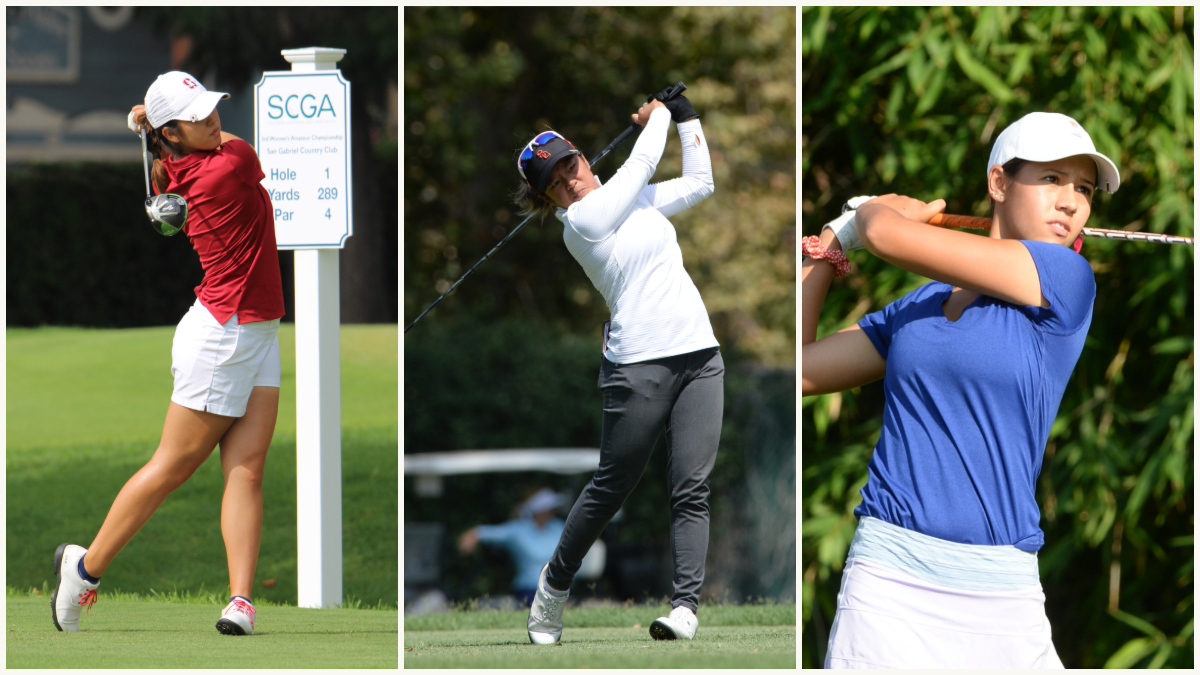 It's just about time to tee off on another season of collegiate women's golf. With that in mind, we've got our eyes on some of the brightest talent in the nation. Did we mention they're home grown? Read on to meet some of the top collegiate players who hail from Southern California as well as some fresh faces that are breaking onto the college scene this year. They play the same courses as you, grew up in the same towns as you and hey, maybe they even play for your alma mater.
Andrea Lee, Senior, Stanford
To say that the Hermosa Beach native has had a busy year would be an understatement. Coming into the season, Lee's most recent accolade is being named the McCormack Medal winner, given to the top female amateur golfer in the world.
"To receive the McCormack Medal is such a great honor, and is one of the most rewarding achievements of my amateur career," said Lee. "It goes to show that all of my hard work throughout this past year has really paid off, and to be at the top of the rankings is a very surreal feeling. This will only serve as further motivation to continue to work towards my goals in this game."
Prior to the announcement, Lee was a semifinalist in the U.S. Women's Amateur and a participant in the Augusta National Women's Amateur. Closer to home, Lee has made her mark on the SoCal circuit, taking home two of the first three SCGA Women's Amateur Championships in 2015 and 2017. She has also been named to the Annika Award Watch List heading into the season
Alyaa Abdulghany, Junior, USC
After taking home the SCGA Women's Amateur this summer at her home course, Newport Beach CC, Abdulghany is ready to build on a hot summer in her third season as a Trojan.
Last season she earned one victory and notched three top-10 finishes in collegiate play. In both her freshman and sophomore season, Abdulghany has earned Pac-12 Honorable Mention.
An SCGA scholar, Abdulghany has remained a very active volunteer with the SCGA Junior Golf Foundation, most recently speaking at a college prep seminar about her experience through the recruiting process and as a collegiate golfer.
Alexa Melton, Freshman, Pepperdine
Melton was crowned the 2018 SCGA Women's Amateur champion, and since then has finished in the top-5 in four tournaments including notching a victory in the Thunderbird International Junior. She has been an active SCGA Junior member and has volunteered for various events throughout her junior career.
Kailie Vongsaga, Freshman, University of Arizona
Vongsaga enters her freshman season after a busy summer in which she finished fifth in the SCGA Women's Amateur Championship. Prior to that event, she won the ClubCorp Mission Hills Desert Junior and finished fourth in the Enagic Junior Championship.
As a junior, Vongsaga, who hails from Diamond Bar, has been highly involved with SCGA Junior. She is currently a member of the Girls Golf of Southeast LA girls golf leadership team, helping develop programming and serving as a mentor for local girls.
Brooke Seay, Freshman, Stanford
A member of the 2018 USA World Junior Girls team, Seay has been preparing for her collegiate debut this year with a stacked summer schedule. Seay has finished in the top-10 in her past four tournaments including eighth in the Roles Girls Junior Championship, fifth in the U.S. Girls' Junior Championship, second in the SCGA Women's Amateur Championship and ninth in the U.S. Women's Amateur Championship. Seay was also a participant in the Augusta National Women's Amateur.
She will join Lee and SCGA scholar Calista Reyes on a SoCal-heavy Stanford team this year.
Briana Chacon, Freshman, University of Oregon
Chacon was the 2018 SoCal Junior Amateur Championship, following up on her previous victory in 2016. As she prepped to take her talents north for the Ducks, Chacon had two top-10 finishes this summer at the Enagic Junior Championship and the U.S. Girls' Junior Championship, seventh and fifth, respectively. She was also a participant in the U.S. Women's Amateur Championship.