A Competitive Heart: Kathy Kurata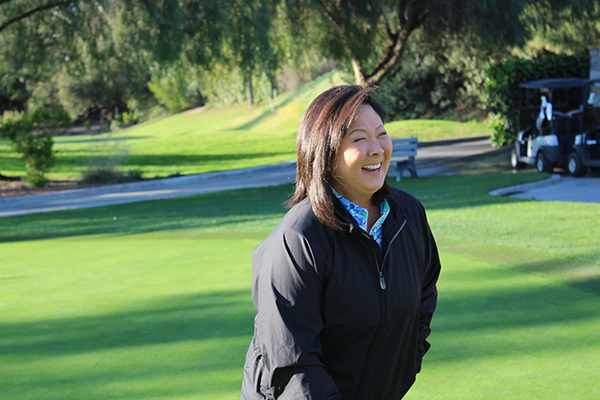 When Kathy Kurata was 11 years old, she competed for the first time at the L.A. City Junior Championship with one of the top players in her age group and she was nervous. The starter listed off all her achievements and Kurata's eyes were nearly popping out of her head, looking to her dad for support, who was standing by the tee-box. Her competitor was really, really good.
She thought about what her dad told her before the match, "Don't worry about everyone else's game, yours is the only one that matters."
She was still nervous, standing behind her opponent impatiently waiting to see the result.
Kurata's playing partner proceeded to swing as hard as her little body could handle, tip the ball off the tee, spin it around and land behind the tee marker. Young Kathy mouthed to her father with a cheeky grin, "I can hit it further than that!"
"I have moments to this day where I'm playing with ladies who are nervous on the first tee, so I like to tell them that story and it always makes them smile," Kurata said.
If you follow amateur golf, you should know Kathy Kurata. These days, you'll find her at pretty much any competitive environment you could think of. Whether it's the Mission Hills CC Women's Club team play, the SCGA Women's Senior Amateur, or the U.S. Senior Women's Open, Kurata doesn't do it halfway. For starters, the inaugural 2018 SCGA Senior Women's Player of the Year has won the club championship at Friendly Hills CC 19 times. Or at least she thinks.
"For the first time this year, I was invited to play on the SWIM Team (Senior Women's Invitational Matches,) a Curtis Cup style amateur tournament with North America vs Europe, and they asked me to put together my resume of all my victories. I thought to myself, 'I have no idea what I've won!' I really had to think about it."
At a lunch with Kathy and her best friend and sidekick, Mikie Alpert, I asked about her top accomplishments. Alpert had to step in and remind her,
"What else are you proud of in 2018, Kathy? What awesome thing did you do for the first time this year?"
In my head I'm thinking, "Well, aside from winning the Player of the Year and making the cut at the Inaugural U.S. Senior Women's Open, what else is there?"
"Oh, yea! I made it to the quarterfinals at the U.S. Senior Women's Amateur! I had never made it that far before. That was really neat, my husband had friends in Florida that drove out a few hours just to watch me play," said the Pasadena resident.
It's not like she doesn't care or isn't proud of her accomplishments. It's merely that golf brings something more important to the table.
"I have this really neat sandwich press so I can make 'Uncrustable-style' PB&J sandwiches for all of my friends when we go to tournaments," Kurata gleefully said.
"She'll make 20 or 30 sandwiches for our group of friends, and she gives it to the check-in table, along with a 'sandwich list.' I'm always on that list," Alpert said.
Food is a passion for Kurata and her pals – we probably talked about food more than golf.
"Spam musubi is the best golf snack," Kurata said, who adores Japanese cooking, which she learned from her mother. "I'll also eat a hamburger the night before a tournament, it's like my routine!"
When I scheduled this interview, she insisted on sitting down for lunch, her treat. This one-hour interview turned into a three-hour fish taco frenzy and admiring the flavors that Friendly Hills CC had to offer. It's no surprise that management there takes great pride in Kurata, as her SCGA Player of the Year flag hangs proudly in the clubhouse.
"Thank you to the SCGA for putting that on the board there," Kurata said. "That was right after the [WSCGA] merger, so do to that is so appreciated. It gives us ladies something more to compete for."
From the general manager to the director of communications, they each personally came down to congratulate her for being featured in SCGA's FORE Her Newsletter.
Friendly Hills CC Head Professional Jay Prestella, PGA mentioned to me as if it were meant to be a secret, "You know you're dealing with a star, right?"
Her secret to success? Simple:
"The support I had this year from my friends and everyone at the club was unreal, I think that's why I did so well last year," Kurata said.
For the new year, her plans for some may be lofty, but she's just looking to keep momentum from last year, like defending her SCGA Senior Women's Am title, taking advantage of her exemption to the U.S. Senior Women's Amateur and working to qualify for the U.S. Senior Women's Open once again.
"My goal is to get healthier and staying injury-free in order to continue playing," Kurata said. "My family and friends are first and foremost and to be able to play competitive golf is the icing on the cake."
Anytime I would ask about a tournament that she's won, or performed really well, the story – and there were many – would lead to a similar place, almost as if the competition is the last thing on her mind. It's the relationships made that matter the most to Kurata, and it can be seen from a mile away.
"She's the most wonderful, selfless person I know," Alpert mentioned while Kurata prepped for her photo shoot on the putting green.
I asked her what golf has done for her, and there was a long silence. Then, a smiled appeared, she took a deep breath and Kurata said,
"You meet such wonderful people in golf and I think that is so precious. And I know practice is important and I do take the game seriously, but my friends and those relationships are more important. You can't hit every shot perfectly, and that's something I've accepted, which has given me a sort of calm when I play. If I hit a bad shot, I normally giggle! There's no point in getting upset and no time to get emotional. You just have to make the best of your next shot. I'm already thinking more 'ok NOW what do we do? How do we move on from here?' I mean jeez — we are playing a game we all love, and with friends, in beautiful nature – there's absolutely nothing to be upset about."
Her childhood days of picking avocados while playing with her family may be gone now and her father isn't here to teach her or watch her play any longer, but there's a light in Kurata that golf has given her, and that's something that will continue to live on.