The Best Cold Weather Golf Gear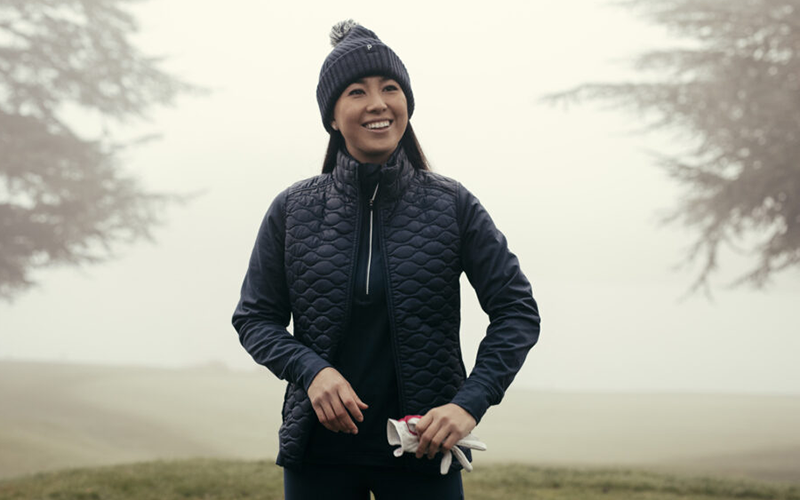 Golf is a challenge in the best conditions, and more so when it is cold. Here are ideas to beat the cold without letting the cold beat you! While I am a fashion minded golfer, my golf game still comes first. These tips won't compromise a great look for a great round when you are first out after a frost delay.
I am starting my list with a newer trend: tights or leggings worn under skorts. You don't have to set aside those adorable skorts for the season in lieu of pants. Even top fashion brands are incorporating leggings into their skorts as a one piece.
Check out Jofit's "It's a Wrap" Tights and Skort:
Or the Swing Dish Quinn:
For more frosty temps, I recommend buying fleece lined leggings that come in colors to match most skorts. They are reasonably priced. Look for Zonoss or TSLA fleece lined leggings.
Layer, layer, layer. Splurge on a good thermal shirt. I like the women's Merino 200 Sonebula long sleeve high neck thermal top. It checks all the boxes for comfort and warmth with ample stretch for your swing:
A lighter weight choice is the Techfit Aeroready Warm Long Sleeve Training Top.
A swing is nearly impossible when your hands are cold. Keep them warm with battery heated hand warmers. The OCOOPA rechargeable portable hand warmers are less wasteful than disposables, charge quickly, heat up to 131 degrees and can be reused hundreds of times – and they are less than $20:
Even with hand warmers, warm gloves are a must. The Callaway Thermal Grip Glove has a leather palm, fleece inner lining and microfiber outer shell providing insulation with grip and durability:
Another option is the Jecery Wintery Golf Mittens that go over your golf glove or bare hand and roll up and away during your swing, then back in place.
Battery heated apparel is in. My golfing buddies swear by the Ororo Wear Classic Heated Vest which is lightweight, machine washable, water/wind resistant and non-restricting. A battery charge provides 10 hours of heat in both the collar and upper torso on low setting and 6 hours on Medium:
While the myth about losing half your body heat through your head is exaggerated (it's more like 10%), there is nothing worse than frozen ears from an uncapped noggin. A beanie provides the most coverage. I recommend fleece lining for extra warmth and a pom pom for seasonal attitude. They come in colors to complete any look. I like the Callaway Women's Pom Pom Beanie or the colorful fleece lined selection at www.skorzie.com:
Getting soggy in cold weather makes you feel like a wet blanket, even if you are actually the life of the party. Layer a lightweight rain pant over your golf pants. FootJoy's HydroLite Rain Pants for Women is a great waterproof choice and light weight enough to store in your golf bag:
Also check out the Rain.Rdy pants by Adidas. Their three-layer construction features soft, quiet material with plenty of stretch.
To take this story from top to bottom, I must mention high performance waterproof golf shoes. Even if it's not raining, frost will dampen your stride. Technology has come a long way providing comfort, superior traction and waterproof materials. Top rated choices include:
For non-apparel warmth, use a "cart cozy" golf cart seat blanket made of stretchy fleece and has an elastic perimeter that wraps snugly over your golf cart seat. They come in whimsy prints or solid black and keep you warm in the winter and cool in the summer:
You can withstand the coldest round with a USB heated blanket that plugs into the USB port of your golf cart. While not fitted to the seat, they are nice to have as a warm throw.
My last tip is a personal favorite (albeit non-fashion) and will warm you inside and out. Bring a thermos full of hot toddy (hot water, a few shots of whiskey, honey and lemon to taste and a cinnamon stick) and make everyone in your foursome happy. Almost any weather is golf weather if you are prepared for it!