SCGA Swing Tip: Better Shoulder Alignment, Better Driving
By: - Jun 24, 2021
SCGA Swing Tip: Post Swing Evaluation for Better Driving
By: - Jun 24, 2021
SCGA Swing Tip: Three-Ball Drill for Better Chipping
By: - Jun 24, 2021
SCGA Swing Tip: Better Chipping from Tight Lies
By: - Jun 24, 2021
SCGA Quarantine Chronicles: Craig Kessler (2)
By: - Apr 28, 2021
SCGA Swing Tip: Understanding Your Impact Position
By: - Mar 31, 2021
SCGA Swing Tip: Develop Better Distance Control by Clumping Your Putts
By: - Mar 31, 2021
SCGA Swing Tip: Generate More Clubhead Speed
By: - Mar 31, 2021
SCGA Swing Tip: Proper Club Selection for Successful Chipping
By: - Mar 18, 2021
CGCOA Golf is Good Ambassador Program
By: - Mar 17, 2021
FORE - Governmental Affairs
By: - Mar 16, 2021
SCGA Swing Tip: Use Your Golf Bag to Improve Your Swing Path
By: - Mar 08, 2021
Huy Dang
By: - Oct 15, 2020
Mike Ortega
By: - Oct 13, 2020
Nikki Gatch, PGA
By: - Oct 12, 2020
Bob Livingstone
By: - Oct 11, 2020
SCGA Swing Tip: Leapfrog Chipping Drill
By: - Apr 06, 2020
SCGA Rules Crew: Rule 13.1c "Messy Green"
By: - Feb 24, 2020
Bob Thomas Communications Internship
By: - Feb 10, 2020
SCGA Swing Tip: Swing Rotation
By: - May 07, 2018
2019 California Amateur Cup Matches
By: - Dec 01, 2017
SCGA Swing Tip: Hitting Downhill Shots
By: - Aug 29, 2017
Hollywood Swings and Misses - Happy Gilmore
By: - Apr 17, 2017
California Senior Amateur Championship
By: - Nov 01, 2016
SCGA Swing Tip - Increasing Club Head Speed
By: - Oct 01, 2013
SCGA TV
By: - Jun 30, 2013
Kevin Heaney
By: - Jun 28, 2013
NEW! GHIN App GPS
By: - Jul 26, 2021
SCGA Member Advantage DO NOT CHANGE
By: - Jul 26, 2021
LOS ANGELES COUNTY 2020-2025 GOLF STRATEGIC PLAN
By: - Jul 26, 2021
OPPORTUNITY TO KEEP GOLF AT VICTORIA GC
By: - Jul 26, 2021
Manager, Championships & Golf Operations
By: - Jul 22, 2021
Gardner
By: - Jul 21, 2021
Beckman
By: - Jul 21, 2021
Hamagaki
By: - Jul 21, 2021
California Women's Amateur
By: - Jul 19, 2021
Zapata
By: - Jul 19, 2021
Morse Cup
By: - Jul 18, 2021
COVID ALERT
By: - Jul 16, 2021
D'Monroe
By: - Jul 15, 2021
BTS: Conducting A Championship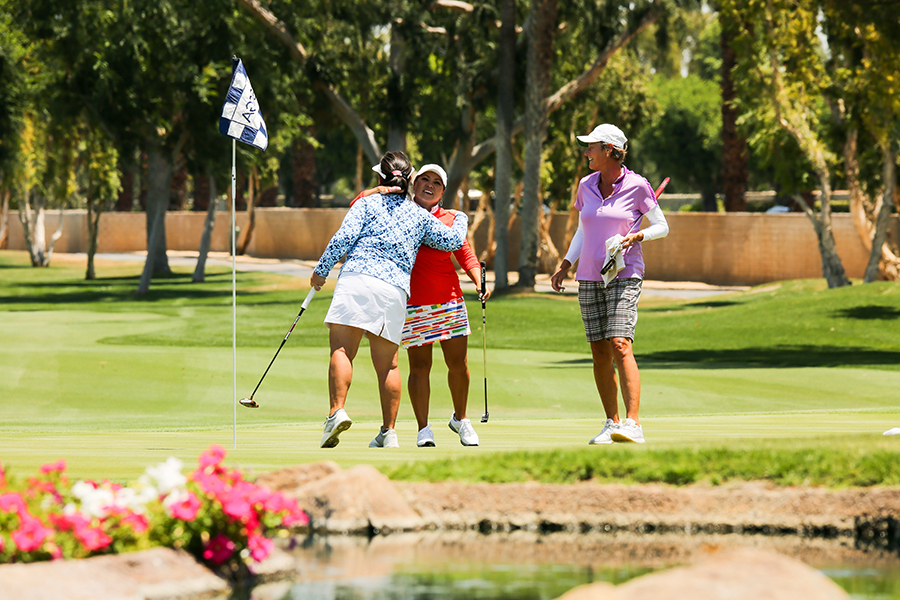 Have you ever been to a golf tournament and thought about what really goes on behind the scenes to make all the magic happen? As a player, you're used to just showing up at your given tee time, playing, and then going home. You may not realize all the work and communication that goes into putting on an event until you're the one doing it. After being an avid tournament player myself, I was in for a surprise after starting work with the Championships and Golf Operations team at the SCGA.
Before the Event
The planning of an event is the most crucial part to its success. Starting at least a month out, you have to reach out to everybody and anybody involved and figure out details like yardages, tee times, field size, food and beverage, carts, range services, etc. Any of these things can change at any given moment, so communication and flexibility are key.
Once this information is determined, then you must relay all of it to the players and determine pairings. Sometimes pairings are just a matter of random grouping, but in some events, there are requests where players want certain tee times or want to be paired with specific players. On top of all of that, you must take into consideration pace of play. Higher handicaps in the beginning tee times may slow down some of the quicker players behind them and create gaps and back-ups on holes.
Then lastly creating assignments for rules officials. Sometimes you have a large field, so you have great course coverage for all problem areas but sometimes you have to make do with only a few officials. Regardless, SCGA tournaments would be nothing without rules officials and volunteers, and I know the players appreciate their presence in tackling the course!
All the planning helped me build confidence and truly take complete ownership in something that would impact almost 100 players with each event. It didn't come naturally, and mistakes were made along the way, but by the time of the tournament everything falls into place and I can have full confidence in my ability to make thoughtful and responsible decisions for my events.
The Event
The planning is all done. Now what? The day of the event in my opinion is the easiest and most fun part of running a tournament. The hardest part is probably waking up at the crack of dawn to get to the course and start set up. Set up is also a whole different story. I'm 5'4'' and lack upper body strength, so the idea of me setting up a giant pop-up tent was a daunting task at first. Usually staff and people nearby are always more than willing to help, but I was determined to do this all by myself. I gathered tips and tricks from my coworkers who can set them up in 25 seconds and practiced setting up the tent in my driveway at home before my first solo event until I mastered it. Could I open it in 25 seconds? Definitely not, but being able to do it on my own was good enough for me.
Once tents, tables, and signage are all set up, the rest falls into place and you just have to be there to solve any issues that happen on the course and then verify scores with the players after their round. It's always motivating for me to see other players compete and makes me want to practice more so I can better my game and be on the players' side of the event again.
After the Event
The event is over, now you can relax…well sort of. Sending "Thank Yous" to the course staff and rules officials is always important and helps maintain positive relationships. Sometimes things do come up from players like potential cheating incidents (which to my luck happened right after my first event), but ultimately you just have to roll with the punches and try and resolve everything so everyone leaves the event happy, apart from their own performance in the actual tournament, you can't do anything about that. Then you can relax and pat yourself on the back until it's time to do it all again.
My hopes are that you understand and appreciate all the goes into putting on an event. This might even inspire you to run your own, volunteer, or even if it's just something on a smaller scale for your friends. I found it empowering to be able to take charge and run things the way I wanted to, and the positive impact it has on other golfers is truly a rewarding feeling.
Want to learn more about volunteering for an event? Contact us!
The Dynamic Duo: Summer and Golf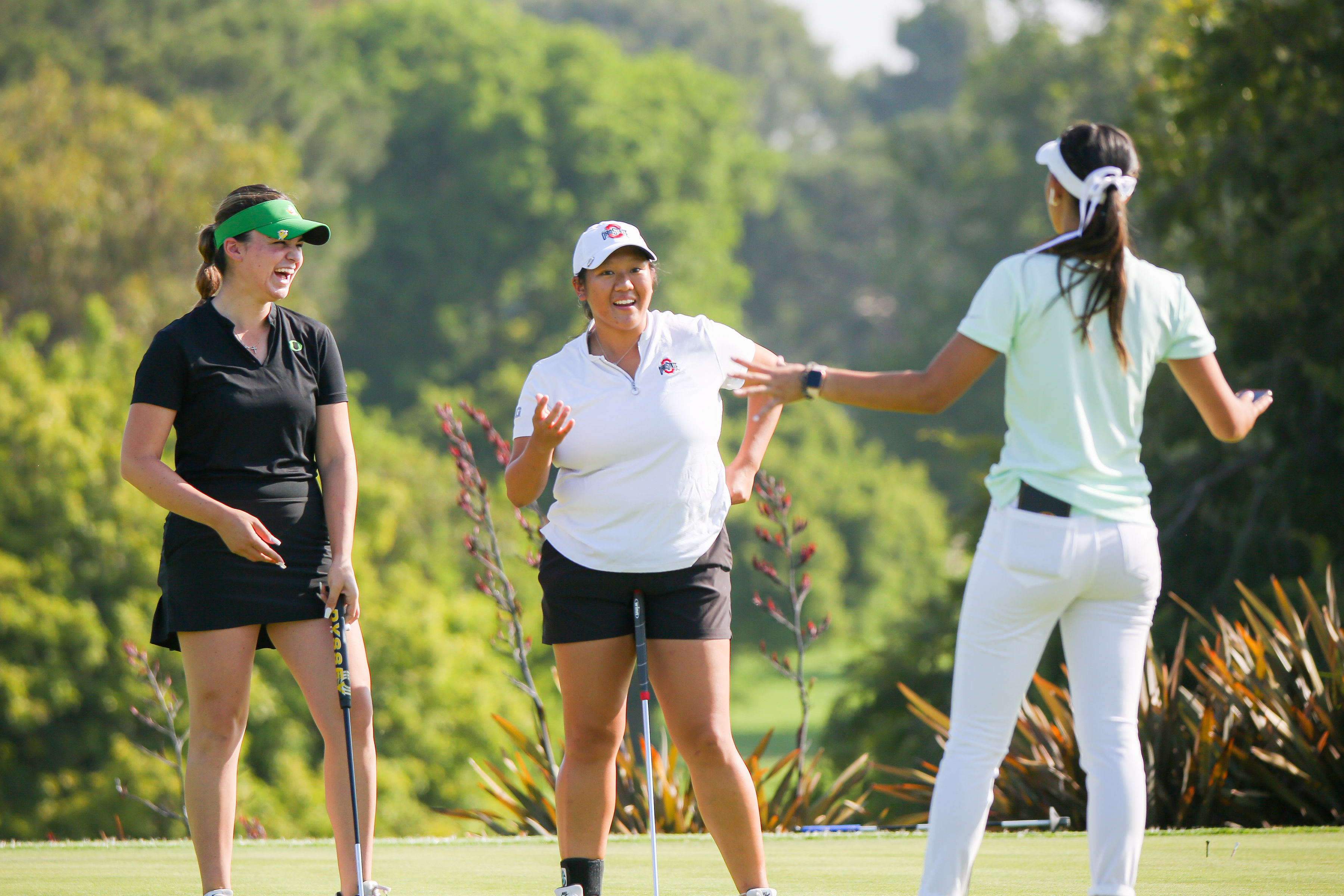 We are officially in the beautiful heart of Summer. Warmer weather, less layering and longer days are what we wait for all year long. For any of you who prefer chilly, temperate, spring rounds of golf, you are entitled to your own wrong opinion. But the other 99.99 percent who will take summer time rounds of golf over any other season, you are my people.
The love for the game that many of us share is, quite honestly, a conditional one. Playing well? I love this game! Not so great? Maybe I'll just stick with bowling. But luckily for us, the game of golf is always there, patiently awaiting our return after re-reading our anger management books.
But that "conditional love" we have for the game seems to have more patience in the summer months. Everyone seems "shinier." Less clubs are thrown. The air is sweeter and so is the lemonade. But like the weather, our lives have seasons. Sometimes we are in a season of pure survival from one day to the next. And what exactly is surviving? Our sanity. Or what's left of it. Many would say that this is when the game of golf can be the most healing, and depending on your situation that may or may not be true. But sometimes your only option is to put your head down and just "handle it" until you can look up again. And for many, the first thing we want to see when we do look up is that first tee box.
This pretty much sums up how I felt once things started to ease up just a bit with the pandemic. As things started to open up, so did my peripheral vision. And yes, one of the first things I saw was that first tee box. Golf then became a much higher priority in my life, just like what seems to be the rest of America. Like I said, the game of golf is there, patiently waiting for us. And it warms my heart to see so many people gravitating toward it like flies to sugar because this game really is the sweet stuff in the middle of the "sour and rancid" in our lives.
So soak it up. Enjoy being outside with the sun on your face and breeze in your hair. Play that favorite Spotify playlist in your golf cart and indulge in those chips and guac during your round. It's summer. We are as close to "normal" as we have been in a year and a half. We have put our heads down and "handled it" and now it's time for a little fun. I see that first tee box clear as day. Do you?
Beasley
By: - Jul 14, 2021
What's Your Sign? Here's Your Drink!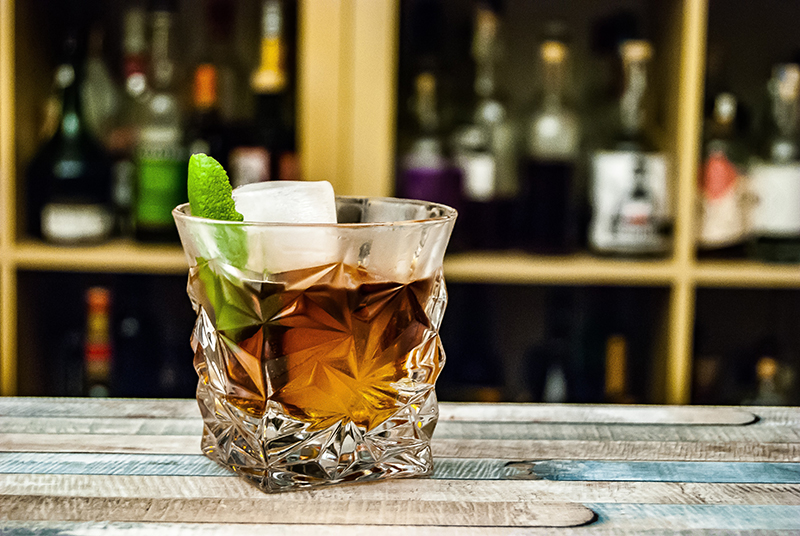 We at FORE Her love a good cocktail. Whether you're a gin woman, a vodka woman, or a whiskey woman, there is some concoction out there to make your heart happy and give you that perfect just-buzzed feeling. But did you know that there are cocktails that are better matched for you than others? Yes, some cocktails fit your star sign better than others.
So to help you take your cocktail game to the next level, we are here to share the cocktail recipes for each star sign so that you can tap into your true self while imbibing and enjoy to the maximum. If you don't know your star sign, don't worry. We've placed the dates for each sign below so you can find out what you are, and drink accordingly.

Aries | Old Fashioned
March 21 - April 19
Did you know that the Old Fashioned is the most popular cocktail in the world? That's why Aries love it so much – because Aries also like to be number one. The boldness of this drink speaks to the outgoing personality of this sign and the citrus in this drink matches the energetic sign of an Aries.
Ingredients:
½ oz Demerara syrup
3 dashes Angostura bitters
2 dashes orange bitters
Orange peel
What to do:
Add ingredients to a mixing glass
Add ice to mixing glass and serving glass
Stir ingredients for 30-40 seconds
Strain into serving glass
Garnish with orange peel

Taurus | French 75
April 20 - May 20
Taureans enjoy the finer things in life and love to sip and savor every moment. So, for them, we have chosen the French 75. This is a classic with a twist that is simple, yet exquisite (and expensive.)
Ingredients:
2 oz London dry gin
¾ oz fresh lemon juice
¾ oz simple syrup 2 oz
Champagne Spiral lemon twist for garnish
What to do:
Combine gin, lemon juice, and simple syrup in a cocktail shaker
Fill shaker with ice, cover, and shake for about 20 seconds
Strain cocktail through a strainer into a large flute
Top with Champagne
Garnish with a lemon twist and serve

Gemini | Summer Spritz
May 21 - June 20
Geminis are known for being indecisive so it's better to not force decisions where they aren't entirely necessary, like cocktails. Instead of trying to craft the ideal drink, Geminis are left better to the devices of someone else to decide for them. Something like a summer spritz is a safe way to go – you know it will be tasty but you don't have to make all the decisions of what goes in it.
Ingredients:
½ grapefruit
4 oz dry
Prosecco
1/12 oz fresh grapefruit juice
½ oz Aperol ½ oz vodka
Club soda Grapefruit peel garnish
What to do:
Place the spiral garnish in a rocks glass or large wine glass
Fill with ice and add Prosecco, grapefruit juice, Aperol, vodka, and a splash of club soda
Gently stir together and serve
Cancer | Sangria
June 21 - July 22
Cancers love being at home and few things speak drinking at home quite like a big pitcher of sangria. This drink is meant to be shared with friends or family in a comfortable space, and that is something that Cancers love to do.
Ingredients (for a pitcher):
2 bottles Spanish red wine
½ cup brandy
2 oranges, one juiced and one diced
1 green apple, diced
1 lemon, diced 1 cinnamon stick
Simple syrup or maple syrup
Optional: sparkling water
What to do:
Add the wine, brandy, orange juice, diced orange, diced apple, diced lemon, and cinnamon stick to a large pitcher
Stir to combine
Taste and add in a bit of sweetener
Cover and refrigerate for at least 30 minutes or up to 4 hours
Serve the sangria over ice, topping each glass off with a splash of sparkling water

Leo | Espresso Martini
July 23 - August 22
Leos are known for their extravagance so they need a drink that matches that. An espresso martini is quite extravagant and also matches the high energy of this star sign that helps move them to be the center of attention (which we all know they love.)
Ingredients:
1 oz espresso coffee
½ oz Kahlua
What to do:
Fill a cocktail shaker with ice and vodka, espresso, and Kahlua
Shake vigorously until ingredients are combined and chilled
Strain into a martini glass until froth forms on the top
Serve

Virgo | Gin & Tonic
August 23 - September 22
Virgos tend to be straightforward and simple (in a good way,) so we think the cocktail for them is a classic gin and tonic. This drink is a no-nonsense drink that gives you exactly what you think you're going to get, and that's a safe bet for a Virgo.
Ingredients:
1 ½ oz gin
5 oz tonic water
What to do:
Fill a cop glass with lots of ice and pour gin over it
Top with tonic water
Garnish and serve

Libra | Mimosa
September 23 - October 22
The sign of a Libra is scales, which means they are a balanced sign that is into symmetry. Thus, it makes sense for them to also like a balanced cocktail. If you make mimosas the want they are intended, they are equal parts orange juice and equal parts Champagne, making them the perfect balanced drink for Libras.
Ingredients:
Champagne or sparkling wine
Orange juice
What to do:
Pour the Champagne or sparkling wine into a flute, filling about half full
Pour the orange juice on top, filling the glass
Serve

Scorpio | Margarita
October 23 - November 21
If there is one thing that Scorpios are known for it is their lack of showing emotion. Don't get us wrong – they are emotional beings but don't always show it. Instead, they prefer to hide in mystery. That's why we think a margarita is a perfect fit for them. The tequila is in there, but you don't always taste it.
Ingredients:
2 oz blanco tequila
Juice of 1 lime
½ oz triple sec
Salt for rim
Lime wedge for garnish
What to do:
Fill a cocktail shaker with ice and add tequila, lime juice, and triple sec
Shake
Pour with the ice into a highball or footed glass
Garnish with lime and serve

Sagittarius | Negroni
November 22 - December 21
Sagittariuses have a lot of interest in other cultures, so a drink that takes them outside of their own culture is a good one to go with. We chose a Negroni because this drink originates from Italy and also represents taking risks, which is something that Sagittariuses love to do.
Ingredients:
1 oz gin
1 oz Campari
1 oz sweet vermouth
Orange garnish
What to do:
Fill a mixing glass or cocktail shaker with ice and add gin, Campari, and sweet vermouth
Using a cocktail spoon, give the drink a few quick turns
Strain into a tumbler filled with large ice cubes
Garnish with orange twice, slice or peel, and serve

Capricorn | Martini
December 22 - January 19
Capricorns are known for being straightforward. Whether you like it or not, this sign is straight to the point and transparent, so it makes sense that their drink would also be to the point and not have any unnecessary fluff. That's why the drink of choice for a Capricorn is a martini.
Ingredients:
Ice
2 ½ oz vodka
½ oz dry vermouth
Green olive or strip of lemon zest for garnish
What to do for shaken:
Freeze martini glass for 15 minutes
Fill a cocktail shaker with ice
Add the vodka and vermouth and shake until chilled
Strain into a martini glass
Garnish and serve
What to do for stirred:
Pour vodka and vermouth into a mixing glass or cocktail shaker filled with ice
Stir vigorously for about 20 seconds
Strain into a martini glass
Garnish and serve

Aquarius | Caipirinha
January 20 - February 18
Those who are born under the Aquarius star sign are known to be on the more free-spirited side which is why we think they will love a cocktail that is tasty but has some oomph to it, like a Caipirinha. It is the perfect mix of sweet and sour, which Aquariuses can sometimes be.
Ingredients:
2 tsp brown sugar
½ lime, cut into quarters
1 oz cachaca
What to do:
Add 2 quarters of lime into a glass with 2 tsp sugar
Muddle together using a muddler, wooden spoon, or small rolling pin
Add ice
Pour cachaca over
Stir and serve

Pisces | Absinthe
February 19 - March 20
As the last constellation of the Zodiac, Pisces are wise. Which allows them also to be a bit more dreamy than the other signs. When it comes to drinks, Pisces love something otherworldly, and for that we choose absinthe. This magical drink will take them to a new place.
Ingredients:
1 ½ oz absinthe
4 ½ oz chilled Champagne
What to do:
Pour the absinthe in a coupe glass
Top slowly with Champagne
Share with us the drinks you try, and whether you feel it's a fit for your personality! And as always, drink responsibly.
Los Barrachos Golf Club
By: - Jul 13, 2021
Wired Golf Club
By: - Jul 13, 2021
DROUGHT – LONGER TERM STRATEGY A MUST
By: - Jul 12, 2021
Tschida
By: - Jul 12, 2021
July Deal 2021
By: - Jul 12, 2021
Kendall
By: - Jul 07, 2021
Conducting a Handicap Review
By: - Jul 07, 2021
What is the GPS Feature? When will it be added to the GHIN Mobile App?
By: - Jul 07, 2021
Emrick
By: - Jul 07, 2021
DeVoll
By: - Jul 06, 2021
Castellanos
By: - Jul 04, 2021
Johnson
By: - Jul 03, 2021
Johnson
By: - Jul 03, 2021
2020 SCGA Team Play Championship Recap
By: - Jul 01, 2021
2020 Women's Team Play Recap
By: - Jul 01, 2021
Stewart
By: - Jun 29, 2021
Assa Golf
By: - Jun 29, 2021
Assa Golf
By: - Jun 29, 2021
selikow
By: - Jun 28, 2021
Slomanson
By: - Jun 28, 2021
Southern California Golf Association and Woodford Reserve Announce Partnership
By: - Jun 28, 2021
Harutunian
By: - Jun 28, 2021
kawamura Bangs
By: - Jun 27, 2021
Woodford Reserve
By: - Jun 27, 2021
Loftus
By: - Jun 26, 2021
PANIC, NO PREPARE, YES
By: - Jun 25, 2021
SCGA Swing Tip: More Distance with Greater Shoulder Turn
By: - Jun 24, 2021
SCGA Swing Tip: Stay Motivated
By: - Jun 24, 2021
SCGA Swing Tip: Lock In for Improved Putting
By: - Jun 24, 2021
SCGA Swing Tip: Driving Range Games
By: - Jun 24, 2021
SCGA Swing Tip: Shoulder Turn at Address
By: - Jun 24, 2021
SCGA Swing Tip: Create More Power & Distance
By: - Jun 24, 2021
SCGA Swing Tip: Focus on Your Wrist for Better Ball Striking
By: - Jun 24, 2021
SCGA Swing Tip: Better Contact with the Shallow Drill
By: - Jun 24, 2021
SCGA Swing Tip: Hit Straighter Drives
By: - Jun 24, 2021
SCGA Swing Tip: Positive Takeaways
By: - Jun 24, 2021
SCGA Swing Tip: Maintain the Low Point
By: - Jun 24, 2021
SCGA Swing Tip: Creating Power Through the Lower Body
By: - Jun 24, 2021
SCGA Swing Tip: What's My Opportunity Now
By: - Jun 24, 2021
SCGA Swing Tip: Sweep the Grass to Improve Chipping
By: - Jun 24, 2021
SCGA Swing Tip: Create More Consistent Impact
By: - Jun 24, 2021
SCGA Swing Tip: Keep the Right Stats to Improve Your Game
By: - Jun 24, 2021
SCGA Swing Tip: Josh Alpert - Create Rhythm in Your Golf Swing
By: - Jun 24, 2021
SCGA Swing Tip: Hit Low and High Chip Shots
By: - Jun 24, 2021