California Golf Water Facts (Infographic)
By: - Jul 27, 2021
SCGA Swing Tip: Auto Two-Putt Drill
By: - Jun 24, 2021
SCGA Swing Tip: Develop Better Distance Control by Clumping Your Putts
By: - Mar 31, 2021
SCGA Swing Tip: Generate More Clubhead Speed
By: - Mar 31, 2021
SCGA Swing Tip: Proper Club Selection for Successful Chipping
By: - Mar 18, 2021
CGCOA Golf is Good Ambassador Program
By: - Mar 17, 2021
FORE - Governmental Affairs
By: - Mar 16, 2021
SCGA Swing Tip: Use Your Golf Bag to Improve Your Swing Path
By: - Mar 08, 2021
Zack Moran
By: - Oct 15, 2020
Huy Dang
By: - Oct 15, 2020
Mike Ortega
By: - Oct 13, 2020
Nikki Gatch, PGA
By: - Oct 12, 2020
SCGA Swing Tip: Leapfrog Chipping Drill
By: - Apr 06, 2020
SCGA Rules Crew: Rule 13.1c "Messy Green"
By: - Feb 24, 2020
Bob Thomas Communications Internship
By: - Feb 10, 2020
SCGA Swing Tip: Swing Rotation
By: - May 07, 2018
2019 California Amateur Cup Matches
By: - Dec 01, 2017
SCGA Swing Tip: Hitting Downhill Shots
By: - Aug 29, 2017
Hollywood Swings and Misses - Happy Gilmore
By: - Apr 17, 2017
California Senior Amateur Championship
By: - Nov 01, 2016
SCGA Swing Tip - Increasing Club Head Speed
By: - Oct 01, 2013
SCGA TV
By: - Jun 30, 2013
Kevin Heaney
By: - Jun 28, 2013
SCGA Hall of Fame Welcomes 14th Class of Inductees
By: - Oct 27, 2021
Cooper
By: - Oct 27, 2021
Lynn Smith
By: - Oct 26, 2021
Nikki Gatch
By: - Oct 26, 2021
Kemp Richardson
By: - Oct 26, 2021
John Richardson
By: - Oct 26, 2021
Nikki Gatch Elected President of the SCGA
By: - Oct 26, 2021
OF "CHOPPING BLOCK" BILLS, DROUGHT, AND STRATEGIES TO DEAL WITH BOTH
By: - Oct 26, 2021
Amateur Status
By: - Oct 25, 2021
SoCal Junior (Girls)
By: - Oct 24, 2021
SoCal Junior (Boys)
By: - Oct 23, 2021
Coordinator, Marketing
By: - Oct 22, 2021
Coordinator, Member Services
By: - Oct 22, 2021
Burda Dominates for Back-To-Back Titles
By: - Oct 22, 2021
Team El Dorado Park GC Claims The Crystal
By: - Oct 22, 2021
2021 Event Recap
By: - Oct 22, 2021
The People's Championship
By: - Oct 22, 2021
Kurata Wins Fourth SCGA Senior Women's Am Title
By: - Oct 22, 2021
Kim and Edwards Take 2021 Women's Am Net Titles
By: - Oct 22, 2021
Losarah Stays Hot to Claim Public Links Title
By: - Oct 22, 2021
Young Talent Kelly Xu Clinches Runaway Title
By: - Oct 22, 2021
Seeber Runs Away With 122nd SCGA Amateur Title
By: - Oct 22, 2021
Randy Haag Dominates En Route to First SCGA Senior Amateur Title
By: - Oct 22, 2021
Team SCGA Earns First-Ever Title
By: - Oct 22, 2021
2021 Women's Team Play Recap
By: - Oct 22, 2021
Fight On: Muzi Triumphs in All-USC Final
By: - Oct 22, 2021
Plotkin Outlasts Steinberg at "Mission Impossible"
By: - Oct 22, 2021
Ethan Chung Grabs Early Lead, Hangs On For Breakthrough Title
By: - Oct 22, 2021
Youseong Choi Runs Away With Individual Title, Servite Takes Team Honors
By: - Oct 22, 2021
Braverman and Puckett Defeat SCGA Greats
By: - Oct 22, 2021
Three New Duos Find Their Way to Victory
By: - Oct 22, 2021
2021 Team Play Recap
By: - Oct 22, 2021
Stephen Hale Breaks Through With Epic Playoff Victory
By: - Oct 22, 2021
How to Improve Your Sleep So You Can Improve Your Game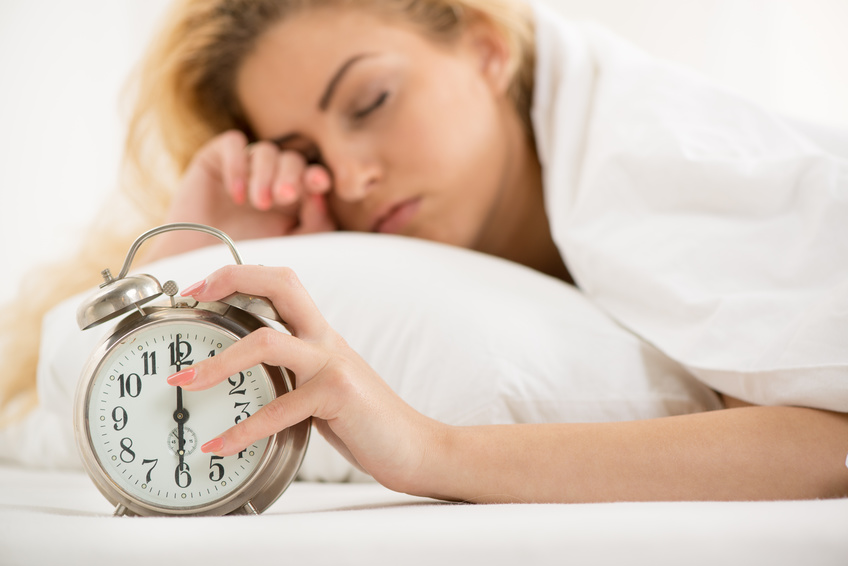 Sleep is important to function in every aspect of life.
According to the Sleep Foundation, "sleep is an essential function that allows your body and mind to recharge, leaving you refreshed and alert when you wake up. Healthy sleep also helps the body remain healthy and stave off diseases."
If you don't get enough sleep, both your body and brain suffer. A lack of sleep can cause you problems as you attempt to concentrate and think.
What is "enough" sleep?
According to experts, you need at least 7-9 hours of sleep a night. Anything less than 6 hours of sleep a night, and you are putting yourself at risk of the following health problems:
●Diabetes
●Heart disease
●Stroke
●Cognitive decline
●Death
●Weight gain
●High cortisol levels
In addition to the above, you are also putting yourself at risk of experiencing a bad roundof golf if you don't get enough sleep the night before. That's because a lack of sleep can cause your mental strength to suffer, as well as your physical strength – both of which you need to play a good round of golf.
So if you find that you are struggling with your sleep, don't worry. Here you'll find some tips and tricks on how to improve your sleep so that you can enjoy your golf round more, and play better, too.
Top 6 Ways to Improve Your Sleep
1. Meditate before bed
Even if you don't consider yourself someone who is good at or enjoys meditation, it is worth a try.
Take just an extra 15 minutes every night to calm your mind, unplug from all electronics, and get into a headspace where you can easily drift off to sleep.
If you struggle to do this on your own, there are some great apps out there to guide you through meditation. Some of our favorites are Calm and Headspace. These have specific guided meditations that walk you through the process until you feel like you can meditate on your own. Or, you may find that you prefer the guided meditations and continue to use them even after you've become accustomed to meditation.
2. Get active during the day
A sedentary lifestyle can lead to all sorts of issues.
If you aren't getting enough movement in your daily life, you may find yourself suffering from the following issues:
●Obesity
●Heart disease
●High blood pressure
●High cholesterol
●Stroke
●Type 2 diabetes
●Certain cancers
●Osteoporosis
●Depression
●Anxiety
Regular exercise throughout your day is important to keep the risk of those issues at bay. Exercise is also great for improving your sleep.
How does that work?
Studies show that exercising daily can help you feel more tired when it comes time to go to bed. Exercising can mean a walk, a yoga class, a workout at the gym, some time and the driving range, and more.
Just note that being active for 30 minutes a day and spending the rest of your day being sedentary is not enough to keep you healthy and happy. You need to incorporate multiple breaks for some form of exercise throughout your day, even if it just means a quick walk around the block.
3. Only consume caffeine in the morning
It may feel as if some days, you can't make it through the day unless you've got a constant flow of caffeine in your system.
However, doing so can negatively affect your sleep pattern.
Caffeine is shown to stay in your system for a minimum of four hours. So when that 3:00 afternoon slump hits, turn to other energy-boosting methods to help you get through the rest of the day. By consuming caffeine this late, chances are good you will struggle when it's time to go to bed.
To help us get extra energy during the day when we are feeling tired, we love to take a walk, have a 10-minute stretch break, do some quick chores around the house, or make a phone call to a friend.
4. Cut electronics an hour before bedtime
Chances are good you've heard about the blue lights that electronics such as laptops, smartphones, and televisions emit.
And we are willing to bet that what you've heard isn't great. However, according to Havard Health Publishing, the negative effects of the blue light exposure we get from our electronics are not as bad as many people think.
Things such as aging, smoking, high blood pressure, obesity, and more put you at a much higher risk of having any issues with blindness and/or macular degeneration than blue light does. In fact, the maximum brightness on new iPhones is 625 candelas per square meter, which is half as bright as the lights in most retail stores, and 10 times lighter than the ambient illumination from the sun.
However, you still want to put that phone away or turn off that Netflix show about an hour prior to your bedtime.
Why?
Because although they may not be causing irreversible damage to your eyes, those blue lights from your electronics are known to affect your sleep. That's because they mess with your circadian rhythm and your biological clock.
So limit your use of these electronics at night, and swap your phone for a book when you're nearing bedtime.
5. Drink plenty of water throughout the day
As mentioned above, you don't want to consume a bunch of water right before bed, or else your sleep will suffer.
However, in order to help you get a better's night's sleep, it is important that you drink enough water throughout the day. A study found that people who slept 6 hours a night showed to have much higher rates of dehydration than people who slept 8 hours.
So work on consuming water throughout the day to keep your hydration levels up. As a general rule of thumb, you should try to consume half of your body weight in ounces of water per day. That means if you weigh 150 pounds, you should consume 75 ounces of water every day.
6. Establish a bedtime routine
Many people find that a bedtime routine helps them sleep better. Everyone's bedtime routine may look different but having one can help to put your body in a relaxed state so that you're ready for a full night's sleep.
Some people find that setting an alarm for the time in which they need to start their bedtime routine is helpful. It serves as a cue that it's time to start winding down.
As you wind down, you may find that some of the following practices help you get into the sleep mindset more easily:
●Turn down the lights
●Lower the thermostat
●Put on relaxing music
●Take a shower
●Create a to-do list for tomorrow
●Turn off electronics
●Journal
●Do some night yoga
●Drink some chamomile tea
If you feel like your golf game isn't the best, and it feels like it's because you're tired and lacking energy (both physical and mental), then chances are good it's because of your lack of sleep.
Try incorporating some of the above ways into your daily life, and we bet that you'll find your sleep improve, and your golf game, too!
Holiday Gift Giving Guide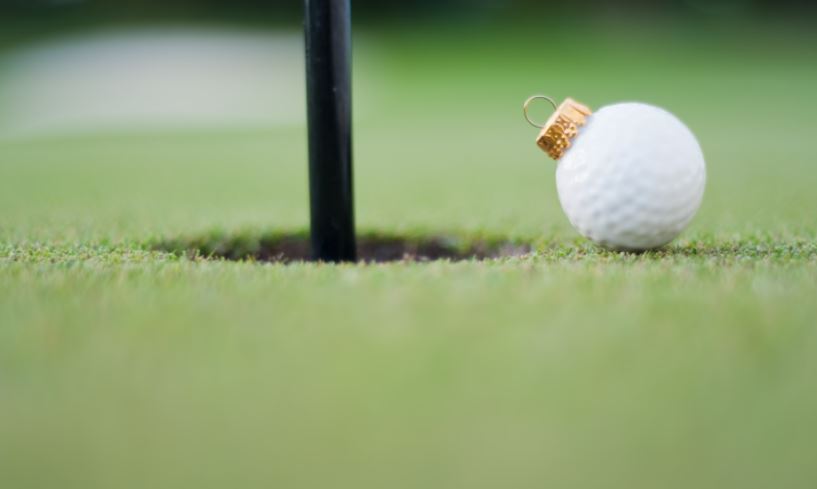 Summer flew by and as I sit here enjoying my Pumpkin Spice Everything, I reluctantly realize that Gift Giving Season is just around the corner.
Every year I tell myself that I am going to get creative with my gifts for my favorite people and, not surprisingly, most of my favorite people are golfers.
But creativity and chaos don't mix very well and since it can be such a hectic time of year, the actual thoughtfulness of gifts can fall by the wayside. The effort of merely shopping for the gift, wrapping it and getting it into the proper hands can be a daunting task. Adding the idea that the gift should also be creative might possibly send one right over the edge.
So this year I started early, made a list of ideas I wish I had thought of years ago, and want to share that list with you now. It's funny…..some of the best responses to gifts have come from some of the simplest ideas. It doesn't have to be extravagant……just something that touches the person. I found it to be quite easy to come up with gift ideas….as soon as I stopped making it hard. Follow? Good.
Portable Speakers
It seems like everyone's golf bag includes a portable speaker these days. But for those who don't have one, it can make a really fun gift. A designated speaker that you can keep in your golf bag ensures you never have to go a round without tunes. Yes, many new golf carts have built in speakers now, but do you really want to take the chance? Any personalization you might be able to add to the speaker only increases the fun factor. And extra points if you include a solar battery charger so they don't have to think about charging that baby up before each round.
Ball Markers
I once gave a ball marker from The Masters to one of my favorite golf partners. A ball marker. And you would have thought I gave her the world. I was touched by her gratitude. But then suddenly recalled my own appreciation for a particular wedding gift one of my golf buddies gave me. It was a silver ball marker in the shape of a perfect circle, engraved with our wedding date right on top. Every time I use that ball marker I think of my friend and my wedding day and those happy thoughts actually help my mental approach.
I also remember the first time Phil played in the British Open, or properly called, The Open Championship. He returned with a pack of 10 ball markers, each from one of the golf courses in the active rotation. I have those ball markers to this day and use them on special occasions.
So if you have played a special golf course with a friend, or know that a certain course has special memories for them, a ball marker is a gift that is usually a bigger deal than one might initially think.
The same could go for hats, shirts, yardage books, etc.
Colored Tees
Simple, right? But, like the ball markers, this one goes over better than expected. Does one of your golf buddies have a certain color they are obsessed with? Tees in that color will not only make them happy every time they use one, but they will feel unique and special on the tee box. Again, it will only benefit the mental approach to your round of golf.
Having a hard time swallowing this one? My 10 year old son is obsessed with Fernando Tatis Jr. I gave him a bag of 100 pink tees (his idol's favorite color) for his birthday. He told me they help him channel his "inner Fernando" whenever he uses one, making his tee shots much better. It was his favorite birthday gift. Golf tees. Pink. 100 for $5. I really need to stop over thinking his gifts.
Framed photo of fun round together
If you are anything like me, there is at least one photo op per round with friends. Cool view in the background? Photo. Matching outifts? Pic. Opportunity for great photo bomb? Get that camera out. So there should be plenty of portraits to choose from in your camera roll. Pick one of your favorites, use a flattering filter and frame that baby in something really cool and your gift value is off the charts. Again, simple but oh so meaningful.
Along these lines, if you happen to play a round of golf with a friend who either shot their best round, had a hole in one, etc., grab an extra scorecard (if you can't snag the original), transcribe the scores for each hole and frame it in something special so they can put it on display. Extra credit if you can include a golf ball or other small token they used during the round.
Personalized Water Bottle (That Fits in Drink Hole Perfectly)
Just like portable speakers, one can never have too many water bottles, especially if it is personalized or includes a special photo of the recipient on one of their favorite golf holes or with some of their favorite playing partners. It's fun to have something unique when playing your round, and if you happen to lose it on the golf course it is much easier to identify.
Don't be afraid to get a jump start on your shopping list. In many cases personalization can take a little longer than expected so give YOURSELF the gift of time and start early. I hope the upcoming Holiday Season is peaceful and restorative for you and your loved ones.
Linda Small's Impact Is Anything But…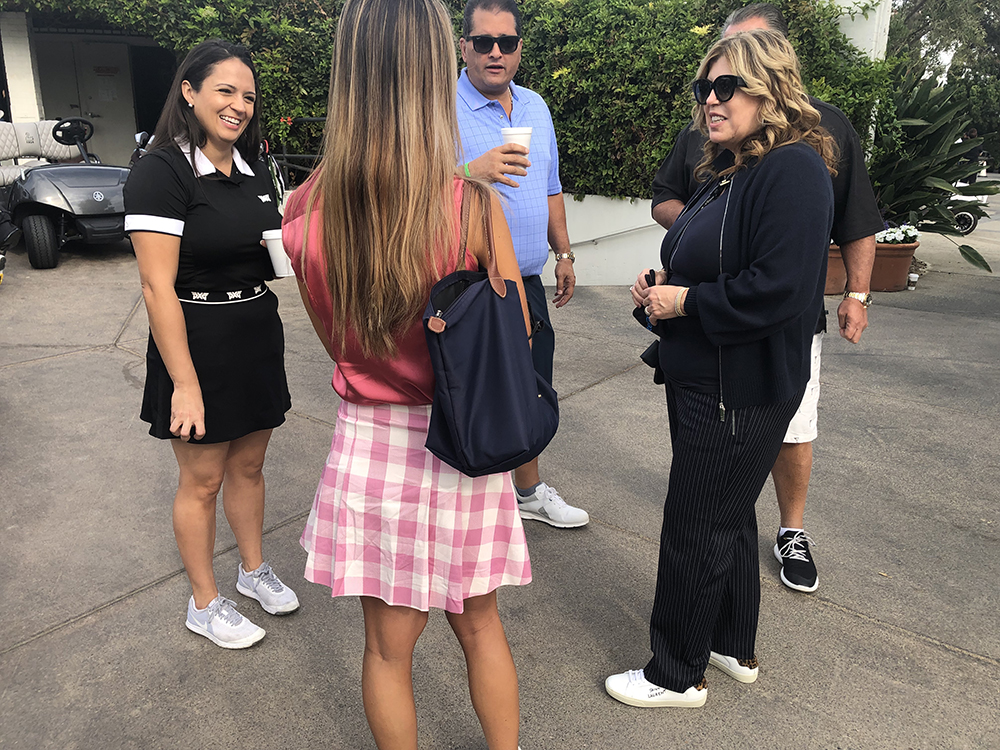 Linda Small (black shirt, on the right) was doing what she does best running the 14th Annual George Lopez Celebrity Golf Classic at Lakeside Golf Club. She was smiling, running around introducing folks - she doesn't forget a name - putting out fires and making sure everyone was comfortable, from the mariachi singers that belted out lovely tunes on a Monday morning to celebrities like comedian D.L. Hughley, Doors guitarist Robbie Krieger and boxer Oscar De La Hoya on Oct. 4.
Even when she took a quick break to the go to the bathroom, her phone was still ringing. Event day stops for no one.
But this year was different than any other.
Small, the executive director of the George Lopez Foundation, had a little more on her mind than usual. A week after the tournament, she was scheduled to have TAVR surgery, a heart procedure to replace her aortic valve. She has a bicuspid aortic valve, a condition she's had since birth.
She delayed the procedure for a bit, with her doctor's permission of course, so that she could run the annual golf tournament that is such a big fundraiser for the George Lopez Foundation, which services underprivileged children, adults and military families, in addition to creating awareness about kidney disease and organ donation.
"This tournament means a lot to me," Small said. "It makes a difference and we're trying to feel some normalcy."
All players and vendors had to be vaccinated or show a negative COVID test upon entry. Safety is important to Small, but especially given her upcoming procedure.
There was no tournament in 2020 because of the COVID-19 pandemic, so Small wanted to ensure this one was like any other. The celebrities, tricked out golf carts, mariachi band, margaritas and more always make this tournament unique. And with Lopez's debut of his new cannabis line Chingon, this is certainly unlike any button-up country club tournament.
Lopez, who had a kidney transplant in 2005, is so fond of Small and all she does for the foundation.
"All the kids get help and there's all the things that happen because of this," Lopez told the SCGA. "The toys we do at my elementary school or finding organs for people who need them. It's my name but she's everything about this tournament and this foundation. To even have the guts to go up and ring somebody's bell at their house when they're recovering from a transplant and she probably stayed in there for three hours talking to us. That was the day. If she didn't ring that bell and bring that card that all those people signed we wouldn't be here. It's not the name. Whatever foundation. It's all the parts that are great. When you have great friends who show up. It would hurt a little bit if everybody didn't show up, for the (fundraising) number at the end of the day. When they show up, it puts everything in perspective that I didn't have growing up, that people matter. And people around you matter and having a support system in place matters."
And having Small around has been huge in Lopez's mission to help others.
When Small was the director for the National Kidney Foundation, she went to Lopez's house with that card that had at least 500 signatures on it with well wishes for Lopez. She showed up unannounced. Lopez initially said he didn't want to be the "poster child" for kidney disease. But after talking to Small, he realized he had a big stage to help make a difference.
"I left the kidney foundation to come here and make a difference," Small said.
Consider it done.
This year's new presenting sponsor of the tournament was Natera, a genetic testing company that focuses on organ health, oncology and women's health. There were dozens of sponsors, which speaks to the friendships and mission of the foundation.
There was a concert and dinner the night before the golf, and another dinner at Lakeside after the tournament.
For years, Small had always been so focused on event planning around golf but never golf itself. She recently started playing and now loves it. She'll get back to swinging clubs soon.
"It's such a bummer I can't play. I took up golf but can't do anything until after my surgery and I'm recovered," Small said.
As for Small's procedure on Oct. 12, Lopez will be there for her.
"I will be waiting to hear she's all good and feeling better and repaired. And I'll go ring her bell and see how she likes it," Lopez said with that hearty laugh. "She's just awesome."
Martin/Schaeffer Take Home Senior Four-Ball
By: - Oct 20, 2021
Monica Martin Claims Inaugural Title
By: - Oct 20, 2021
Plotkin/Menante Lap The Field En Route to Victory
By: - Oct 20, 2021
Miller/Sullivan Capture Third Foursomes Title
By: - Oct 20, 2021
Holmes
By: - Oct 17, 2021
Griffith
By: - Oct 16, 2021
Griffith
By: - Oct 16, 2021
Keenan
By: - Oct 14, 2021
Donahue
By: - Oct 14, 2021
Jack Margaros
By: - Oct 12, 2021
Barnhart
By: - Oct 10, 2021
SCGA Junior Golf Foundation Partners with Youth on Course
By: - Oct 04, 2021
KETCHEM
By: - Sep 30, 2021
Spreeman
By: - Sep 30, 2021
Birdie's Golf Crew
By: - Sep 30, 2021
2021 Club Dues Update
By: - Sep 29, 2021
WHETHER DROUGHT OR AB 672: THE PERCEPTIONS OF THE MATTER ARE AS IMPORTANT AS THE FACTS OF THE MATTER
By: - Sep 28, 2021
Powers
By: - Sep 28, 2021
Matousek
By: - Sep 26, 2021
Beecher
By: - Sep 25, 2021
Hernandez
By: - Sep 25, 2021
Getaway Golf Club
By: - Sep 24, 2021
Flugard
By: - Sep 21, 2021
Sonntag
By: - Sep 21, 2021
Medina
By: - Sep 21, 2021
Wohlgemuth
By: - Sep 19, 2021
Santos
By: - Sep 19, 2021
Lombardi
By: - Sep 18, 2021
Roderique
By: - Sep 17, 2021