Lynne Haraway
By: - Nov 02, 2022
Zack Moran
By: - Nov 02, 2022
Huy Dang
By: - Nov 02, 2022
Mike Ortega
By: - Nov 02, 2022
SCGA Swing Tip: Slice No More
By: - Jun 02, 2022
Opposition to Assembly Bill 1910
By: - Apr 20, 2022
SCGA Swing Tip: One-Piece Takeaway to Start the Swing
By: - Apr 18, 2022
CGCOA Golf is Good Ambassador Program
By: - Mar 17, 2021
FORE - Public Affairs
By: - Mar 16, 2021
SCGA Swing Tip: Leapfrog Chipping Drill
By: - Apr 06, 2020
SCGA Rules Crew: Rule 13.1c "Messy Green"
By: - Feb 24, 2020
Bob Thomas Communications Internship
By: - Feb 10, 2020
SCGA Swing Tip: Swing Rotation
By: - May 07, 2018
2023 California Amateur Cup Matches
By: - Dec 01, 2017
SCGA Swing Tip: Hitting Downhill Shots
By: - Aug 29, 2017
Hollywood Swings and Misses - Happy Gilmore
By: - Apr 17, 2017
California Senior Amateur Championship
By: - Nov 01, 2016
SCGA Swing Tip - Increasing Club Head Speed
By: - Oct 01, 2013
Live Scoring
By: - Jun 30, 2013
Kevin Heaney
By: - Jun 28, 2013
Fore Youth Campaign
By: - Mar 28, 2023
RECENT EVENTS ALLOW FOR REGROUPING NOT RESTING
By: - Mar 27, 2023
Rosentreter
By: - Mar 24, 2023
Dopson
By: - Mar 23, 2023
Natalie Brugler
By: - Mar 21, 2023
Creators in Golf
By: - Mar 20, 2023
McGuire
By: - Mar 18, 2023
Lamparter
By: - Mar 16, 2023
LACC Hosts SCGA Junior Golf Foundation Mentor Play Day
By: - Mar 15, 2023
Women's Four-Ball Registration
By: - Mar 15, 2023
SoCal Golf Hall of Fame Welcomes Inaugural Class
By: - Mar 15, 2023
SCGA Member Mary Budke Inducted to Pac-12 Hall of Honor
By: - Mar 13, 2023
BELLIOTTI
By: - Mar 13, 2023
Indian Wells Golf Resort: A Municipal Course Suprise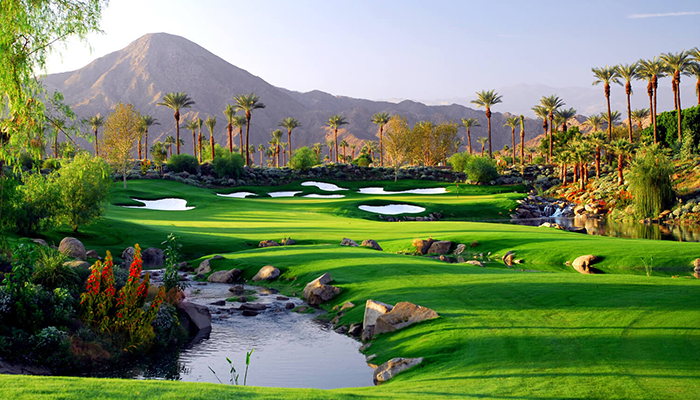 When I think of municipal courses, I think about courses that are great to play, but are no-frills – where you go when you want to play a round of golf that won't break the bank and may not include the bells and whistles you see at a country club.
But when I visited Indian Wells Golf Resort in Palm Springs, my idea of a municipal course was turned upside-down. Both courses on property are technically municipal, and I didn't believe it until I verified with the pro shop. The caliber of these courses rival some of the top private courses in the country, if not the world.
Before you even step foot on the Celebrity or Players Course, you see from the massive 53,000 square-foot clubhouse the oasis spread before your eyes – 36 holes of sheer beauty with the iconic Santa Rosa desert mountains behind. It feels like every hole on these courses was meant to be photographed, and I basically did just that.
Play: The Celebrity and Players Courses
Though both courses are incredible, the Celebrity course takes the cake. I couldn't help but pause and listen to the flowing water in the streams and split-level lakes as I passed them between holes. It brought me back to a place of peace after struggling on the greens with far more putts than I should've had. And the greenery is quite stunning as well; the exotic plants throughout the course are something you wouldn't expect in such a dry climate, but happily enjoy.
The Players course doesn't have quite the "wow" factor that the Celebrity course does, but it is still a top municipal course for me, and many others. This one has a more classic feel to it, but with about 50 more bunkers thrown in. I spent more time in this course's sand than I'd like to admit, but that didn't stop me from having fun.
For an even more unique golf experience, I tried out the resort's Shots in the Dark for some nighttime fun. Hitting glowing golf balls at the driving range proved to be incredibly fun, especially when you have the food truck's brisket to enjoy between shots. There's even a live DJ. Also part of Shots in the Dark is putting games, complete with lasers and lights to guide you, and an iPad to keep score. Because golf isn't golf without a little bit of friendly competition, right?
Eat: The Vue and the Food Truck
Truth be told, I've never been a big food truck girl. Most of the options feel less-than-healthy and inevitably end up giving me a stomachache. But the food truck at Indian Wells GR is yet another example of something here that completely changed my mind.
I gave the food truck a try the night before our first round and ate the best brisket I've ever had. Shoutout to the resort's Chef Juan for a food truck meal that made me regret ever having any doubts.
The food truck serves up a convenient breakfast in the morning before heading out for a round as well as quick food on the turn to hole 10 on the Celebrity course.
When you have time to sit down and enjoy a meal, the clubhouse offers up tasty eats with a view at its bar and grille, The Vue (aptly named). The hanger steak was my favorite, and I ordered it multiple times while here. Part of the fun of the Vue was watching the players come in from their rounds and overhearing the stories of their day out on the course.
Stay: Hyatt Regency Indian Wells
Within the Indian Wells Golf Resort are two different options for hotels. I stayed at the Hyatt Regency Indian Wells and was blown away at how luxurious it felt. From the moment I pulled up to valet to the minute I checked out at the end of my stay, the service and attention to detail were top-notch.
I had the pleasure of staying in one of the resort's penthouse suites (yes, there is more than one penthouse here). It provided an 875-square-foot room complete with a living room, a king-sized bed, a massive bathroom, and most importantly, jaw-dropping views of the Celebrity course and my favorite mountains.
I was too busy golfing to enjoy the water park, lazy river, fitness center and spa at the resort, but I took a quick peek at them and they all looked worthy of logging some serious hours at.
The convenience of staying at the resort right next to the golf courses is ideal. You just walk out the door of the hotel, through the parking area, and you're at the clubhouse ready for a great day on the course.
Whether it's just you or a group of 200, Indian Wells GR is an incredible place to play, eat and stay. There's something for everyone here, no matter what level of golfer you are.
Women's Mid-Amateur Championship Boasts Record Participation
By: - Mar 09, 2023
Cutino
By: - Mar 09, 2023
Harrington
By: - Mar 08, 2023
Palmer
By: - Mar 07, 2023
Potter
By: - Mar 06, 2023
Indian Wells FORE Story
By: - Mar 06, 2023
Henreid
By: - Mar 05, 2023
Yarham
By: - Mar 04, 2023
How to Complete the Annual Club Assessment
By: - Mar 03, 2023
OnlyGolfers
By: - Feb 27, 2023
Pentek
By: - Feb 26, 2023
Ketchem
By: - Feb 24, 2023
Motoiki
By: - Feb 21, 2023
2023 LEGISLATIVE SESSION – THE EARLY RETURNS
By: - Feb 21, 2023
Barrett
By: - Feb 21, 2023
Cordero
By: - Feb 20, 2023
Tiffin
By: - Feb 20, 2023
Couillard
By: - Feb 19, 2023
Shugerman
By: - Feb 18, 2023
Forillo
By: - Feb 17, 2023
SUSTAINABLE GROUNDWATER MANAGEMENT ACT: THE LITIGATION BEGINS
By: - Feb 14, 2023
MONTEBELLO: A CAUTIONARY TALE
By: - Feb 14, 2023
Gilpin
By: - Feb 14, 2023
Lily Morua: The SCGA Junior That Caught the Eye of Tiger Woods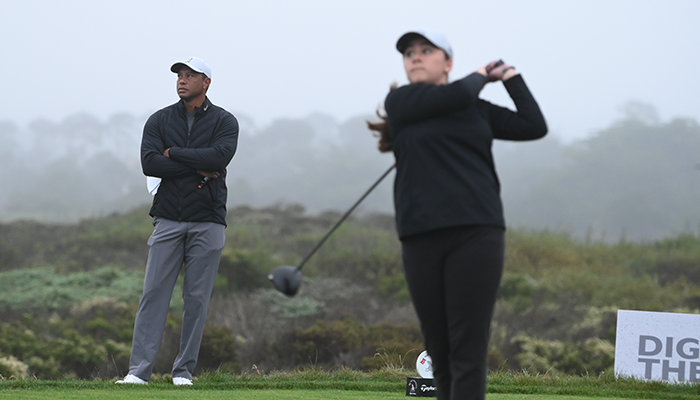 Lily Morua has really blossomed as a student athlete, and she has her golf career to credit for much of that.
From picking up her first club as a toddler, to playing in SCGA Junior events to having Tiger Woods call her by name, it's been a wonderful journey. And it's just the beginning.
The 15-year-old Morua, who lives in Gardena, got her first tournament experience through SCGA Junior.
"I started doing events with them when I was around 8 or 9 years old. Maybe younger than that," Morua said in an interview with the SCGA. "The main thing I remember from around that age was getting lessons from Coach Teresa (Thornton). We would go to Los Amigos Golf Course and at first we started in group lessons. After that, my brother (Brendan) and I went to one-on-one lessons with her. She helped a lot with a strong foundation for our swings. We played in some SCGA Junior tournaments at Don Knabe."
Then, it was off to programs created through Woods' TGR Foundation. The TGR Learning Lab recently underwent a renovation complete with new technology and programs, and it was unveiled in October. Morua and her family attended the event. Some after-school courses include cybersecurity, structural engineering, food chemistry and comparative zoology. Cool stuff.
Morua and her dad, Alejandro, heard about the TGR programs and knew someone that worked there. After a conversation and some forms, she was accepted into the program.
"After a while I got good enough to get moved up to the player development program. In 2019, I joined the TGR fall travel golf team," Morua said. "It was really fun and played a lot of different courses. In the pandemic, everything got shut down but I still did some virtual classes with them."
The Gardena resident traveled all around California and played golf courses and visited cities, learning and growing with each round.
But the grand event came in October when Morua was one of 60 participants who got to play in the inaugural TGR JR Invitational presented by TaylorMade at Pebble Beach last year.
"I was so excited and surprised I got selected," Morua said. "It's a very big tournament and very important. I've played in many tournaments but never any as special as this. The facility was amazing and the setup was great. It was based on the kids. The menu for the dinner was the same thing that was served at Tiger's Masters."
Morua and others got to dine on burgers, chicken tenders, sushi and so much more, including a sundae bar.
Oh, and she won her age division, 13-15 years. She won her final match at Spanish Bay.
"The first hole is something I'll never forget with Tiger announcing my name," Morua said. "When we walking the fairway, it still didn't hit me. The first hole was very foggy. You could barely see where ball went. The second shot on the par 5, 'wow. I got it on the green. I just did that. Just get it close to the green and you'll be fine.' I got it on the green and he announced my name and I got an eagle. It was a pretty great start to my day."
Morua is a student at Notre Dame in Sherman Oaks and she'd like to major in bio chemistry in college and play golf. Her dream schools are Notre Dame, Penn State and Boston College.
"Golf has given her the opportunity to visit places and participate in events and activities that otherwise she probably wouldn't have if she wasn't playing golf," Alejandro Morua said. "As a comparison, Lily played lacrosse for several years. She was pretty good. She got invited to elite places but she never got invited to participate in real cool experiences."
How, When and Why We Use the Lift, Clean and Place Rule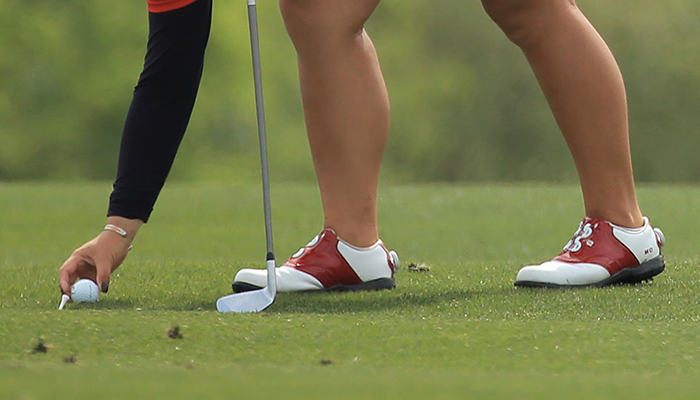 "It Never Rains in Southern California" was a catchy tune that topped the US Billboard once upon a time and established an irrefutable reputation in the Southland that came with insufferable stretches of drought. For golf courses, this meant being resourceful and conscientious about irrigation plans. For golfers, this meant consistent playing conditions that often made us the subject of envy. We are, without a doubt, a spoiled bunch of fair-weather golfers! Recent months have served us a heavy dose of reality in the form of rainfall that saturated our grounds and sidelined our outings. Unlike Oregonians who would play through rain or shine, Californians took shelter. Once we were able to partake in our incurable addiction, we were met with varying degrees of wet conditions that raised debate and disagreements. When is it appropriate to take relief? To what extent should relief be granted? Here at the SCGA, we aim to simplify the rules wherever possible to promote fair play and reduce fuss!
Puddles from rain, otherwise referred to as temporary water, fall under the category of abnormal course conditions. Whenever there is an abundance of such conditions throughout the course that may cause muddy ball situations, there are one of two special relief procedures that a club or committee may adopt as a local rule. Model Local Rule E-2 (Cleaning Ball) is the friendlier relief procedure as it allows players to lift, clean, and place the ball on its original spot in specific areas or throughout the general area – this includes everything inbounds between the teeing area and putting green of the hole being played, except for bunkers and penalty areas. Model Local Rule E-3 (Preferred Lies) limits relief to areas cut to fairway height or less – this means the short stuff. Additionally, the size of the relief area must also be specified, i.e. one club-length, 6 inches, etc. from the original spot, also referred to as the reference point for measurement sake. In either case and to avoid senseless penalties, a player should mark their ball before touching it and never return the ball to a spot that is closer to the hole from the original spot. While considering these relief options, bear in mind the adverse effect on pace of play whenever lifting is allowed.
Knowledge and understanding the Rules of Golf is an understated benefit that serves players on every level. Disagreements on how to deal with iffy situations can often be placated by simply knowing how, when and where to apply the rules. If you're in charge of conducting events for your club, the Model Local Rules section of The Official Guide to the Rules of Golf offers descript language to help administrators prescribe the right course of action, such as the lift, clean and place procedures mentioned above. As it relates to handling the golf ball, the Rules of Golf devotes an entire section to Rule 14 which covers "Lifting and Returning a Ball to Play." This rule contains more pages than any of the other rules. Remembering the lengthy list of dos and don'ts can be daunting but the section is worth a read on a rainy day!
Four International Golf Trips You Should Book This Year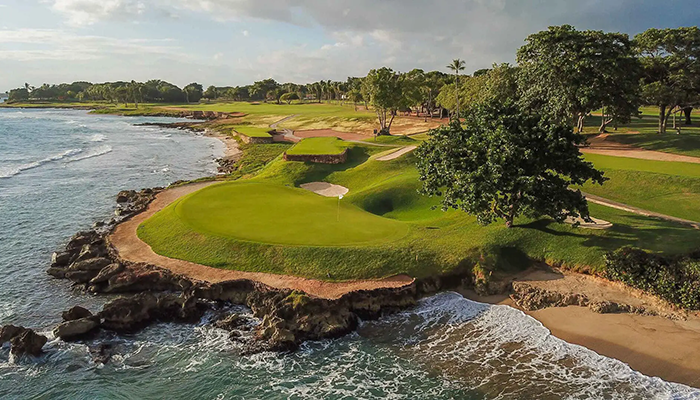 Springtime is nearing and if you're anything like me, you've got golf on your mind. The excitement to get out there in the sun, shake off the winter layer, and swing right into spring is undeniable.
Chances are good you've started making a mental list of your favorite courses you want to hit up in the heat. But it's a new year, maybe a new you, so consider putting on your explorer hat, hopping on a plane overseas, and adding some new courses into the mix.
There is no shortage of incredible courses to explore outside of the United States. So, to make things easier for you, I've found some of the hottest courses around the globe that are on my wish list for this spring.
I've been anticipating the opening of Cabot Saint Lucia and its incredible Point Hardy GC ever since I learned about it last year, and the time is finally here!
The resort and course are located on a stunning 375-acre peninsula in northern Saint Lucia. Just imagine yourself standing on the tee box and hearing the waves of the warm Atlantic Ocean crashing right beside you. Even a bad shot feels good here.
This golf club will be a real treat for golfers and spectators, with an exciting course designed by the popular golf duo Coore & Crenshaw. The course features breathtaking views of a variety of nature, from lush terrain to rocky cliffs; from tropical bays to sandy beaches.
Cabot Saint Lucia sits on a volcanic site that has been carefully transformed into a minimalist course, presenting challenges but most importantly, fun. Imagine sharp elevation shifts up and down that keep your brain engaged with strategy (and get some serious steps in, too).
This course promises an unforgettable Caribbean golf experience that may become one of the top golf destinations in the world.
Quivira | Los Cabos, Mexico
I've been fortunate enough to play some incredible golf courses, but without a doubt, Quivira in Los Cabos my favorite course. If you haven't played there yet, it's time. This Jack Nicklaus Signature course has views that will wow you from every hole. You will likely find yourself more focused on taking photos of the scenery than where your ball goes.
And don't even get me started on the amenities here – this course has the best comfort stations I've experienced, filled with delicious food and drink options while you make your way around the course. Think sliders, brisket sandwiches, tacos and any spirit your heart desires.
You'll even get the chance to step into Hollywood history while a Quivira. The 2004 Brad Pitt film, Troy, features a scene of ships landing on the day of battle. And where they landed was not actually the Aegean Sea but rather the beach below Hole No. 12.
There are also some exciting new things at Quivira, including its posh Beach Club which features a beachfront restaurant/bar, hot tub, snack bar, a fully equipped gym and zero-entry pool.
Even better yet, there's a second golf course in the works. The success of the original Quivira resulted in plans for an additional 18-hole course that will be very different from the original, but equally as incredible.
Casa de Campo | La Romana, Dominican Republic
Known as a top-notch golf destination, Casa de Campo in the Dominican Republic offers not one, not two, but three Pete Dye courses for you to enjoy all in one place.
Each offers a completely unique experience, but the Teeth of the Dog course is the main attraction. It's been named the No. 1 golf course in the Caribbean, and No. 27 in the world. Teeth of the Dog has seven holes that follow right along the bright blue Caribbean Sea. What could be more beautiful than that (besides a hole-in-one, of course)?
You'll even get a chance to taste the sea thanks to the winds that bring up the salt spray on the 5th tee box. Nothing like a quick little refresh to keep your game going, and to remind you of where you are. Talk about a dream.
If you're wondering where the name "Teeth of the Dog" comes from, it's thanks to the sharp rocks along the shoreline that resemble, well, the teeth of a dog. If you're anything like me, you'll lose some balls over these "teeth," but it's well worth it.
The other two courses, Dye Fore and Links present a challenge to golfers but do so in a fun and beautiful way that you'll enjoy no matter how you end up playing. Links is modeled after the traditional courses found in the British Isles, with a Caribbean twist.
You'll want to spend enough time here to experience all three of the courses.
Cabot Cape Breton features a whopping 46 holes of golf spread across three courses that span over a mile along the coast of Cape Breton. The holes here include links, dunes, parks and forest – there's a little bit of everything in this slice of heaven.
Cabot Links is one of the top golf courses in the world and sits right along the Atlantic Ocean. Built on land that was abandoned from the coal mining days of the area, this course takes you up cliffs and down to rolling sand dunes (well, I hope you stay out of the sand). You'll feel like you've been transported to Scotland and Ireland where you're playing beautiful, pure links golf -- free of course design tricks.
The second course, Cabot Cliffs is even more loved than Links, but a very different experience. Just wait until you get to the short par-3 that is Hole No. 16 – it's one for the books. This hole sits atop steep cliffs with a sharp fall to the Gulf of St. Lawrence below. Talk about intimidating. But, it makes the likely loss of your ball a little more beautiful.
The Nest is the newest course at Cabot Cape Breton -- a 10-hole, par-3 course that arguably has some of the best views of the whole property. You'll only need a handful of clubs for this course, but that doesn't mean it will be easy. I can guarantee it will be fun, though, which is exactly what this course was built to be. They even allow groups of up to eight people.
You'd be hard-pressed to hit all of the above courses this spring, but if you're up for the challenge, I fully support you. If not, know that you won't go wrong with picking any course from this list and turning it into your next adventure.
10 Emerging Women's Golf Apparel Brands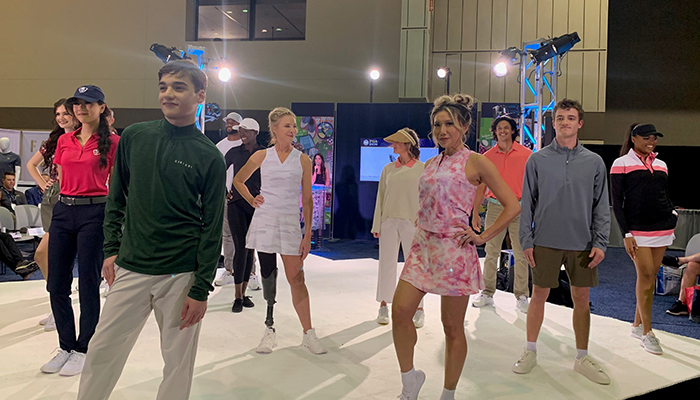 Attending the PGA show is a thrill for me each year. This is THE major showcase of the latest in golf equipment, technology, apparel and accessories. It's an important event for fashion brands, providing an opportunity to show off their latest collections and trendsetting idea.
The PGA show is high energy! There are hundreds of aisles with interactive displays, racks of beautiful apparel and a very cool "live" fashion show. Thousands of vendors show off their products. Golf retailers and clubs from around the world converge, ready to place big orders for the upcoming season. For new apparel brands, the show offers a chance to launch their designs with the hope of hitting it big.
The familiar brands were there again this year. But there were many exciting newcomers, so I decided to give you a run down on some that caught my attention. What fun to be the first on the course to wear a great looking, performance golf outfit! If you want to be a trend setter look for these newer brands:
"Birdie & Ace" is a fashion company with both golf and tennis players in mind. This brand is inspired by that great feeling when you putt in for a Birdie or serve up an Ace. They came out swinging at the PGA show with a booth filled with exceptionally designed skorts that get attention on the golf, tennis, or pickle ball courts. If you are in the market for a colorful performance skort than check them out.
70Degrees is an equestrian and sport apparel brand (named after keeping the wearer of their clothes at the optimal temperature of 70 degrees) that now offers a collection specific to golf. This makes sense to me as many equestrians come to my golf shop seeking the long sleeve UV protection tops that they carry. They have unique, classic designs and advanced fabrics to wear in the ring, at the golf course, tennis courts, and beyond.
Radmor Golf is a company that takes fashion and "green" sustainability to a new level. This brand explains that in the United States we throw away 10+ million tons of clothing each year (that's 80 lbs. of clothing a year per person), the majority of that being polyester. Radmor is the first brand in the golf industry to focus on the elimination of 'virgin' polyester on a garment level. That's all great, but what does their collection look like? Retro, classic and awesome.
Taylor Jordan is a company named after the daughter of a husband-and-wife team out of Phoenix, Arizona. The desert themed prints and deep racerback tops shout out a love for golf in the desert. If you prefer feminine looks with bright colors, you will enjoy their tops and skorts. The TJ Tour Neon tri-colored skort is a standout. Also, check them out for puffer vests, joggers and trucker hats.
Dunning golf apparel has been around for men's golf fashion for a while, so it is refreshing to see the brand embrace the women's market with a vengeance this year. The styling is classic and luxurious with a focus on performance. The LPGA Tour proudly announced that Dunning Golf will be the Official Uniform Supplier of the 2023 and 2024 U.S. Solheim Cup Teams. The striking uniforms were displayed at the show and unveiled by Solheim Cup Captain Stacy Lewis.
Mark & Lona is a must-see if you are looking for original, eye-catching trendy golf outfits. Modern, colorful and luxurious, this may be your new favorite brand if you want to draw attention. This company has been in the golf fashion spotlight in Japan for years and was vibrantly on display as a newcomer to the PGA show.
Ororo Heated Apparel specializes in vests and jackets designed for any cold weather activity. This is a Midwest based company, very familiar with cold weather! Ab battery is built into both the collar and upper torso of the garments. The charge provides 10 hours of heat on low setting and six hours on medium. Now the cold weather won't prevent you from hitting the links.
27 Miles Malibu creates California cashmere knitwear that is fun for golf. The company's name was inspired by Malibu's twenty-seven miles of scenic beauty. This is a California-born, luxury cashmere knitwear line offering women the perfect blend of high fashion and street styles. The collection combines colorful, modern elements with a retro vibe with ultra-soft premium cashmere that is ethically manufactured.
Tipsy Elves was a surprise for me to see at the PGA show. I knew of them from a purchase I made on Amazon for an "ugly" Christmas sweater. This company is GREAT for themed merchandise. My sweater had a battery and Christmas lights built into it. I'm for sure carrying their line for the holiday season. They don't have a deep selection of golf apparel, but they offer a wide selection of merchandise that works well for the holiday themes that we love to dress up for.
Kinona is not a newcomer to the show; (they attended a few years before). But Kinona is a favorite of mine as a "newer" company to the scene. Kinona is a "step ahead." They are one of the first golf lines to showcase beautiful apparel on models of all ages, shapes and ethnicities. They have a unique Kinona "look." At the show they highlighted their latest collection that added appliqué, quilting and scallop details. Keep an eye on this company.
Hopefully this article has helped you tee up some fresh wardrobe ideas to bring to your game. I like to say, "a great game starts in your closet" and in this case, at the PGA show!
Bruggencate
By: - Feb 07, 2023
Francisco
By: - Feb 06, 2023
Francisco
By: - Feb 06, 2023
THE POSTURING BEGINS
By: - Feb 03, 2023
Pelham
By: - Feb 03, 2023
McCarthy
By: - Feb 03, 2023
Drought: A Reprieve, But Not Permanent Relief
By: - Feb 02, 2023
Marcus Byrd Lands Genesis Invitational Sifford Exemption
By: - Feb 01, 2023
Walker
By: - Feb 01, 2023
Cordero
By: - Jan 27, 2023
Richard
By: - Jan 25, 2023
Yips Golf Club
By: - Jan 25, 2023
Mendoza
By: - Jan 24, 2023
Phillips
By: - Jan 23, 2023
Costa Palmas Golf Club
By: - Jan 22, 2023
Thompson
By: - Jan 22, 2023
Magner
By: - Jan 21, 2023
Sensei Porcupine Creek
By: - Jan 20, 2023
Montes
By: - Jan 20, 2023