Lynne Haraway
By: - Nov 02, 2022
Zack Moran
By: - Nov 02, 2022
Huy Dang
By: - Nov 02, 2022
Mike Ortega
By: - Nov 02, 2022
SCGA Swing Tip: Slice No More
By: - Jun 02, 2022
Opposition to Assembly Bill 1910
By: - Apr 20, 2022
SCGA Swing Tip: One-Piece Takeaway to Start the Swing
By: - Apr 18, 2022
CGCOA Golf is Good Ambassador Program
By: - Mar 17, 2021
FORE - Public Affairs
By: - Mar 16, 2021
SCGA Swing Tip: Leapfrog Chipping Drill
By: - Apr 06, 2020
SCGA Rules Crew: Rule 13.1c "Messy Green"
By: - Feb 24, 2020
Bob Thomas Communications Internship
By: - Feb 10, 2020
SCGA Swing Tip: Swing Rotation
By: - May 07, 2018
2023 California Amateur Cup Matches
By: - Dec 01, 2017
SCGA Swing Tip: Hitting Downhill Shots
By: - Aug 29, 2017
Hollywood Swings and Misses - Happy Gilmore
By: - Apr 17, 2017
California Senior Amateur Championship
By: - Nov 01, 2016
SCGA Swing Tip - Increasing Club Head Speed
By: - Oct 01, 2013
Live Scoring
By: - Jun 30, 2013
Kevin Heaney
By: - Jun 28, 2013
Women's Mid-Am 2022 Recap
By: - Dec 06, 2022
La Purisima
By: - Dec 05, 2022
TOCC Live Scoring
By: - Dec 05, 2022
Mike Kelly
By: - Dec 02, 2022
Southern California Golf Association Names Mike Kelly Executive Director
By: - Dec 02, 2022
Landis
By: - Dec 01, 2022
Madonna
By: - Nov 30, 2022
Liebeck
By: - Nov 30, 2022
Liebeck
By: - Nov 30, 2022
NOVEMBER WATER UPDATE
By: - Nov 28, 2022
NOVEMBER ELECTION AND LEGISLATION UPDATE
By: - Nov 28, 2022
O'Neill
By: - Nov 28, 2022
Paparella
By: - Nov 28, 2022
Tom Driskill
By: - Nov 27, 2022
Knowles
By: - Nov 26, 2022
Bowman
By: - Nov 23, 2022
2023 Event Registraton
By: - Nov 22, 2022
Hudson
By: - Nov 21, 2022
Bradshaw
By: - Nov 19, 2022
Gilliand
By: - Nov 18, 2022
LBYC Golf Club
By: - Nov 18, 2022
Your Guide to Finding the Best Golf Gifts this Holiday Season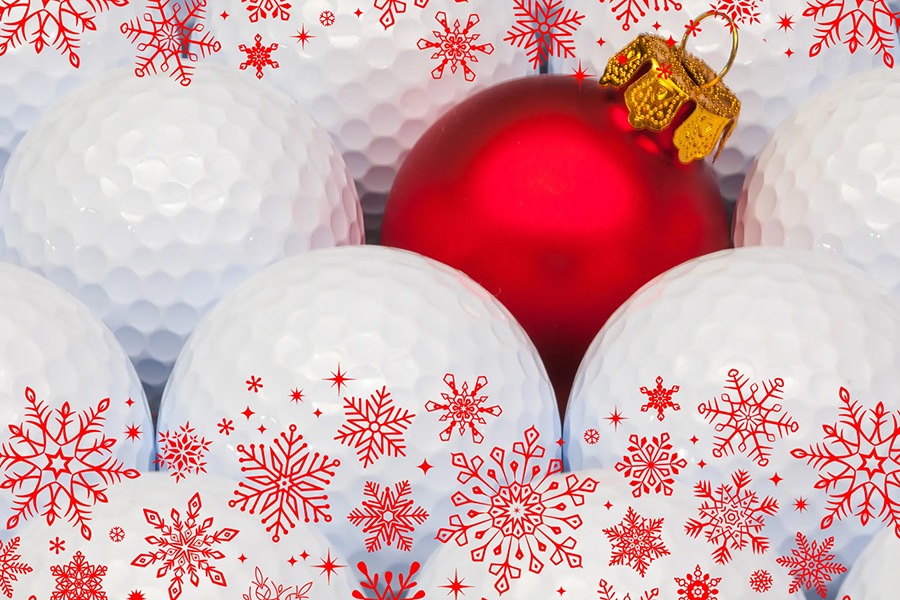 It's November and the clock has started ticking on "the hunt" for holiday gifts. For many of us, the stress meter is on too! But don't get worked up. I'm here to tee up some ideas that are sure to please all the avid golfers in your life.
Working in the golf industry, I am always excited to attend the annual PGA Show every year and witness all the newest goodies and gadgets being launched. It's fascinating to hear all the feedback regarding what golfers are excited about and why.
I've put together a rundown of some of the most popular and unique holiday gifts that include something for everyone's budget. It was just too tough to pick a favorite or come up with a specific recommendation, so I'll let you decide for yourself.
Martini Tees: Those that use them, love them. Easy to tee up (comes in a pack of five), with a wider surface area for the ball to sit on. The ball won't move until impact.
Golf Ball Ice Cube Maker: A cocktail conversation starter. Each cube is dimpled and shaped like a golf ball. The food grade silicone ice tray produces six golf ball shaped ice rocks.
Fancy Golf Gloves: High quality and pizzazz! Cabretta leather lower. Fabric upper is printed with cocktail glasses, pink polka dots or patriotic USA. The hard-to-find fingerless glove is also available at this site.
PSTYLE: More than a gag gift, this urination device is a liberating product for women. She can pee like a man. Yep, standing up. No need to drop pants or skort…slide it under clothing and voila! While I do not endorse peeing on golf courses, emergencies can occur!
Venmo QR Code Golf Bag Tag: For those who enjoy golf game wagering. Your opponents can pay you instantly. They scan the QR code on your bag tag with their Venmo app and you are paid!
Removable Sun Protection Arm Sleeves: Protect her arms from the sun. Full shoulder coverage and comfort makes this my favorite. Breathable fabric with a mesh back. Look for Umilake.
Personalized Embroidered Golf Shoe Bag: Vibrant colors and personalized with initials. Constructed of water-resistant canvas with a wipe clean interior and rear mesh pocket. Look for FabricOfStyle.
Birdie Juice Tube Flask with leather outer and four attached shot cups. Celebrate her birdies in style with this unique, larger sized 12-oz tube shaped flask. "Birdie Juice" embossed on the side. Fill it with her favorite libation and put a bow on it!
Golf Jewelry: Personalized golf ball markers plus "19th Hole Instructor" pendant. Find unique pendants and necklaces.
Wonder Woman Head Cover: Eye-catching Wonder Woman look-alike is soft, washable, and functional. Designed to fit a 460cc driver. Bring the super-heroine to her game!
Golf Hats with Attitude: Baseball caps we relate to: "Pray for Birdies" or "No 1 Cares" will add some edge to her game.
Side Note: If baseball caps aren't her thing, see the Scala Golf Bucket Hat, packable with a drawstring fit.
Golf Marker Caddy by Partee Girl Golf is constructed of synthetic leather and lined with velvet. The magnetic insert safely protects and stores her collection of ball markers and hat clips in a sleek holder. Never lose ball marker magnets again.
G-Lifestyle Sun Protection Long Sleeve Golf Shirts: A brand designed for comfort and protection with a buttery knit fabric and mesh underarms. The prints are like artwork and made with high tech sun protection, menthol cooling technology. Fast drying, wicking, UPF 50+ and antimicrobial fabric.
Sunday Golf Loma Bag: A high quality featherweight golf bag to carry four to six clubs needed for play around the greens. Attached to a regular bag, it's grab and go as she heads to her ball! She is less likely to leave clubs behind around the greens!
Women's Heated Golf Vest by Ororo: Lightweight, machine washable vest is water and wind resistant. A battery charge provides 10 hours of heat in both the collar and upper torso on low setting and six hours on Medium. Even Southern California gets cold in the winter!
Luxury Golf Shoes: These brands have styles to put some strut in her game.
I hope these ideas spur your gifting creativity. There's nothing better than the delighted reaction of a great gift opened!
Giving Back & Remembering the Legacy of Deb Long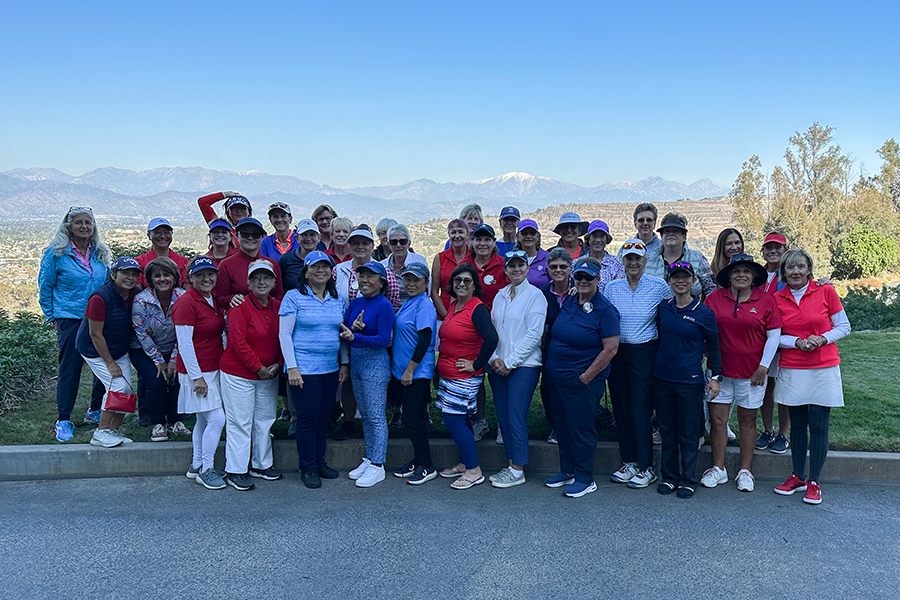 When you have a group of charitable female golfers, a fun day of golf and an idea to fundraise in memory of a special woman, you end up with quite an impactful fundraising effort.
The second annual Deb Long Cup at Industry Hills GC was held last month and netted about $7,500 for the SCGA Junior Golf Foundation.
Deb Long, who was a member of the Industry Hills Women's Golf Association (IHWGA), is the inspiration behind the event. Long was dedicated to the women's game and served as the interim executive director for the Women's Southern California Golf Association for nearly two years before the merger with the SCGA. At the SCGA, Long championed women's golf initiatives and supported female member clubs. She passed away in 2019
SCGA Board Member, Lynne Haraway approached Ann Garrett about the idea, and it quickly took off.
Garrett is the former president of the IHWGA and was all in from the time she was asked.
"Lynn knew Deb had been involved in our club and felt it was a good opportunity to honor Deb by fundraising and particularly targeting women to contribute to the Foundation to support junior girls golf," Garrett said. "I went back to the board of our club and talked about ways to fundraise and collectively the board came up with the idea of a competition within our own club."
Garrett said they had done their net championship and presidents cup and combined net and gross championships together into one event in September.
In 2021, the first year of the event, an Industry Hills member created a challenge anonymously: if $1,000 raised, she'd match it.
"That really helped us last year to get started with people actually writing checks beyond what they contributed through the entry fee," Garrett said. "That helped a lot. People are generous when they know it's going to a cause they care about. The vast majority of our members really care about junior golf and particularly getting girls involved in golf.
"They see the benefit in their own lives, and they realize the friendships they've built through golf and the work connections they've made through golf. I can tell you, it's not a hard sell to get members to write checks for that."
This year, three members got in on the challenge. Two were in for a $1,000 match and another at $500.
And now, Garrett and others are thinking big.
"We're hoping to make an annual event and rotate sites," Garrett said. "We hope to get the attention of other clubs and use this as an idea to fundraise. Everybody loves to play team match play. It's fun to go to another club. It's like a guest day with a purpose."
Garrett is happy to be helping both the legacy of Long and the future for girls golf.
"I was lucky enough to have met her and played a couple rounds of golf with her and interact with her over the years," Garrett said. "She was always about others. Even when you played golf with her, her biggest focus was that others were having a good time and enjoying the golf."
"I think it's really cool we call it the Deb Long Drive because it makes it really personal for some people, but I don't really think it narrows the fundraising. I think it's the idea of supporting girls golf through the SCGA Junior Golf Foundation that drives people to write checks."
The cause is so important a second event was planned, the Deb Long Challenge on November 12. Industry Hills challenged Western Hills to a one-day match play team event. There were 48 players, 24 from each club. Part of the entry fee went directly to the Foundation, as is the case with the Deb Long Cup, and a 50-50 raffle was part of the day. Close to another $1,000 was raised.
Like-minded women who are playing golf and supporting the future of girls golf through the legacy of Long. Quite a pairing.
Mediterranean Golf Cruises: A Mix of Adventure and Luxury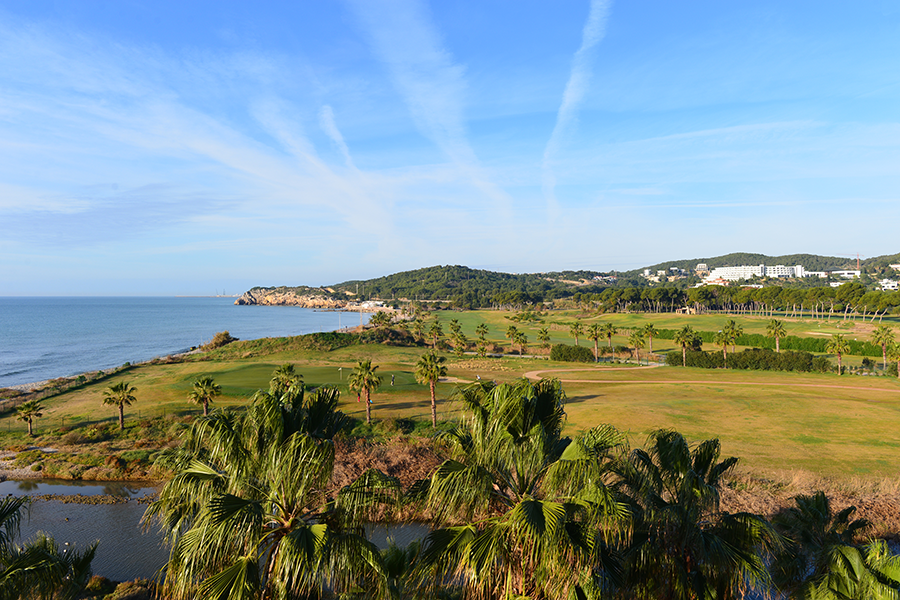 I'm a bit of a wanderlust and when you pair that with being an avid golfer, you find yourself on some incredible golf trips. . As much as I love a good golf get-away, there are inevitable hurdles and difficulties that can impede one from reaching maximum golf travel enjoyment: lost luggage, packing and unpacking multiple times as you go from hotel to hotel and the time-consuming task of researching golf courses and booking tee times.
Yes, I know. We should all be so lucky to be faced with these "impediments." But what if you could enjoy a golf vacation without them? Guess what….I did! I took my love of both golf and travel, doubled down on a Mediterranean golf cruise, and had the time of my life.
I do realize that golf cruises are not a novel concept, but I don't know of a cruise line that provides this level of luxury, convenience, and variety at a reasonable price point... When you find something that you love as much as I did this trip, you want to sing it from the mountain tops and share it (or in this case, write about it).
The name of the cruise line is Costa Cruises and my home for the week was the Costa Smeralda. I love the fact that since this is a Mediterranean cruise, you can enjoy ideal temperatures year-round. I was able to book my travel based on the most convenient time of year for my schedule instead of being limited to a certain season.
I spent most of my first day at sea soaking in all the ship had to offer. First on the agenda was to become familiar with the dining areas. I loved the fact that they offered cuisine options that reflected the regions we were about to visit. And besides a five-course dining journey by world-famous chefs, there were options that included more casual settings, massive buffets, a Nutella station that blew my mind, and next-level espresso bars (hello, Italian cruise line) sprinkled all over the ship that made it tough to walk by without indulging, even if it was my third of the day. I'm finding the return to American coffee to be a difficult transition.
But what about the golf, right? One word: surreal. I had the option to play up to three golf courses in places like Rome, Savona, Barcelona, Mallorca, and Marseille. Rome's Marco Simone Golf and Country Club is even on that list, which is home to the 2023 Ryder Cup.
One of the things I enjoyed most was tracking my ball in the air and watching it skirt up to the green and suddenly catching a glimpse of the beautiful city in the distance or a unique piece of architecture and remembering, "Wow, I'm playing golf in Europe."
Interesting to note, I found that drinking on the golf course isn't "a thing" in Europe. Golfers in Europe take a more serious approach to the game than that of simple relaxation and enjoyment. They don't mess around. Don't get me wrong – they still have a lot of fun on the course. The approach, however, is not a leisurely one.
What WAS leisurely, though, was not having to lift a finger when it came to logistics. The tee times were made, we enjoyed priority disembarkation and embarkation (if you've ever been on a cruise you know this is golden), transportation to and from the golf course, my golf bag waiting for me on the transport bus(playing with your own clubs instead of different rentals each round is a game changer), and they even provided us with lunch to keep up our strength as we swept across the rolling hills, shot by shot.
A major convenience was experiencing all the different cities while only having to unpack my bag once. It left more time to enjoy the actual vacation. After sleeping like a baby on the ship I woke up in a different city just about every day. I could explore that city (or play golf) and then return to enjoy the familiar comforts of "home," which included my cozy cabin and reliable dining options. For me, it was the perfect mix of adventure and luxury. I can't wait to go back.
Haag Captures First California State Title
By: - Nov 16, 2022
CHIEN TAKES INDIVIDUAL STATE TITLE IN PLAYOFF
By: - Nov 16, 2022
Royal & Ancient Hackers
By: - Nov 15, 2022
Alexis Viana
By: - Nov 14, 2022
Izabella Olmos
By: - Nov 14, 2022
Cory Ploadpliew
By: - Nov 14, 2022
Vargas
By: - Nov 13, 2022
Berlyn Benavides
By: - Nov 13, 2022
Ashley Yun, Notre Dame H.S. Take Top Honors at 2021 CIF/SCGA Regional Champ
By: - Nov 10, 2022
Late Surge Leads Morgan/Anderson to Four-Ball Championship
By: - Nov 08, 2022
Mcknight
By: - Nov 08, 2022
HIGGINS
By: - Nov 06, 2022
Alysa Kerner
By: - Nov 02, 2022
Kyle Kirsch
By: - Nov 02, 2022
Mike Ortega Elected President of the SCGA
By: - Nov 02, 2022
John Rydell
By: - Nov 02, 2022
Larry Stein
By: - Nov 02, 2022
Tom Reul
By: - Nov 02, 2022
Bob Osborn
By: - Nov 02, 2022
George Mallory
By: - Nov 02, 2022
Azucena Maldonado
By: - Nov 02, 2022
Kathy Kurata
By: - Nov 02, 2022
John E. Kobara
By: - Nov 02, 2022
Nikki Gatch, PGA
By: - Nov 02, 2022
John Fischer
By: - Nov 02, 2022
Jorge Badel, PGA
By: - Nov 02, 2022
ELECTION AND FEDERAL WATCH
By: - Oct 31, 2022
DROUGHT WATCH
By: - Oct 31, 2022
Labbate
By: - Oct 24, 2022
Koprivetz
By: - Oct 22, 2022
Hatanaka Tournament Withdrawl
By: - Oct 18, 2022
Enright
By: - Oct 18, 2022
Rennie
By: - Oct 18, 2022
Member Advantage - DO NOT CHANGE
By: - Oct 17, 2022
Marty Pendarvis' Breast Cancer Journey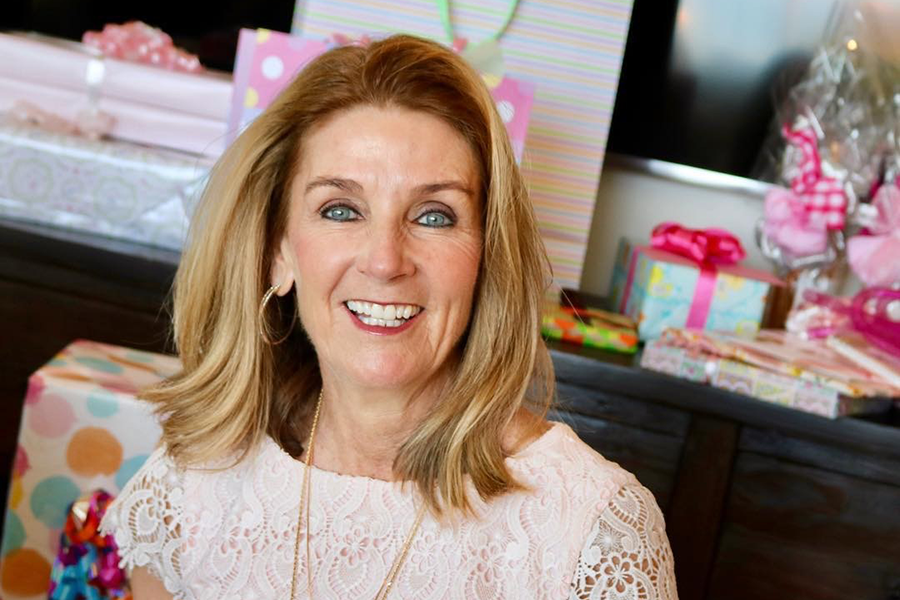 I met Marty Pendarvis five years ago at Colina Park GC in San Diego. She was full of energy and enthusiasm for the little girls we were paired to play with that day in a fundraiser golf tournament for Pro Kids/The First Tee.
What I didn't know upon meeting her was that Marty is a breast cancer survivor. She got the call back in 1996. There was an irregularity on her mammogram scan. Turns out it was the worst-case scenario: breast cancer.
At the time, Marty was an active woman in her mid-30's, who played golf, jogged and had grown up in Wisconsin playing softball, volleyball and basketball. Living a healthy lifestyle was second nature to her and she took her breast cancer diagnosis as she took the rest of life -- in stride.
Back in 1996, after surgery, Marty experienced a significant complication: lymphedema in her arm. This condition can be extremely painful and causes severe soft tissue swelling in the area brought on by a compromised lymphatic system. Somehow, Marty still managed to continue her fitness and golf schedule while she suffered from this painful and challenging condition.
During her treatment there were days when she played golf with friends in the morning, and went in for chemo in the afternoon. Other days she would undergo a radiation treatment in the morning, and head out for a late round of golf at La Jolla CC.
"It wasn't something that was going to stop me from living," she said.
The lymphedema eventually improved, and a few months later Marty's treatments were successful in her fight against breast cancer. She recalls the support of her loved ones.
"My husband David was a Godsend," she said. "You know your marriage vows are sealed when you go through a health problem like that. David was incredible, and so were our friends and family that stepped up with meals, emotional support and lots of visits to keep me occupied."
Now fully recovered and thriving, you'll find Marty volunteering her time and resources to a variety of local golf-oriented charities including The Century Club of San Diego (where she is currently a Centurion Member), Pro Kids/First Tee of San Diego (a former board member) and The Rolf Benirschke Legacy Golf Invitational (currently on the Executive Committee). In 2019, Marty was honored as a Woman of Dedication by the Salvation Army. She continues to support other charities including Challenged Athletes Foundation, Walden Family Services and Las Patronas.
You'll also find her traveling with her husband and friends to places like Cabot Cliffs in Canada, Old Head GL in Ireland, and New South Wales GC in Australia. Closer to home, she plays in ladies golf tournaments and guest days throughout San Diego. Make no mistake, Marty is still competitive, but says, "there are bigger things in life than winning a golf tournament."
Marty's story of her successful battle against breast cancer helps give other women who may get a breast cancer diagnosis encouragement to know that this battle can be fought and won.
Inside Bruce Beck's Annual Breast Cancer Charity Golf Tournament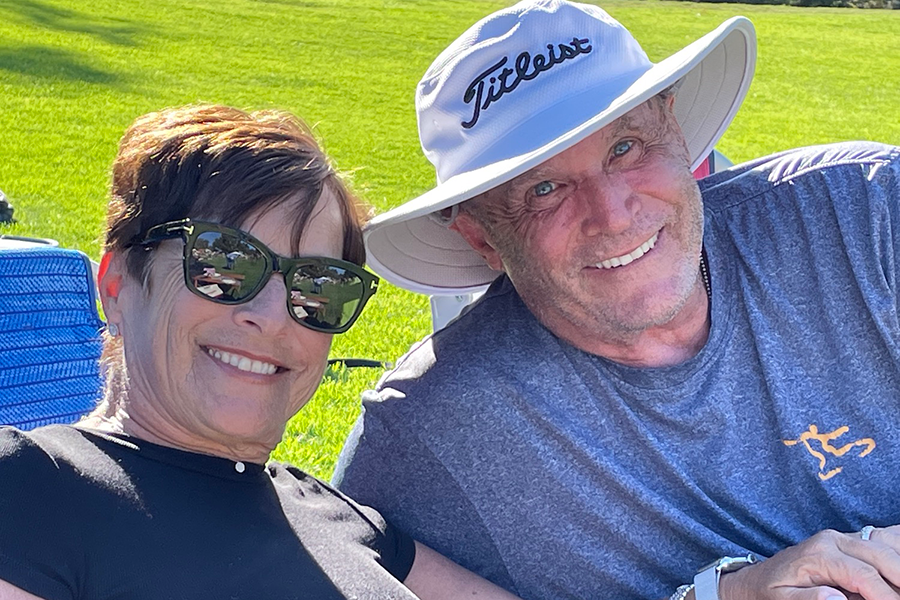 Bruce Beck knew he and his wife Robin were some of the lucky ones.
In 2020, Robin - Bruce's wife of 40 years - was diagnosed with Stage 1 breast cancer. Bruce, an Oak Park resident, said "both our knees buckled" when they heard the words breast cancer.
They quickly established a medical team and doctors gave Robin a positive prognosis. She had a lumpectomy, chemotherapy and radiation and within a year, Robin was cancer-free. She's now been cancer-free for two years.
But Bruce knew that for him, the journey wasn't over. He had to do more to help others going through what his family endured.
"I just wanted to do something," Bruce said. "Robin inspired me. She went through all this. I was expecting her to be weeping and she wasn't. I said, 'I should do something.' I have a golf background. I was the golf coach at Oak Park (High School). My son Brandon played on the amateur, collegiate and professional levels. I've put together professional golf tournaments. I've been on committees. This would be an easy thing for me to do. I don't think I should get a tremendous amount of credit for something that came pretty easily." And so Bruce started a charitable golf tournament, the Battle Against Breast Cancer at North Ranch.
Bruce found engaged partners in North Ranch CC in Westlake and the City of Hope Breast Cancer Center, the tournament's beneficiary. In just the first year, Bruce, with the help of a small committee, has raised $100,000 - with a net of at least $65,000 going to the cancer center in Pasadena. The event, Oct. 17, was expected to raise more money on day-of as well, with auction items and QR codes for donations.
Bruce, who is the president of DB&R Marketing Communications, which specializes in representing commercial real estate needs, called on his business contacts for help. It worked even better than he imagined.
"People responded incredibly. I thought getting the foursomes would be easy. Asking for money is always the hard part," Bruce said. "I can say, 'hey, come play in a golf tournament.' I was surprised at how easy a pitch it was."
Bruce wanted to write a six-figure check to the City of Hope Breast Cancer Center. The check won't quite reach that level, but it's still an impressive figure, especially for a first-time event.
"I'm disappointed. My goal was $100,000," Bruce said. "It's better than a sharp stick in the eye. They sent me a list of the cost of tests and a mammogram is $500. We were covered by insurance but a lot of women aren't. I think it's $10,000 for an MRI. We were fortunate we had good insurance. We had to pay very little out of pocket. It would be hundreds of thousands of dollars to treat one woman or man."
And Bruce didn't know until he started the event that men can get it, too.
Bruce is 69, and he's had skin cancer but is doing well. In addition to his day job, he now has this tournament as a volunteer side gig. It's not just a one-year deal, either.
"Robin was a little embarrassed when I wanted to do this because she didn't want it to be about her," Bruce said. "But I've got to tell people this is what inspired me. Thank God it's not a memorial tournament. It was an easy thing to do. I could easily write a check, but I wanted to be involved. And I want something to go on and on and on. Hopefully, we'll raise more than what we did this year."
Williams Completes Wire-To-Wire Victory in SoCal Boys Junior Championship
By: - Oct 16, 2022
Xu Claims Back-To-Back Girls Junior Championships
By: - Oct 16, 2022
Rivera
By: - Oct 14, 2022
Schoen
By: - Oct 10, 2022
Bowman
By: - Oct 09, 2022
Bowman
By: - Oct 08, 2022
ADDENDUM TO MONDAY'S "WEATHER REPORT"
By: - Oct 07, 2022
Golden Hills Golf Club
By: - Oct 06, 2022
KURATA GOES WIRE-TO-WIRE TO CAPTURE CAL SENIOR WOMEN'S AM
By: - Oct 05, 2022
THE USUAL SUSPECTS LEGISLATION, REGULATION, AND WEATHER
By: - Oct 03, 2022
Swing Tip
By: - Oct 03, 2022