Lynne Haraway
By: - Nov 02, 2022
Zack Moran
By: - Nov 02, 2022
Huy Dang
By: - Nov 02, 2022
Mike Ortega
By: - Nov 02, 2022
SCGA Swing Tip: Slice No More
By: - Jun 02, 2022
Opposition to Assembly Bill 1910
By: - Apr 20, 2022
SCGA Swing Tip: One-Piece Takeaway to Start the Swing
By: - Apr 18, 2022
CGCOA Golf is Good Ambassador Program
By: - Mar 17, 2021
FORE - Public Affairs
By: - Mar 16, 2021
SCGA Swing Tip: Leapfrog Chipping Drill
By: - Apr 06, 2020
SCGA Rules Crew: Rule 13.1c "Messy Green"
By: - Feb 24, 2020
Bob Thomas Communications Internship
By: - Feb 10, 2020
SCGA Swing Tip: Swing Rotation
By: - May 07, 2018
2023 California Amateur Cup Matches
By: - Dec 01, 2017
SCGA Swing Tip: Hitting Downhill Shots
By: - Aug 29, 2017
Hollywood Swings and Misses - Happy Gilmore
By: - Apr 17, 2017
California Senior Amateur Championship
By: - Nov 01, 2016
SCGA Swing Tip - Increasing Club Head Speed
By: - Oct 01, 2013
Live Scoring
By: - Jun 30, 2013
Kevin Heaney
By: - Jun 28, 2013
San Diego Social Golf Group
By: - Sep 22, 2023
7 Just-Launched Fall Collections to Add to Your Wardrobe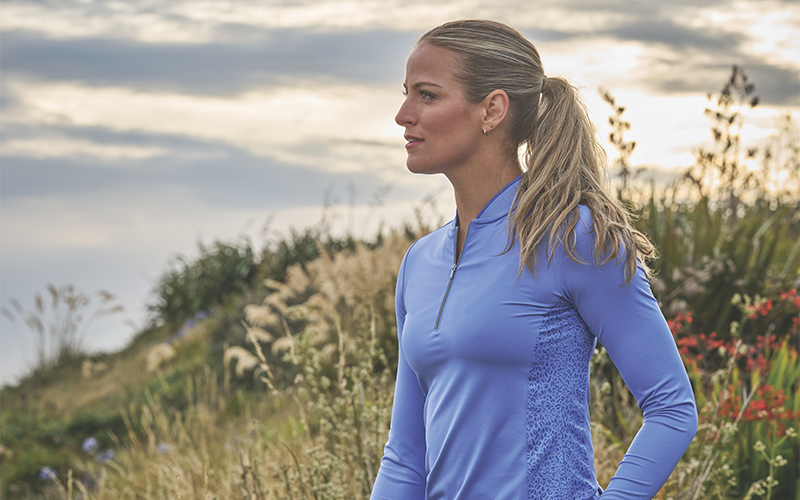 Did you feel a little morning chill? Yep, its's time to gear up for Fall. I think cooler temperatures and dicey weather makes dressing for the course more interesting. What's on my mind? Fall colors and patterns and warm fabrics and layers. Golf fashion evolves each year and I, for one, look forward to seeing the season's offerings from my favorite brands. So, for this seasonal story, I reached out to fourteen popular brands, and asked them to give me one outfit each that exemplifies their new Fall collection.
If you enjoy staying on top of the latest golf fashion trends, I think you will find this list exciting. Because I am sharing a broad selection of new apparel ideas, I am writing two editions to this story. You will see seven beautiful new fashion looks in this first edition, and another seven in next month's publication. I hope they will give you layers of inspiration when planning your Fall golf wardrobe.
Amy Sport
For days when you want to look great AND play great - oh wait, that's all of them...Amy Sport Fall 2023 does not disappoint. Owner/designer Amy Lipton is inspired by color and patterns and is not a huge fan of beige. Can you tell by her selection for this story?
Amy Lipton's pick: the Italia Floral Collection. Bold hues of pink, orange, and purple that pairs with Paloma pink solids. It's a feast for any golf fashionista's eyes. It's a polished look featuring pieces that are utilitarian, versatile and chic. This Fall's standout floral aesthetic by Amy Sport is a hallmark of her brand).
Shop: www.AmySport.com
Belyn Key
Betsy Rittenhouse, the co-founder of Belyn Key is excited to present us "Mama Mia" which was released just this month (September). The Mama Mia Collection is chock full of print and color. What's unique about this line is that the pieces are designed to be worn together for the look of a dress, yet with the great fit of separates. They have been engineered to align perfectly. The floral stem prints can be interchanged for a variety of looks in the same collection.
Shop: www.belynkey.com
Dunning
Dunning presents their "Fallow" line of ventilated polos and skorts. This is a company focused on high tech fabrics. They have a Ventilated approach of using thousands of tiny holes for optimal breathability. The Fallow line features a sleek animal print pattern in trend-right colors like black, white, halo (navy), dahlia (red), and jewel (purple). While Dunning began with men's apparel, they hold their women's products to the same high standard, which helped enable them to be the Official Uniform Supplier for the 2023 and 2024 U.S. Solheim Cup teams.
Shop: www.dunninggolf.com
G/Fore
This Fall, G/FORE has some great looks focusing on very cool outerwear pieces, and for this story, submitted this stylish puffer vest. Featuring a coated nylon quilted shell for an elevated look and a Circle G's imprint on the back for some extra style. While it's not for the meek in the pocketbook, a statement piece like this vest advances my entire wardrobe. It's a must-have for heating things up.
Shop: www.gfore.com
Kinona Sport
Kinona Sport can always be relied upon for something unique each season. According to co-founder Dianne Celuch, the Fall trend they love is a fun placed applique that provides a bit of retro in their "Mod" golf skort or dress, worn with Kinona's "Winter Rules" low mock with sporty stripes. Also check out their website for the lightweight "Layer Slayer" vest that can add a layer of warmth to complete the sporty, feminine, retro look. This brand continues to challenge the norm of women's golf apparel, giving us confidence to express ourselves through the game.
Shop: www.kinonasport.com
Peter Millar
Chic yet approachable, andalwayscomfortable, the Peter Millar women's Fall line showcases both luxurious lifestyle designs and sleek performance apparel. This Fall, Peter Millar presented me with their iconic Crown Sport performance line. The Crown line is centered primarily on natural fibers, highlighting some of the softest Pima cotton, Merino wool and world-class cashmere.
Shop: www.petermillar.com
Sofibella
Bernadette Ray, National Sales Director for Sofibella is fired up about Fall and thrilled about the Elegance collection launch. A classic black & white color story is reinvented to serve the modern player with textured knit fabrics and mesh inserts for extra ventilation during play. I personally wear a lot of this brand and can attest, the Sofibella fabrics are SO soft. Long known for their tennis lines, they are making big waves in golf apparel these days and this black and white ensemble does not disappoint.
Shop: www.sofibella.com
I hope you are as excited as I am about the new Fall golf fashions coming our way. And I am just getting started! Next month I will bring you more brands and styles that are sure to inspire your Fall golf fashionista aspirations. As I have often said, a great game starts in your closet!
Simplify Your Golf Wardrobe with Ease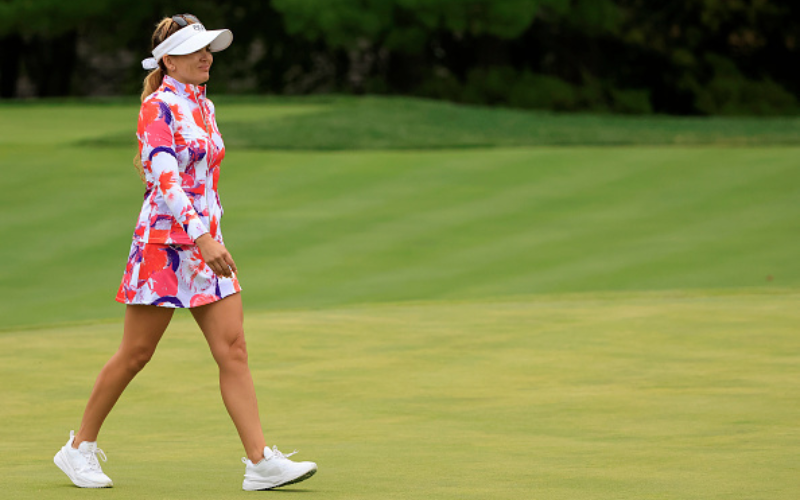 I was recently asked to join a friend for a last-minute round of golf and as I tried to curate an acceptable outfit, I ended up with clothes strewn all over the closet floor and I think the mirror actually growled at me when I peeked to see how the ensemble was coming together. Spoiler alert: not great. I ended up wearing something that was just "meh," which set the tone for the day and my score reflected it. Truth be told, this has become the norm and I realized I needed to get my "stuff" together. And although there are a million ways to approach decluttering a closet, I decided to take my own route, and when I play my next round of golf I will be getting ready like a champ.
The first thing I did was think back to what I was wearing when I played some of my best rounds recently. I noticed a pattern in terms of both color scheme as well as style of tops and bottoms. There were a handful of recurring pieces that were used to build different outfits. Those articles immediately secured a permanent place in my rotation and I promptly put them back on the rack.
From there, I removed everything else from the closet, laid everything out and evaluated each piece carefully. I used the following process to dwindle my wardrobe down to a manageable and tidy state.
Does it fit?
This might seem like common sense, but how many ill-fitting garments do we have in the back of our closets just taking up space? Here's the thing...I have never said no to a taco or piece of birthday cake (because that would just be rude) so I'm all about weight fluctuation. But I'm talking about those pants that never did fit quite right and deep down you know they never will, but parting with them causes you to "feel something." Part with them anyway. You'll be fine. As you make headway on discarding those unshapely pieces, it will become easier to decipher what truly fits (on most days) and what you are delusional about.
Are you genuinely comfortable?
At first glance this might seem the same as "does it fit?" but feeling genuinely comfortable in your clothes goes well beyond how tough it is to button your pants. We all own clothes that fit and, if you do say so yourself, you look fabulous in. But they are often also the clothes in which you can't lift your arms higher than your shoulders or take a full stride without worrying about tearing your pants right down the middle seam. Throw a golf swing in the mix and now we are really in trouble. Are you self-conscious about how far down your waistband slides when you kneel to read a putt or bend over to stick a tee in the ground? Are you more worried about your shirt flying up in your follow through than where the ball is going? The main job of your outfit is to allow you to perform at your highest level and you can't do that if you are distracted by what you are wearing. So yeah...it's one thing for the article of clothing to fit but it must also allow you to move around without feeling constrained or self-conscious.
Material Matters
I'm excited to see that golf fashion offers more options in material and fabric than ever before. A wider variety leads to better odds of finding that perfect article of clothing, leading to a new favorite outfit and ultimately, a wardrobe full of pieces you absolutely love. But that also means it's important to pay attention to what fabrics make YOU feel your best. Everyone is different so just because "Betty" loves the feel of microfiber doesn't mean you need to shy away from a poly blend if that is what you prefer. But generally speaking, fabrics that breath, wick away moisture (especially sweat), enhance comfort in the current climate, aren't too thin or too thick, etc. are best. And bonus points for any SPF, since we can ALL stand to gain from maximum protection against sun exposure.
Once the items that I truly felt good in were established, it was time to assess whether or not they absolutely deserved to be placed back into the closet. I asked myself, "Do you actually like the color? Does it go with the rest of your wardrobe?" I picked my top five favorite colors, ensuring they went together as I mixed and matched, and stayed with that general color scheme. I tend to lean toward darker colors and a more monochrome look. That's just me. You do you, as they say. I did allow myself a few busy patterns and "fun colors" for those days I'm feeling a little "extra," but those outfits don't require a lot of thought. I either want to wear that colorful floral golf dress or I don't. There isn't any mixing and matching to complicate matters.
I would be remiss if I did not mention that this is a continuous process if you want to keep yourself from falling back into closet chaos. The best time to assess an outfit is right after a round of golf. The nuances are fresh in your mind and if you are having any doubt whatsoever about wearing something again, get rid of it immediately.
I now find that even though I have less articles of clothing in my closet, I in fact have more outfit options because I can be certain that I love (or at least really like) every piece I'm looking at. It helped me to organize everything according to color, but some people prefer categorizing by hanging all their tops together, sweaters, skorts, etc. Pick the method that works best for you. There is no right or wrong. Take that zen mental state to the golf course and notice the difference it makes in your performance. The saying really does hold true: Look good, play well.
Member Outings
By: - Sep 18, 2023
2023 LEGISLATIVE SESSION TELLS US MUCH ABOUT DIRECTION OF CALIFORNIA WATER LAW
By: - Sep 18, 2023
Stew Hagestad
By: - Sep 15, 2023
DeGrazier
By: - Sep 10, 2023
Spieker
By: - Sep 09, 2023
DeGrazier
By: - Sep 09, 2023
Liesmer
By: - Sep 07, 2023
SACRAMENTO UPDATE
By: - Sep 05, 2023
Maui Relief
By: - Aug 30, 2023
Rico Hoey FORE Story
By: - Aug 25, 2023
Bandon Dunes
By: - Aug 21, 2023
COLORADO BASIN GOLF & WATER SUMMIT OCTOBER 12 IN LAS VEGAS
By: - Aug 21, 2023
Bullard
By: - Aug 17, 2023
Broten
By: - Aug 17, 2023
Barnes
By: - Aug 17, 2023
Ungano
By: - Aug 17, 2023
Tom Ciszek
By: - Aug 15, 2023
How to Simplify Your Swing Thoughts (And Mental Clutter)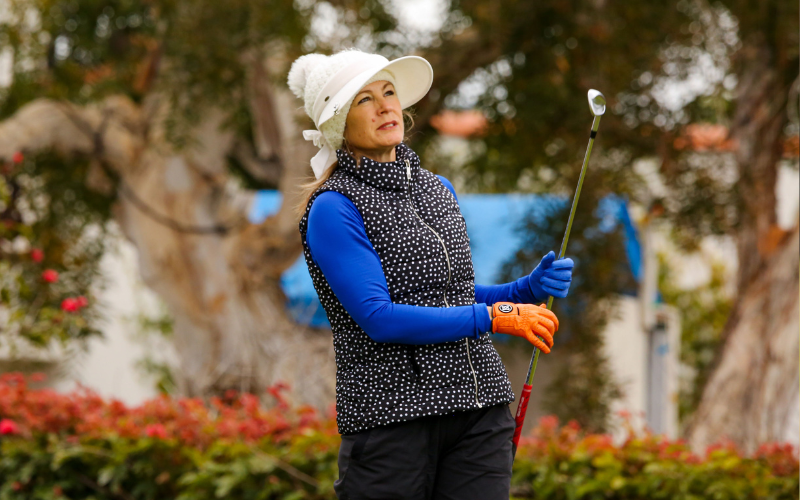 Last month I talked about our newest addition to the FORE Her newsletter; a series on how to simplify different aspects of your golf game (and some of this may be applicable to your life as well!). I want to kick this baby off with one of the hottest topics out there right now; clutter. More specifically, mental clutter.
The mental side of this game is very important and the more clutter roving around "upstairs," the less clarity you will have when it comes time to execute your shots. So, it seems natural that if we can clear our mental clutter, it will have a positive impact on not only our golf game, but our mental state altogether.
When working with Dr. Deepak Chopra a few years back, taking his life lessons and applying them to the game of golf, he used an example I will never forget. He explained that if you are in the middle of a very calm ocean, you can hear the dolphins trying to communicate. When the ocean is stormy and turbulent, the dolphins still try to communicate, but you won't hear them over the noise from the blustery conditions. The same holds true for our mental approach to not only golf, but life in general. If we have turbulence and chaos in our minds, we can't hear that inner voice that is trying to steer us in the right direction.
Since the game of golf and the game of life are so similar, I like to apply this when I'm on the course. And I find that by starting off my round with a calm mind, free of expectations and random thoughts, I'm able to better tap into my natural golf swing and game in general. I silence all that mess and focus solely on starting my round off in a state that is as "decluttered" as possible. Tall order? Maybe not.
Start by bringing only one swing thought with you to the first tee. Since golf is loosely divided into three parts (full swing, chipping and putting), allow yourself one swing thought for each category. Improving on that one swing thought is your only goal for the day. Sure, keep score. But if you double bogey a hole and can honestly say you successfully implemented the desired swing change, circle that hole on the scorecard and count it as a "win." Tally up your "wins" at the end of the round and put the same amount of emphasis on them as you do your score.
By taking the focus off your end result (score), you are freeing up your mind to focus more on what you are trying to achieve (your one swing thought….aka improvement). This will not only help make strides with your mechanics, but it will make you more relaxed as well. And we all know that it's important to have good mechanics, but rhythm and timing are the secret sauce for those mechanics to be truly effective and noticeable. And what do we need for good timing in our golf swing? All together now…..we need to be relaxed! And you can't be relaxed if your head is filled with chaos. It sure does come full circle pretty naturally, doesn't it?
But just think…..this holds true in everyday life, too. At the end of the day, count your "wins." And be generous with what constitutes a win. Did you feign genuine interest when your child took what felt like three days to tell a story that could have been summed up in two sentences? Win! Did you hold it together when the word "burn" flashed across the screen of your "fool proof" Instant Pot? Win! My personal research has shown that this exercise is easier and more effective when done with a glass of wine in hand, but whatever. To each their own.
The game of golf is merely an extension of the game of life. Each can learn from the other. So if we walk away with one thought today, let it be to leave out all the extra minutae that does not pertain to the moment at hand and focus on the one specific goal in front of us. We are not expected to be perfect. Just strive to be better and that is enough. And "better" is relative. Some days our "better" will be more noticeable than others. Fine. But don't get hung up on that. Merely focus on your "better," appreciate any improvement you are able to achieve, and the rest will come. I believe in you.
A Rising Star: 14-Year Old Breanna Noble's Superb Summer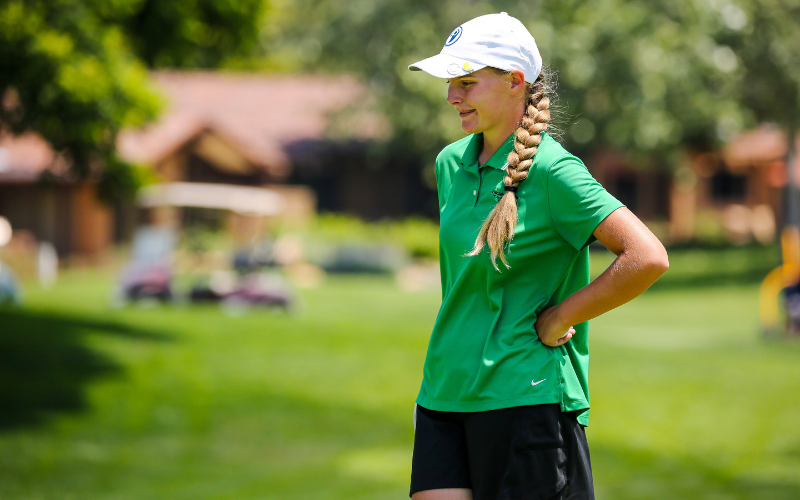 When Breanna Noble was hit in the face with a ball playing softball, she knew she was interested in trying another sport. She picked golf. Her grandfather, Tom, played. She was in foster care and her foster mom said when the adoption went through, she'd buy her golf clubs as her gift.
Kolleen Noble's adoption of Breanna became official when Breanna was 7 and that first set of special golf clubs sparked a hobby that has meant the world to her. She's taken those clubs and become a highly successful junior golfer.
"I was excited to play a new sport," Breanna Noble said. "We'd been waiting for the adoption to go through for like two years. There was the whole courthouse and getting all dressed up and doing that whole thing was a great experience and fun."
The 14-year-old holds a +1.3 Handicap Index and she's finishing a summer swing of golf tournaments all over Southern California and the West.
Kolleen has adopted two children, including 15-year-old Jasmine.
The Nobles live in Canyon Lake and Breanna is home schooled so she can fit golf and tournaments in with her academics as well.
"It's great," Breanna said. "I owe it to [my mom] that I am where I am now. If it wasn't for her, I wouldn't be playing at all. It's great to have someone who supports you and what you're doing. It means a lot to me."
She'll be in 9th grade, and she's excited to try out for Vista Murrieta's high school team soon.
"I think that would be really fun," Noble said. "It's going to hopefully be a good team and hoping we can make CIF because it's going to be at Pebble Beach, and I really want to go there."
Kolleen said she's been talking about playing Pebble Beach nonstop for two years.
Breanna has played in many SCGA tournaments, and her mom believes those are really important to her development.
"Southern California has some of the best golf for junior golfers," Kolleen said. "There are so many opportunities for junior golfers to play in. Breanna will tell you her favorite [events] to play in is the SCGA by far. A couple of the reasons are that it allows her to play at a high level. She goes to the SCGA and she's paired with university students, and they're playing longer yardages. She can't get that in junior golf. She needs the SCGA to be able to play at that level to prepare to someday be able to get into the U.S. Women's Open."
Breanna tried to qualify for the U.S. Women's Open at ages 13 and 14, and that's a goal of hers.
"The other great thing about the SCGA is that she gets a lot of opportunity to play with senior golfers," Kolleen said. "They're kind and loving and sweet. They help teach her. They'll correct her and teach her etiquette she doesn't get with junior golfers."
Breanna recently won the gross division in the SCGA Women's Four-Ball Championship earlier this year at Desert Willow GR. For her, it's about the golf and the people.
"That was fun," Breanna said. "I played with a friend (Hannah Bagnell) that I've known since I started tournaments. It meant a lot. It was a lot of fun. We got a standing ovation at lunch with all the ladies."
Breanna is a left-handed golfer, like her grandfather. And Phil Mickelson. Breanna met Mickelson and said she had a conversation with him at Bear Creek.
"I really like Phil Mickelson and Lexi Thompson. I've met Phil personally, and he's a lefty like me," Breanna said. "One time I was chipping and he said, 'Way to go, Lefty.'"
In her packed year of golf tournaments, she's qualified for the SCGA Women's Amateur, California Women's Amateur and the Southern California PGA's Toyota Tour Cup.
Asked what the best part of her game is, Breanna didn't hesitate: "My driver. I don't always hit it straight, but it goes far."
Breanna can hit it 260 off the tee. She's put an emphasis on getting better at putting, especially the under five feet putts.
Breanna is also part of the SCGA Junior Golf Foundation's Junior Golf Assistance Fund (JGAF) scholar class. The fund was started this year to support high-level, committed golfers by giving access, financial support and training opportunities and mentorship.
"It means a lot this year," Breanna said. "Without it, I wouldn't be playing a lot. (Recently) I had a play day at Palos Verdes. I played nine holes with one of the members and then we had a lunch afterwards."
A memorable day of mentorship and cheeseburgers.
As for her future, Breanna said: "I would like to get a scholarship to a university, a Div. I school, and if I can play in the LPGA that would be a dream come true. I would definitely want to do that. I want to play in college and get a career. I want to become a teacher to get my credential and have a job after college."
One of the charities that has helped the Noble sisters is the Rose Again Foundation. They've helped with back-to-school clothes, shoes and doing special things for Christmas. They hope to give back to that charity or start their own. Kolleen is a single mom, and Rose Again has paid for some tournament fees for Breanna and dance fees for Jasmine, so that's been helpful.
"They've helped pay for some of my tournaments as well," Breanna said. "They've helped us get new clothes and shoes when we didn't have the money for them. That meant a lot to me."
Just like that first set of golf clubs.
How the 2023 U.S. Solheim Cup Uniforms Came to Be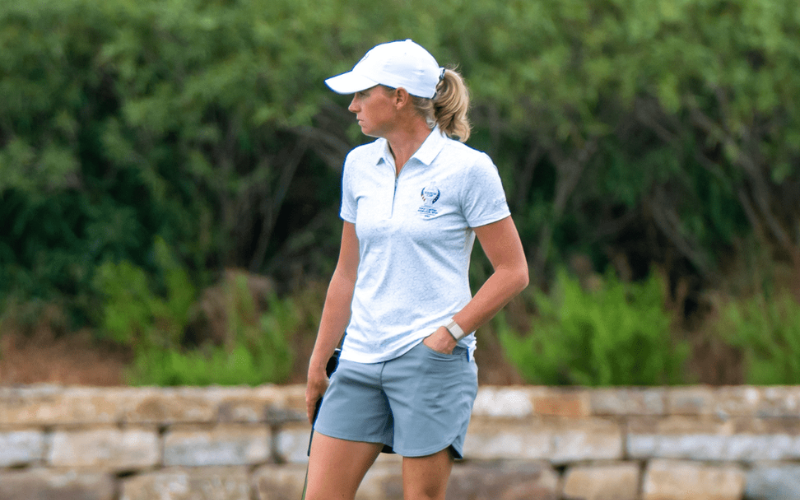 With only a month to go, my excitement for the Solheim Cup is building. No other event showcases women's international golf talent quite like this one. The biennial match-play tournament features the best U.S. players from the LPGA tour and the best European players from the LET (European Tour). The competitive rivalry between the U.S. and Europe offers plenty of drama. The display of skills by the female golfers on the teams is reason enough to tune in. However, as a fashion writer, I'll admit I'll be tuning in to see the uniforms the teams wear each day. Is it crazy to want to judge which side is best dressed?
The seed for this story was planted in January when I visited Mike Elliott, President-Golf for Dunning, at the annual PGA Show in Florida. There, he stood with Stacy Lewis, the USA Team Captain, in front of the impressive Dunning booth. Several mannequins displayed prototype Solheim Cup uniforms. I stopped in my tracks; they were stunning.
Fast forward to now, summer 2023 with an update from Mike, who graciously answered all my curious questions about how these prestigious uniforms come to be.
In August 2022, the LPGA announced that Dunning would be the official uniform supplier for the 2023 Solheim Cup at Finca Cortesin in Andalucia, Spain, and the 2024 U.S. Solheim Cup at Robert Trent Jones GC in Gainesville, Va. This decision isn't made easily; competing companies present their pitches. To sew the deal, buy-ins from Captains Stacy Lewis and Assistant Captains Morgan Pressel, Natalie Gulbis and Angela Stanford are necessary.
Presentations were made to Lewis and Pressel at the U.S. Women's Open in Pinehurst and again the following October. Gulbis and Stanford were sent products to gather their feedback. According to Elliott, Lewis played a vital role.
"Stacy sought a more sophisticated, serious style, use of color, and the best performance fabrics. Morgan also offered continuous feedback. Dunning performed well with the captain and her assistants. He added, "Getting to know Stacy and Morgan closely through the process has been really cool. It is easy to understand why Stacy was chosen as the captain; she takes golf seriously and is diligent."
According to Elliott, the use of CoolMax yarns in Dunning fabric made a difference in the decision.
"Our fabrics are highly technical, engineered to wick moisture and allow heat passage. Performance yarn qualities vary by moisture-wicking speed and touch. They are not all the same." Mike added, "New ventilated mesh, unseen on the fabric's exterior but visible underneath, enhances comfort."
Producing Solheim Cup uniforms is a larger task than meets the eye. It is more than a daily team uniform. There are uniforms for practice rounds, and on days with two matches, players change outfits for the second match. That means players wear two uniforms on Friday and Saturday. Additionally, caddies receive uniforms for opening day too. Whew.
Dunning's New York design team acted swiftly after becoming the official team supplier. Customized fittings occurred at the Chevron Championship outside Houston in April, where eighteen players fitted uniforms. Another fitting took place at the KPMG Championship at Baltusrol in Springfield last June. As the player list narrows, new names needing fittings will emerge. Will Rose Zhang wear a Solheim Cup uniform in September? We will find out soon.
Dunning, who launched its women's collection in Spring 2022, is not standing still. With a two-year agreement to supply Solheim Cup uniforms next year (2024 was moved up to align with the Ryder Cup in 2025), the design team is already in production for next year's initial designs. Knowing what I know now, I am eager to see it all.
"As an American golf lover, collaborating with world-class players in the premier women's competition is surreal," Elliot said. "Seeing the world's best players react, respond, and get excited about our work is extremely rewarding."
So, readers, stay tuned. We'll soon know which continent wins the trophy and which wins best dressed. My bet: The LPGA wins both!
Nacionales
By: - Aug 14, 2023
HEEDING LABOR'S ROAR
By: - Aug 14, 2023
Coronel
By: - Aug 13, 2023
Ferrel
By: - Aug 11, 2023
SCGA Swing Tip: Focus On Your Finish
By: - Aug 11, 2023
SCGA Swing Tip: Low Point Control
By: - Aug 11, 2023
SCGA Swing Tip: Release The Body For Straighter Shots
By: - Aug 11, 2023
SCGA Swing Tip: Better Balance, Better Swing
By: - Aug 11, 2023
SCGA Swing Tip: Deloft The Club When Putting Off The Fringe
By: - Aug 11, 2023
SCGA Swing Tip: Improve Tempo For More Consistent Chipping
By: - Aug 11, 2023
SCGA Swing Tip: Perfecting Your Putting Stroke
By: - Aug 11, 2023
SCGA Swing Tip: Straight Arm, No Bend For Better Shotmaking
By: - Aug 11, 2023
SCGA Swing Tip: Towel Drill For Better Lower Body Control
By: - Aug 11, 2023
Khuong
By: - Aug 11, 2023
FERGUSON
By: - Aug 09, 2023
Mikayla Contreras
By: - Aug 08, 2023
Jacob Lewis
By: - Aug 08, 2023
Hannah Ko
By: - Aug 08, 2023
Cory Ploadpliew
By: - Aug 08, 2023
Pratima Sherpa
By: - Aug 08, 2023
Kristen Lee
By: - Aug 08, 2023
Emily Redecker
By: - Aug 08, 2023
Berlyn Benavides
By: - Aug 08, 2023
Jack Margaros
By: - Aug 08, 2023
Caroline Lynch
By: - Aug 08, 2023
Ryan Kyaw
By: - Aug 08, 2023
Joshua Fischman
By: - Aug 08, 2023
Nicolette Cale
By: - Aug 07, 2023
Donell
By: - Aug 03, 2023
Aaronson
By: - Aug 01, 2023
Gallagher
By: - Aug 01, 2023
Lawlor
By: - Jul 29, 2023
Jarvis
By: - Jul 28, 2023
INTERREGNUM
By: - Jul 27, 2023
Gyermek
By: - Jul 22, 2023
Gyermek
By: - Jul 22, 2023
How Simplifying Your Golf Game Can Help You Improve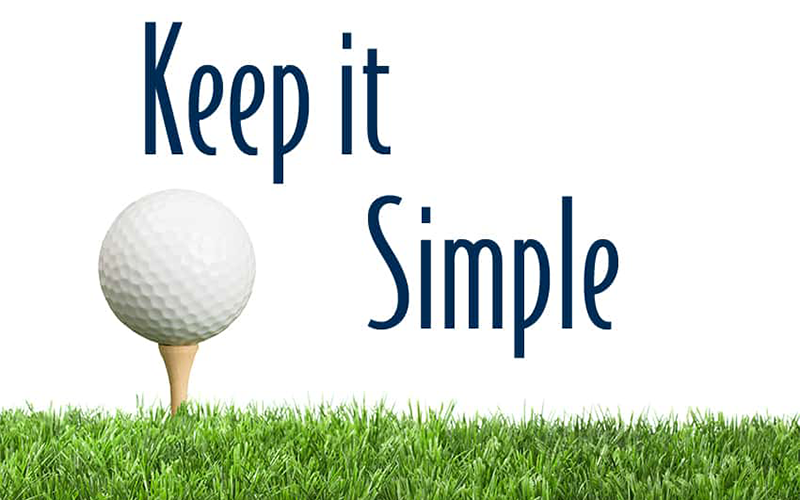 If you aren't constantly trying to improve your golf game, are you really even a golfer? I realize there's probably more than one answer to that but the only acceptable answer is a definitive NO. I'm kidding. Kind of. But here's the thing……for most golfers, the fact there is always improvement to be made is one of the most alluring aspects of this addicting game. And one of the most detrimental things you can do when trying to get better at something is to make it more complicated and confusing. When I first started teaching, I quickly realized that by making things as simple as possible, students were able to make progress much faster and more effectively than if I talked to them like I was a NASA instructor. So my whole teaching technique quickly started to revolve around my new favorite word: SIMPLIFY.
I even adopted that word as my own personal mantra in all things "golf". Not only did I see improvement come more quickly and effectively, but things just seemed lighter overall….dare I say, "more fun" even.
We are excited to add a new staple to our newsletter where we will be taking specific golf topics and simplifying them to the point where they become much easier to manage. Think of it as a deep decluttering of sorts…only for your golf game. We will tackle all the extra minutiae we golfers tend to bring into the game and dwindle it down. Too many swing thoughts? We'll explain how to simplify that. Want to organize your golf bag and carry the bare minimum? We'll help you decide which staples you need and why.
Not sure how to prioritize your practice time when you only have 20 minutes? We'll guide you through the most effective way to approach your session. Too many golf outfits taking up room in your closet? We'll help you narrow it down to some staples and must-haves that take the guess work out of planning your wardrobe for your next round.
Want to simplify your goals, score keeping, swing thoughts, mechanics, thoughts as you approach the first tee, etc.? We got you. We will be discussing all this and more. And please reach out with any input, suggestions or areas you would like us to tackle as we strive to simplify the game of golf, one topic at a time.
3 Women-Owned Golf Bag Brands That Are Changing the Game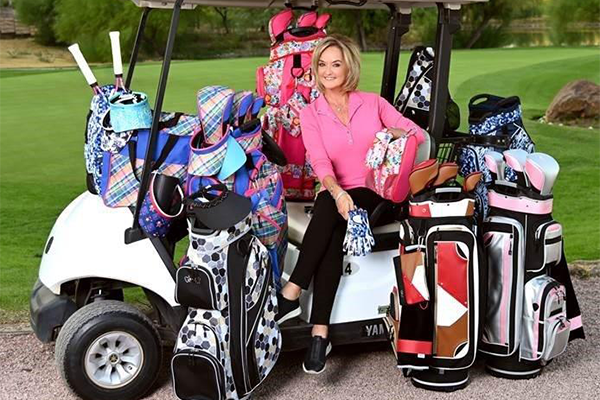 What piece of golf equipment expresses our personality more than our golf bag? Like our most treasured handbag, our golf bag conveys a lot about our personal style, but it also needs to be extremely functional. Our playing partners see us with our chosen bag at every round. We might select our bag because of favorite colors, unique prints or loyalty to a preferred brand. We might even customize them to showcase achievements, a favorite team or own unique taste and personal affiliations. Golf bags are an expression of us!
There was a time when golf bags were designed for functionality and not much more. Most bags were made for the male golfer and offered in solid, masculine colors. Thankfully, in recent years, three women-founded companies have changed the game and given us the fashionable options that outplay the gender norms. They have introduced functional, high quality and innovative designs that appeal to us lady golfers.
I bow-down to these innovative businesswomen. Not only have they provided female golfers with more choices, but they have also overcome challenges and are succeeding in the traditionally male dominated golf industry.
Karen Gleason, Glove It
I met Karen at her impressive warehouse in Scottsdale, Ariz. I can attest to her fashion style and business acumen. She's transformed Glove It to a leading golf bag manufacturer that sells nationwide and internationally, known for sporty, chic prints. In addition to golf bags, they manufacture gloves, club covers, headwear and accessory bags that can be coordinated for a total look. Yep, how about a matching golf visor and glove with your bag? I was impressed to walk through her facility full of dynamic patterns and prints at every turn.
"Being a small business owner, you wear a lot of hats, and you can learn all aspects of running a business. The most challenging is dealing with imports and navigating the constant changes," she says.
Prior to creating Glove It, Karen owned Regalia Accessory Co., and for 18 years, traveled worldwide buying and designing clothing and accessories. As an avid golfer, her idea was conceived from a girl's golf outing where she could only find a boring white glove to wear. Her fashion instincts sparked, and she created Glove It, LLC, fulfilling the need for functional, yet fashionable, golf accessories. Golf bags have become a significant part of her business. These days she scours the color, print and design trends to create Glove It's golf bag and accessory collections each season, so that women golfers like me can express our individual style. Her golf bags ooze creativity!
Her advice for women entrepreneurs; go after your dream and have fun creating your vision! I, along with thousands of her customers, am glad she did.
Check out her brand at https://gloveit.com/
Jill Beyer, Birdie Babe Golf
Jill and her husband own a small golf course in the heart of Minnesota's resort area. She started her company about 12 years ago when she could not find any girly golf bags to sell in her clubhouse. So, coming from a long line of entrepreneurs, she decided to learn how to design her own bags. She says that she has learned a lot from her journey, and I can wholeheartedly say that she has succeeded in filling her gap by creating those fun golf bags that she once had sought out. There is nothing boring or unimaginative about Birdie Babe Golf. Before my current bag (which I customized with my SKORZIE business logo) I carried Jill's "Moondance" print golf bag. I called it my "flower power" bag, because of its very loud floral print. It was an attention grabber.
Birdie Babe has several meanings, other than the obvious. Her nickname as a kid was "Bird." And she's long admired one of golf's most special luminaries, Babe Zaharias. She has also added a line of accessories with "Bogey Babe," because she says, many ladies are happy to be "bogey babes."
Jill thinks golf is such a healthy game for kids of all ages and would like to see more girls involved. She believes that if they have cute equipment, they will be more interested to get involved. I'd say that goes for us adults too!
Check out her brand at www.birdiebabegolf.com
Erica & Deborah Bennet, ORCA Golf
I'd be remiss not to mention these talented ladies who have made it big in the golf bag space. They are known for their hand-crafted unique approach to making custom golf bags for everyday golfers and those seeking the highest quality individually made bag. What I did not know, however, is that they also manufacture golf bags for many other companies including Callaway, TaylorMade and Ping. Recently, they were contracted to create the international team bags for the Hanwha LIFEPLUS International Crown, which features thirty-two of the best female golfers from the top eight countries across the globe. The beautiful bags, customized for each country, were a showcase of ORCA Golf talent.
Erica and Deb launched ORCA Golf about five years ago after trying to find a custom golf bag to represent an investment company they had started. They could not find a trusting, customer friendly company in the US that would listen to their request, so they pivoted and built their own company. Their bags are created from ground zero, with care and purpose, and fully customizable to allow customers to express themselves. ORCA Golf bags are not just for women, they're for all golfers.
Deb's career in technology leadership spanned over 37 years where she directed and mentored a global workforce of thousands. Deb believes it's time for the golf industry to realize that women play a much greater role in the future of golf than before.
Erica is the creative force behind the company with 30 years of experience in public relations, marketing, television and education.
"It begins with a dream, and it ends with a story," Erica says. "The chapters are about listening, learning and growing. It's time for women to realize the power they have. We are our own teachers."
ORCA Golf is a philanthropic company, and the brand name represents an ocean of inclusiveness for all golfers and those with an active lifestyle. My next golf bag will be an ORCA Golf custom bag with my company logo and branding colors. I can't wait!
My thanks goes out to these women founders who have introduced a wide range of quality and fashion forward golf bag options to help us express our uniqueness on the course. I hope you'll give one of these brands a try when you look for your next bag.
The Unmatched Beauty of Los Cabos' Quivira GC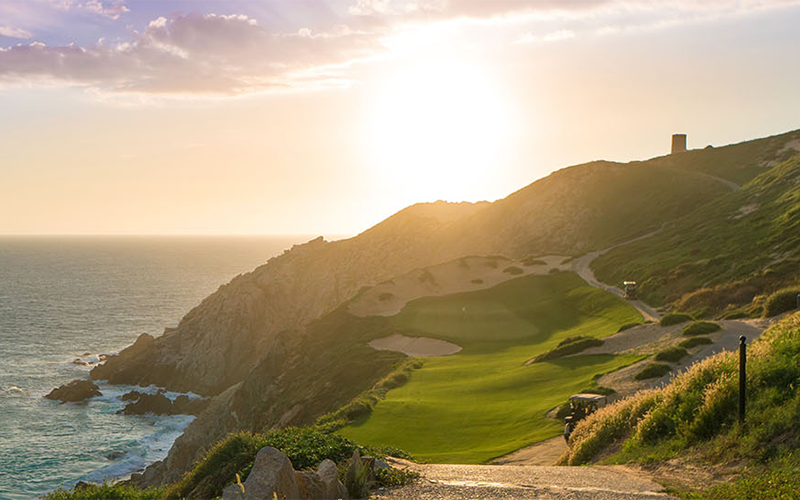 Instagram versus reality; the notion when something looks incredible on social media but when you see it in real life, it doesn't live up to the hype. It leaves you feeling lackluster and maybe even has you thinking you've been duped.
This is quite a regular occurrence with travel, and we see it happen with destination golf courses as well.
However, I am happy to report that this is certainly not the case with Los Cabo's Quivira GC. In fact, I say that the reality is far better than the photos (and the photos are stunning).
When you visit Quivira in person, you experience something beyond the photos you see online – you get to hear the waves crashing next to you, feel the ocean breeze on your face and (hopefully) watch your ball soar down the fairway and right onto the green. You can try capturing all that in a photo (I know I certainly did), but much of the Quivira experience has to be felt in order to truly understand.
Sitting right at the tip of the Baja Peninsula where the Sea of Cortez meets the Pacific Ocean, this Jack Nicklaus-designed golf course is nothing short of breathtaking to both look at and play – I may even make the claim that it is my favorite golf course in the world.
But why?
Why Quivia is a place you don't want to miss
The Views
From up on the high desert cliffs to down in the sand dunes, there is no such thing as a bad view on this golf course. Most oceanside golf courses boast a couple of ocean-view holes, but at Quivira, you can soak up the beauty of the Pacific Ocean from every single hole.
My 18-hole round here takes me longer than any other golf course, thanks to the time tacked on for photo ops. Everywhere you turn, there is something worth capturing to store in your memory bank (and to brag about with friends).
The Course
Quivira starts at sea level and takes you on a ride 200 feet above the surf. Along the way, you journey through canyons and arroyos, through sand dunes and desert landscapes, and finally, the course leads you back to the ocean to wrap up your round.
In short, there are a lot of different terrains to navigate that put your mental and physical golf skills to the test. It's essentially all of the different types of golf courses you've played wrapped into one that certainly keeps you on your toes.
Though you've got everything from the ocean to the desert to rocks, the course isn't as difficult as you may think – Nicklaus intentionally designed it that way. He wanted it to be something beautiful and a bit of a challenge but enjoyable for all.
The Comfort Stations
Speaking of enjoyable, you'll love the comfort stations sprinkled throughout the course. These aren't your average golf cart snack shacks – these are full-blown mini restaurants where you will want to do more than grab a drink and a bag of chips and go to the next hole.
Expect to take it slow on this course as the comfort stations are meant to be a rest from your round, where you can refuel with delicious tacos and high-quality spirits. Add to that the views, and you'll start to understand what the name "comfort station" really means.
The Resort
Quivira is part of a massive property that is home to two Pueblo Bonito resorts and a handful of residential communities.
Pueblo Bonito is the ideal place to serve as your home base for playing Quivira and exploring the surrounding area. It offers an all-inclusive program with different levels that give you access to an array of amenities.
We suggest staying at the resort's Towers, which provides a next-level luxurious experience.
Picture this: an oceanfront VIP lounge where you can sip on a margarita while watching the whales play in the waves; 24-hour butler service at your disposal to bring you what you need when you need it; a state-of-the-art fitness center that has the best workout views you've ever seen; and an exclusive fine-dining restaurant with the hottest flavors of the Baja cuisine.
Speaking of food, no matter where you stay at Pueblo Bonito, the food here is not your typical all-inclusive meal plan – the options are vast, and you can't go wrong at any of the dining on-property.
The Growth
Just in case the Quivira course wasn't enough, the design of the area's second Jack Nicklaus Signature Course is in its final stages. This new course is expected to be equally as incredible as the first and will feature iconic panoramic views of the Pacific Ocean and so much more.
This new addition to the Quivira family will take golfers through undulating desert foothills and wide valleys, and offer a different challenge than its sister course, but one that doesn't sacrifice the quality that the Quivira name is known for.
If you're looking for a luxurious golfing adventure that goes above and beyond its promise and your expectations, Quivira GC in Los Cabos is the place.
Gibson
By: - Jul 17, 2023
Jeff Noble
By: - Jul 16, 2023
Linda Port's Journey to the U.S. Adaptive Open
By: - Jul 14, 2023