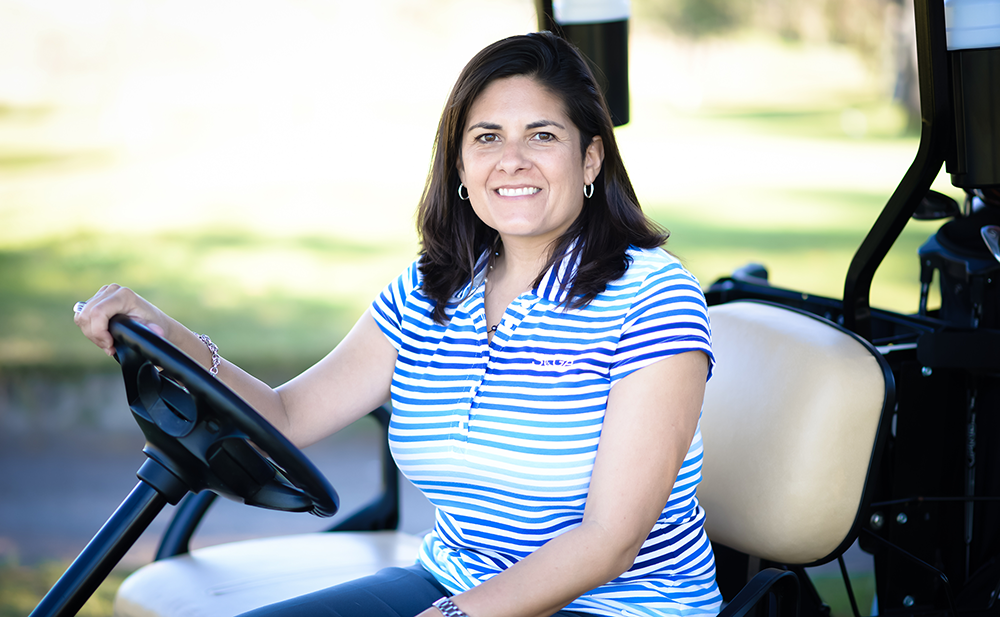 Nikki Gatch is the newest president of the SCGA and became the first female to hold the title in the Association's 122-year history when she was appointed towards the end of 2021. Gatch finds herself in a unique position among the Southern California golf community, volunteering as President of the SCGA while completing her day job as Chief Operating Officer of the Southern California PGA. She carries a strong passion for the advancement of women's and junior golf, and views developing the next generation of golfers as the most rewarding part of her career.
Prior to these roles, Gatch worked for the PGA of America as a Player Development Regional Manager and then as Regional League Manager. She was previously a co-owner of Emerald Isle Golf Course for three years with her husband and fellow PGA member, Don. Gatch joined the SCGA Board in 2014 and has supplied her passion for the game to numerous committees, and served as the emcee for the annual So Cal Women's Summit, co-managed by the SCGA and the SCPGA.
In her first such in-person event as President, the 49-year-old Gatch recently spoke at a women's event at Heritage Palms in Indio and played a round with Ann Pitts Turner, former coach at her alma mater, Oklahoma State. Being the President of the SCGA is a job she takes seriously, and an opportunity she hopes will elevate the Association across her year-long term. She's been around golf for as long as she could remember. Buzz Gill, her late father who was a PGA professional in Southern California, introduced his daughter to the game and Gatch has turned her passion into a blossoming career. Jill Painter Lopez chatted with Gatch recently, discussing her career journey and future plans for the Association.
Q: When you look back in one year after your term is done, what do you hope to have accomplished?
A: Selfishly, I would hope the Association is in a better place a year from now. It's certainly not going to be all on me. This is a team effort. Yes, I have the title and that's wonderful and it's a huge honor but it really is a team effort here with our board and staff and collaboration with the golf industry in Southern California. At the end of the day, it's golfers and the game that we need to take care of … We're all focusing on bringing more people to the game, whether that's youth, people of color or diverse backgrounds, that's important to all of us. Together we're more powerful.
Q: How meaningful is it to be the first female president and what impact do you hope this can have?
A: It's great to be the first. I believe there's a responsibility that comes with that to ensure you're not the last. I shared that in my first message as president and that's really important to me. We currently have three women of 12 on our board. I'm very confident we'll have very capable and passionate women that will continue to serve on this board, along with very passionate and capable men. I've been fortunate in my career and life to have a lot of great mentors, both men and women.
Q: What's the strategic plan for the SCGA?
A: We're mapping out the strategy for the next five years. It was a pretty intensive process. We started in the spring of 2021, knowing as everything is changing and evolving in the golf landscape, the SCGA must continue to evolve as well and make sure we are providing the benefits and programs and activities our members want and keeping up with their expectations. We involved a lot of people in that process, our board of directors and our staff.
Q: When did you know you wanted to make golf a career? Coming off a collegiate career at Oklahoma State, you must've had aspirations to play professionally.
A: After college, I realized I wasn't going to make it on the Tour. My father was a PGA Professional and was in the golf industry all his life so I grew up around it. I always say it's part of my DNA. When it was time to find a real job, I gravitated to what I knew and loved, and that was golf.
Q: What impact did your dad have on your golf career?
A: He was a big proponent of paying it forward and mentoring young people that come behind you, helping them be the best they can be whether that's a player, golf professional or someone in the golf industry.
Q: What are your hobbies besides golf?
A: I like to have fun. My favorite thing to do is laugh. I love being goofy and watching funny shows or movies. I enjoy spending time with family and friends and enjoying laughter.
Q: You like to have fun when you golf. What's a fun round for you?
A: You always have to have a game. I'm going to get bored if we're not playing for something or there's not a game happening other than keeping score. There has to be something on the line, a dollar or a soda, and that will keep my interest, keep things fun and keep things fun and keep those competitive juices flowing.
Q: How did you and your colleagues keep the fun during the pandemic?
A: Who knew our game needed a global pandemic to turn things around? As awful as all of this has been, there are some silver linings. People spend more time together with the people that mean the most to you; you value time. We all know how wonderful this game is and how it's the game of a lifetime and can be played with family and friends. Golf isn't always just 18 holes. It can be hitting a bucket of balls, hitting a few putts, playing a few holes. It can be a lot of things. I think it's great so many more people got to experience that and know what we've all known forever, which is how wonderful this game is.
Q: How do you see Southern California golf and its future?
A: There's no doubt it's thriving. Golf courses are full. It is a challenge to get out sometimes, but people are playing the game and wanting to learn how to play and get better. Equipment sales are higher than they've ever been. The big question is, how do we sustain this? That's going to be the key. I have a positive outlook on this. I think once people see how great this game is, they stick around.