How the 2023 U.S. Solheim Cup Uniforms Came to Be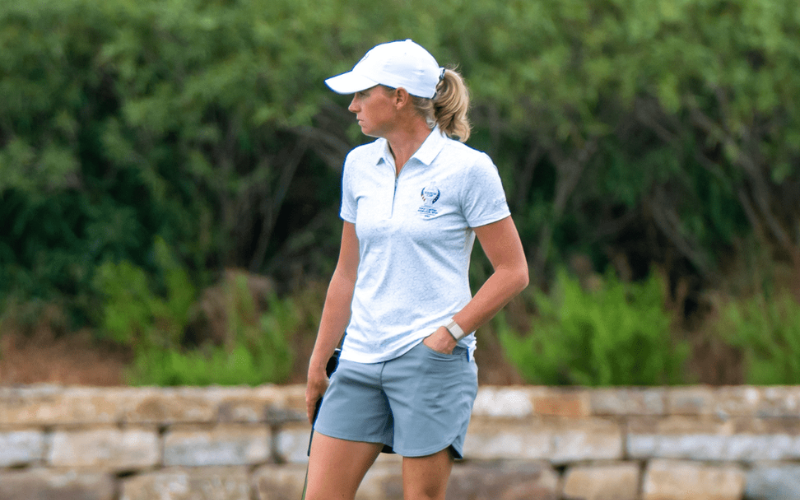 With only a month to go, my excitement for the Solheim Cup is building. No other event showcases women's international golf talent quite like this one. The biennial match-play tournament features the best U.S. players from the LPGA tour and the best European players from the LET (European Tour). The competitive rivalry between the U.S. and Europe offers plenty of drama. The display of skills by the female golfers on the teams is reason enough to tune in. However, as a fashion writer, I'll admit I'll be tuning in to see the uniforms the teams wear each day. Is it crazy to want to judge which side is best dressed?
The seed for this story was planted in January when I visited Mike Elliott, President-Golf for Dunning, at the annual PGA Show in Florida. There, he stood with Stacy Lewis, the USA Team Captain, in front of the impressive Dunning booth. Several mannequins displayed prototype Solheim Cup uniforms. I stopped in my tracks; they were stunning.
Fast forward to now, summer 2023 with an update from Mike, who graciously answered all my curious questions about how these prestigious uniforms come to be.
In August 2022, the LPGA announced that Dunning would be the official uniform supplier for the 2023 Solheim Cup at Finca Cortesin in Andalucia, Spain, and the 2024 U.S. Solheim Cup at Robert Trent Jones GC in Gainesville, Va. This decision isn't made easily; competing companies present their pitches. To sew the deal, buy-ins from Captains Stacy Lewis and Assistant Captains Morgan Pressel, Natalie Gulbis and Angela Stanford are necessary.
Presentations were made to Lewis and Pressel at the U.S. Women's Open in Pinehurst and again the following October. Gulbis and Stanford were sent products to gather their feedback. According to Elliott, Lewis played a vital role.
"Stacy sought a more sophisticated, serious style, use of color, and the best performance fabrics. Morgan also offered continuous feedback. Dunning performed well with the captain and her assistants. He added, "Getting to know Stacy and Morgan closely through the process has been really cool. It is easy to understand why Stacy was chosen as the captain; she takes golf seriously and is diligent."
According to Elliott, the use of CoolMax yarns in Dunning fabric made a difference in the decision.
"Our fabrics are highly technical, engineered to wick moisture and allow heat passage. Performance yarn qualities vary by moisture-wicking speed and touch. They are not all the same." Mike added, "New ventilated mesh, unseen on the fabric's exterior but visible underneath, enhances comfort."
Producing Solheim Cup uniforms is a larger task than meets the eye. It is more than a daily team uniform. There are uniforms for practice rounds, and on days with two matches, players change outfits for the second match. That means players wear two uniforms on Friday and Saturday. Additionally, caddies receive uniforms for opening day too. Whew.
Dunning's New York design team acted swiftly after becoming the official team supplier. Customized fittings occurred at the Chevron Championship outside Houston in April, where eighteen players fitted uniforms. Another fitting took place at the KPMG Championship at Baltusrol in Springfield last June. As the player list narrows, new names needing fittings will emerge. Will Rose Zhang wear a Solheim Cup uniform in September? We will find out soon.
Dunning, who launched its women's collection in Spring 2022, is not standing still. With a two-year agreement to supply Solheim Cup uniforms next year (2024 was moved up to align with the Ryder Cup in 2025), the design team is already in production for next year's initial designs. Knowing what I know now, I am eager to see it all.
"As an American golf lover, collaborating with world-class players in the premier women's competition is surreal," Elliot said. "Seeing the world's best players react, respond, and get excited about our work is extremely rewarding."
So, readers, stay tuned. We'll soon know which continent wins the trophy and which wins best dressed. My bet: The LPGA wins both!