How Tasha Bohlig "Loves" The Game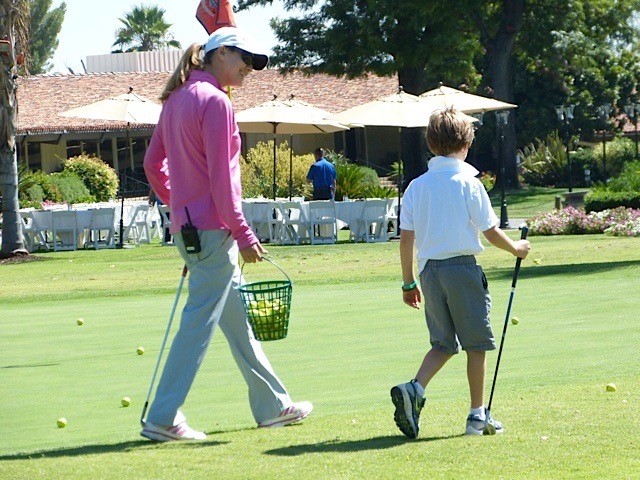 Tasha Bohlig is an award-winning golf instructor, and a big reason for her success in connecting with students goes way beyond the golf swing.
She'll start with a conversation, then goals before checking out your swing.
"Really, the goal, I think, is for everyone is to try to fill three buckets," said Bohlig, the PGA director of instruction at El Caballero CC in Tarzana. "One bucket is for fitness, being able to take care of ourselves, a good warm-up and stretching. Another bucket is how we spend our time at the practice area. The third bucket is on-course time. Every plan I make for people involves those three buckets and it's a matter of how often we get to fill them and what's reasonable."
It's a new year and so many of us set lofty goals for our game. Maybe you want to play a certain number of times more per week or month, work on your short game two times per week or lower your handicap. It's February and you may already feel the disappointment of not meeting those expectations.
"I think it's the teacher's job to take the lofty goals and break them up into smaller parts, and you attack one thing at a time," Bohlig said.
The 39-year-old Bohlig played collegiately at Washington State but doesn't have much time to continue to work on her game because she's helping others and has a family. With the club's upcoming renovation this year, she'll have more time.
"I think the most important thing to determine is why we're playing," Bohlig said. "That helps me determine where we want to take it and the level of commitment and then we can set realistic goals."
Bohlig uses golf apps - her favorite is CoachNow - so students can track their progress and see results immediately and over time. Both student and teacher can download videos, and Bohlig can make swing notes in the app. That way people can still work on their game and it doesn't always have to be in person.
Bohlig, who was named the 2019 SCPGA teacher of the year, is a mom to 3-year-old son Hudson. Her husband, Brian Bohlig, is the head pro at Annandale GC. She has a flexible schedule and is grateful El Cab is flexible, too.
Bohlig's passion is to try to grow the game of golf by teaching new golfers. One way is that she wants toddlers like her son to be introduced to the game at a young age. That's why she created a course at El Cab called 'Golf and Me.' It's her version of a mommy-and-me class. Dads are welcome, too.
"I like the idea of introducing the game to children in a very fun and unique way, not a technical way," Bohlig said. "I take my son to mommy and me classes, and I thought, 'I can do this for golf.' I take a golf exercise and make it kid-friendly. I cut pool noodles in thirds and blow up balloons and use the motion of a golf swing. They don't know they're making that motion but it's fun.
"We do golf-themed art projects where we do hand-prints and foot-prints. We turn them into golf pictures and give them to the parents."
This month we celebrate love on Valentine's Day. Many courses and clubs have dinners and other activities. But many of us women often forget to love ourselves when it comes to golf.
Maybe we haven't become the golfer we wanted to or already broke our golfing New Year's resolutions.
"As females we don't hit it 300 yards but we can take advantage of the whole part of our game," Bohlig said. "In general, I think we worry too much about what other people think."
"Golf is a wonderful game where you can focus on you, and it's OK. It's an acceptable place to be selfish. You can enjoy your time with friends. Ultimately, people can focus more on themselves and it's more socially acceptable to do that. That's how you get to play better if you focus on you."
What's not to love about that?