How Aliea Clark Balances the Ultimate Student-Athlete Challenge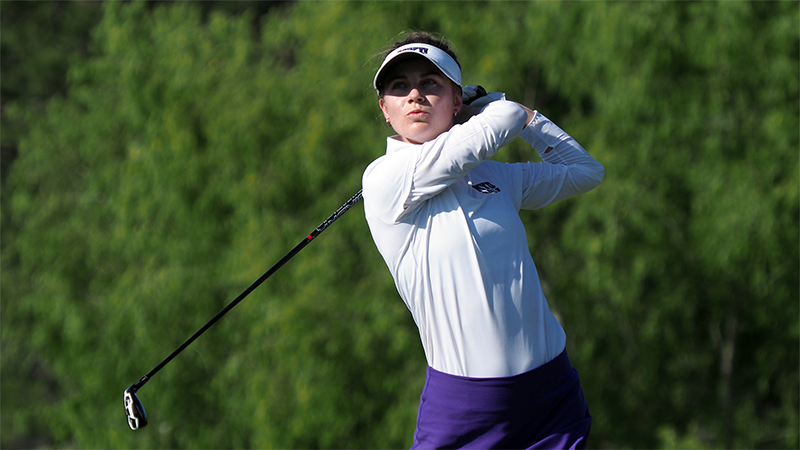 Aliea Clark will play in the SCGA Women's Amateur Championship in August at San Diego CC, her first golf tournament of the summer.
Clark, who is from Carlsbad, ironically has never played there, so she's thrilled. It's also a significant event to her because she still uses the towel she got from the inaugural event in 2015 on her bag.
"It was at L.A. Country Club, and it was the first time I ever played LACC," Clark said. "I absolutely love Los Angeles and playing in that tournament was the first time I'd been in the city and I remember walking around the UCLA campus with my mom. It was a really special event and the first time Southern California had a women's amateur. It felt cool to be part of such an awesome event at a beautiful golf course."
The 26-year-old Clark, a UCLA graduate, is working on her accomplished career post-golf while still playing competitively. She's in a three-year double masters program at NYU and even played golf there for a semester. Now she's about to start her third year of the program. The first year was all business classes, her second year all film school and the final year will be private equity finance and television writing.
Though, she hasn't forgotten about golf, something she's excited about again.
Last September, she played in the U.S. Women's Mid-Amateur and nearly won, falling in the final match, 5 & 4. It was an experience that ignited her golf passion again.
"I knew a career in competitive golf was not for me but I always loved the sport," Clark said. "I learned later that I was built to be a mid-amateur player. I played in my first mid-am this past year and had an absolute ball. I hadn't touched a club in two and a half years since I graduated. Obviously, I practiced for the event."
Clark played 10 rounds in eight days and while she said she was disappointed her body gave out on her on the last day, she was happy, too.
"It was really cool to play so well in my first event after years of not playing," Clark said.
She now works at McKinsey & Company, a consulting firm in the Atlanta office, for the summer. She's got a full-time gig there lined up for after graduation, too.
"I love having a career and being able to participate in sports and give back to the sport and encourage other women to play in a way that's not competing professionally," Clark said.
Part of Clark's heart will always be in California, and she'd loved to play in the U.S. Women's Amateur at Bel-Air CC next year. She used to play Bel-Air CC every Friday as a member of the Bruins golf team.
"It's my absolute utter goal, God willing," Clark said. "That would be super fun to be back at our old stomping grounds. It's my current golf dream."
While in her undergraduate years, she also played at Brentwood CC on Tuesday mornings with Pam Shriver and Gail Katz while her team played in the afternoon. Even though she had to practice at a different time because of her class schedule, she loved having Shriver and Katz as mentors.
"Playing with those incredible women who had awesome careers but enjoyed being competitive at a sport like golf, I was like, 'this is my dream,'" Clark said. "That's what I want my life to be like too."
Clark's summer schedule is packed with work and golf. In addition to playing the SCGA Women's Amateur in a couple weeks, she'll also compete in the U.S. Women's Amateur Championship at Chambers Bay GC later on in August.
She'll have that SCGA Women's Amateur gray towel on her bag for good measure.