Getting "The Gist" of Women In Sports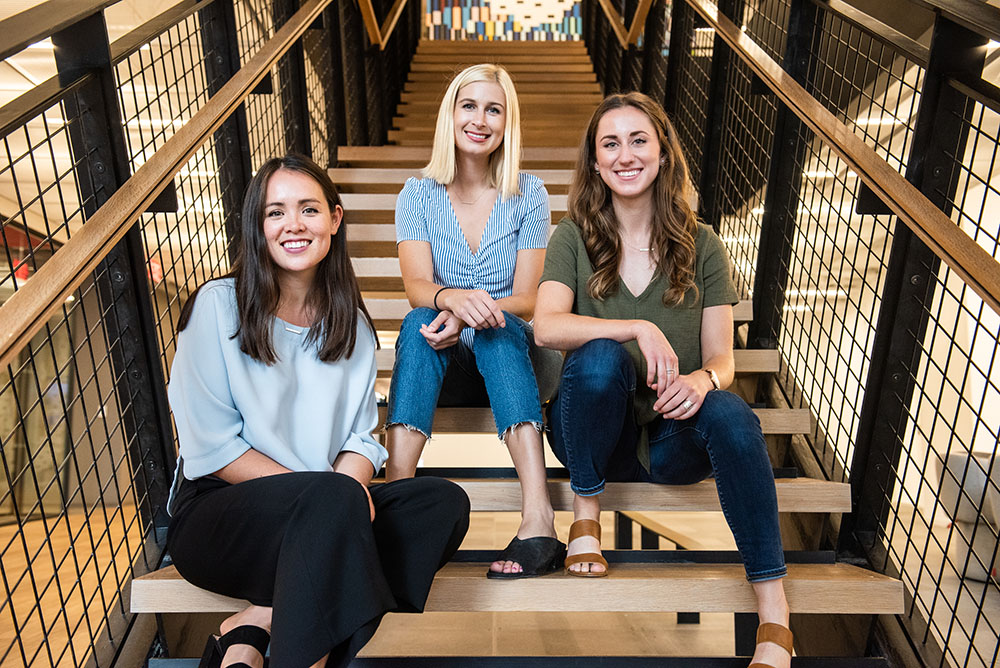 The GIST is a sports media startup that creates sports content, experiences and community that are by women, and for all sports fans. We take a deep dive with Roslyn McLarty (Co-Founder & Head of Finance of Operations) about the powerful community they have built covering sports with a refreshing female voice and perspective. Plus, stay 'till the end for some serious insight from Ellen Hyslop (Co-Founder & Head of Content) about the complicated issues facing women at Augusta National and the overall difficult relationship between women and golf.
Tell us a little about The GIST, your team, and why the three of you decided to start this company.
The GIST is a female-founded and female-led sports media startup that's all about creating sports content that's by women and for everyone. It's all from a fun, relatable, female voice and perspective. We started the company back in 2017. Myself and my two co-founders who were friends from business school [and] that's really where we noticed how sports are a really big part of our culture. They can create this sense of community and it can be a powerful connector both socially and professionally. We also noticed how sports can be somewhat exclusionary to women and anyone who doesn't necessarily feel represented in the traditional sports media.
How have you been able to make the sports content more inclusive and accessible for women?
In comparison to traditional sports media, we're really intentionally talking to all sports fans. As opposed to only a really avid, more traditionally male fan. We provide both curation and context so that the newsletter is a more meaningful read no matter what your background or experience is. Providing equal coverage on both men and women's sports and providing that female perspective on the issues that we think are important in sports and that our audience cares about. The things like pay equity, calling out racism, sexism, homophobia in sports so our community knows that that's not what we stand for. That kind of behavior is not what we'll tolerate in our community and I think it really creates a safe space in sports for people which is important too.
What do you think is the difference between men's voices and women's voices in regards to sports coverage? What are you doing differently?
I think the way that we think about it is we really want to be that witty sports-obsessed best girlfriend that you're turning to, to learn more. The voice was inspired by Ellen telling us about sports enough and being pulled in by her enthusiasm and that's really what we wanted to replicate. I think another big part of it is our enthusiasm for women's sports too in addition to men's sports that you get from female sports journalists. And that passion for leveling the playing field in sports and putting women's and men's sports on that equal playing field.
How do you feel about the state of women's sports journalism/media coverage? Do you have an opinion on coverage of men's golf vs. women's golf?
Currently less than 14% of sports journalists are women and less than 4% of sports coverage is on female athletes. And it's also no wonder why a lot of women don't feel like sports is for them when they don't see themselves represented in the media and in the sports that they're watching. Which sucks for young women who are thinking of getting into sports by either playing, working in media or the industry cause those areas are not being role models and that just perpetuates the inequity that we see but that's really why we and companies like us exist.
With golf, in comparison to a lot of sports, we are actually somewhat encouraged by sports media coverage of the LPGA in golf. To increase the popularity of the women's game it does take more than being on one channel, like the GOLF Channel, and it does take creating more accessibility for that essential audience of women's golf consumers. When you look at the men's side every PGA tournament is on a major network, which doesn't compare to LPGA coverage so it's kind of blocking people from being able to watch and grow a love for the sport. So we really need access to the women's golf game across the season.
What I found unique about The GIST is you segment your new stories based on local information. In the US, you segment your audience based on eight different cities in the US, with Los Angeles being one of them. Why do you segment your news based on location, instead of sending out general news to all?
Our initial experience of just serving the Toronto community first, you realize that sports is such a local experience. If you're in LA, you're going to care about different teams than Toronto. While there are some stories that really do transcend all locations that everyone is going to want to know about, you also are going to really care about what's happening in your local teams that your friends and family and colleagues support too. So that you can be a part of that conversation too.
Sports is just such a local experience. You're going to care more about what's happening in your own city. People in different cities are going to care about different stories. So it's a bit more personalized.
On top of your newsletter, you also started a podcast last year. From a golf perspective, you have covered The Masters and Tiger Woods. With so many sports to cover, how does The GIST so flawlessly get into the mind of each sport?
Even before starting the GIST it was what [Ellen] loved, and now she and our content team get to spend a lot of time making sports their work. The whole team, they're all really avid sports fans and passionate about what they're speaking about. Our whole team brainstorms on the different content that we're going to put out. We get lots of ideas and opinions and the people that are really passionate about a certain sport can speak up and provide their perspective or enthusiasm. And beyond that, keeping a pulse on what's happening in sports and what our audience is feeling about things and reacting to so we can provide value in those discussions.
What advice do you have for women looking to get into the sports media industry?
Use your unique perspective to bring something different to the table. Sports media is going to have to innovate and find ways to attract new audiences to continue to grow. As a woman you offer insight into a new and potential audience and a refreshing perspective so don't be afraid to use that insight and really bring that value to the table.
Why do you think it's important for people to get The GIST of golf?
For me, I personally grew up watching my dad play golf with friends and with clients. He's an entrepreneur and was building a business throughout that time I was growing up. Watching him use golf as an avenue for connecting with people, it definitely had an impact on me and made it a sport that I wanted to pursue. I started to play golf when I was a teenager and really appreciated the quality time I got to spend with my dad and other golfers. In my life, both family, and socially and professionally, as well as just spending time outdoors and in nature it's really special. And also experiencing how hard golf is.
What change do you wish to see for women in sports?
We would love to see the industry as a whole invest in women, not only because they should, but also because it makes good business sense. The market conditions are really right for a shift. We see female fandom growing, women sports are growing, female purchasing power in the control of wealth is growing. We believe for the entire sports industry to grow, it needs to include and meaningfully engage with underserved sports fans. Part of that equation includes hiring people and covering athletes that are representative of a wider audience. That's what we hope to see and are hoping to contribute to that change as well.
How can our readers further support women in media?
Consume and share their content. For The GIST, it's as simple as signing up for our newsletter and telling friends about it. That's really monumental help for us as women in media.
INSIGHT ON WOMEN'S GOLF FROM CO-FOUNDER ELLEN HYSLOP
What are your perspectives on Augusta National Women's Amateur? How do you think this event opens doors for women in golf?
I think it's awesome that the Amateur is back. Especially after the pause last year, it's awesome to see any women's event with The Masters at Augusta and I think that hopefully the amateur will lead to more opportunities for women to be a part of Augusta and a part of The Masters. Unfortunately, when something is so steeped in tradition and history it also means it's steeped with racism and sexism. I think with Augusta, they only started granting women membership to the course in 2012, which is wild and that's only nine years ago now. There are only three known female members to date which would only be about 1% of their membership. I love that the women's amateur is there and I think that it's bringing a lot of attention to the women's sport and that the Amateur can be played at Augusta. Hopefully Augusta looks to work with the LPGA, but I would also love to see the Amateur as well as a pro event at Augusta one day and I think that's really where more of the level playing field and equality comes from on my side of things.
I think the coolest thing with the Amateur being there is that anyone who's anyone in golf is always going to be paying attention to what is happening at Augusta. So I think in comparison to any other amateur event on the women's side of things, this is the one that's getting the most attention. This is the one that's the top story on the Golf Channel, on CBS, on NBC, on Twitter. I think it's cool that casual fans as well as avid golfers will pay attention to what's happening at Augusta. I think that's why I'm a little bit sour there's not also an LPGA tournament at Augusta because even if you're not a golf fan you're watching The Masters. I was just talking to a man the other day and he was like, "I can't wait for The Masters" and I said, "What? You don't even like golf." And he was like, "Yeah, I don't like golf but I will sit down and watch The Masters for a full weekend." I would just love to get to that point on the women's side too. Obviously the Amateur is the first step, but hopefully something with the LPGA as well.
What is your personal connection to golf?
My Papa was very into golf. He played it until he was 85. My first memories of golf would be playing in his little living room and putting the ball into his little metal putter thing with him and just seeing his passion for it. My dad is very into sports and he would watch golf all the time growing up. The sound "Ping!" because he watched so much golf, was my first word. My mom is a huge golfer recently, in her retirement. And recently I have started playing over the last few years, I got a membership to a course so I also do play myself. I'm starting to really love the sport and I get the reason why people are so addicted, because it's so frustrating but it's also so exciting when you hit the ball well. It's one of those sports that keeps you coming back.
Upcoming Content Golf Fans Can Look Forward To
We will definitely be having some really fun coverage around the US Men's Open as well as the Women's Open at the beginning of June and end of May, PGA Tour and Olympics.
Find The Gist online: thegistsports.com | The GIST Of It Podcast | Instagram & Twitter @THEGISTUSA | TikTok @THEGISTSPORTS