Four International Golf Trips You Should Book This Year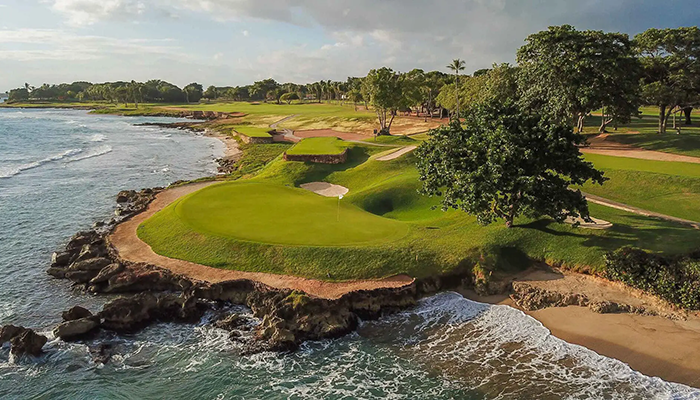 Springtime is nearing and if you're anything like me, you've got golf on your mind. The excitement to get out there in the sun, shake off the winter layer, and swing right into spring is undeniable.
Chances are good you've started making a mental list of your favorite courses you want to hit up in the heat. But it's a new year, maybe a new you, so consider putting on your explorer hat, hopping on a plane overseas, and adding some new courses into the mix.
There is no shortage of incredible courses to explore outside of the United States. So, to make things easier for you, I've found some of the hottest courses around the globe that are on my wish list for this spring.
I've been anticipating the opening of Cabot Saint Lucia and its incredible Point Hardy GC ever since I learned about it last year, and the time is finally here!
The resort and course are located on a stunning 375-acre peninsula in northern Saint Lucia. Just imagine yourself standing on the tee box and hearing the waves of the warm Atlantic Ocean crashing right beside you. Even a bad shot feels good here.
This golf club will be a real treat for golfers and spectators, with an exciting course designed by the popular golf duo Coore & Crenshaw. The course features breathtaking views of a variety of nature, from lush terrain to rocky cliffs; from tropical bays to sandy beaches.
Cabot Saint Lucia sits on a volcanic site that has been carefully transformed into a minimalist course, presenting challenges but most importantly, fun. Imagine sharp elevation shifts up and down that keep your brain engaged with strategy (and get some serious steps in, too).
This course promises an unforgettable Caribbean golf experience that may become one of the top golf destinations in the world.
Quivira | Los Cabos, Mexico
I've been fortunate enough to play some incredible golf courses, but without a doubt, Quivira in Los Cabos my favorite course. If you haven't played there yet, it's time. This Jack Nicklaus Signature course has views that will wow you from every hole. You will likely find yourself more focused on taking photos of the scenery than where your ball goes.
And don't even get me started on the amenities here – this course has the best comfort stations I've experienced, filled with delicious food and drink options while you make your way around the course. Think sliders, brisket sandwiches, tacos and any spirit your heart desires.
You'll even get the chance to step into Hollywood history while a Quivira. The 2004 Brad Pitt film, Troy, features a scene of ships landing on the day of battle. And where they landed was not actually the Aegean Sea but rather the beach below Hole No. 12.
There are also some exciting new things at Quivira, including its posh Beach Club which features a beachfront restaurant/bar, hot tub, snack bar, a fully equipped gym and zero-entry pool.
Even better yet, there's a second golf course in the works. The success of the original Quivira resulted in plans for an additional 18-hole course that will be very different from the original, but equally as incredible.
Casa de Campo | La Romana, Dominican Republic
Known as a top-notch golf destination, Casa de Campo in the Dominican Republic offers not one, not two, but three Pete Dye courses for you to enjoy all in one place.
Each offers a completely unique experience, but the Teeth of the Dog course is the main attraction. It's been named the No. 1 golf course in the Caribbean, and No. 27 in the world. Teeth of the Dog has seven holes that follow right along the bright blue Caribbean Sea. What could be more beautiful than that (besides a hole-in-one, of course)?
You'll even get a chance to taste the sea thanks to the winds that bring up the salt spray on the 5th tee box. Nothing like a quick little refresh to keep your game going, and to remind you of where you are. Talk about a dream.
If you're wondering where the name "Teeth of the Dog" comes from, it's thanks to the sharp rocks along the shoreline that resemble, well, the teeth of a dog. If you're anything like me, you'll lose some balls over these "teeth," but it's well worth it.
The other two courses, Dye Fore and Links present a challenge to golfers but do so in a fun and beautiful way that you'll enjoy no matter how you end up playing. Links is modeled after the traditional courses found in the British Isles, with a Caribbean twist.
You'll want to spend enough time here to experience all three of the courses.
Cabot Cape Breton features a whopping 46 holes of golf spread across three courses that span over a mile along the coast of Cape Breton. The holes here include links, dunes, parks and forest – there's a little bit of everything in this slice of heaven.
Cabot Links is one of the top golf courses in the world and sits right along the Atlantic Ocean. Built on land that was abandoned from the coal mining days of the area, this course takes you up cliffs and down to rolling sand dunes (well, I hope you stay out of the sand). You'll feel like you've been transported to Scotland and Ireland where you're playing beautiful, pure links golf -- free of course design tricks.
The second course, Cabot Cliffs is even more loved than Links, but a very different experience. Just wait until you get to the short par-3 that is Hole No. 16 – it's one for the books. This hole sits atop steep cliffs with a sharp fall to the Gulf of St. Lawrence below. Talk about intimidating. But, it makes the likely loss of your ball a little more beautiful.
The Nest is the newest course at Cabot Cape Breton -- a 10-hole, par-3 course that arguably has some of the best views of the whole property. You'll only need a handful of clubs for this course, but that doesn't mean it will be easy. I can guarantee it will be fun, though, which is exactly what this course was built to be. They even allow groups of up to eight people.
You'd be hard-pressed to hit all of the above courses this spring, but if you're up for the challenge, I fully support you. If not, know that you won't go wrong with picking any course from this list and turning it into your next adventure.