A Rising Star: 14-Year Old Breanna Noble's Superb Summer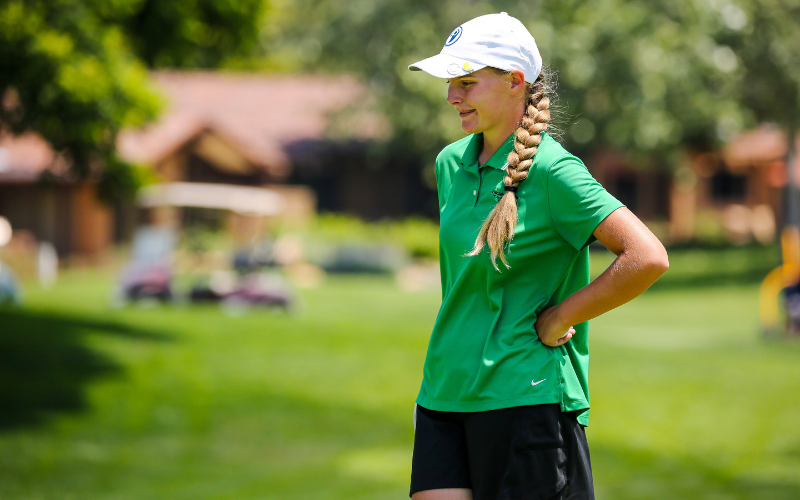 When Breanna Noble was hit in the face with a ball playing softball, she knew she was interested in trying another sport. She picked golf. Her grandfather, Tom, played. She was in foster care and her foster mom said when the adoption went through, she'd buy her golf clubs as her gift.
Kolleen Noble's adoption of Breanna became official when Breanna was 7 and that first set of special golf clubs sparked a hobby that has meant the world to her. She's taken those clubs and become a highly successful junior golfer.
"I was excited to play a new sport," Breanna Noble said. "We'd been waiting for the adoption to go through for like two years. There was the whole courthouse and getting all dressed up and doing that whole thing was a great experience and fun."
The 14-year-old holds a +1.3 Handicap Index and she's finishing a summer swing of golf tournaments all over Southern California and the West.
Kolleen has adopted two children, including 15-year-old Jasmine.
The Nobles live in Canyon Lake and Breanna is home schooled so she can fit golf and tournaments in with her academics as well.
"It's great," Breanna said. "I owe it to [my mom] that I am where I am now. If it wasn't for her, I wouldn't be playing at all. It's great to have someone who supports you and what you're doing. It means a lot to me."
She'll be in 9th grade, and she's excited to try out for Vista Murrieta's high school team soon.
"I think that would be really fun," Noble said. "It's going to hopefully be a good team and hoping we can make CIF because it's going to be at Pebble Beach, and I really want to go there."
Kolleen said she's been talking about playing Pebble Beach nonstop for two years.
Breanna has played in many SCGA tournaments, and her mom believes those are really important to her development.
"Southern California has some of the best golf for junior golfers," Kolleen said. "There are so many opportunities for junior golfers to play in. Breanna will tell you her favorite [events] to play in is the SCGA by far. A couple of the reasons are that it allows her to play at a high level. She goes to the SCGA and she's paired with university students, and they're playing longer yardages. She can't get that in junior golf. She needs the SCGA to be able to play at that level to prepare to someday be able to get into the U.S. Women's Open."
Breanna tried to qualify for the U.S. Women's Open at ages 13 and 14, and that's a goal of hers.
"The other great thing about the SCGA is that she gets a lot of opportunity to play with senior golfers," Kolleen said. "They're kind and loving and sweet. They help teach her. They'll correct her and teach her etiquette she doesn't get with junior golfers."
Breanna recently won the gross division in the SCGA Women's Four-Ball Championship earlier this year at Desert Willow GR. For her, it's about the golf and the people.
"That was fun," Breanna said. "I played with a friend (Hannah Bagnell) that I've known since I started tournaments. It meant a lot. It was a lot of fun. We got a standing ovation at lunch with all the ladies."
Breanna is a left-handed golfer, like her grandfather. And Phil Mickelson. Breanna met Mickelson and said she had a conversation with him at Bear Creek.
"I really like Phil Mickelson and Lexi Thompson. I've met Phil personally, and he's a lefty like me," Breanna said. "One time I was chipping and he said, 'Way to go, Lefty.'"
In her packed year of golf tournaments, she's qualified for the SCGA Women's Amateur, California Women's Amateur and the Southern California PGA's Toyota Tour Cup.
Asked what the best part of her game is, Breanna didn't hesitate: "My driver. I don't always hit it straight, but it goes far."
Breanna can hit it 260 off the tee. She's put an emphasis on getting better at putting, especially the under five feet putts.
Breanna is also part of the SCGA Junior Golf Foundation's Junior Golf Assistance Fund (JGAF) scholar class. The fund was started this year to support high-level, committed golfers by giving access, financial support and training opportunities and mentorship.
"It means a lot this year," Breanna said. "Without it, I wouldn't be playing a lot. (Recently) I had a play day at Palos Verdes. I played nine holes with one of the members and then we had a lunch afterwards."
A memorable day of mentorship and cheeseburgers.
As for her future, Breanna said: "I would like to get a scholarship to a university, a Div. I school, and if I can play in the LPGA that would be a dream come true. I would definitely want to do that. I want to play in college and get a career. I want to become a teacher to get my credential and have a job after college."
One of the charities that has helped the Noble sisters is the Rose Again Foundation. They've helped with back-to-school clothes, shoes and doing special things for Christmas. They hope to give back to that charity or start their own. Kolleen is a single mom, and Rose Again has paid for some tournament fees for Breanna and dance fees for Jasmine, so that's been helpful.
"They've helped pay for some of my tournaments as well," Breanna said. "They've helped us get new clothes and shoes when we didn't have the money for them. That meant a lot to me."
Just like that first set of golf clubs.