7 Just-Launched Fall Collections to Add to Your Wardrobe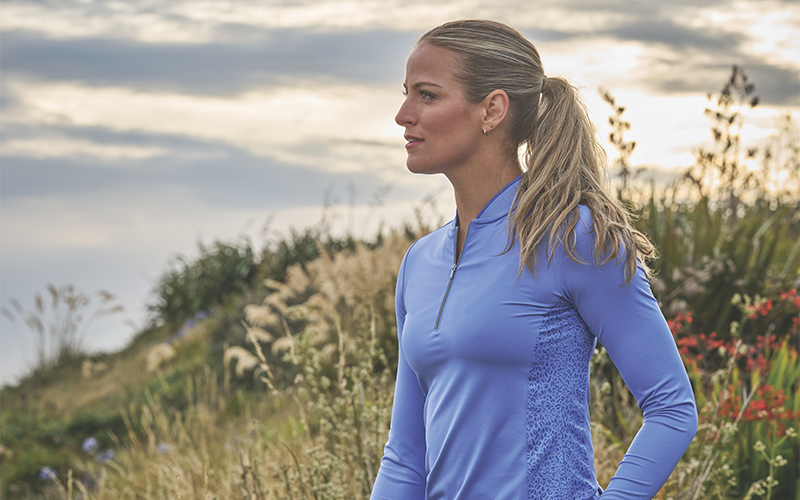 Did you feel a little morning chill? Yep, its's time to gear up for Fall. I think cooler temperatures and dicey weather makes dressing for the course more interesting. What's on my mind? Fall colors and patterns and warm fabrics and layers. Golf fashion evolves each year and I, for one, look forward to seeing the season's offerings from my favorite brands. So, for this seasonal story, I reached out to fourteen popular brands, and asked them to give me one outfit each that exemplifies their new Fall collection.
If you enjoy staying on top of the latest golf fashion trends, I think you will find this list exciting. Because I am sharing a broad selection of new apparel ideas, I am writing two editions to this story. You will see seven beautiful new fashion looks in this first edition, and another seven in next month's publication. I hope they will give you layers of inspiration when planning your Fall golf wardrobe.
Amy Sport
For days when you want to look great AND play great - oh wait, that's all of them...Amy Sport Fall 2023 does not disappoint. Owner/designer Amy Lipton is inspired by color and patterns and is not a huge fan of beige. Can you tell by her selection for this story?
Amy Lipton's pick: the Italia Floral Collection. Bold hues of pink, orange, and purple that pairs with Paloma pink solids. It's a feast for any golf fashionista's eyes. It's a polished look featuring pieces that are utilitarian, versatile and chic. This Fall's standout floral aesthetic by Amy Sport is a hallmark of her brand).
Shop: www.AmySport.com
Belyn Key
Betsy Rittenhouse, the co-founder of Belyn Key is excited to present us "Mama Mia" which was released just this month (September). The Mama Mia Collection is chock full of print and color. What's unique about this line is that the pieces are designed to be worn together for the look of a dress, yet with the great fit of separates. They have been engineered to align perfectly. The floral stem prints can be interchanged for a variety of looks in the same collection.
Shop: www.belynkey.com
Dunning
Dunning presents their "Fallow" line of ventilated polos and skorts. This is a company focused on high tech fabrics. They have a Ventilated approach of using thousands of tiny holes for optimal breathability. The Fallow line features a sleek animal print pattern in trend-right colors like black, white, halo (navy), dahlia (red), and jewel (purple). While Dunning began with men's apparel, they hold their women's products to the same high standard, which helped enable them to be the Official Uniform Supplier for the 2023 and 2024 U.S. Solheim Cup teams.
Shop: www.dunninggolf.com
G/Fore
This Fall, G/FORE has some great looks focusing on very cool outerwear pieces, and for this story, submitted this stylish puffer vest. Featuring a coated nylon quilted shell for an elevated look and a Circle G's imprint on the back for some extra style. While it's not for the meek in the pocketbook, a statement piece like this vest advances my entire wardrobe. It's a must-have for heating things up.
Shop: www.gfore.com
Kinona Sport
Kinona Sport can always be relied upon for something unique each season. According to co-founder Dianne Celuch, the Fall trend they love is a fun placed applique that provides a bit of retro in their "Mod" golf skort or dress, worn with Kinona's "Winter Rules" low mock with sporty stripes. Also check out their website for the lightweight "Layer Slayer" vest that can add a layer of warmth to complete the sporty, feminine, retro look. This brand continues to challenge the norm of women's golf apparel, giving us confidence to express ourselves through the game.
Shop: www.kinonasport.com
Peter Millar
Chic yet approachable, andalwayscomfortable, the Peter Millar women's Fall line showcases both luxurious lifestyle designs and sleek performance apparel. This Fall, Peter Millar presented me with their iconic Crown Sport performance line. The Crown line is centered primarily on natural fibers, highlighting some of the softest Pima cotton, Merino wool and world-class cashmere.
Shop: www.petermillar.com
Sofibella
Bernadette Ray, National Sales Director for Sofibella is fired up about Fall and thrilled about the Elegance collection launch. A classic black & white color story is reinvented to serve the modern player with textured knit fabrics and mesh inserts for extra ventilation during play. I personally wear a lot of this brand and can attest, the Sofibella fabrics are SO soft. Long known for their tennis lines, they are making big waves in golf apparel these days and this black and white ensemble does not disappoint.
Shop: www.sofibellawear.com
I hope you are as excited as I am about the new Fall golf fashions coming our way. And I am just getting started! Next month I will bring you more brands and styles that are sure to inspire your Fall golf fashionista aspirations. As I have often said, a great game starts in your closet!