Renew Your SCGA Club Membership
Note: If your club uses the SCGA Signup Portal, you can complete checkout below. If it does not, you'll need to contact your club to renew.
Please enter just the first word of your golf club.
First, find your club:
Clubs With Online Registration
| | | |
| --- | --- | --- |
| Lakewood Women's Golf Club | $116.00 | Renew Now! |
SCGA Membership - Frequently Asked Questions
I just joined a club and have 18-hole scores in my scoring record but my handicap shows NH. Why?
Your scoring record will show NH (no Handicap Index) until it goes through a revision on the 1st or 15th of the month. In the interim, if you need your Handicap Index prior to the revision, your club's Handicap Committee can issue you a local handicap when at least five scores are posted (identified by a capital L - ex. 15.4L).
I didn't get my latest eRevision (bi-monthly email with updated Handicap information). What do I do?
Make sure you have made revisionupdate@ghin.com part of your "approved/safe sender" list. This is the "from" address for the eRevision. Make sure the report is not sitting in your spam folder. Also, the system is set up to try to deliver an eRevision up to three (3) times (three revisions). After three failures delivery is discontinued. You may print out your Handicap Index information from the SCGA website's Handicap Index Lookup just by choosing "print." Another option to show/confirm your Handicap information, including Handicap Index, is by downloading the GHIN Mobile App and entering your information. Once logged in choose the "MY CARD" feature to display your Handicap Index and scoring information. "Stats" breaks down the detail of each of your scores, including the USGA Course Rating and Slope Rating for each posted score, the handicap differential associated with each score, a "trend" telling you where you are headed handicap wise as if handicaps were being updated today, along with an average of your scores.
I have an incorrect score in my record. How do I fix it?
A golfer must contact their club's Handicap Chair to have a score corrected or removed. The SCGA normally does not perform any file maintenance requests that come directly from individual members, unless it is clear that a score has been replicated in error.
I was asked what my Course Handicap is; How do I figure my Course Handicap and what is this concept?
Your Handicap Index is a generic standard that is not tied to any course or tees. In order to get the right value for a particular day, you need to convert the Handicap Index into what is called a Course Handicap for playing purposes each time you play. There are many ways to determine your Course Handicap for the tees you will be playing, but you will need the Slope Rating for those tees. There are often charts near golf course computers used for score posting; those same computers will convert your Index under "Handicap Lookup"; if you use the GHIN Mobile App chose the C. H. Calculator; or use the scga.org Handicap Index lookup and after entering your SCGA/GHIN number and bringing up your scoring record, choose the C.H. Calculator tab and enter the Slope Rating for the tees being played. In general, a player's Course Handicap will be equal to or greater than the Handicap Index when playing a tee with a Slope Rating of 113 or more, and less than the Handicap Index when playing a tee with a Slope Rating of less than 113.
If I look up my scoring record, it seems that it does not include my recently posted scores. Why?
When you look at your scoring record, it will default to the Revision Scores display. If you want to see your recently posted scores, choose the Recent Scores tab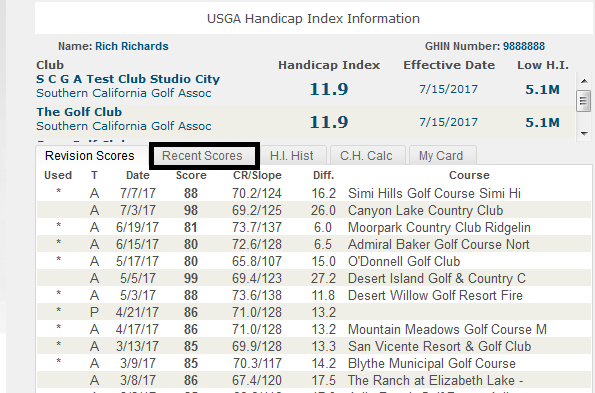 Am I required to be a part of a golf club in order to obtain a Handicap Index?
Yes, the USGA requires that you are to be a part of what it identifies as a "golf club" in order to receive a Handicap Index. The Handicap System is built around something called peer review, which is oversight by a group and the ability of people you play with to support or dispute the validity of your scores. There are more than 1400 SCGA Golf Clubs, many tied to social, fraternal or work groups, so there should be a fit for you. If you are not formally connected to a club in any way and don't believe an existing group matches up with your needs, you might consider SCGA Associate membership (see below)
Is there an option to join/renew in a club online and pay membership fees with a credit card?
Yes, the SCGA offers an e-commerce portal for clubs that choose to offer this option.
If currently a member of the SCGA, how can I make sure my membership is good for the for the future?
SCGA membership in a club is a 365 day/annual subscription in most cases. The SCGA will attempt to notify you approximately 60 days before your membership is scheduled to expire (unless your club has advised us not to do so). In general, if you take no action to renew in your club (online or contacting the club directly) before the membership expiration date, your membership will automatically expire. So action is required on your part to keep your membership continuous. More and more clubs are using the SCGA's online registration program to allow for credit card payment of dues to make this easy on their members. Note: if your club participates in the SCGA's online registration program, when making a credit card payment you have an option to set up and participate in automatic renewal, which eliminates having to go through a payment effort each and every year. If you choose this option, you will be notified before a credit card is charged and have the ability to cancel the auto-renewal. As always, you can contact your club and interact with its representatives and make payment directly to them.
I want to renew membership in my same club. When and how can I do that?
See previous answer. For clubs participating in the SCGA's online registration program, you will be able (notified by an email) to make a payment at a direct link to your club's online payment portal 60 days before expiration. This is unofficially called the "renewal period." If a member tries online before that, the club's portal will advise them they are already a member of that club. Most clubs will be happy to take your cash payment for renewal at any time and would appreciate payment before your membership expires.
I forgot to renew and want to get back into my same club. What do I do?
If your club participates in the SCGA's online registration program, the quickest way to rejoin is go to scga.org and click the renew tab on the left of the screen (or just click here) and find your club. If the club name appears and the phrase "Renew Now!" is listed to the right, then the club is participating in the online registration program. Click on that link and you will be on your way to renewing, including paying your dues. As always, you can contact an official from the club and interact with that person to take care of paying dues. Make sure to use/give your existing SCGA/GHIN number to your club/enter it in the registration program to quickly get your scoring record and Handicap Index back in action.
I don't want to rejoin my golf club. What do I need to do to join a different club?
If you don't wish to renew with your previous club, visit scga.org and choose the renew tab. You can search for a club to find the right club for you. For those clubs that offer an online registration and payment option for membership, you can complete the action by clicking on the Renew Now! link. For those clubs that do not participate in the online registration, but are seeking members, a contact point with email address and phone number is listed. Clubs not seeking members in any way are unlikely to appear in any way on scga.org. If you cannot find a club, feel free to contact the SCGA at (818) 980-3630 and we'll help connect you to a club. Additionally, for clubs tied to golf course facilities, you can usually visit the course and ask about membership in the club. In each case, please provide your existing SCGA/GHIN number to your new club, even if it has become inactive, so that your scoring record is transferred over, as this will be the quickest way to again have a Handicap Index. In general, if you have a minimum of five scores in your record, you will receive a Handicap Index from that club after the next revision (1st and 15th of each month).
How does an Associate Membership compare to a "full/regular" SCGA membership?
Both full and associate membership types provide you with "full" SCGA benefits, including a Handicap (posting scores via your GHIN number).
Full membership means that you are joining an SCGA-licensed golf club and you have "full" access to that club's tournaments and benefits. Pricing will vary because each club determines their own club dues.
An Associate membership means that you are joining a licensed golf club as an Associate Member, which provides limited access to that club's tournaments and benefits. The club determines the limited benefits it sets for associate members. A chart outlining participating Associate Member clubs and benefits can be viewed here. The standard cost for an Associate Membership is $60 and sometimes can be discounted if an individual has a promo code that is entered and applied (click the apply button if you enter a promo code) to reduce the cost.