Your Guide to Finding the Best Golf Gifts this Holiday Season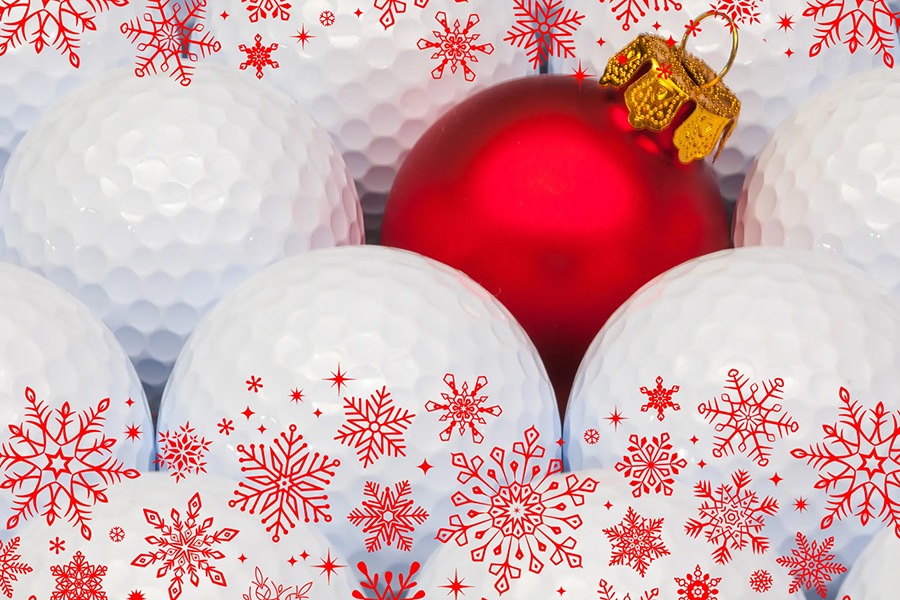 It's November and the clock has started ticking on "the hunt" for holiday gifts. For many of us, the stress meter is on too! But don't get worked up. I'm here to tee up some ideas that are sure to please all the avid golfers in your life.
Working in the golf industry, I am always excited to attend the annual PGA Show every year and witness all the newest goodies and gadgets being launched. It's fascinating to hear all the feedback regarding what golfers are excited about and why.
I've put together a rundown of some of the most popular and unique holiday gifts that include something for everyone's budget. It was just too tough to pick a favorite or come up with a specific recommendation, so I'll let you decide for yourself.
Martini Tees: Those that use them, love them. Easy to tee up (comes in a pack of five), with a wider surface area for the ball to sit on. The ball won't move until impact.
Golf Ball Ice Cube Maker: A cocktail conversation starter. Each cube is dimpled and shaped like a golf ball. The food grade silicone ice tray produces six golf ball shaped ice rocks.
Fancy Golf Gloves: High quality and pizzazz! Cabretta leather lower. Fabric upper is printed with cocktail glasses, pink polka dots or patriotic USA. The hard-to-find fingerless glove is also available at this site.
PSTYLE: More than a gag gift, this urination device is a liberating product for women. She can pee like a man. Yep, standing up. No need to drop pants or skort…slide it under clothing and voila! While I do not endorse peeing on golf courses, emergencies can occur!
Venmo QR Code Golf Bag Tag: For those who enjoy golf game wagering. Your opponents can pay you instantly. They scan the QR code on your bag tag with their Venmo app and you are paid!
Removable Sun Protection Arm Sleeves: Protect her arms from the sun. Full shoulder coverage and comfort makes this my favorite. Breathable fabric with a mesh back. Look for Umilake.
Personalized Embroidered Golf Shoe Bag: Vibrant colors and personalized with initials. Constructed of water-resistant canvas with a wipe clean interior and rear mesh pocket. Look for FabricOfStyle.
Birdie Juice Tube Flask with leather outer and four attached shot cups. Celebrate her birdies in style with this unique, larger sized 12-oz tube shaped flask. "Birdie Juice" embossed on the side. Fill it with her favorite libation and put a bow on it!
Golf Jewelry: Personalized golf ball markers plus "19th Hole Instructor" pendant. Find unique pendants and necklaces.
Wonder Woman Head Cover: Eye-catching Wonder Woman look-alike is soft, washable, and functional. Designed to fit a 460cc driver. Bring the super-heroine to her game!
Golf Hats with Attitude: Baseball caps we relate to: "Pray for Birdies" or "No 1 Cares" will add some edge to her game.
Side Note: If baseball caps aren't her thing, see the Scala Golf Bucket Hat, packable with a drawstring fit.
Golf Marker Caddy by Partee Girl Golf is constructed of synthetic leather and lined with velvet. The magnetic insert safely protects and stores her collection of ball markers and hat clips in a sleek holder. Never lose ball marker magnets again.
G-Lifestyle Sun Protection Long Sleeve Golf Shirts: A brand designed for comfort and protection with a buttery knit fabric and mesh underarms. The prints are like artwork and made with high tech sun protection, menthol cooling technology. Fast drying, wicking, UPF 50+ and antimicrobial fabric.
Sunday Golf Loma Bag: A high quality featherweight golf bag to carry four to six clubs needed for play around the greens. Attached to a regular bag, it's grab and go as she heads to her ball! She is less likely to leave clubs behind around the greens!
Women's Heated Golf Vest by Ororo: Lightweight, machine washable vest is water and wind resistant. A battery charge provides 10 hours of heat in both the collar and upper torso on low setting and six hours on Medium. Even Southern California gets cold in the winter!
Luxury Golf Shoes: These brands have styles to put some strut in her game.
I hope these ideas spur your gifting creativity. There's nothing better than the delighted reaction of a great gift opened!