This Caribbean Island Golf Course is an Experience Like No Other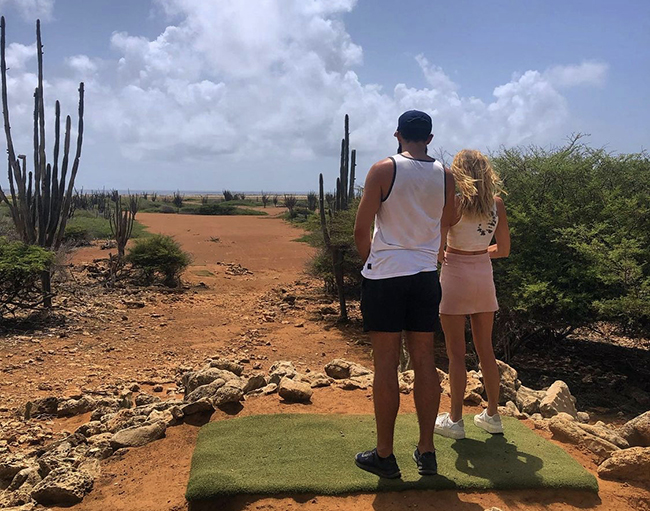 When you think of a golf course, what comes to mind are likely long, lush green fairways, manicured greens, tall trees that present a challenge, and hopefully rough that isn't too tough.
And that makes sense – that's what 99% of golf courses look like.
However, if you're looking to experience that 1% of golf courses that provide a unique experience, we've found just the place. On the small Caribbean island, Bonaire sits a golf course that isn't anything like most golf courses.
This golf course is free of green fairways, tall trees, and manageable rough, and in fact, has no grass at all.
Yes, you read that right. Piedra So is the only golf course on the island of Bonaire and it is a place you don't want to miss.
Piedra So is an 18-hole, par 72 golf course that was completed back in 2004. The name Piedra So means "Just Stones" in the local language, Papiamento.
The golf course has been maintained over the last 15+ years to keep the original grounds in great condition but has gotten some upgrades along the way. The recent addition of putting greens to the front 9 has given Piedra So players a bit more of a taste of traditional golf, and there is more to come with the future addition of putting greens to the back 9 holes as well.
And the clubhouse now has a pro shop fashioned out of a shipping container where you can buy Piedra So merch to commemorate this unique experience.
You are likely asking the question: If the course doesn't have any grass on it, then what does it have? And the answer is dirt, or officially called "browns."
Everything but the putting greens on the front 9 of Piedra So consists of the local vegetation and browns, which are made from the soil. And though there is weekly maintenance done to upkeep the quality of the browns, it is a major focus of the golf course to keep it as natural as possible and not harm any of the vegetation that thrives here.
The goal was to create an ecological golf course, and Piedra So has succeeded in doing so.
Though this golf course sits on the coast of a Caribbean island, you will be surprised to find that the eastern coast of Bonaire is a desert. So, the trees here are not the palm trees you may be expecting, but rather cacti, and lots of them.
There are six different varieties of cacti on this island, and one of them is used to make the famous liquors of the local Cadushy Distillery, which taste great on and off the course.
However, playing golf with the cacti can present quite the challenge. If you lose a ball in one of them, you probably aren't going to get it back. So, when playing Piedra So, you'll want to have your game face on.
In addition to the unique terrain of this golf course, you will also experience some unique wildlife here. Wild donkeys wander this course and are nicknamed the greenkeepers of Piedro So, so be prepared to spot a few while playing. However, they are quite timid, so chances are good they won't let you get too close.
In addition to donkeys, you'll also spot goats that love snacking on the vegetation here.
The course is open to the public, but Bonaire also has the option to become a member. The members here are dedicated to the course and love the unique playing opportunity it presents them.
However, you may be hard-pressed to find someone who loves Piedra So as much as the course's PGA pro, Florus Josten. He works to maintain the promise that the animals and the vegetation here are the top priority and that golfers enjoy their rounds without sacrificing the health of Bonaire's natural beauty.
Piedra So presents a one-of-a-kind opportunity to experience golf unlike anywhere else in the world. And the island offers countless other unique adventures that make Bonaire a place that should be at the top of your travel wish list.
Though known for its scuba diving, Bonaire offers all sorts of adventures to travels who are willing to get off the beaten path and have some fun.
You can learn how to windsurf at Jibe City, the best place in the entire world to learn how to master this sport thanks to its constant on-shore wind and warm water that means no need for wetsuits.
You can check out the salt pans and pyramids for some incredible photos and learn how salt from this region is made.
You can hop on a water taxi and embark on a day trip to Klein Bonaire for some secluded snorkeling and relaxing beach time.
You can taste some of the local food, the most notable of which are goat stew and iguana soup at favorite local spots Posada Para Mira and Divi Divi Bar.
You can imbibe in craft cocktails that will blow your mind at Tiki & Co.
You can explore the underground world of Bonaire with a cave tour that will truly open your eyes to what exists beneath your feet.
There is so much more to explore than meets the eye of this small Caribbean island, and we hope you have the opportunity to visit so that you can see for yourself the magic of Bonaire.