What's Your Sign? Here's Your Drink!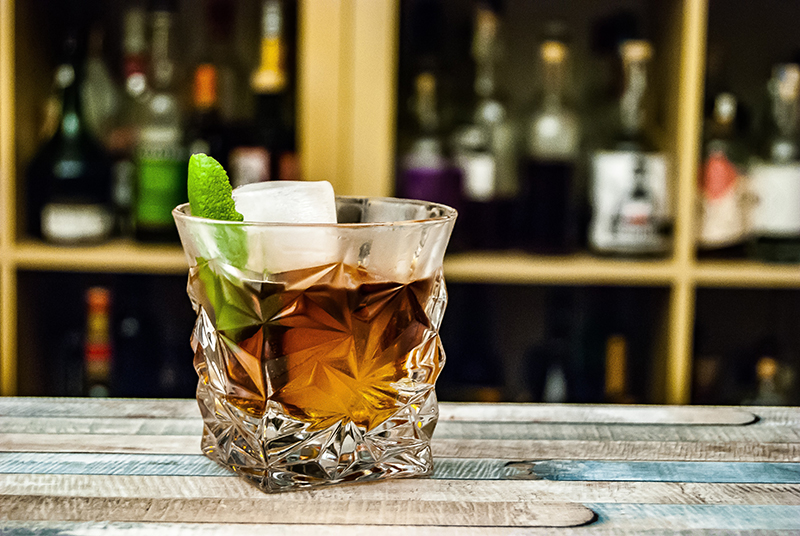 We at FORE Her love a good cocktail. Whether you're a gin woman, a vodka woman, or a whiskey woman, there is some concoction out there to make your heart happy and give you that perfect just-buzzed feeling. But did you know that there are cocktails that are better matched for you than others? Yes, some cocktails fit your star sign better than others.
So to help you take your cocktail game to the next level, we are here to share the cocktail recipes for each star sign so that you can tap into your true self while imbibing and enjoy to the maximum. If you don't know your star sign, don't worry. We've placed the dates for each sign below so you can find out what you are, and drink accordingly.

Aries | Old Fashioned
March 21 - April 19
Did you know that the Old Fashioned is the most popular cocktail in the world? That's why Aries love it so much – because Aries also like to be number one. The boldness of this drink speaks to the outgoing personality of this sign and the citrus in this drink matches the energetic sign of an Aries.
Ingredients:
½ oz Demerara syrup
3 dashes Angostura bitters
2 dashes orange bitters
Orange peel
What to do:
Add ingredients to a mixing glass
Add ice to mixing glass and serving glass
Stir ingredients for 30-40 seconds
Strain into serving glass
Garnish with orange peel

Taurus | French 75
April 20 - May 20
Taureans enjoy the finer things in life and love to sip and savor every moment. So, for them, we have chosen the French 75. This is a classic with a twist that is simple, yet exquisite (and expensive.)
Ingredients:
2 oz London dry gin
¾ oz fresh lemon juice
¾ oz simple syrup 2 oz
Champagne Spiral lemon twist for garnish
What to do:
Combine gin, lemon juice, and simple syrup in a cocktail shaker
Fill shaker with ice, cover, and shake for about 20 seconds
Strain cocktail through a strainer into a large flute
Top with Champagne
Garnish with a lemon twist and serve

Gemini | Summer Spritz
May 21 - June 20
Geminis are known for being indecisive so it's better to not force decisions where they aren't entirely necessary, like cocktails. Instead of trying to craft the ideal drink, Geminis are left better to the devices of someone else to decide for them. Something like a summer spritz is a safe way to go – you know it will be tasty but you don't have to make all the decisions of what goes in it.
Ingredients:
½ grapefruit
4 oz dry
Prosecco
1/12 oz fresh grapefruit juice
½ oz Aperol ½ oz vodka
Club soda Grapefruit peel garnish
What to do:
Place the spiral garnish in a rocks glass or large wine glass
Fill with ice and add Prosecco, grapefruit juice, Aperol, vodka, and a splash of club soda
Gently stir together and serve
Cancer | Sangria
June 21 - July 22
Cancers love being at home and few things speak drinking at home quite like a big pitcher of sangria. This drink is meant to be shared with friends or family in a comfortable space, and that is something that Cancers love to do.
Ingredients (for a pitcher):
2 bottles Spanish red wine
½ cup brandy
2 oranges, one juiced and one diced
1 green apple, diced
1 lemon, diced 1 cinnamon stick
Simple syrup or maple syrup
Optional: sparkling water
What to do:
Add the wine, brandy, orange juice, diced orange, diced apple, diced lemon, and cinnamon stick to a large pitcher
Stir to combine
Taste and add in a bit of sweetener
Cover and refrigerate for at least 30 minutes or up to 4 hours
Serve the sangria over ice, topping each glass off with a splash of sparkling water

Leo | Espresso Martini
July 23 - August 22
Leos are known for their extravagance so they need a drink that matches that. An espresso martini is quite extravagant and also matches the high energy of this star sign that helps move them to be the center of attention (which we all know they love.)
Ingredients:
1 oz espresso coffee
½ oz Kahlua
What to do:
Fill a cocktail shaker with ice and vodka, espresso, and Kahlua
Shake vigorously until ingredients are combined and chilled
Strain into a martini glass until froth forms on the top
Serve

Virgo | Gin & Tonic
August 23 - September 22
Virgos tend to be straightforward and simple (in a good way,) so we think the cocktail for them is a classic gin and tonic. This drink is a no-nonsense drink that gives you exactly what you think you're going to get, and that's a safe bet for a Virgo.
Ingredients:
1 ½ oz gin
5 oz tonic water
What to do:
Fill a cop glass with lots of ice and pour gin over it
Top with tonic water
Garnish and serve

Libra | Mimosa
September 23 - October 22
The sign of a Libra is scales, which means they are a balanced sign that is into symmetry. Thus, it makes sense for them to also like a balanced cocktail. If you make mimosas the want they are intended, they are equal parts orange juice and equal parts Champagne, making them the perfect balanced drink for Libras.
Ingredients:
Champagne or sparkling wine
Orange juice
What to do:
Pour the Champagne or sparkling wine into a flute, filling about half full
Pour the orange juice on top, filling the glass
Serve

Scorpio | Margarita
October 23 - November 21
If there is one thing that Scorpios are known for it is their lack of showing emotion. Don't get us wrong – they are emotional beings but don't always show it. Instead, they prefer to hide in mystery. That's why we think a margarita is a perfect fit for them. The tequila is in there, but you don't always taste it.
Ingredients:
2 oz blanco tequila
Juice of 1 lime
½ oz triple sec
Salt for rim
Lime wedge for garnish
What to do:
Fill a cocktail shaker with ice and add tequila, lime juice, and triple sec
Shake
Pour with the ice into a highball or footed glass
Garnish with lime and serve

Sagittarius | Negroni
November 22 - December 21
Sagittariuses have a lot of interest in other cultures, so a drink that takes them outside of their own culture is a good one to go with. We chose a Negroni because this drink originates from Italy and also represents taking risks, which is something that Sagittariuses love to do.
Ingredients:
1 oz gin
1 oz Campari
1 oz sweet vermouth
Orange garnish
What to do:
Fill a mixing glass or cocktail shaker with ice and add gin, Campari, and sweet vermouth
Using a cocktail spoon, give the drink a few quick turns
Strain into a tumbler filled with large ice cubes
Garnish with orange twice, slice or peel, and serve

Capricorn | Martini
December 22 - January 19
Capricorns are known for being straightforward. Whether you like it or not, this sign is straight to the point and transparent, so it makes sense that their drink would also be to the point and not have any unnecessary fluff. That's why the drink of choice for a Capricorn is a martini.
Ingredients:
Ice
2 ½ oz vodka
½ oz dry vermouth
Green olive or strip of lemon zest for garnish
What to do for shaken:
Freeze martini glass for 15 minutes
Fill a cocktail shaker with ice
Add the vodka and vermouth and shake until chilled
Strain into a martini glass
Garnish and serve
What to do for stirred:
Pour vodka and vermouth into a mixing glass or cocktail shaker filled with ice
Stir vigorously for about 20 seconds
Strain into a martini glass
Garnish and serve

Aquarius | Caipirinha
January 20 - February 18
Those who are born under the Aquarius star sign are known to be on the more free-spirited side which is why we think they will love a cocktail that is tasty but has some oomph to it, like a Caipirinha. It is the perfect mix of sweet and sour, which Aquariuses can sometimes be.
Ingredients:
2 tsp brown sugar
½ lime, cut into quarters
1 oz cachaca
What to do:
Add 2 quarters of lime into a glass with 2 tsp sugar
Muddle together using a muddler, wooden spoon, or small rolling pin
Add ice
Pour cachaca over
Stir and serve

Pisces | Absinthe
February 19 - March 20
As the last constellation of the Zodiac, Pisces are wise. Which allows them also to be a bit more dreamy than the other signs. When it comes to drinks, Pisces love something otherworldly, and for that we choose absinthe. This magical drink will take them to a new place.
Ingredients:
1 ½ oz absinthe
4 ½ oz chilled Champagne
What to do:
Pour the absinthe in a coupe glass
Top slowly with Champagne
Share with us the drinks you try, and whether you feel it's a fit for your personality! And as always, drink responsibly.