SKORZIE: High-End Golf Apparel at Discount Prices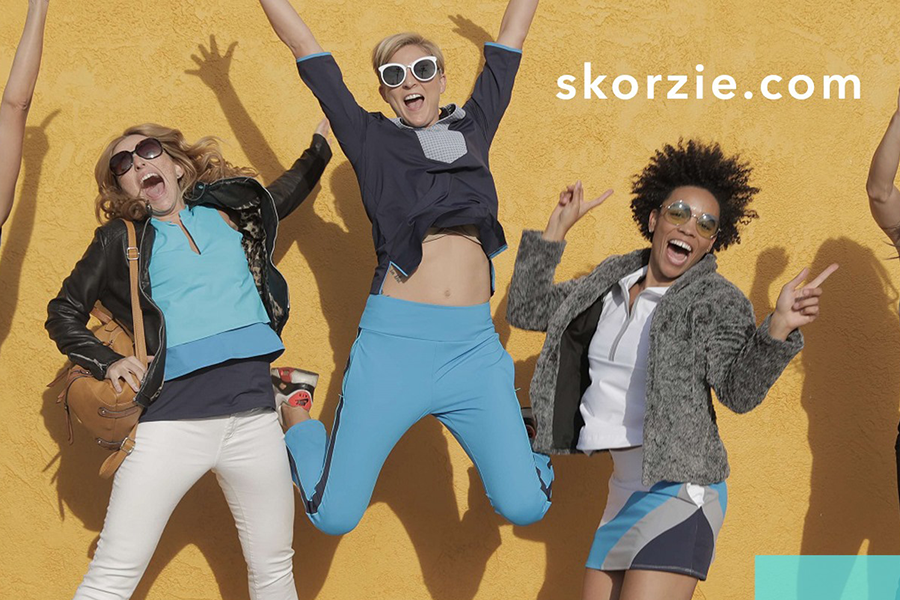 How many of us have clothes in our closets that we don't wear anymore but they are too nice to just give away? *raises hand*
A few years ago this widely shared dilemma among women set in motion a "fashion swap" between a group of girlfriends, which sparked the beginning of a new chapter for Eileen Klink's career path even though she didn't immediately realize it.
In the inaugural fashion swap, everyone brought their favorite pieces of clothing that hadn't made it into their rotation for a while. The garments were laid out in the middle of the host's living room and the women "shopped" each other's discards over wine and potluck style appetizers. Everyone walked away with newfound treasures. These fashion swaps became so popular that the group quickly grew. And when golf attire started making it into the mix, it all became next level.
Women's golf fashion has taken a major upswing the past number of years. Golf clothes used to simply be smaller sizes of what the men wore. As a matter of fact, I think women were more stylish on the golf course when the game first started than in the times that followed.
But more women are flocking to the game than ever before (YAY!) and they expect to be able to do it in style. More good news? Performance is now being highlighted as well. Fabrics, cuts, movement, etc. play an important role in women's golf fashion. However, because of this, most golf clothes for women don't come cheap. And by cheap I mean inexpensive….because there is nothing "cheap" about these pieces. The majority of what you can now find in most golf shops is better quality than ever before. But the price shows it.
Don't get me wrong. I'm not opposed to spending a little extra for high quality. But it can limit the breadth of one's wardrobe if we are spending "a little extra" every time a new golf outfit is purchased.
Enter Eileen Klink and her brainchild, SKORZIE, which was conceived during those fashion swaps with her like-minded friends.
Eileen has always been inspired by busy women, including working women, stay-at-home mothers, moms who have a job outside the home, etc. who work hard for each paycheck and want to get the most out of their dollar.
There is a great satisfaction that comes from snagging a whopping deal on a new outfit at well below retail, which is what makes SKORZIE so popular. Eileen compares her online store and warehouse to a Nordstrom Rack for golf clothes. You will find fun, boutique brands that are not offered just anywhere. Much of her inventory comes from samples released to her, even before the collections hit stores. Not only do you find limited runs of high-end lines, but prices are a fraction of the retail cost. There is a consignment option as well, which traces back to her memories of fashion swaps with her girlfriends over cocktails and laughs.
SKORZIE isn't limited to golf clothes, either. Nope. You'll find active wear and attire for racquet sports as well. If you haven't yet joined the online gang, you are welcome to visit the warehouse in person, which is in Escondido and open Monday thru Friday from 10:00am – 4:00pm. And SKORZIE has big plans, too. You'll want to keep up with them to watch it all unfold.