Preparing for Stanford in a Pandemic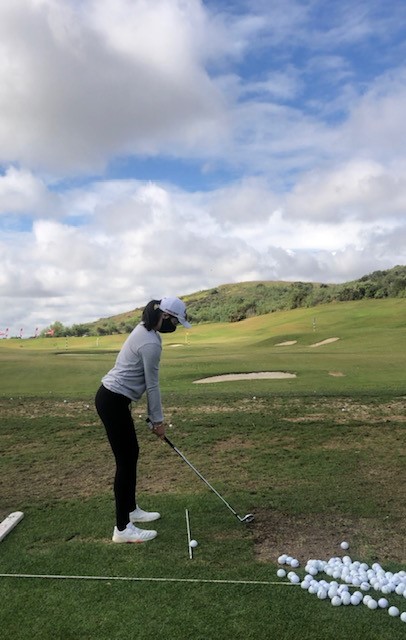 Rose Zhang has found there's plenty to be thankful for during the COVID-19 pandemic, even though it's changed the golfer's routine. Zhang learned she was admitted into Stanford, where she'll play golf starting in 2021. She turned 17 on May 24 and celebrated with family via dinner at home and chocolate raspberry cake. She also played a round of golf at Arrowood GC, and being back on the course was certainly a gift.
She was able to work on her game, albeit differently, spending the first two months of quarantine hitting balls in the garage of her family's Irvine home. It wasn't the driving range, but it was a setup that worked for Zhang, the eighth-best female amateur in the World Amateur Golf Rankings.
"I've created this habit of practicing every single day on the course and being in quarantine was a lot more different," Zhang said. "It's probably the first time hitting in a net regularly. I've really changed my lifestyle for the first two months. When I went on the course (in May), it made realize golf was a lot more fun. And actually being able to see where the ball goes and to adjust my swing, and my feeling toward it, it's just a lot more different."
Golfers are creatures of habit, and Zhang was able to keep her routine of practice and schoolwork - done online - at the same time of day while she finished her junior year at Pacific Academy in Irvine. There were plenty of positives for Zhang to find during a strange off-season that saw so many tournaments postponed or canceled.
"Overall, I just looked at it from a positive aspect where I can rest my body," Zhang said. "I might be able to get some fitness in and be able to do things I always wanted to do, or just relax in general. I also got to spend more time with my family. That really helped because we were all bonding.
Zhang lives with her mom, Li Cai; dad, Haibin; and grandmother, Zhongrong Chen. Her brother and sister-in-law live in the same neighborhood.
"I've gained a lot out of this quarantine in general, not just golf," Zhang said. "Balancing out life in general. Sometimes we're so wrapped up in what we're doing we tend to forget what it was like when we weren't doing anything. It's just a different experience."
Zhang is fluent in Mandarin and has had extra time to watch Chinese variety shows on YouTube and Asian Web sites. She's read "The Catcher in the Rye" and "The Martian Chronicles."
And for the last month or so, she's been able to play golf.
Her home course is Oak Creek Golf Club in Irvine but it's been closed so she's been playing at El Niguel, South Hills and Tustin Ranch among others. She's played with friends in socially distant groups and she wears a mask while she plays. Her grandmother is 78 and in a vulnerable group when it comes to Coronavirus.
"It's been a little different since I wear masks on the course as well," Zhang said. "I know a lot of people don't. I think it's better to be cautious."
Everyone plays with the flagstick in the hole, and some courses have checked her temperature. She's walked for all of her rounds instead of using a golf cart.
"It's been nice because everyone is trying to get some exercise coming out of this quarantine," Zhang said.
Zhang, last year's AJGA Rolex Player of the Year, wasn't able to putt during stay-home orders, so she did practice swings with an alignment stick. She's still trying to get back into her putting rhythm.
She has plenty of time before she steps onto campus in Palo Alto. Zhang received a congratulatory call from Stanford coach Anne Walker during quarantine that she had been admitted to Stanford. She also received an e-mail from the admissions office. It was a relief.
"After I got the phone call I was like, 'Wow, I got in. I didn't get rejected,' " Zhang said with a laugh.
She had already verbally committed to play golf there before the pandemic, and she'll sign her letter-of-intent in the fall.
Before that there's plenty of tournaments on her schedule, but with the COVID-19 pandemic, it's unclear if they'll go on as planned. There's the U.S. Women's Amateur Aug. 2-9 at Woodmont CC in Maryland or the Evian Championship Aug. 6-9 in France as two possible tournaments she could play in after being invited as an amateur by Evian. She's scheduled to play in the ANA Inspiration at Mission Hills CC, which was postponed until Sept. 10-13. It's still unclear if these events, or the Junior Ryder Cup in September in Wisconsin, or any junior tournaments will be played. She's hopeful, but she's also unsure if and how she'll travel, something she used to do all the time.
For now, she has a special round of golf with her dad scheduled on Father's Day.
"It'll be like getting a breath of fresh air and just enjoying the day," Zhang said.
Pandemic or not, that's always a good day.