Local Pro: Angela "Buzz" Buzminski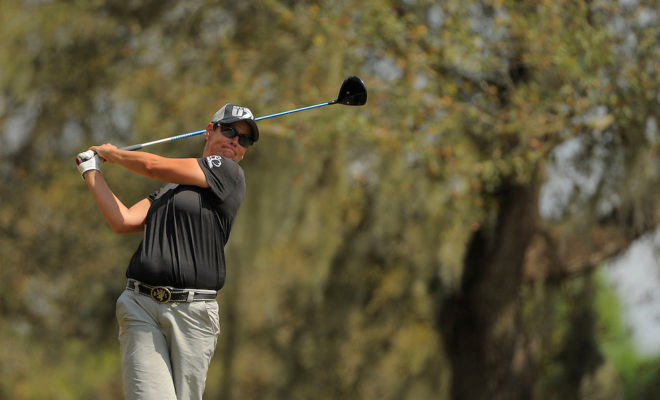 With Angela Buzminski of Woodland Hills CC, you get so much more than just a golf lesson. The 47-year-old assistant pro is a former LPGA and Futures Tour player and hockey player. She's made so many friends through golf, which include country star Luke Bryan. He even calls her by her nickname, "Buzz".
Buzminski has worked at WHCC since 2014 bringing fun, passion and a buzz to the country club. She grew up in Oshawa, Ontario and her Canadian accent is discernible. She's left-handed, so clients can watch her swing through a mirror-like image. She's played golf with Mark Messier and Wayne Gretzky.
She played in 44 LPGA Tour events, her career cut short by ankle and elbow surgeries, along with immigration and sponsor issues. But golf has given her so much.
"I have created so many friendships from staying with host families," Buzminski said. "That is one of the best parts of our tour."
One of her most treasured friends is country music executive Steve Hodges and his family in Tennessee. Her best LPGA finish was a tie for 20th at the 2003 Wendy's Championship for Children at Tartan Field (Ohio), which gave her a $11,992 paycheck.
"That was a good week," Buzminski said. "It was really hot though. I got really sick. I was dehydrated because I didn't drink enough water. When I got done I was staying with my host family having dinner after and I thought I was going to keel over."
She played in the U.S. Women's Open and several majors.
"I remember the first U.S. Open I played and it was, 'Woah, look all those people.' That was 1995 at The Broadmoor. I missed the cut every time I payed a major. The closest I came was at Pine Needles. I missed the cut on the number," Buzminski said. "One person was left on the golf course. I was sitting next to Laurie Davies at the Pine Crest Inn. (The final player) could make birdie, and we'd still get in. She holes out from the fairway. I don't remember who it was. Laura Davies said, 'Bullets! Everyone gets a round on me.' "
Buzminski, who played golf at Indiana University, is making a career now of helping others with their game. If she's not at WHCC on the driving range, you can find her in a volunteer assistant golf coaching position at Cal State Northridge for the women's golf team.
And if any members had any doubts about taking lessons from a female, that hesitation was quickly gone when they saw her swing.
"It's finding something that clicks with somebody," Buzminski said. "You see a light go on in their head, and they'll say, 'I totally get it now.' That's fun."
Buzminski is not done playing either. She's eligible to play on the women's senior circuit, The Legends Tour (you have to be 45 years old to be eligible).
Things are extra busy at the country club with events this holiday season, so she'll have to wait until the new year to try to qualify for events. Meanwhile, she's in the middle of PGA Business School, an apprentice if you will, to become a Class A PGA Professional.
Her off-season goals are also admirable. She'd like to sneak in a hockey game or two and watch her beloved Toronto Maple Leafs when they come to town. Oh, and she also wouldn't mind playing Riviera CC.