Linda Small's Impact Is Anything But…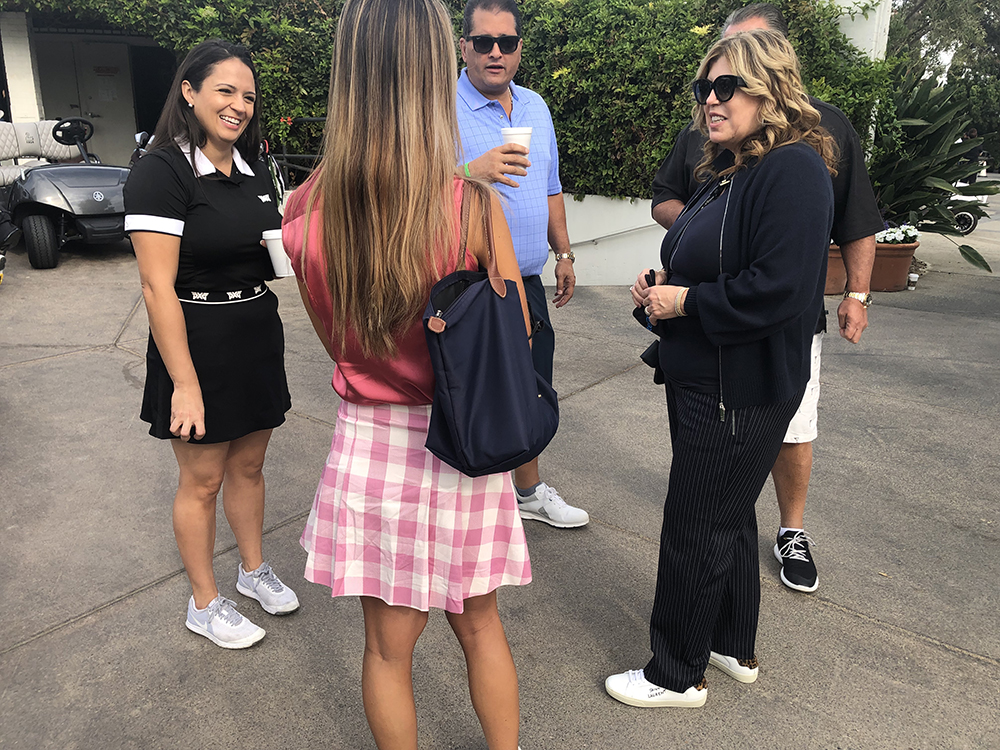 Linda Small (black shirt, on the right) was doing what she does best running the 14th Annual George Lopez Celebrity Golf Classic at Lakeside Golf Club. She was smiling, running around introducing folks - she doesn't forget a name - putting out fires and making sure everyone was comfortable, from the mariachi singers that belted out lovely tunes on a Monday morning to celebrities like comedian D.L. Hughley, Doors guitarist Robbie Krieger and boxer Oscar De La Hoya on Oct. 4.
Even when she took a quick break to the go to the bathroom, her phone was still ringing. Event day stops for no one.
But this year was different than any other.
Small, the executive director of the George Lopez Foundation, had a little more on her mind than usual. A week after the tournament, she was scheduled to have TAVR surgery, a heart procedure to replace her aortic valve. She has a bicuspid aortic valve, a condition she's had since birth.
She delayed the procedure for a bit, with her doctor's permission of course, so that she could run the annual golf tournament that is such a big fundraiser for the George Lopez Foundation, which services underprivileged children, adults and military families, in addition to creating awareness about kidney disease and organ donation.
"This tournament means a lot to me," Small said. "It makes a difference and we're trying to feel some normalcy."
All players and vendors had to be vaccinated or show a negative COVID test upon entry. Safety is important to Small, but especially given her upcoming procedure.
There was no tournament in 2020 because of the COVID-19 pandemic, so Small wanted to ensure this one was like any other. The celebrities, tricked out golf carts, mariachi band, margaritas and more always make this tournament unique. And with Lopez's debut of his new cannabis line Chingon, this is certainly unlike any button-up country club tournament.
Lopez, who had a kidney transplant in 2005, is so fond of Small and all she does for the foundation.
"All the kids get help and there's all the things that happen because of this," Lopez told the SCGA. "The toys we do at my elementary school or finding organs for people who need them. It's my name but she's everything about this tournament and this foundation. To even have the guts to go up and ring somebody's bell at their house when they're recovering from a transplant and she probably stayed in there for three hours talking to us. That was the day. If she didn't ring that bell and bring that card that all those people signed we wouldn't be here. It's not the name. Whatever foundation. It's all the parts that are great. When you have great friends who show up. It would hurt a little bit if everybody didn't show up, for the (fundraising) number at the end of the day. When they show up, it puts everything in perspective that I didn't have growing up, that people matter. And people around you matter and having a support system in place matters."
And having Small around has been huge in Lopez's mission to help others.
When Small was the director for the National Kidney Foundation, she went to Lopez's house with that card that had at least 500 signatures on it with well wishes for Lopez. She showed up unannounced. Lopez initially said he didn't want to be the "poster child" for kidney disease. But after talking to Small, he realized he had a big stage to help make a difference.
"I left the kidney foundation to come here and make a difference," Small said.
Consider it done.
This year's new presenting sponsor of the tournament was Natera, a genetic testing company that focuses on organ health, oncology and women's health. There were dozens of sponsors, which speaks to the friendships and mission of the foundation.
There was a concert and dinner the night before the golf, and another dinner at Lakeside after the tournament.
For years, Small had always been so focused on event planning around golf but never golf itself. She recently started playing and now loves it. She'll get back to swinging clubs soon.
"It's such a bummer I can't play. I took up golf but can't do anything until after my surgery and I'm recovered," Small said.
As for Small's procedure on Oct. 12, Lopez will be there for her.
"I will be waiting to hear she's all good and feeling better and repaired. And I'll go ring her bell and see how she likes it," Lopez said with that hearty laugh. "She's just awesome."