Lily Morua: The SCGA Junior That Caught the Eye of Tiger Woods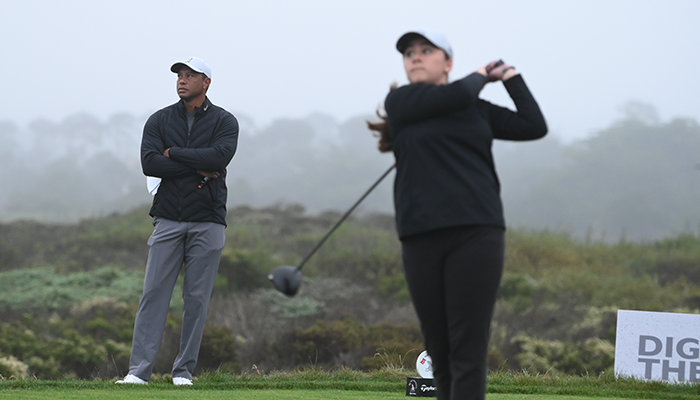 Lily Morua has really blossomed as a student athlete, and she has her golf career to credit for much of that.
From picking up her first club as a toddler, to playing in SCGA Junior events to having Tiger Woods call her by name, it's been a wonderful journey. And it's just the beginning.
The 15-year-old Morua, who lives in Gardena, got her first tournament experience through SCGA Junior.
"I started doing events with them when I was around 8 or 9 years old. Maybe younger than that," Morua said in an interview with the SCGA. "The main thing I remember from around that age was getting lessons from Coach Teresa (Thornton). We would go to Los Amigos Golf Course and at first we started in group lessons. After that, my brother (Brendan) and I went to one-on-one lessons with her. She helped a lot with a strong foundation for our swings. We played in some SCGA Junior tournaments at Don Knabe."
Then, it was off to programs created through Woods' TGR Foundation. The TGR Learning Lab recently underwent a renovation complete with new technology and programs, and it was unveiled in October. Morua and her family attended the event. Some after-school courses include cybersecurity, structural engineering, food chemistry and comparative zoology. Cool stuff.
Morua and her dad, Alejandro, heard about the TGR programs and knew someone that worked there. After a conversation and some forms, she was accepted into the program.
"After a while I got good enough to get moved up to the player development program. In 2019, I joined the TGR fall travel golf team," Morua said. "It was really fun and played a lot of different courses. In the pandemic, everything got shut down but I still did some virtual classes with them."
The Gardena resident traveled all around California and played golf courses and visited cities, learning and growing with each round.
But the grand event came in October when Morua was one of 60 participants who got to play in the inaugural TGR JR Invitational presented by TaylorMade at Pebble Beach last year.
"I was so excited and surprised I got selected," Morua said. "It's a very big tournament and very important. I've played in many tournaments but never any as special as this. The facility was amazing and the setup was great. It was based on the kids. The menu for the dinner was the same thing that was served at Tiger's Masters."
Morua and others got to dine on burgers, chicken tenders, sushi and so much more, including a sundae bar.
Oh, and she won her age division, 13-15 years. She won her final match at Spanish Bay.
"The first hole is something I'll never forget with Tiger announcing my name," Morua said. "When we walking the fairway, it still didn't hit me. The first hole was very foggy. You could barely see where ball went. The second shot on the par 5, 'wow. I got it on the green. I just did that. Just get it close to the green and you'll be fine.' I got it on the green and he announced my name and I got an eagle. It was a pretty great start to my day."
Morua is a student at Notre Dame in Sherman Oaks and she'd like to major in bio chemistry in college and play golf. Her dream schools are Notre Dame, Penn State and Boston College.
"Golf has given her the opportunity to visit places and participate in events and activities that otherwise she probably wouldn't have if she wasn't playing golf," Alejandro Morua said. "As a comparison, Lily played lacrosse for several years. She was pretty good. She got invited to elite places but she never got invited to participate in real cool experiences."