Lake Tahoe: My Vote For The Eighth Wonder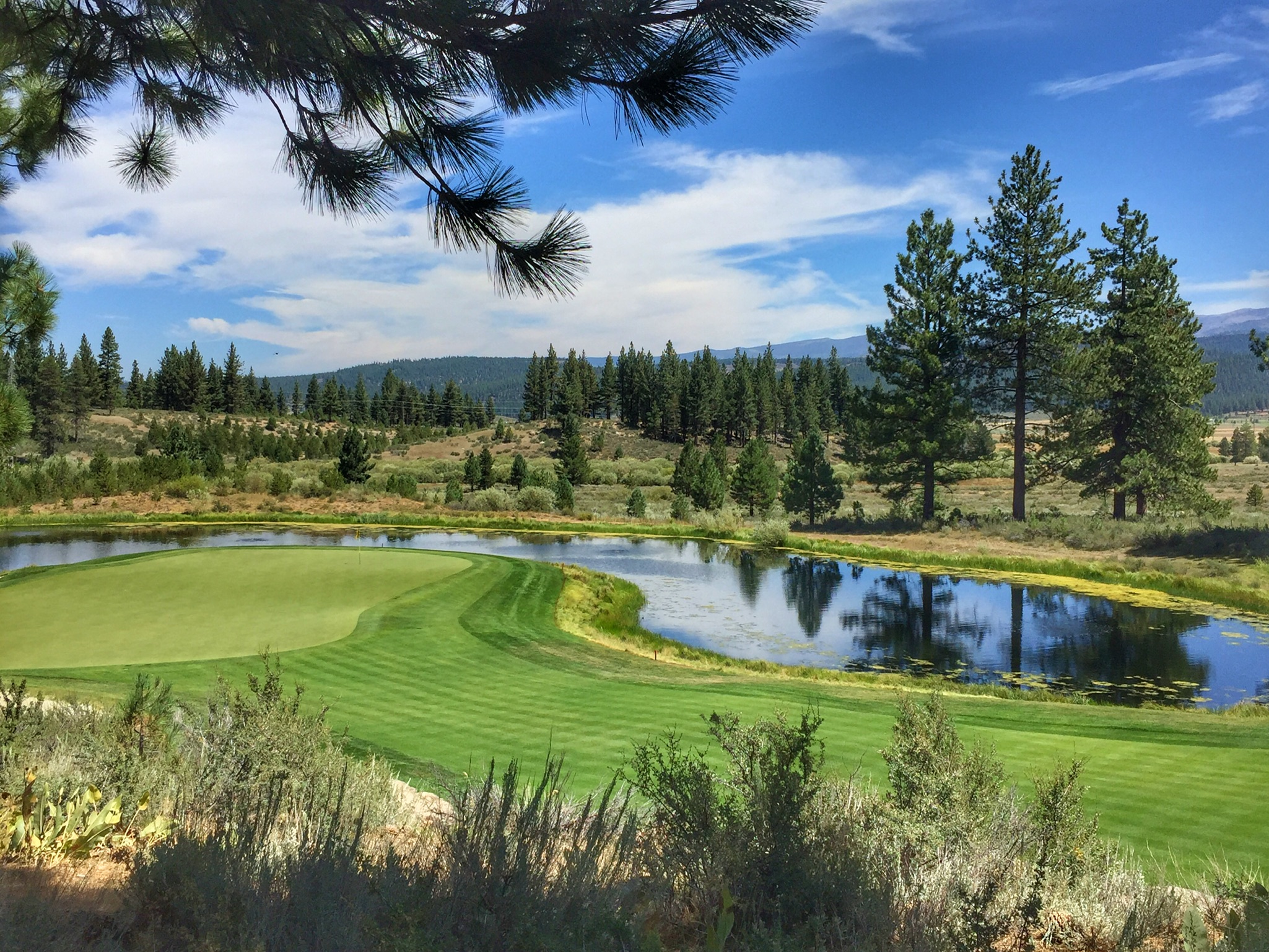 Growing up in San Diego I hadn't ventured up to the Lake Tahoe area until I was in my 30's, but that was to ski. Fast forward another decade to when I got married to my husband, who is from the San Francisco Bay area, and I made my first summer trip to the lake. I was immediately blown away by the stunning beauty, millions of pine trees and the variety of outdoor activities available. The region feels like a combination national park and Disneyland to me.
When first developed, Lake Tahoe was known for its winter sports, and even hosted the 1960 Winter Olympics. Over time, golf has grown in popularity and today Tahoe offers one of the better recognized golf experiences in Northern California. Here is some of why I so highly recommend spending a few days of your summer in Lake Tahoe.
THE LAKE
By 9:30 a.m. we're usually cruising along the shoreline in a speedboat. It's a great way to see the amazing lake-front homes and watch the paddle boarders and kayakers pass by. By noon we're hungry and we pull up to the dock at either Gar Woods, Jake's or West Shore Cafe, each with delicious menus and full bar options. If we have out-of-town guests with us we'll make a point to dine at Gar Woods to sip on their famous Wet Woody slushy cocktails (with very risqué names).
All of these restaurants have outdoor deck seating, so even if you pull up in a car the old fashioned way, you'll still get to enjoy the beautiful lake. There are also numerous places that reasonably rent boats so you can get the full experience.
FLOATING DOWN THE RIVER
If you want some "veg time" you must try this! At Truckee River Rafting, simply grab an oar and climb aboard one of their small rafts with your friends. We bring a few canned drinks and tie them up to our raft so they can float down the river with us. It takes two to four hours to make your way down the river where there are shuttles waiting to bring you back to your car.
HIKING
One of the most challenging hikes I've done in the area is the Shirley Lake Trail at Squaw Valley. It's 1800 vertical feet and we have to scramble up some boulders during part of it, but the views up top are worth it. 99 percent of hikers take the tram back down, which also offers an amazing view. If you're not quite up for that big hike yet, you can take the tram up to the top and back down. Be sure and visit the Olympic Museum if you can peel your eyes away from the stunning views.
A more gentle alternative is the 400 foot elevation change Vikingsholm Trail overlooking Emerald Bay. Vikingsholm Castle is an authentic replica of a viking castle and part of an underwater California state park and tours of the castle are offered seven days a week! Dozens more hikes of all levels can be found on LakeTahoe.com
Keep in mind that after hiking the trails your shoes, socks and ankles will be covered in dust, so it's a good idea to bring a second pair of walking or tennis shoes and keep the dirty ones in a bag for repeated use until you can get them into a washing machine!
WHERE TO STAY
The Hyatt Regency is my top pick due to the lake-front location, proximity to great hikes (including the 10,778 foot peak at Mount Rose, which you can grab a free shuttle to) golf courses, and one of the best restaurants in the area, the Lone Eagle Grille. The water sports and various children's activities are a great way to keep the kids happy while you tee it up or relax on their private beach with a good book and refreshing cocktail.
EXPECTING YOUR BALL TO GO FARTHER?
When friends come up to play for the first time they ask if the rumors of the golf ball going farther are true. Many of my male friends happily confirm this fun benefit of the thin mountain air, but since I wasn't seeing those same results, I asked Ashley Wood, PGA head golf professional at Incline Village Mountain GC (the highest elevation course in the area) to clear it up.
She said you can expect to gain about two yards per 1,000 feet above sea level. However, "The ball has to be high in the air and going about 80 mph for the thin effect." Tony Neadeau, head golf professional at Martis Camp told me that players with a high trajectory can expect to see 10-12 percent more distance on their drives.
One of the reasons I feel Lake Tahoe is the eighth wonder of the world is that it's truly a golf mecca. There are dozens of beautiful and challenging courses within a one hour drive, and all have something special to offer the golf enthusiast.
One of my favorite affordable spots to play is Incline Village, right on the lake. The Championship Course is a par-72, and the Mountain Course is similar to an executive course, being a par-58 complete with elevation changes. They have great happy hour events, 9 & Dines and an excellent golf fitness class every Wednesday.
I recently taught my Golf Rules Experience at Gray's Crossing, which is another favorite, in the North Lake Tahoe area. It's located in a beautiful mountain meadow. They have a terrific golf academy and PJ's Restaurant offers delicious food with a beautiful view after your round.
SUMMER CONCERTS
There is truly no better place to enjoy outdoor summer concerts than the Lake Tahoe area. Tahoe City hosts some great free concerts and historic downtown Truckee holds their fun Truckee Thursdays, which feature great bands, artisan vendors, a beer garden, food court and tons of children's activities. And don't forget that the casinos on the Nevada side of the lake have some pretty big headliners all summer long.
LAYERING UP
Whether you're golfing, hiking or boating, the summer temperatures in Lake Tahoe can go from 50 at 7 a.m. to 85 at 3 p.m., so be sure you have layers to add and subtract as needed. And I highly recommend a great sunscreen, wide-brimmed hat and some bug spray. I keep some organic bug repellent in my golf bag and backpack. I find that TerraShield by DoTerra mixed with some lavender essential oil works just as well as any of the commercial versions on the market.
THIN AIR
It's important to keep in mind that if you live at sea level, you could get altitude sickness easier than you'd imagine, even if you're not doing any strenuous activities. Be sure to drink plenty of water on your travel day getting to the area, and at least one glass of water for every glass of wine or beer you drink.
I am sure that if you decide to spend some time in Tahoe, you will come away not only amazed at the beauty of the lake and the surroundings but also impressed by the many experiences (including world class golf) that are available in the region.
Known as the Rules Diva, Marcela found that most recreational players aren't interested in reading the entire Rules of Golf book, and prefer learning by "doing." Marcela provides On-Course Rules Experiences where participants learn golf rules and strategies in real life scenarios, which helps them gain more confidence, lower their scores and have more fun. Marcela blogs on all things golf at GirlfriendsGuideToGolf.com