Karen Schmaren, Your Local Country Club Snob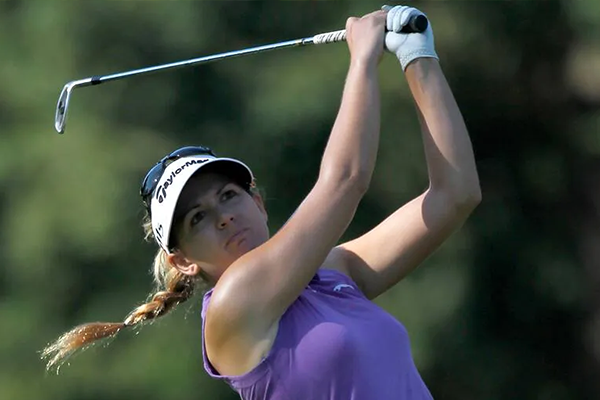 If you're on Facebook or Instagram then you've probably seen fictional country club golf snob, Karen Schmaren. Karen is the type of entitled woman that complains if the valet has not picked up her car in the first 90 seconds, calls the head golf professional when someone's cart is ten inches onto the grass on a cart-path-only hole or storms off when she gets paired with the same woman for ladies' day two weeks in a row.
These tongue-in-cheek videos keep us laughing because we've all seen this character at our own golf courses. Karen Schmaren is the creation of LPGA Tour player Sydnee Michaels, a home-grown, Temecula, Ca. girl with a background in performing arts, figure skating, dance and music.
Michaels makes the videos to represent the old stigma about country club golf, because she has seen the sport become more inclusive and relaxed over the past few years and is excited about this welcoming trend.
Michaels' father suggested she pick up a golf club at the age of 8.
"My dad predicted that women's golf would become popular by the time I became an adult and thought it would be a good sport for women in business," said Michaels. She played on the boy's golf team at Linfield Christian HS in Temecula (because there was no girls team at the time) and went on to play collegiately at UCLA. The youngest of eight children, Michaels learned and perfected her game on a driving range, not a country club.
"You don't have to belong to a country club to pick up the game," said Michaels.
Michaels started bringing her now 4-year-old daughter on Tour with her when she was just 4 months old. Their trailer brings the same toys to each city and the kids develop relationships with the same two care providers, providing consistency and stability.
She suffered a back injury in 2019 that required surgery and ended up taking almost three years off to recover and spend time with her daughter.
"During my time off, I didn't know if I was going to be healthy enough to play on Tour full time," Michaels said.
Though she was busy, she won the title of Miss Hawaii in 2019 in addition to launching The Sydnee Michaels Foundation, advocating for girls in sports and starting a golf and tennis clothing line, ISLA Sport that features sporty, youthful pieces that focus on comfort.
Michaels is now fully recovered from her back surgery and even had a top five finish last summer at the ISPS Handa World Invitational in Ireland. She will be in the field at the upcoming Palos Verdes Championship. Michaels will be wearing her own clothing line, and we're not quite sure if Karen Schmaren will approve of the skort length.