Julia Pine's Unexpected Career in Golf Has Come Full Circle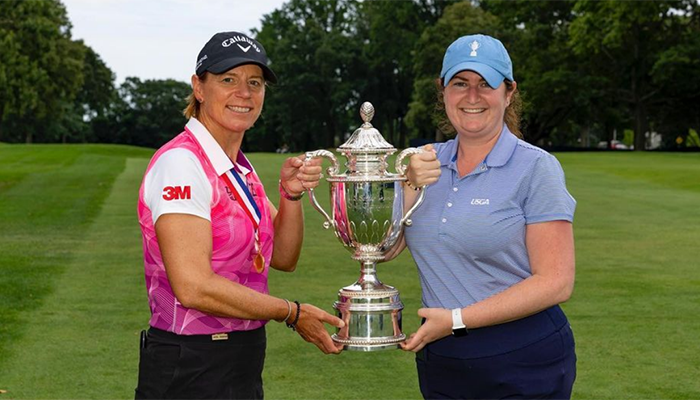 When Julia Pine returns to Los Angeles in June, her career will come full circle.
Pine worked in Los Angeles for seven years with the Southern California Golf Association (SCGA), a job she cherished but hadn't dreamed of because she never played golf.
But life takes the most interesting turns, and the 34-year-old Pine, who is in her sixth year working for the United States Golf Association (USGA), will be on site for the 2023 U.S. Open at The Los Angeles Country Club (LACC).
"It's awesome. We announce championships very far out, so when I first took the job, this one was certainly circled on my calendar," Pine said. "To be in L.A., which is still a second home, I have a lot of friends and ex-colleagues there, so to be able to be in a familiar area is great. L.A. is still a city I love, so to bring our crown jewel there is personally very satisfactory for me."
Both of her worlds are colliding. As the USGA's director of championship communications, Pine will be heavily involved at the U.S. Open, which is returning to Los Angeles for the first time in 75 years. Embracing the excitement around this historic championship, the SCGA collaborated with the USGA and LACC to create the FORE Youth: 2023 U.S. Open Community Legacy, an initiative that benefits the future of junior golf in Southern California.
Pine has always wanted to work in sports ever since her graduation from Loyola-Marymount University in 2010, but she'd always imagined team sports like basketball or baseball. She had no golf background, but applied for an internship at the SCGA. While she didn't get that internship, Frank Moore, the SCGA's director of communications & marketing, later hired her for a full-time position because she said he liked her passion for sports; knew it would translate and she could learn the golf stuff. Moore is still a mentor to this day.
"It's pretty rare in the world of golf. I'd never played golf and don't come from a golf family," Pine said.
During her time as the SCGA's assistant director of communications, one of Pine's defining moments was her creation of the FORE Her digital newsletter.
"One of the things I'm most proud of at the SCGA is FORE Her. I was editor of FORE Magazine and we had a lot of women's golf content but there were some things I felt females in golf were talking about that weren't appropriate for FORE Magazine," Pine said.
"I ended up writing a piece on this, females picking a stall at the end of the driving range because men will come by and say 'I have some tips to show you.' Some of the conversations like that felt like it had to remain in a safe space of women talking. I thought, this could live in a digital world where women could write about things and read about things that felt very female and it's tied back to their experience in golf."
And now, Pine has her second job in the industry with the USGA. In 2018, she moved to the USGA's headquarters in New Jersey. She'll be on the move again this year after an opportunity to transfer to a satellite office at Pinehurst recently opened.
"I'd kind of fallen in love with Pinehurst over the last few years," Pine said. "It's changed a lot. In my five years at the USGA, I've probably taken 20 or so trips there. The weather is a little nicer. I'm really excited about it."
Though she took some lessons in L.A. and started playing par-3 courses, playing golf hasn't appealed to Pine, but working in golf has been the best unexpected career move.
"It's a big part of my life," Pine said. "It's my job but also a passion in terms of being a fan and connecting to the game. I have not caught the golf bug. I think I've gotten to a point where I'm OK with that. I felt when I was at the SCGA that I was missing something. I'd give someone on my team an opportunity to play in a media day and it was the greatest thing of their life to be able to play Riviera. And I was thinking, I want that. But I work so many hours at golf courses it was kind of the last place I wanted to go in my free time."
Make no mistake. Pine loves golf and all the stories the sport creates.
"My passion is to grow the women's game," Pine said. "I'm in this job because I want to advance women's sports, ultimately. For me, the U.S. Women's Open is where I put as much attention as I do the U.S. Open every year. I'm really proud to be with an organization that feels the same way."