Inside the Ropes at the Palos Verdes Championship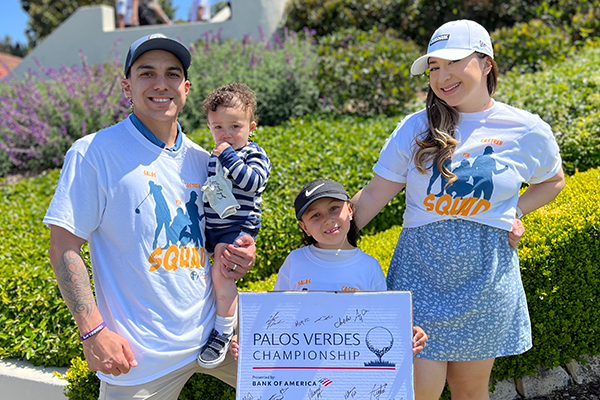 With over $19,000 raised from parking proceeds for the SCGA Junior Golf Foundation, free admission for over 160 juniors and unique opportunities for junior members to meet LPGA Tour pros, the LPGA Palos Verdes Championship was nothing short of an exciting week.
Kicking off the event, a group of SCGA Junior members participated in an exclusive meet-and-greet with LPGA Pro and recently anointed Youth on Course global ambassador, Lizette Salas.
Later that week, four SCGA Junior girls – Emma Kurata, Sophia Hernandez, Alysa Davis and Momoka Takahashi – were granted access to walk inside the ropes with their favorite LPGA Tour players.
Once the weekend field was set, they were placed with one of their three choices and made unforgettable memories.
Alysa Davis, who walked with fan-favorite Lexi Thompson, took home a new perspective on her own short game.
"Since that day I've really been trying to use Lexi's approach to putting," Davis said. "Finding a spot to aim about a foot away and rolling the ball over that instead of aiming at the hole. It has really changed the way I putt."
Across the fairways, Sophia Hernandez received an important nugget of advice from Ryann O'Toole and Albane Valenzuela.
"[We] talked about the value of continuing to play the game," Hernandez recounts. "They emphasized the importance of playing for the joy of it and keeping things fun."
All four girls expressed their gratitude for SCGA Junior and how their time in the program has prepared them for this experience.
"SCGA Junior has helped me understand golf etiquette and learn the rules of golf," Kurata said. "I was able to utilize the values of sportsmanship and respect that I've learned in my classes."