Inside Bruce Beck's Annual Breast Cancer Charity Golf Tournament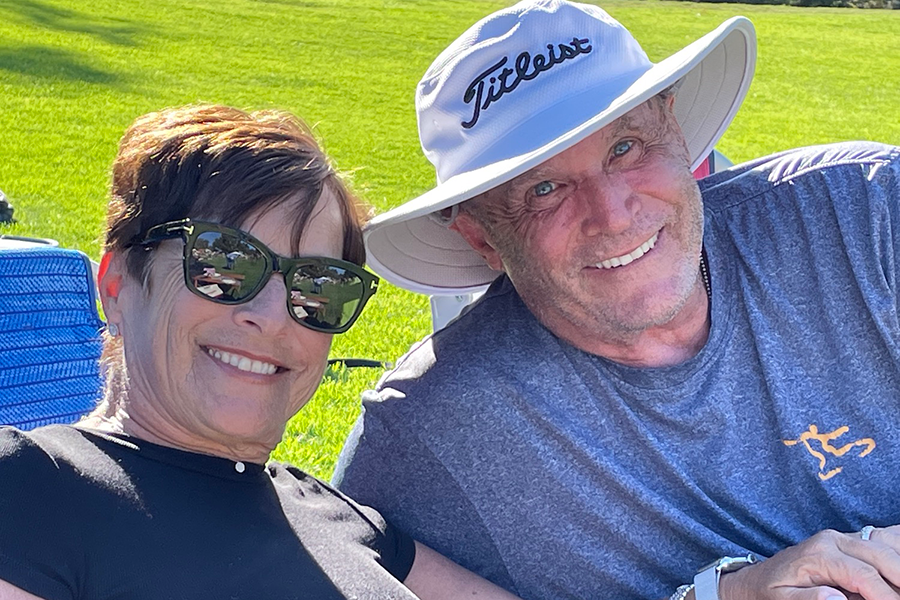 Bruce Beck knew he and his wife Robin were some of the lucky ones.
In 2020, Robin - Bruce's wife of 40 years - was diagnosed with Stage 1 breast cancer. Bruce, an Oak Park resident, said "both our knees buckled" when they heard the words breast cancer.
They quickly established a medical team and doctors gave Robin a positive prognosis. She had a lumpectomy, chemotherapy and radiation and within a year, Robin was cancer-free. She's now been cancer-free for two years.
But Bruce knew that for him, the journey wasn't over. He had to do more to help others going through what his family endured.
"I just wanted to do something," Bruce said. "Robin inspired me. She went through all this. I was expecting her to be weeping and she wasn't. I said, 'I should do something.' I have a golf background. I was the golf coach at Oak Park (High School). My son Brandon played on the amateur, collegiate and professional levels. I've put together professional golf tournaments. I've been on committees. This would be an easy thing for me to do. I don't think I should get a tremendous amount of credit for something that came pretty easily." And so Bruce started a charitable golf tournament, the Battle Against Breast Cancer at North Ranch.
Bruce found engaged partners in North Ranch CC in Westlake and the City of Hope Breast Cancer Center, the tournament's beneficiary. In just the first year, Bruce, with the help of a small committee, has raised $100,000 - with a net of at least $65,000 going to the cancer center in Pasadena. The event, Oct. 17, was expected to raise more money on day-of as well, with auction items and QR codes for donations.
Bruce, who is the president of DB&R Marketing Communications, which specializes in representing commercial real estate needs, called on his business contacts for help. It worked even better than he imagined.
"People responded incredibly. I thought getting the foursomes would be easy. Asking for money is always the hard part," Bruce said. "I can say, 'hey, come play in a golf tournament.' I was surprised at how easy a pitch it was."
Bruce wanted to write a six-figure check to the City of Hope Breast Cancer Center. The check won't quite reach that level, but it's still an impressive figure, especially for a first-time event.
"I'm disappointed. My goal was $100,000," Bruce said. "It's better than a sharp stick in the eye. They sent me a list of the cost of tests and a mammogram is $500. We were covered by insurance but a lot of women aren't. I think it's $10,000 for an MRI. We were fortunate we had good insurance. We had to pay very little out of pocket. It would be hundreds of thousands of dollars to treat one woman or man."
And Bruce didn't know until he started the event that men can get it, too.
Bruce is 69, and he's had skin cancer but is doing well. In addition to his day job, he now has this tournament as a volunteer side gig. It's not just a one-year deal, either.
"Robin was a little embarrassed when I wanted to do this because she didn't want it to be about her," Bruce said. "But I've got to tell people this is what inspired me. Thank God it's not a memorial tournament. It was an easy thing to do. I could easily write a check, but I wanted to be involved. And I want something to go on and on and on. Hopefully, we'll raise more than what we did this year."