How to Pick a Tournament Partner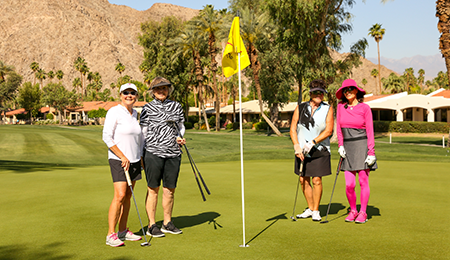 If you've been thinking about competing in a golf tournament and want to start out with an easy format, playing in a partner event is a great way to dip your toes into the competition pool. Whether the format is Better Ball, Scramble, Shamble or Cha Cha Cha, playing in a partner or team format can be a ton of fun if you're playing with the right people. Here are some tips on how to pick a tournament partner that will help ensure you and your friends have the most fun (and maybe even win!)
Personality
You may think a low handicap is the most important quality your partner should possess, but I'm here to tell ya that's way down on my list. To ensure a pleasant tournament experience, you'll need to have the right personalities on your team.
First off, it's best if you''ve played a round with her in the past to understand her temperament. Has she gotten angry at herself if she hit a bad shot? Did a few bad holes at the beginning of the round make her think her round was doomed and she stopped trying? You'll want to avoid inviting a player whom you've witnessed being confrontational about a score, a rule or where to park the cart. Check out my previous article on handling ruling disagreements for tips about conflicts on the course.
Your ideal partner should be someone who has golf etiquette and grace, can complement a fellow competitor on a good shot, watch shots in the air to help the other ladies find their golf balls, while having fun and keeping pace of play a priority.
Handicap
As I wrote in my article about handicapping a scorecard, a player is only expected to shoot their handicap 20% of the time. Since this is a competition, it's helpful to have a partner with some consistency in her game who can handle a little pressure. A lower handicap or more seasoned player will typically know how to shake off a bad shot and stay in the zone for the duration of the round.
Golf Attire
Many member/guest tournaments have a theme, and I continue to be surprised and impressed by the extent to which ladies will dress the part. Queen Of Hearts, Moulin Rouge, Orient Express, are some examples. If you like to follow themes with fun outfits and accessories, be sure your partner is up for it as well. And along those lines, if you are playing at a traditional country club, be sure your guests get a copy of the dress code - nothing can bring the mood down more than being asked by the head pro to wear a longer skort!
I recently played in a four-person team member/guest tournament at The Crosby Club in Rancho Santa Fe with three complete strangers — it was a golf blind-date. We had four very different personalities and skill levels, but we were all supportive and gracious players. We played two fabulous days together on the course, and guess what? We won!
Marcela Smith teaches golf rules and etiquette in her unique On-Course Rules Experience, helping women gain confidence, lower their scores, and have more fun. www.GirlfriendsGuideToGolf.com