First USC Golfer To Win Major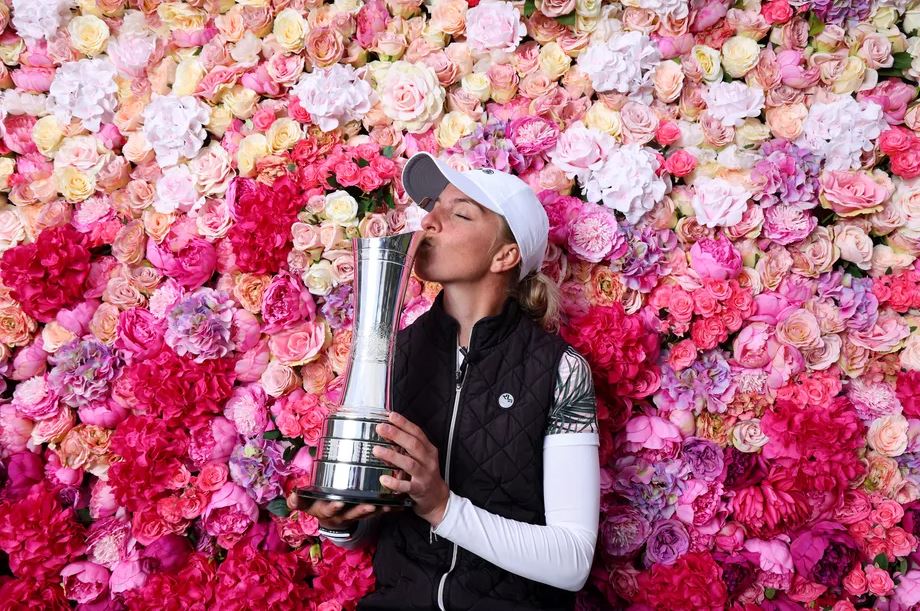 When Sophia Popov looks back on 2020, it's with great joy as it was one of the most incredible years of her golf career.
Popov, the former USC golfer, came from seemingly nowhere to win the AIG (British) Women's Open in August.
After having lost her LPGA Tour card, she had been playing on the Symetra Tour and in July even caddied for her good friend, Anne van Dam, in the LPGA Tour's the Drive On Championship.The next week, because of the global pandemic, she got into the LPGA Marathon Classic field and finished in tied for ninth. Because of the top 10 finish, she qualified for the major in Scotland. She didn't even realize it until van Dam FaceTimed her to tell her.
Popov made all eight cuts on the LPGA Tour after winning the AIG Women's Open at Royal Troon, including the U.S. Open, and has a newfound confidence and outlook on her career.
"Now, when I come to a tournament, the confidence I have in myself and my game is so much higher," Popov said in a phone interview. "I don't know if I exude it or you can see it from the outside. To me, maybe when I'm playing practice rounds, I play in a different way. I'm not already nervous on a Monday. I'm just looking at the golf course, nine holes here, nine holes there. I'm more relaxed about the tournament. Of course, nerves come on Thursday but it's a different kind of nerves. You're more excited and ready to go instead of being worried about what could happen that day in a bad way more than a good way."
Popov was ranked 304th in the world when she teed it up in the AIG Women's Open. After her win, she rose to 24th in the Rolex Rankings. She's now ranked 26th.
"I've been playing golf a little more freed up since the British," Popov said. "It's kind of been nice because I think it was justifying my game to myself. It's there, you know you have it. The rest is in your head, really. In the end, that's the difference for me between making a cut and maybe missing it by one."
For several years, she battled Lyme disease but didn't know that was what she had.
After she won the major, she figured she could use her platform to help others struggling with the condition. For her, cutting out sugar from her diet has been the trick. Dry fruits are her go-to snack on the golf course. She allows herself a glass of wine and chocolate now and again. She's already received messages from others suffering from it.
"I think down the road I would love to have an event that brings awareness to Lyme disease because it's a very silent killer in a sense," Popov said. "It's not directly related to a high number of deaths but a lot of people have a quality of life that's so reduced that's almost even worse. It's almost like they don't want to live with it anymore. That's why it's really important to make people more aware that's what it could be."
Popov, 28, lives in Naples, Fla. with her grandmother. With her $675,000 winners paycheck, she bought her grandmother's house. And, she splurged for a Trackman golf simulator.
Popov is forever bonded with her USC golf teammates and coaches. USC won the NCAA national championship in 2013 when Popov was a junior and Annie Park was a freshman.
"Always rocking the (Trojans) head covers,'" Popov said. "A lot of pride there, for sure."
When Popov returns to Los Angeles, she'll always head to Palos Verdes, where Jim Gormley is the director of golf. He was her former swing coach and his family was like a second family to her. She plays Hillcrest and Riviera, too. And her brother lives in Marina del Rey.
Popov had her boyfriend, Max Mehles, on her bag for the AIG Women's Open, then he caddied for her the rest of the year. Mehles, who played golf at Kentucky, is about to embark on his professional career. Popov will need to find a caddie for the season.
She won't have a tough time finding tee times to get on just about any course she wants after winning a major.
Popov's focus this year is to qualify for the Solheim Cup and play for Team Europe.
"I'd love to tee it up there. It would be a dream come true for me," Popov said.
Another goal is to play for Germany in the Olympics. She was born in the U.S. but raised in Germany and has dual citizenship.
And now, her first professional victory.
"It's been pretty life-changing in that it's changed my schedule a lot, and a lot of the interactions I have on the golf course and the people I see," Popov said.
"I get stopped more on the golf course now no matter where I am, which is definitely different. It's been a nice change."