2022 Fashion Trends in Women's Golf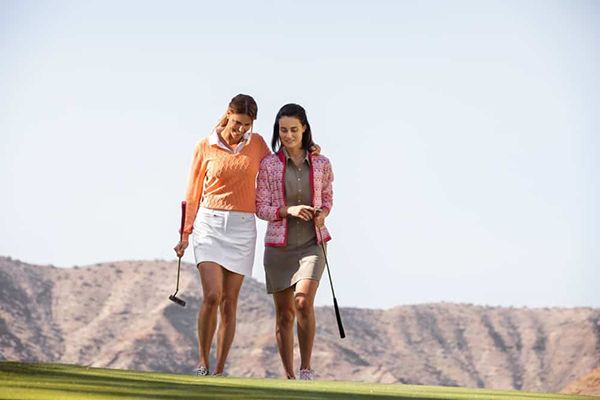 Along with the huge influx of new female golfers in the past two years, we've also seen a lot of changes to what ladies are wearing out on the course. Here's what's trending in women's golf fashion in 2022-23.
Yes, the men are wearing hoodies, but women are opting for fabrics with sun protection, comfort and, most importantly, items they can wear on and off the course to maximize their dollar (and save room in their closets!)
MULTI-TASK AND MULTI-PURPOSE
Clothing brands have never been more in-tune with the fact that women are multi-taskers who want to look and feel great in outfits that take them from the golf course to a teacher conference, a social hike with girlfriends, the mall or an early dinner at their neighborhood restaurant.
"Women no longer want specific apparel for each activity," according to Jamie Handler, president of the women's golf apparel brand, IBKUL. "They want items that cross over to their daily athleisure needs."
Because ladies are going from one activity to the next, IBKUL makes fabrics that have moisture-wicking, anti-microbial features.
"Our customers are looking for fashion, comfort and unrestricted range of motion suitable for both casual and active lifestyles in easy-care fabrication."
DRESSES
Golf dresses are gaining popularity because they're easy to pack in a duffel bag or suitcase. If the length isn't perfect, they are easy to have hemmed up to just the right length for golf. Since most of these "golf dresses" are designed for use at a resort or golf course, they don't typically come with built-in shorts, so women are finding their own pair of biker-style shorts that fit comfortably and can be worn with any of their dresses as needed.
ANIMAL PRINT
I remember asking a girlfriend 15 years ago if she thought animal prints were going to come back in style. It used to be they would be "in", then lose popularity and come back three years later (right after I had given up on leopard pints and donated my leopard skorts and tops to my local First Tee Program). In 2022 and 2023, animal prints and camo are back!
This season, animal and camo prints are offered in almost every golf brand.
Marci Falldorf, co-owner of Alexandrite Active & Golf Wear, spends a lot of time interacting with her customers in her La Quinta, Ca. boutique, and says her customers ask for zebra and leopard prints each fall.
"This year, we're selling a lot of camo in blues, oranges and greens with hot pink," says Falldorf. "And this coming fall, we'll see more color in warmer tones."
HOLY GRAIL FEATURE
And my own personal must-have feature in golf clothing is the holy grail: Lycra. When my pants and skorts stretch, I feel comfortable swinging freely, sitting in a golf cart or on a barstool at the 19th hole. You can't get a muffin top sitting down with at least three percent Lycra or Elastane in your skort or pants. It's just a fact!