Our Favorite Healthy Holiday Cocktails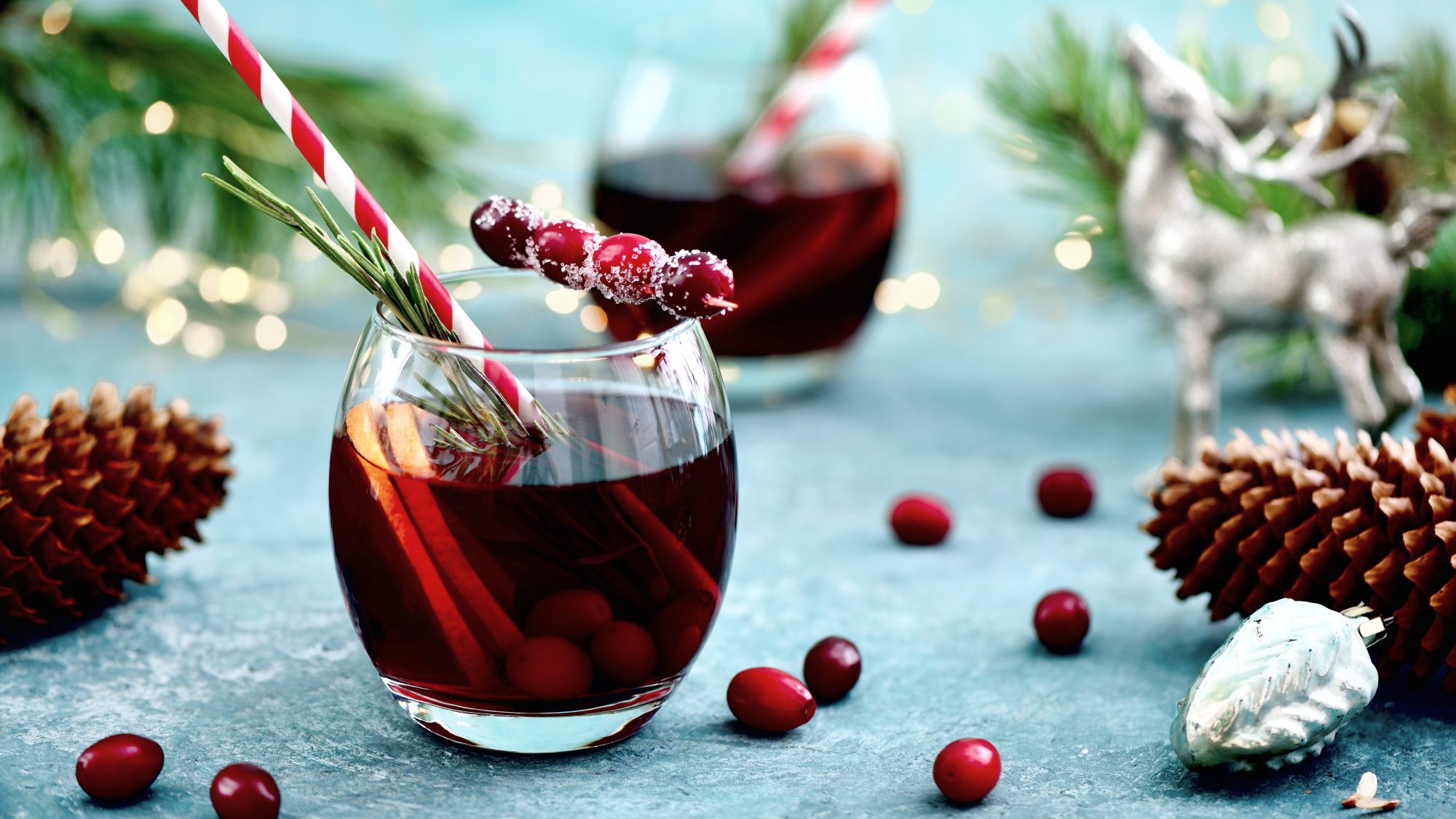 The holiday season is upon us and that means many things, including extra indulgence. We love celebrating the holidays but also don't love the toll all the sugar and calorie-packed drinks can take on our bodies.
To help you still have fun this holiday season without going too far off-track with your healthy lifestyle, we've rounded up some healthy festive cocktails.
Live your life to the fullest without sacrificing your health with the help of these healthy cocktails.
Dirty Horchata
Via Openfit
Horchata is a traditional Mexican drink made by soaking rice in water and throwing in some other ingredients to create a tasty drink. Throw in some coffee and you've got yourself a dirty horchata.
Because the standard horchata recipe calls for condensed milk, that means you are looking at a lot of calories, loads of sugar, and more saturated fat than anyone needs. Thus, we found a way to make it more healthy while still giving you that creamy and tasty treat.
Makes 1 serving
What you need:
●1 cup unsweetened rice milk
●½ cup cold-brewed coffee
●1 T canned coconut cream
●2 Medjool dated, pitted and roughly chopped
●½ cup ice
●Dash of ground cinnamon
●Pinch of nutmeg
What to do:
Mix rice milk, coffee, coconut cream, and dates. You can do this either in a shaker, or add in the ice for a frappucino-style drink.
Top with cinnamon and nutmeg and serve.
Pomegranate Kombucha Mimosa
Via The Real Food Dieticians
Get that extra sweet in your champagne and raise your glass to anything and everything you're celebrating this holiday season with this pomegranate kombucha mimosa. The lightness of this drink will give you that refreshing feeling and the taste will have you coming back for more. And when you do, you don't have to feel guilty since this drink is healthier than most.
Makes 6 servings
What you need:
●1 bottle champagne or prosecco
●3 fresh oranges, juiced
●2 bottles of kombucha
●½ cup pomegranate seeds
●Orange peel
●Coconut sugar
What to do:
Put coconut sugar in a small bowl
Dampen the rim of each glass and dip it in coconut sugar, coating the rims
Add 1-2 T of pomegranate seeds to each glass
Add juice from ½ of an orange
Add 4 oz of kombucha
Top each glass with champagne or prosecco
Garnish with orange peel and an orange slice
Natural Whiskey Sour
Via Happy Food Happy Life
Love a whiskey sour but not the high-sugar sweet and sour mix? Us, too. We've found an alternative that allows you to enjoy the taste of this holiday drink without pouring in the sugar.
The secret ingredient? Stevia. This is a natural sugar substitute that comes from the leaves of the stevia plant. It is much sweeter than sugar, so a little bit goes a long way. However, unlike sugar, it is free of both calories and carbs.
Throw a little bit of stevia into this drink, and you'll have your desired sweetness level without the guilt.
Makes 1 serving
What you need:
●1-2 oz whiskey
●Juice of 1 lemon
●3-4 tsp stevia
●Club soda
●Ice
●Lemon slices
What to do:
Pour whiskey into a low-ball glass
Add in the ice and stevia, and stir
Top the glass with club soda and a few lemon slices as garnish
Add more stevia and whiskey as needed
Orange Cranberry Margarita
Via Lexi's Clean Living
All you need to make a summer margarita that works for the holidays is to change out the flavors you add to the tequila.
This winter, orange and cranberry are two of the flavors we are into, so we decided to add them to tequila, throw in some sweetener, and have ourselves a delicious holiday treat. The fresh orange zest gives this drink a little something extra that will keep you coming back for more.
Makes 1 serving
What you need:
●1 ½ - 2 oz tequila
●2 ½ oz cranberry juice
●½ oz orange juice
●½ oz orange liquor
●1 tsp maple syrup
●Salt
●Orange zest
What to do:
Combine all ingredients in a shaker and shake
Salt the rim with orange zest and salt
Add an ice cube and pour the margarita mix over the ice
Add orange slices and serve
Apple Cider Sangria
Via Lexi's Clean Living
While we are on the subject of fall flavors and tasty fruits, we think you should give this festive sangria a taste test to see if it strikes your fancy.
Though there are more ingredients on this list than some of the other cocktails we've got here, they are all easy to get and healthy, too. Plus, sangria doesn't require much effort – all you have to do is throw everything in a pitcher together and drink up.
Makes 8 servings
What you need:
●2 apples, roughly chopped
●1 orange, sliced
●¼ cup pomegranate seeds
●1 bottle of white wine
●½ cup vodka
●2 ½ cups fresh apple cider
●1 T honey or maple syrup
●½ tsp cinnamon
●1 T fresh grated ginger
●1 cup club soda
What to do:
Add all ingredients to a large pitcher, except carbonated water, and let sit
Serve over ice with fresh fruit
Rosemary Gin Fizz
Via Cookie + Kate
The minimal ingredients for this cocktail make it one that's not only easy to throw together but also makes it a healthy one that isn't packed full of all kinds of junk.
All you need to get your taste buds dancing is rosemary, gin, club soda, lemon, and honey. This is perfect for those days when you need a drink but don't have time for things to get complicated. Though simple, don't doubt how much the combo of these flavors will make you and any guest you serve feel elevated and fancy.
Makes 1 serving
What you need:
●3 1-inch sprigs of fresh rosemary
●1 lemon, juiced
●½ tsp honey
●1 ½ gin
●3 oz club soda
What to do:
In a small glass, muddle the rosemary, lemon juice, and honey
Fill the glass with ice and pour in the gin
Top with club soda and stir
Peppermint Cocktail
Via Step Away From The Carbs
When you want dessert but aren't ready to sacrifice the carbs, then we suggest you reach for this cocktail. It gives you that bit of sweetness you're looking for without all the extra calories.
The mix of peppermint and chocolate screams "holiday season," but you may find yourself loving this one so much that it makes an appearance year-round.
Makes 1 serving
What you need:
●1 oz vodka
●½ oz sugar-free peppermint syrup
●½ oz sugar-free chocolate syrup
●½ oz heavy cream or coconut cream
●1 tsp stevia
●Honey or syrup
What to do:
Put the stevia on a plate
Add honey or syrup to the rim of the glass and dip it in the stevia
In a cocktail shaker, mix the vodka, peppermint syrup, chocolate syrup, and heavy or coconut cream
Add ice cubes to the prepared glass
Pour the shaken cocktail over the ice
The temptations of the holiday season are abundant. However, just because you're trying to be healthy doesn't mean you can't have fun, too. So, when you get those cravings for something sweet or a nice drink to get into the festive mood, reach for one of the above cocktails that will give you the same enjoyment, but without all the calories. Plus, you'll feel much better the next day when you aren't suffering the after-effects of a few too many sugary drinks.