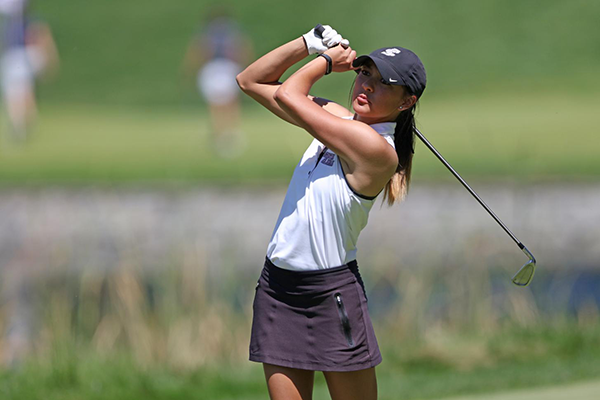 Arnold Palmer once said, "Golf is a game of inches. The most important are the six inches between your ears."
The King wasn't wrong. Those six inches truly can make or break you.
This, along many other Arnold Palmer sayings, applies to most things in life. You've got to be able to keep your mind at ease, but that's much easier said than done.
I was a golf nut growing up. It was really the only sport I ever played, and I loved it. So much so that my entire identity and sense of self-worth were wrapped into the sport. I was a golfer first and foremost. Everything else was secondary.
Naturally, it took a toll on my mental health. Whenever I hit a slump in my game or got injured, my self-esteem took a serious hit. It was a nasty, recurring pattern that was tough to break. At the time, I didn't know that what I was experiencing was depression and anxiety or that I was one in four Americans that struggle with their mental health. I thought it was a normal part of the process and I just needed to push through it – be the "mentally tough" athlete I was supposed to be.
Then came college.
I was fortunate to earn a spot on the Santa Clara women's golf team. Playing Div. I golf will always be one of my fondest and proudest memories. But that's not to say it was easy on my mental health.
Student-athletes, especially collegiate golfers, are known to hold themselves to a near-perfect standard, all while juggling classes, exams, projects, an eligible GPA, practices, workouts, qualifying rounds, tournament travel, community volunteering, team meetings and somehow a little sprinkle of college fun.
It was a grind, to put it nicely. A mental rollercoaster that never seemed to end.
Most people on the outside looking in praise collegiate athletes as ambitious, high-achieving and hard-working. And they are. But a look into the full experience brings light to the underlying issues they face, and it's not talked about enough.
After making the difficult decision to not pursue professional golf post-graduation, I felt incredibly lost. I had no idea who I was, my depression and anxiety had only gotten worse and I was grieving a lifelong relationship with a game I deeply loved.
My younger sister, then only 16-years-old, was my saving grace. She urged me to go to therapy, explore medication options and incorporate holistic practices, like meditation and breathwork, into my daily routine.
Asking for help is something I still struggle with, but it saved my life. And I thank myself every day for putting in the work to become more comfortable with it and making my mental health a priority.
When you're a student-athlete, "student" comes first for a reason. But it's really the person that needs to come before both.
If you or someone you know is in crisis, The National Suicide Prevention Lifeline provides 24/7, free and confidential support for people in distress, prevention and crisis resources for you or your loved ones, and best practices for professionals in the United States. Call 1-800-273-8255 or click here for more information.