Holiday Gift Giving Guide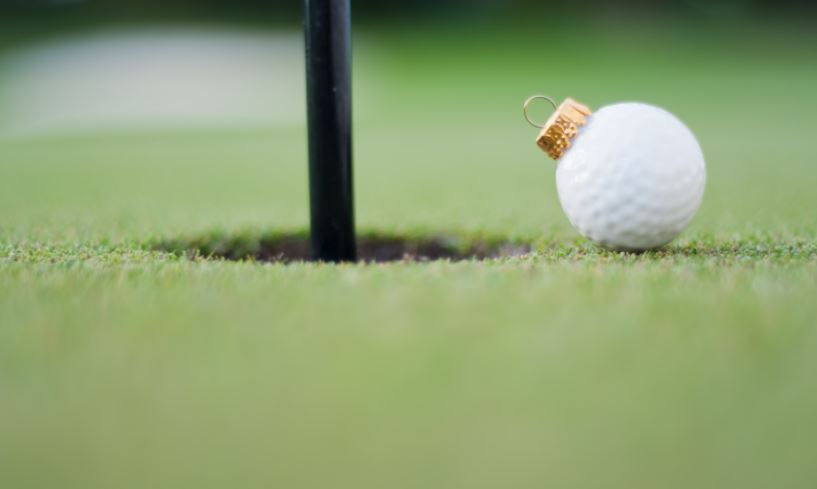 Summer flew by and as I sit here enjoying my Pumpkin Spice Everything, I reluctantly realize that Gift Giving Season is just around the corner.
Every year I tell myself that I am going to get creative with my gifts for my favorite people and, not surprisingly, most of my favorite people are golfers.
But creativity and chaos don't mix very well and since it can be such a hectic time of year, the actual thoughtfulness of gifts can fall by the wayside. The effort of merely shopping for the gift, wrapping it and getting it into the proper hands can be a daunting task. Adding the idea that the gift should also be creative might possibly send one right over the edge.
So this year I started early, made a list of ideas I wish I had thought of years ago, and want to share that list with you now. It's funny…..some of the best responses to gifts have come from some of the simplest ideas. It doesn't have to be extravagant……just something that touches the person. I found it to be quite easy to come up with gift ideas….as soon as I stopped making it hard. Follow? Good.
Portable Speakers
It seems like everyone's golf bag includes a portable speaker these days. But for those who don't have one, it can make a really fun gift. A designated speaker that you can keep in your golf bag ensures you never have to go a round without tunes. Yes, many new golf carts have built in speakers now, but do you really want to take the chance? Any personalization you might be able to add to the speaker only increases the fun factor. And extra points if you include a solar battery charger so they don't have to think about charging that baby up before each round.
Ball Markers
I once gave a ball marker from The Masters to one of my favorite golf partners. A ball marker. And you would have thought I gave her the world. I was touched by her gratitude. But then suddenly recalled my own appreciation for a particular wedding gift one of my golf buddies gave me. It was a silver ball marker in the shape of a perfect circle, engraved with our wedding date right on top. Every time I use that ball marker I think of my friend and my wedding day and those happy thoughts actually help my mental approach.
I also remember the first time Phil played in the British Open, or properly called, The Open Championship. He returned with a pack of 10 ball markers, each from one of the golf courses in the active rotation. I have those ball markers to this day and use them on special occasions.
So if you have played a special golf course with a friend, or know that a certain course has special memories for them, a ball marker is a gift that is usually a bigger deal than one might initially think.
The same could go for hats, shirts, yardage books, etc.
Colored Tees
Simple, right? But, like the ball markers, this one goes over better than expected. Does one of your golf buddies have a certain color they are obsessed with? Tees in that color will not only make them happy every time they use one, but they will feel unique and special on the tee box. Again, it will only benefit the mental approach to your round of golf.
Having a hard time swallowing this one? My 10 year old son is obsessed with Fernando Tatis Jr. I gave him a bag of 100 pink tees (his idol's favorite color) for his birthday. He told me they help him channel his "inner Fernando" whenever he uses one, making his tee shots much better. It was his favorite birthday gift. Golf tees. Pink. 100 for $5. I really need to stop over thinking his gifts.
Framed photo of fun round together
If you are anything like me, there is at least one photo op per round with friends. Cool view in the background? Photo. Matching outifts? Pic. Opportunity for great photo bomb? Get that camera out. So there should be plenty of portraits to choose from in your camera roll. Pick one of your favorites, use a flattering filter and frame that baby in something really cool and your gift value is off the charts. Again, simple but oh so meaningful.
Along these lines, if you happen to play a round of golf with a friend who either shot their best round, had a hole in one, etc., grab an extra scorecard (if you can't snag the original), transcribe the scores for each hole and frame it in something special so they can put it on display. Extra credit if you can include a golf ball or other small token they used during the round.
Personalized Water Bottle (That Fits in Drink Hole Perfectly)
Just like portable speakers, one can never have too many water bottles, especially if it is personalized or includes a special photo of the recipient on one of their favorite golf holes or with some of their favorite playing partners. It's fun to have something unique when playing your round, and if you happen to lose it on the golf course it is much easier to identify.
Don't be afraid to get a jump start on your shopping list. In many cases personalization can take a little longer than expected so give YOURSELF the gift of time and start early. I hope the upcoming Holiday Season is peaceful and restorative for you and your loved ones.