Believe It Or Not: Golf Is A Sport
By: Jentry Barton - Jan 23, 2019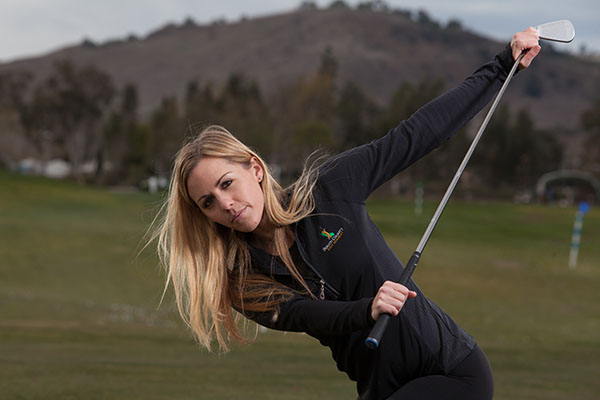 Jentry Barton is a TPI Certified Coach at South County Golf Academy.
Have you ever heard "golf is not a sport," or "you don't have to be an athlete to play golf?" To a golf specific strength and conditioning coach, these comments are uneducated and misinformed, and let me tell you why.
The human body is incredible. Everything is interwoven and connected, creating the best movement and action needed for any given task throughout the day. In sports, these movement patterns become that much more amazing. Athletes work tirelessly to create strength, and concrete patterns that allow for repeated movement to the point of perfection. Literal blood, sweat, and tears go into the making of an athlete, and the end product is truly remarkable to behold.
Let's talk about golf specifically in this process. In the golf swing, your body twists, torques, and turns to create a violent energy. While using the ground as force, it spirally connects your legs, core, and spine to create impact into a tiny white ball. This ball, despite what equipment is in hand, flies off the face travelling hundreds of yards, from the powerful machinery of your body. Some, have pain in this powerful movement because of breakdowns that the body is not yet strong enough to handle. Some, have misses. Left, right, and everything in between, because somewhere along the way something in the body broke down. Those that have it figured out, have those movement patterns so dialed in, that the body literally does the work for them.
Now, don't be fooled. Golf is hard. Even the professionals have days where they can't get it to go straight. The hardest working athletes still fall, and especially in golf. Golf is not just a challenge of the body, but also of the mind. But do not be mistaken, golf is a sport. The golf swing is a learned, yet athletic move, and it definitely is not natural, which means that it requires conditioning and strengthening to achieve optimal performance. But don't just take my word for it. Look at some of the best golfers in the world, and see if they are training their bodies and minds in the gym for their golf swing. Lexi Thompson, Lizette Salas, Jessica Korda and more. Ever heard of them? All of them have intense workout routines, specific to golf.
So how does this apply to the weekend warrior, the amateur golfer, or the person ready to take their golf game to the next level?
As we enter into a new year, people drown themselves with New Year's Resolutions. Do you have a Resolution for your golf game? If you are looking to improve your golf game, and take it beyond powering through thousands of golf balls on the range, AND accomplish your health and wellness goals at the same time, then try these simple additions to your day. These simple things will not only help you improve your golf game, but confirm for yourself that golf is in fact a sport. When you see the correlation between your swing and what you can do in the gym, your possibilities are endless.
Three Simple Routines To Improve Your Game
1. Drink half your body weight in ounces of water. This is an easy one, but it is often overlooked. When your body has the appropriate amount of water, it feels better, it heals quicker, and it performs the way it is supposed to.
2. Incorporate a basic mobility routine to your day. A huge majority of my clients have mobility issues as one of their #1 barriers. If you sit at a desk, or drive in a car for a good portion of your day, you most likely have this issue as well. A simple 10-minute stretching/ rolling/ mobility routine, done daily, can do wonders for your game. Plus, there is also a guarantee to feel better overall. There are so many other fun and powerful moves that can be done in the gym to help you gain consistency, power, and balance in your golf swing. However, mobility has to be accomplished first!
3. Add some rotation to the mix! If you are already hitting the gym regularly, try adding some rotational moves to your workouts. A lot of the popular strength building exercises have us getting strong in one plane of movement. Golf being a rotary sport, needs rotary strength to allow the body to compete at its best level. Check out the Titleist Performance Institute, SCGA Fit Tips, or better yet, schedule an assessment with a local Golf Fitness professional in your area for specific moves to add to your current routine.
New Year's Resolutions can be overwhelming if you try to accomplish them all at once. These three things will allow you to get started on golf specific goals with ease, and automatic success. The most important thing is that you are moving, and bettering the quality of that movement for golf, and your life.
Learn more about Jentry: scgolfacademy.com