Anna Davis Prepares for Busy Summer After ANWA Win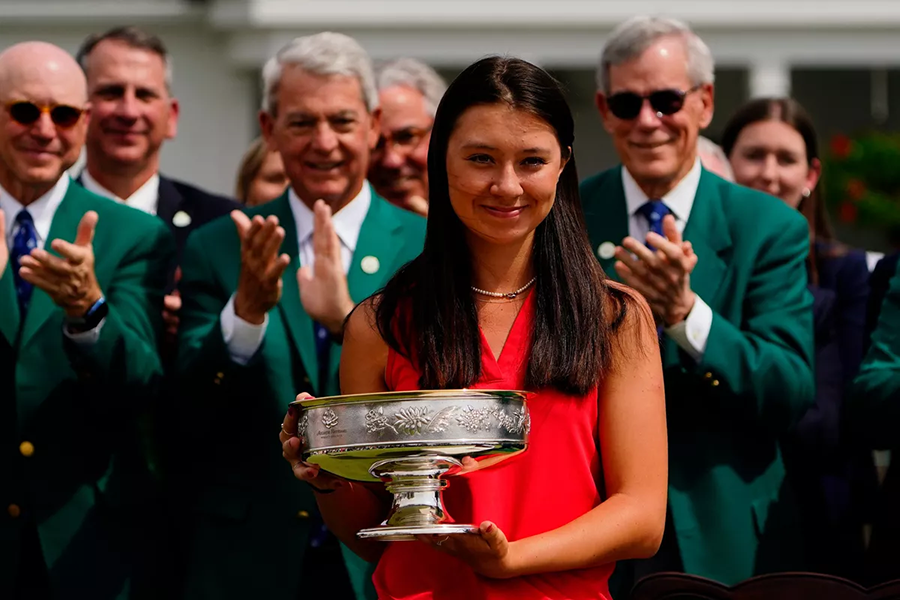 When Anna Davis won the Augusta National Women's Amateur recently, she put her name on the golf map. Even Tiger Woods tweeted about her win.
Now the 16-year-old Davis loves all the attention that's come with it. She'll be on big stages with a summer schedule that includes three LPGA majors.
"It's so cool. I walk around in public and usually someone will recognize me - ''oh my God, you won the women's amateur at Augusta,'" and I"m like yeah," Davis said. "It's fun."
So is golf.
Davis went to Augusta for the first time, played a practice round and won the event with a final-round 72.
"I've always been like that. It's kind of an advantage where you don't see the course and then you're not overthinking it, and just going out there and playing," Davis said. "That was my thought process."
Davis, who doesn't even have her driver's license yet, is embracing the pressure and expectation that comes with teeing it up at events now.
"Even going into ANWA, I knew I was an underdog," Davis said. "My main goal was to go have fun and make the cut. Going into the last day I wasn't as nervous because I knew I was the underdog. I knew the attention wasn't on me and I could go play. That's changed now. There's more expectation. It doesn't really bother me. It's kind of cool. It's fun getting all the attention."
She's been so busy playing golf tournaments around the country that she didn't even have time for a Sweet 16 bash or birthday dinner in March. But the Chairman's Dinner at Augusta sufficed. She had a crab appetizer, steak, fish and potatoes along with Crème Brûlée for dessert.
"I ate every last bite of food," Davis said. "It was so good."
Everything is better at Augusta.
"I have the feeling we'll look back and go 'Wow, that was really important,'" Bill Davis, Anna's dad, said. "Just being associated with Augusta. For a long time, she'll be associated with Augusta National. As the event goes on, they're going to say Anna Davis won this event. As time goes on, we'll go 'Damn, that was pretty good.' She doesn't make too big of a deal about it and she's like, 'Where's the next tournament?' And I think in a way that's good."
Davis, who lives in Spring Valley outside San Diego, and plays out of Steele Canyon GC and Singing Hills Resort, has flourished as a junior golfer. Much of her competitive vibe was honed playing golf with her twin brother, Billy, and her dad. The siblings had some intense matches on the course and Bill always had to run interference.
Since COVID, she's been homeschooled, making golf travel easier. Either her dad, Bill, or mom Beatriz - both educators - usually travel with her to events.
Her career is on the fast track. But Bill Davis' goal is the same, to make sure both kids are always smiling.
"You watch them and you want them to do well and to be happy. If they play well, they're happy. If they don't go well, your kids aren't happy. So far, it's not a heck of a lot different than when they were 7 or 8 to tell you the truth," Bill Davis said. "It's really very similar whether Augusta or an LPGA Tour event."
Anna Davis has come a long way from junior events and participating in SCPGA programming, where she's grateful for learning the Rules of Golf, to now playing on exemptions in LPGA events. A look into her summer schedule makes you think she's already turned pro.
"It's been cool. It's been a good experience and one of my goals to play in an LPGA event," Davis said. "To have qualified for a bunch is super cool. I'm glad to have gotten the opportunity and experiences."
She finished 70th at the Palos Verdes Championship - making her first cut at her debut in an LPGA event - and missed the cut at the U.S. Women's Open at Pine Needles. She's never been to Europe but that will change this summer when she plays the Amundi Evian Masters in France and AIG Women's British Open at Muirfield.
"I'm really enjoying it so far and hoping it will be a fun summer," Davis said. "I know I want my future to look like what I'm doing this summer."
Davis hasn't signed NIL deals yet, but that's probably next. She's not yet sure if she'll play in college or turn professional but she has plenty of time.
"I have no idea," Davis said. "I have two years, and I don't want to decide something as big as that right now."
For now, she's loving life playing golf, albeit with a few more eyes on her now.